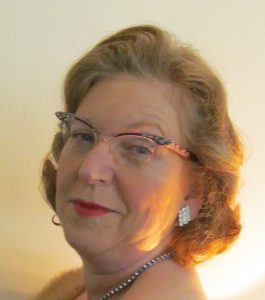 I do realise that I am a very lucky woman, not only to be blessed with so many outstanding gifts in the desert of talent that surrounds moi, but to have the backing of what I think of as my team. A team trained by moi.
Jasper – Mr Semi-detached!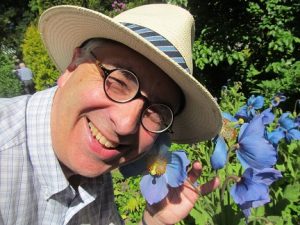 While I am simply marvellous in my own right and a beacon in the world of gracious living, I freely admit that help is on hand. Jasper is a great source of solace if no practical help whatsoever, but at least he understands me and supports me in all that I attempt to do. Well, having said no practical help, he does bring something to the 'Chez Nous' shop window, by way of design input, even if it does require the addition of someone to hold the nails and hammer and make tea at ten minute intervals with choice of biscuit.
'Chez Nous', the interior design shop of choice, is going from strength to strength. This is partly because with the encouragement of my ousin and business partner Lulubelle (who is an American and therefore very savvy) we have developed 'Chez Nous Two' which frankly is a bit more "down market" as the ad men say. Although, as Lulubelle says it is raking in the cash through desirable objects such as souffle dishes, stainless steel tableware and of course the wrought iron magazine rack. Personally, I wouldn't give any of it houseroom, but not everyone is blessed with good taste.
That includes Jasper (apart from choosing me of course), but as the "face of the magazine rack" he has become something of a celebrity figure on the new Taylor Woodrow Estates. They say he just oozes the ideal of a lazy afternoon on the sofa that turns into two beds, with a magazine from a hand – crafted container. In terms of modern housebuilding and ways of living it is said that Jasper is "Mr Semi-detached." Just so long as he stops short of a lobelia, alyssum and marigold border or I might have to telephone the lawyer.
Adored by Children (those with taste that is)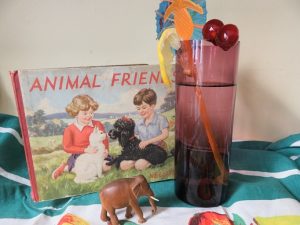 You will be aware that Jasper and I have a ward, young Gayle, who lives with us and while children adore me (after all how many mother figures provide home made lemonade in a hand blown Venetian tumbler, with maraschino cherry, for the under fives) as a more mature woman with business interests in Glasgow and Edinburgh, I have a little extra help in the form of Mary. Hairy Mary, whose backcombed coiffure increases her diminutive size by almost half, is from Inveraray. She is a trained nursery nurse and Gayle is quite devoted to her. The only problem is she is what we call "a bit fey" and has "the second sight." So, from time to time I must come down hard on her superstitions and ghost stories and after all Gayle is in the Church of Scotland and has a silver jug and napkin rings to prove it.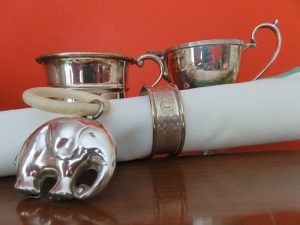 In case you are wondering, and I think it is best to stop gossip in its tracks, Gayle is the daughter of our nephew Sebastian (and a Costume Designer – Ethel Merman is her speciality). He is a thespian who almost singlehandedly discovered William Shakespeare, one of the best  known Shakespearean writers. He is currently in New York becoming quite a successful method actor. Gayle is due to go to school in the autumn. I am currently in discussions with the headmistress regarding the curriculum, although her telephone is often out of order.
Mrs Travers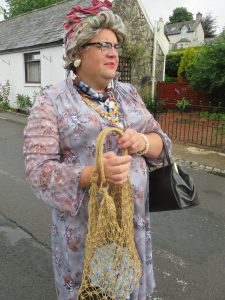 While we have occasionally to bring in extra help for heavy domestic work, we mainly rely on Mrs Esme Travers from Maryhill "to do for us" daily. Frankly, she does not do very much, but she is loyal and scares the crows and tradesmen.  She is currently away in Blackpool with her son Billy, his wife Sharon and family. Billy is a bit light fingered and no doubt the illuminations will be short of one or two bulbs when they leave. Mrs Travers, who is undertaking a sociology twilight course at the college, says Billy's problems stem from "paternal deprivation and issues with masculinity".
Mr Travers (senior) is an illusive and irresponsible figure who was deeply implicated in the scandal surrounding 'The Unnecessary Lingerie Shop' down by the canal run by Busty Betty, his paramour. He managed to dodge arrest and found work on a slow boat to China, which is considerably abroad. On his return he brought a stuffed lizard from the East Indies. Mrs Travers gave this pride of place on her gramophone (2 guineas down and the rest by monthly instalments), on the other hand she gave Mr Travers a change of clothes, a rude sign and the direction of the door.
He has tended to live in the Sailors' Home on the Broomielaw where he has learnt to read and is now something of an expert on Sir Walter Scott as they have a particularly good library. He has made several attempts to return home, saying that Busty Betty has lost her charms, since she found religion, signed the pledge and only eats Slimcea Bread or Energen Rolls. Mrs T is having none of it, saying "once bitten twice shy." Or Glaswegian words to that effect.
Do I honestly Look Like A Woman Woman?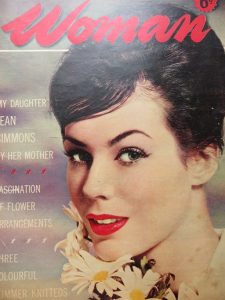 To her credit Mrs Travers has left a full fridge and a well-stocked pantry, but two weeks or a fortnight will require my cooking skills to be put to the test. Of course, I was cordon bleu trained. Mamma insisted I spend time in Paris before the last Unpleasantness. In reality I am a bit of a garnish woman in terms of my speciality (embassy parties spoilt me) and I can reduce a sauce with a good bottom in my pan, but Jasper prefers more homely fare and Gayle can be a little fussy.
I could do with some inspiration. Mrs T failed to secure my copy of  'The Glasgow Lady' and instead brought a copy of Woman. The thought was there, but as I said to Mrs Macaulay our neighbour (husband in concrete) "Lottie, do I look like a Woman woman?" Lottie had to agree, if only because I was giving her a lift back from a coffee morning in aid of Pyrex for the Congo or some such thing I forget, that I did not. As they say, however, any port in a storm and look, here's an idea. Here in the letters' page is a recommendation for a TV snack from Surrey.
An Opportunity to Garnish
Now this would appeal to Jasper, it says, "After a hearty Sunday lunch, (Jasper is big on Sunday lunch), I often make these open sandwiches for Supper." I think any recipe that is from somewhere that has supper rather than tea is bound to be reliable. They are "light but satisfying and we can eat them while watching television!"  Television eating! Well on second thoughts perhaps this is the wrong part of Surrey, perhaps Woking rather than Haslemere? Eating in front of the television, strikes me as the sort of thing that brought about the end of Empire. Still this does look easy, "Hard boil three or four eggs; mince them with raw onion to taste; add pepper, salt and a little French mustard. Spread on buttered brown bread or toast – decorate with gherkins."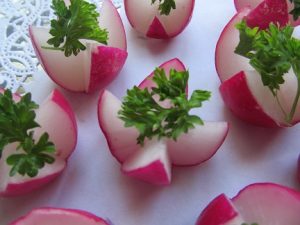 I might substitute the French mustard for something a little more patriotic, but apart from that so far so good and the gherkins give me full range to carry out my garnishing credentials, though I prefer lemons or radishes. Gherkins smack of Lulubelle's rissoles.
It is just a pity that Mrs M. Mc D of Surrey has to add "For those without a mincer, halve the eggs, remove the yolks and mash smoothly with a little mayonnaise or top of the milk and seasoning". Just because, Mrs M. Mc D of Surrey, we do not all live in the commuter belt of the Home Counties does not mean our kitchens are devoid of modern labour-saving devices, any more than heather grows out of our ears.  Really! Still, she does redeem herself by suggesting chopped chives and a small teaspoon of anchovy essence instead of the onion would make a tasty change. Chives are a good garnish.
On A Roll
Now so too is cheese and this looks like an idea, 'Cheese and Pineapple Rolls'. This would be ideal for my ladies' lunch next week. We are meeting to discuss the Church Flower Rota, which is a bit like trying to deal with the Schleswig Holstein question only more fraught. There is a significant fissure developing regarding oasis versus chicken wire which threatens to be more divisive than the attempted back door introduction of Pampas Grass and gold sprayed fir cones. I have been called in by the minister to act as a sort of floral peacekeeper. Think U.N. with brooch and ¾ length gloves. This might help break the ice along with my Dubonnet cocktail. "Wrap a piece of ham round a finger of cheese and slip a pineapple ring round it to hold the ham in place. Make one or two rolls per person and arrange on watercress. Serve with potato salad and a herb scone." That should build bridges.
Twisted!
I wonder what I could do for Gayle that's different? What about this for breakfast – porridge with a twist. I like a twist. In fact I like a twist of lemon with a wee gin and tonic. Think I will have one while I am menu planning I owe it to myself. Just give me a minute. That what a good job I brought the ice bucket and tonic water through. A double? Is it really?  Trust you to notice! Anyway as I was saying, porridge – now soak 1 tablespoon of quick cook porridge oats in three tablespoons of water, add 1 grated apple, the juice of ½ a lemon and 1 to 2 tablespoons of Carnation Milk. Mix together and serve. She does not say anything about cooking, but I rather think I would do that before adding the milk. I can let you know what I think when I've tried it. Sometimes I wonder if they ever try these recipes. Perhaps I could advise. Having said that this looks like a good idea, a suggestion to tempt children to eat fish by serving it with mash and peas on a scallop shell. I think I will try that too for wee Gayle.
If I do the Diamond Cake that should appeal to everyone in the flower rota and with what's left over Jasper can have it with custard. 
Serenity Under Siege
Well all this might be fun. I wonder what other delights are in this magazine. Oh, a horoscope, it's all rubbish of course but will appeal to Hairy Mary. What does it say about me? I am a Venus subject apparently. "Married life may lose its usual serenity at some point" and I "should avoid exerting my usual authority in family life". As if I would.  I think I will just freshen my glass and perhaps have a wee read of one of the silly serials in this magazine what will it be The Shy Girl or Nymph in Pursuit?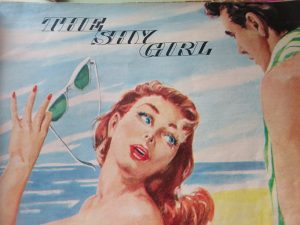 "Yoohoo, Mrs Wylie! Its just little old me."
"Oh Mrs Dangerfield, I was just thinking about you."
"Really Mrs W? Honestly, what are you like?"
"Just wondering if you would be at the Flower meeting."
"I wouldn't miss it for the world, I think oasis is the way ahead don't you? And before I forget Mr Wylie, who has almost finished measuring his balls says why don't  we all eat out this evening it will save you as Mrs T is away."
"Yes indeed. Why don't we?"
"Is that Woman? Really I don't think they try those recipes. Did you see that ridiculous one with the ham and cheese stuffed through the pineapple ring? Whatever next! Give me a nice pork sausage every time, but then I am a farmer's wife, well one of my late husbands was a farmer or was it two of them I forget. Anyway, Mr Wylie was just saying the same thing, loves a pork sausage and hates fish, mash and peas, unless it's from the chippy.
"Oh, did he indeed?"
Muriel Wylie
July 1960