Set exactly 60 years ago to the current date, the Muriel & Jasper blog is a mixture of fact and fiction rolled into one. Let us join Muriel and Mrs Travers on a shopping expedition in Glasgow's  Sauchiehall Street with its elegant department stores, once we have caught up with the news…
News Update
Scottish teachers have been revolting. The Labour Party under Mr Gaitskell is in difficulty, he says they need to be more radical. A Miss Wendy Wood has called for Scottish self-government. A Pakistani family are about to be evicted from a croft in Lewis despite locals saying they are "fine neighbours." Six miners from Barony Colliery at Auckinleck, Ayrshire, have been invited to spend a weekend at Eton at the invitation of pupil Jonathan Aitken. This follows a successful visit by Master Aitken and his chums to the Barony in April to try their hand at hewing coal and jiving with the locals. There is fury about higher charges for National Health dentures and spectacles, with one to three teeth costing over £2. In Glasgow's Sauchiehall Street a simply marvellous lady and her daily woman are shopping.
Vanity All is Vanity – Well Nearly All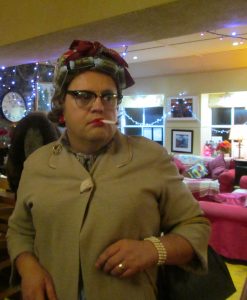 "And would Madame like a vanity case to go with the suitcase?"
"Och naw, I'm no really a very vain wumin."
"I am sure the shop assistant is very aware of that Mrs Travers. It is, after all, not every day that that the floor of Daly's department store is graced with elasticated bandaged legs and a mismatching pair of T bar sandals. We are, however, thinking about the future and what you will need for the adult education college, for those who have been dealt a poor hand in life. It is important that you make a good impression, and nothing says, here I am, love me or loath me like a good set of luggage."
"Well, I suppose you would know Mrs Wylie, but what do I need it for?"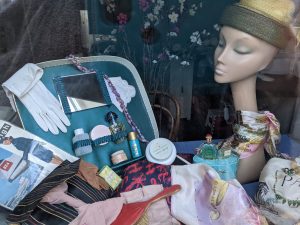 "Well most ladies need a vanity case for their medications, maquillage , bijouterie and spare lingerie at the very least, or in your case Askit pooders, coal tar soap, your string of crystals and the double directoires with the inside pocket in bottle green flannelette. Although I am hoping that Treron's might sort that one."
"Well, perhaps if you think it necessary Mrs Wylie."
"I do. Perhaps Miss, we might see one or two examples of your vanity cases, but nothing too showy, we live north of the river."
"This is very generous o' yous Mrs Wylie, especially since yous'll be losing my incomparable domestic services for a few months."
"Don't start blubbing Mrs T. Here take this Swiss embroidered lace handkerchief. It is only for a few months and you must take opportunities where you find them; even if it is at some sort of revolutionary college in Midlothian where you will come across many Trade Unionists and their like. I wouldn't be surprised if you ran into some of those teachers who have been on strike."
Unqualified Males
"I don't think they've gone on strike lightly Mrs Wylie. They're worried aboot the dilution o' labour in the teaching profession, and the subsequent lowering of wages by employing unqualified males."
"All men are inherently unqualified Mrs T. If the world depended on men being qualified, we would grind to a halt."
"I think they mean not havin' a degree, Mrs Wylie."
"My point exactly Mrs T. Most men do not have a degree of common sense among them. Look at your estranged husband, and Busty Betty. Then there is Mrs Macaulay and her husband, the one in concrete with his fancy women and Lady Pentland-Firth and that man cut in three by the Auchenshuggle tram; and Jasper."
"Oh, Mr Wylie doesnae hae fancy wumin!"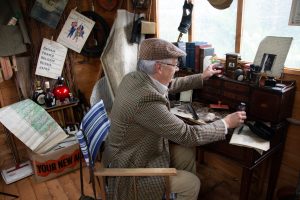 "No, Mrs T, but he does have that shed and a collection of broken pottery and there was that woman who threw herself off the church tower."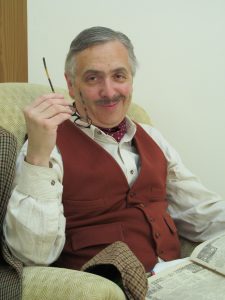 "I suppose so, but somehow I always feel there's more tae Mr Wylie than meets the eye. Still waters run deep. Anyway, on the question o' the striking teachers most o' the trouble's been in Paisley."
"Why am I not surprised? You know what Disraeli said, don't you Mrs T?
"Keep your eye on Paisley."
"Exactly! As my father said a town where the pigeons have to bring their own lunch."
"What about these, Mrs Wylie, Mrs hrr-um, ladies. There is the box shape with the maroon trim or something more contemporary which might appeal to madame – the white with the air force blue silk lining, very à la mode, very L Shaped Room.
"Mrs T?"
"The modern one."
"We will take it. Have it sent round."
"Certainly. Cash or account Mrs Wylie?"
"Account, that is to say Mr Wylie's account."
A "Gay novelty" in Pettigrew and Stephens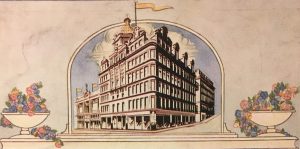 "Oh, look Mrs T, Pettigrew's have a special on Darvel lace tablecloths and luncheon sets at 37/6 including four embroidered napkins."
"It's quite a good price but look Mrs Wylie, Bar and Sandwich sets in a gay novelty pack.
"I do like a gay novelty pack. I should perhaps just buy one or two to take to America quite near the United States. They would do as gifts if Jasper and I are invited to any soirées in Georgetown. Now that looks interesting – a bar set including roulette cloth, marked as a board with a roulette wheel. Ideal I would think, especially at 17/6. The Americans love a novelty."
Gamboling Along Sauchiehall Street 
"I think those will go down very well in the United States near America, but Mrs Wylie do you see Mrs Kennedy at the roulette wheel?"
"No, I bought a lace tablecloth for her. However, I imagine if she did play the tables she would be a winner. I think her father was a bit of a gambler."
"Like Mr Wylie,  I mean like Mr Wylie used to be before he saw the error of his ways."
"Yes, but let us hope he does not drift back to the turf now that Betting Shops are allowed under the new Gaming Act."
"There is always bingo."
"I do hope not Mrs T, mind you they are seeing sense in Gourock where the cinema, which was to be turned into a Bingo Hall, has been saved by the intervention of the Town Council."
"Aye, who probably play the stock market."
"And your point is?"
"My point Mrs Wylie is double standards, it's all gambling. It's just that tailcoats and top hats are replaced by plastic macs, curlers in the hair and chiffon scarves."
"Perhaps you are right, but here we are Treron's Restaurant and there is Jasper. Good he has managed to get a table and there's that nice waitress Nettie talking to him or rather he is talking to her as usual."
"Aye he'd get a piece at any door, would Mr Wylie."
Lunch in Trerons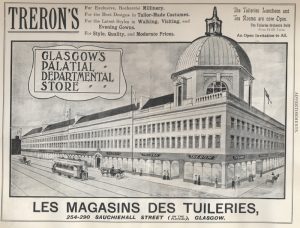 "Thank you Nettie; I think the ladies are agreed on the gammon steak and pineapple and I will have the steak pie with the link sausages. Well ladies have you had a good morning?"
"Yes Jasper, Mrs T has a new suitcase and a vanity case for the lefty summer school, and I have bought a couple of gifts to take to Washington D.C. in America".
"Very generous of yous both, if I might say so Mr Wylie, Mrs Wylie ma'am."
"It's the least we can do Mrs T. Pour me some water Jasper. I believe they give you water at every meal in America. What of your morning Jasper? I hope you finished the Merry Month of May Windows at 'Chez Nous'."
"Yes dear of course, then I called at the wine merchants. We have something new for the weekend, a white wine called Blue Nun, it is very fashionable in London now.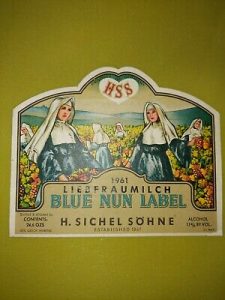 Then I went to Fergusson's in Union Street for some asparagus. Robin Orr wrote in The Glasgow Herald this morning that it is in season, and therefore it must be true. He has a recipe for cooking it in a pancake with cheese I took the liberty of cutting it out Mrs T. I though it might make a nice lunch. I have been here for a while reading the paper and chatting to Nettie, she lives in Love Street in Paisley you know. Of course, you know what Disraeli said about Paisley?"
"We do."
The South Side and Sauces
"Talking of Renfrewshire…. "
"Must you, Jasper?"
"I know it's on the south side Muriel, but Paisley was the richest town in Britain one upon a time. Anyway I bumped into Dr Bennie the M.O.H. and he says there is a case of Polio.
"Oh dear, that's scary. I'm wi' Mrs Wylie. I'm no' keen on the South Side either. And anyway the Mau Mau are active again; two men are on the loose."
"That is in Nairobi Mrs Travers, not Nitshill!"
"Here we are – two gammon steaks with pineapple and a wee bonus cherry in the middle and a steak pie with link sausages for the gentleman. Got to keep our strength up now, have we not Mr Wylie?  Tomato Sauce?"
"Is it in a bottle Nettie?"
"No, Mrs Wylie it comes in a little dish with a spoon and is served on another plate with a doily."
"In that case, Mr Wylie will have some."
"Brown sauce?"
"Certainly not. This is a civilised nation, at least last time I looked. I would have thought better of a department store which takes its inspiration from Paris, pronounced in the French manner – please note."
Kitting Out the New Mature Student
"Well, I fair enjoyed that Mrs Wylie, it's nice to have a meal cooked fur me."
"Pleasure Mrs T. Now underwear and a housecoat?"
"I don't think I need any new necessaries Mrs W; you've already been more than generous."
"I think with light summer clothes Mrs T, you need a good slip – something in nylon taffeta. It is practical, you can rinse it through in your wash hand basin. And it gives body – well, it can try anyway. Then I was thinking, Seigal are doing a collarless coat for 8 guineas and that would go over a summer dress or a roll neck arran jumper, if it turns chilly. There is also a short camel stroller which will look nice with a kilt."
"I thought students wore duffel coats."
"Only those on C.N.D. marches as they don't show the dirt when they lie on the road. Doing well at college is not just about reading Keynes and writing essays about the Nuer."
"It isn't?"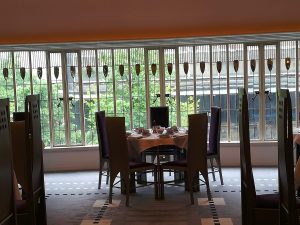 "Of course not, so let's go and try these on and then we will indulge in an afternoon tea in the Willow Room at Daly's"
"I shall be quite done in."
"We shall go home after that, freshen up and have a sandwich supper, if Jasper hasn't eaten the left-over chicken and then we are out again."
"Out where?"
More Dashing About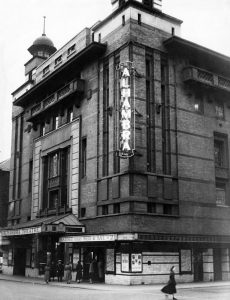 "The Alhambra, it's Jasper's treat to mark you're getting a place at the college, it's the Fabulous Five Past Eight Show of 1961 with Jack Radcliff, Jimmy Logan and Eve Boswell."
"Oh, I do love Eve Boswell."
"Then a fish supper, if we are hungry, in Maryhill Road before we drop you at home."
"But you don't eat fish and chips or indeed anything in public."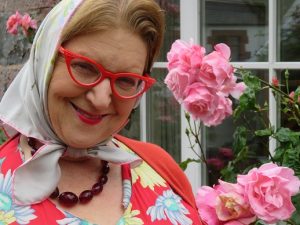 "Not to worry I have a mackintosh which is past its best and a useful head square  so no one will recognise moi."
"If you don't mind my saying Mrs Wylie, only you could have a fish supper outfit. Might you have a pickled egg and malt vinegar?"
"It's a night out at The Alhambra Mrs T, not the last days of the Roman Empire."
à bientôt
Muriel's Musings
May 1961