The Muriel and Jasper blog is back – set exactly 60 years ago.
It's a new year and a new decade. The space race is on, coal is in decline, Mr Profumo, the Secretary of State for War has arrived at Gatwick from Africa; Mr Macmillan, the Prime Minister, has said a wind of change is sweeping through the continent, but no one is listening; H.M. the Queen is expecting her third child and in Scotland Muriel and Jasper are putting the decorations away.
If Only Christmas Could Last All Year 
I don't know about you (which is probably just as well), but I am always a bit sluggish after Christmas and New Year. As they say and as you know they say a good many things "it's a good job it comes but once a year." Of course, they didn't all say this – for example Charles Dickens, who was a very well known, Dickensian writer said "If only Christmas could last all year round." Well he would, wouldn't he as he invented Christmas as we know it and had a lot of books to sell. It's well seen he wasn't Scottish as he would have known full well that this event is followed hot on its heels by New Year which is just as exhausting. Muriel, my lady wife, says she doesn't know what I have to be exhausted about as my role is limited to adding names to the Christmas card list and massacring the goose, figuratively speaking of course, as it is already dead. She is referring to my carving skills which it seems are wanting. Her dear Pappa, it seems, carved effortlessly and with style.
Party at Lady Pentland-Firth's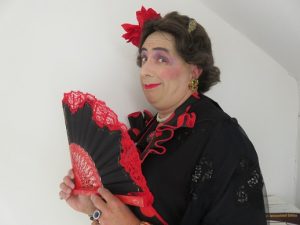 I hope you all had a splendid festive season. We, of course, were madly hectic. Muriel says that her commitment to gracious living as a philosophy makes it incumbent upon us to entertain and be entertained. Lady Pentland-Firth gave a simply marvellous party based on "old Christmas" as it was celebrated in the Georgian period. Muriel and I provided the post suppa entertainment in the form of readings by what Patience calls "the chimney piece"; Adam of course. I was James Boswell experiencing his first London Yuletide in 1763.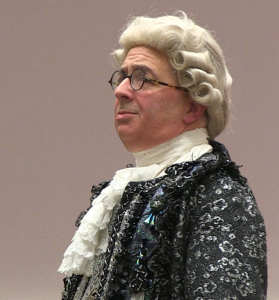 Muriel, who refused to play a lady of ill repute accosted by Boswell in Vauxhall Gardens (even with the inducement of eyebrows cut from mouse fur and patches to cover pox scars), played Jenny Simper a young beauty from the pages of The Spectator who cannot see her beau three pews in front because of the over decorated church. Evergreens naturally, nothing so vulgar as tinsel. We did manage to persuade her against singing an aria from the popular show of the time, seen by Boswell- Love in a Village, on the grounds that it might be too near the truth and result in a legal dispute. Villages and villagers being what they are, particularly at New Year if you follow my drift. Muriel did agree that the rustics were not quite ready for Thomas Arne and a voice, that in her own words "…. is known to reduce grown men to tears."
Running Buffets and Well Fired Rolls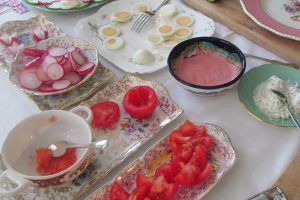 It was left to Muriel to organise the New Year bash. This is legendary as it features the famous "running buffet", which lasts from the "bells" at midnight on the 31st until the early hours, when she serves breakfast to the most dedicated partygoers. More accurately, breakfast consisting of well fired rolls filled with a choice of bacon, flat sausage and tattie scones is prepared by Mrs Travers our daily woman what does (but not a lot). This is accompanied by Bloody Marys to give revellers the strength to get home.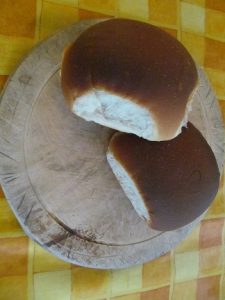 Muriel declined my offer of a talk on Scottish New Year customs as she felt it deserved a more attentive audience untainted by varying states of vinous dilapidation. Instead in "the quiet room" the librarian from Glasgow's Stirling Library, who is a good friend of mine and an expert on Radcliff Hall, read selections from 'Hogmanny Horror', one of the rural mysteries penned by local celebrity author Bunty Haystack. Bunty has gone missing and despite extensive police searches, there has been no trace of her. As she was badly injured in a rather odd incident at a Shooting Party involving the comrades, hospitals have been alerted. This has resulted in a dead end. As Mrs Travers says "her end must indeed be pretty deid" having been peppered by so much shot when last seen from the rear she might have been "mistaken for a colander."
Christmas Entertainments in Glasgow
Talking of entertainment, the Christmas shows are still going on in Glasgow and we did manage to see a few. There was of course the Pantomime at The Alhambra for little Gayle, "Goody Two Shoes". What a spectacle, the wee soul was transfixed. It was her first visit to the theatre – it will not be her last!
I took Mrs Travers to see Little Boy Blue at The Pavilion and Muriel wanted to go to The Boy Friend at The King's. One might also have chosen to see Festive Fare at The Empress for Glasgow is blessed with many theatres and cinemas. One needs somewhere to go on the long dark nights that are our winter not to mention the short, grey afternoons. Muriel is, however, most keen to see a revival of The Dancing Years at the Empire featuring original cast members, Barry Sinclair and Olive Gilbert. Her family were very friendly with Ivor Novello and Muriel is said to have been his muse for several characters not only in the The Dancing Years but also Glamorous Nights and Careless Rapture.  It is said that Novello had Muriel's vitality in mind when he wrote Gay's the Word, a parody of Ruritanian romances although the role was actually played by Cicely Courtneidge.
Jasper Anticipates Trouble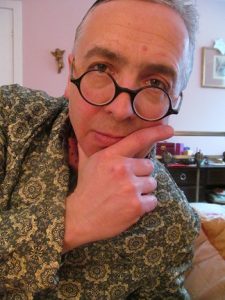 Well this isn't getting the Christmas decorations put away in the loft. Trouble is at this time of year one is prone to too much thinking and reminiscing. Now what was I supposed to be doing? Oh yes more boxes of Christmas decorations to be collected from the drawing room. And I must also hide the Glasgow Herald as the 10 best dressed women have been announced and Muriel does not feature, despite having written to the organisers pointing out their failure to recognise anyone from Glasgow and that at great personal inconvenience she was prepared to step into the void so that they might escape embarrassment.
In and Out of the Attic with Mrs Travers
"Jasper where are you? Mrs Travers says she is freezing in that attic; bring the last of the boxes up here before she asks for a pay-rise for cold weather working."
"Here you are dear."
"Thank you Jasper I suppose you have been lost in your usual reverie, but that won't butter no parsnips as the saying goes. Now easy does it those balls were hand blown in Venice."
"Some people have all the luck"
"What's that Jasper, I cannot hear with Mrs T doing all that exaggerated huffing and puffing. Honestly, the working classes are not what they were."
"I said such excellent taste my dear, did Marco Polo bring them back from China?"
"No dear, my grandmother brought them back from Murano. She always liked to handpick her own baubles. She loved nothing better than to see a sweaty Italian in front of a forge wearing nothing but a leather apron and a face full of puff. Honestly Jasper I swear you need a hearing aid."
"You need to speak up Muriel. Now is that all, I didn't realise I was going to be employed in the capacity of a man from Pickford's. I was hoping to go to the Club. There is a talk about the Monte Carlo Rally, which is going to be starting from Blythswood Square."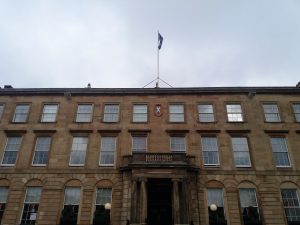 "Yes you can go, provided you remember to call in at the Empire for those Dancing Years tickets and Jasper leave The Herald. Today is the announcement of the best dressed women."
Nothing Like An Out of Date Tin
"Can I come down now Mrs Wylie? That's them all and I have found a box of tins of pork luncheon meat."
"Really? They must have been there since rationing."
"Will I bring 'em down and chuck them in the bin?"
"Well you can bring them down, but we are not throwing them away. What do you think this is Mrs Travers? Liberty Hall? No, they will do Jasper for lunches in his shed."
"But some of these have been here since the Clydebank Blitz."
"Exactly, no age at all. Do you know you could still eat the tinned ham Captain Scott took to the Antarctic."
"Well! So that's how the middle classes keep their money."
"What's that Mrs T? I have told you before about mumbling – enunciate."
"I said I was just wondering… umm… I suppose there is no possibility of a cold weather payment for a morning in that attic?"
Affected By The Cold
"What do you mean cold weather, the sun's out."
"Not in the loft, it isn't."
"Well put on another layer and make some tea. The hot cup will thaw you out. Really the nation has gone soft."
" Humph! Tae Hell wi' poverty, gie the cat another sausage!"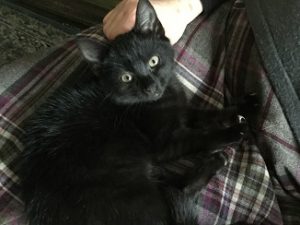 "What was that?"
"Nothing Mrs Wylie, I was just remembering a saying of my old ma about the wonderful example of thrift the middle classes set to us poor working class people who cannae manage wur coppers."
"I am glad you realise it Mrs T; it's just a matter of a well managed post office savings account."
"So I believe Mrs Wylie, so I believe."
A Cup of Tea in the Hand 
"Let me pour Mrs T your hands look white"
"Reynaud's Phenomenon."
"What that?"
" A medical condition in which spasms of arteries cause episodes of reduced blood flow."
"Is that real or just another of Harold Wilson's Socialist ideas?"
"No; it's been known about since 1862."
"I knew I should never have given you that old Home Doctor. Now where is the paper?"
I would hazard a guess that Mr Wylie has hidden it between the pages of Life and Work.
A Nice New Apron from Virginia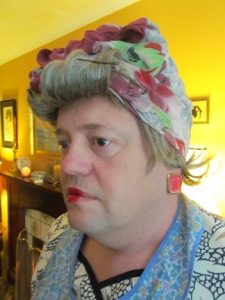 "What are you looking for Mrs Wylie?"
"Just the best dressed women listings Mrs T, certainly not on the front page. We have Russia testing a new rocket to reach other planets. Might be a good idea if they put their own house in order before investigating others. There is trouble in Nyaserland, no change there then. Mr Macmillan is in Africa giving independence to somewhere or other that will regret it. One has only to look at America."
"I had a very nice new apron from Patty in America."
"Ah yes my dear friend Patty; she is too kind. Jasper and I had some lovely gifts from Virginia too, she is so thoughtful. It would be so nice if she came to visit one day. Now what was I saying.. ah yes page 2.. Mr Bevan has had a restful day after a major abdominal operation, it must be the strain of thinking about what free things the public can have next through the National Health Service."
"I like the National Health Service."
"But you have no sense of personal responsibility."
"You mean I have no money."
"That too; now is there another cup of tea if your hands are better? 
Shifty Men
Thank you, a little more milk if you please. Now nothing on page 3 except Wall street has "eased," the Glasgow Stock Exchange is "steadier" and rubber is "dull". Coal output is down and Mr Profumo is back from Africa."
"I am not keen on him; he looks shifty."
"Yes, but his wife Valerie Hobson, the actress, is rather glamorous."
"She smiles too much. Mark my words Mrs Wylie, that's not a happy woman. I can tell. I kept smiling all those years when Mr Travers was with that woman at the Unnecessary Lingerie Shop down by the Forth and Clyde Canal."
"Busty Betty."
"Please Mrs Wylie do not mention the name of that hussy in my presence."
"Sorry Mrs T. To change the subject did you know that 'The World's Women's Christian Temperance Union' was having its Triannual Conference in Mexico? Apparently they have a lot of trouble with juice from a cactus."
"We have the same problem in Maryhill Road, only it's from barley."
"Now here we are….. Best Dressed Women. Well really!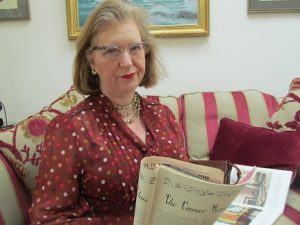 Later, With A Sherry
"Now Jasper what do the following have in common – Merle Oberon, Audrey Hepburn, Princess Grace of Monaco, Princess Alexandria?"
"I cannot imagine Muriel."
"Yes you can Jasper. They are the best dressed women in the world apart that is from Princess Marina who has been demoted."
"Oh, so you found the paper then."
Yes Jasper and I know you only hid it to spare my feelings, but I am a grown woman who was once interrogated by the Gestapo."
"That must have been much worse."
"Yes it was, well sort of. At least they liked my make do and mend outfit made from two dresses and given new life with a cheerful yoke and cuffs."
"Anyway Dahling, they have clearly made a mistake. For this is just a list of the best dressed women, of course they couldn't include you as your accessorising would make them all look dowdy."
"What, even Princess Grace?"
"Handbag too large."
"Audrey Hepburn?"
"Fringe."
"Oh Jasper you are so right, it would not have been fair."
"Of course, I am right sometimes Muriel. You have to give the little people a chance. Did you finally get the decorations put away?"
"Yes, although it took ages. Mrs T was working to rule, said she was tired and suggested it might be a good idea if we had Christmas and New Year in the summer when the shops are quieter."
"I think her family are a lot of work Muriel, especially when one has run off and another is in and out of jail. Now to happier matters I have two tickets in the front row of the circle for The Dancing Years."
"I hope Jasper the new decade will be 'the dancing years'."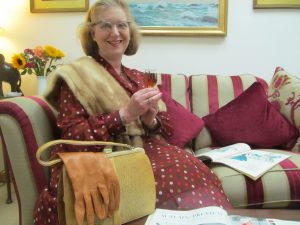 "Why not Muriel? A toast to the 1960's – the dancing years. Cheers everybody and a happy 1960!"
TTFN
Jasper Wylie
January 1960