Unsung Heroines at Edinburgh Castle, 2 – 4 December 2019
It is unlikely that you have ever heard of Mrs Jane Clark. This was the fate of many of the women who made major contributions during World War I. Mrs Clark was Edinburgh born and bred. She went to St George's girls' school and she married a doctor. She had a son and a daughter. She enjoyed walking with her husband in the hills and was also keen on mountain climbing. Life was good.
Then war broke out in 1914 and as with many mothers she had to say farewell to her son who volunteered for service.
Jane wanted o make a contribution too so like many other middle class women she signed up as a Voluntary Aid Detachment nurse and with 6 weeks of first aid training under her belt, began work in the auxiliary hospitals run by the Red Cross.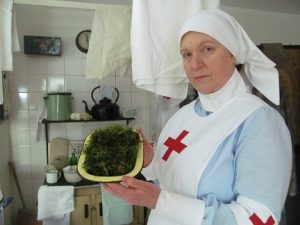 By 1915, even the Red Cross could not set up auxiliary hospitals fast enough. Wounded were arriving back at the rate of 24,000 a week. Other organisations were encouraged to set up or sponsor hospitals.
St George's school set up the St George Red Cross Auxiliary Hospital at 7 Church Hill and they asked their former pupil, Jane, to be in charge of it. Now is your opportunity to hear more of the story of Mrs Jane Clark in the Great Hall of Edinburgh Castle. More information can be found here.
Performances are at 11.15; 12.15; 14.00 & 15.00
The performance is included in your ticket price and is suitable for the whole family.