It's November 1961 and it's time to discover what Mr Pastry, The Congo and starlings in Sauchiehall Street all have to do with Muriel….
The Spirit of Glasgow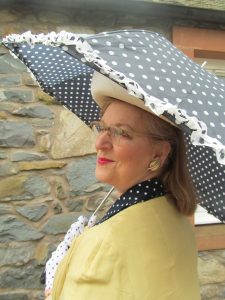 Muriel is in Glasgow, heading down Gordon Street for Mitchell Street and the Offices of The Glasgow Herald. It is one of the oldest daily newspapers in the world and is housed in an 1895 Charles Rennie Mackintosh building. Arguably along with Irn Bru, these three names symbolise Glasgow. I say arguably dear reader, because perhaps, one should add the name of the simply marvellous Muriel Wylie. In her duster coat, fashionable hat and carrying "a good bag" and a gamp (rain is ever near), she brightens up the sooty city. Those she passes feel the inexplicable need to bow or curtsey as if witnessing the passing by of a medieval Queen on her progress. Some, like the new receptionist, have missed the court circular! 
The Dangers of South Side Living 
"Good morning. Mrs Wylie to see the acting editor, Mr Hampton."
"Do yoose have an appointment?"
"Appointment? I do not need an appointment young lady."
"Everyone needs an appointment, Madam. The editor is a very busy man."
"Have you been in a coma, solitary confinement or living on the southside for an extended period?"
"I do live in Shawlands."
"I thought as much, never mind. With application and industry and an in-depth knowledge of your most valued and literary contributors, I think in a few years you might make the trip north of the river. So perhaps you might ring Mr Hampton and tell him I am here. I haven't got all day; I am meeting a friend at 11 in Fullers for coffee and if I am not there on time, she will have eaten her weight in choux buns."
"Oh, I like a wee choux bun ma'sel', Madam."
"I thought as much. Here take this, it's Elizabeth Arden astringent. I just bought it in Daly's, but your need is greater than mine. If it doesn't work best stop at home for a few days, with a face pack and cabbage water, no buns."
"Thank yoose, Madam, I'll call his secretary."
Malaria is No Excuse
"Mrs Drummond, it's Evelyn here at reception I've a Mrs Wylie here for the Editor… Sorry, what was that? Oh, yes, I understand. However, Mrs Wylie says, she's heard it all and he used the excuse of being out of the office and covering an outbreak of malaria in Motherwell the last time she called…Certainly, I will send her up."
The Wrong Shade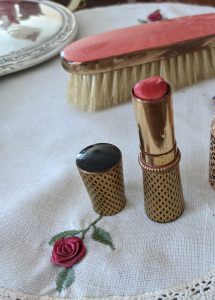 "Nice try Mrs Drummond and marvellous to see you are almost getting the hang of foundation. Blending is the key. Just by way of a helpful hint, and I do not mean to be pass remarkable, but you owe it to those who have to look at you all day long, but that shade of lipstick screams Citizen's Theatre understudy to me. Now, may I go in?"
"Just a couple of minutes Mrs Wylie and he will be with you. Roger, our food and drink man, is with him at the moment with his piece on Keeping Up Appearances- The importance of the table."
"Yes, I know Roger; we meet at the Country House Concerts."
"Can I get you some coffee Mrs Wylie?"
"Kenyan Blue Mountain?"
"Tin of Maxwell House."
"Most kind, but no thank you."
So Giving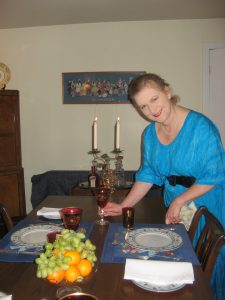 "Mrs Wylie, what an unexpected surprise and pleasure, do come in. Have you met Roger, our Mr Epicure? He is dashing off, unfortunately."
"Yes, good to see you Roger. I gather you are following up on my suggestion about a piece on ambiance at the table."
"Indeed Muriel, as you say what looks better than silver on a mahogany table in candlelight. I am sure you would have written a better article yourself."
"I am in no doubt I could have, but I always find that sharing ideas pays dividends in the long run. And I have been so busy in Washington near America."
"So, I hear. Well, I must be on my way, I have a lunch to attend at midday at the very good varsity followed by a concert. The food will be disappointing, but the port is always first class."
"Give my regards to Professor Boosey-Hawkes, the leading expert on Weber's fast bits."
"I will when I see him Muriel, he has been on sabbatical. Something hush hush so they say."
"Do they indeed? Well anyway, good to catch up, must let you go. See you at next week's concert."
Prize Winning Writing, Naturellement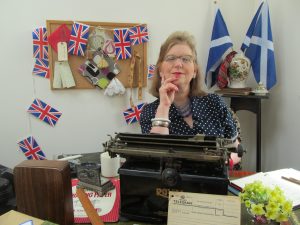 "Mrs Wylie, again what an unexpected pleasure."
"Well, I imagine it might take your mind off malaria in Motherwell."
"Oh, indeed, but thankfully as it turned out it was a case of mumps, all a bit of a storm in a teacup. Now how may one help our premier 'Women's Matters' correspondent. That last piece you wrote on donkey brown suede at the London fashion Show was worthy of the Pulitzer Prize."
"Yes, similar praise was heaped upon my Magnum Opus, 'The Fairy Cake in the Popular Imagination'. People are too kind, but one is not in this business for the glittering prizes, as Charles Dickens said to my great aunt."
"Your great aunt knew Charles Dickens?"
"Indeed, she was the prototype for Miss Havisham, a woman jilted at the altar and etiolated after years without sunlight. However, we have not arranged this meeting to talk about my family's influence on great literature."
"I was not aware that we had arranged a meeting. However, seeing as you are here what can I do for you?"
"I, like Miss Havisham, have been abandoned Mr Hampton, but not by my dear husband. No –  by my woman what has done for years, admittedly not a lot, and I need a replacement."
"Certainly, and I am sure we can come to some arrangement about the cost of a small advertisement in the Situations Vacant column."
"Most kind, but I am looking for a full – page spread."
Finding Space
"With great respect Mrs Wylie, there is just not the room for something like that and it would cost you a small fortune. Already this week I am juggling balls like a clown. We have trouble in the Congo; the Soviet Union pressuring Finland; a hammer killer who has escaped from Carstairs, a strike of B.E.A. baggage handlers; a falling population in the Isle of Lewis; a letter from a woman complaining she was attacked by starlings in Sauchiehall street; a spate of mysterious falling wardrobes; and a new secretary for the comic entertainer Mr Pastry who is, believe it or not, called Miss Cake. I could go on."
"Clearly, but please do not. For one thing when isn't there trouble in the Congo? I blame the Belgians and for another I do not believe Mr Pastry has a secretary called Miss Cake. Now I really do not want to cause you any trouble and I quite understand the distress caused by falling wardrobes, but clearly, they were not purchased through 'Chez Nous'. I am not responsible for poor furniture choices any more than I am for the falling population in Lewis. Although having been there on a Sunday myself I would run for the mainland at the first opportunity if I lived there.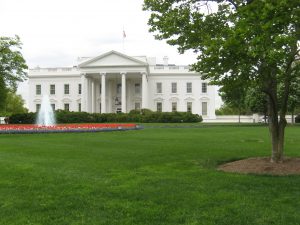 Perhaps I might help you with putting the paper to bed if I were to suggest that full coverage of my experience as a consultant decorator to the First Lady of the United States near America, next spring is open to discussion. A certain Edinburgh newspaper has expressed interest not to mention a very respectable remuneration."
The Power of Marvellousness at Work
"I see, well naturally, we at The Herald would not want to miss out on the story, our female readership would desert us in droves, for a Saturday feature on the Kennedy's emulsion choices in a rival publication."
"Would they indeed? You are so perceptive. A mere lady journalist, like moi, would never have thought that through! Might I say such intuition is what makes you Scotland's greatest temporary newspaper editor. Such a leader."
"Too kind, now I cannot be seen to divert resources and space away from international affairs and possibly even the starlings. Hmm…if I moved the 'Eradicating T.B.' Conference coverage to Tuesday along with photographs of the Boer War Veterans' meeting; the nature notes on the Bullfinch and the row over the definition of Harris Tweed, we might just be able to do it."
"You really are a genius. No woman could come up with something so spatial and imaginative."
"Now I am afraid I cannot just create a full page advertisement for a vacancy regarding one daily woman, but suppose we had a special feature on the History of Domestic Service in Glasgow and somehow the feature would contain a piece on your current predicament. Our readers love stories about old Glasgow and bygone ways, it would be very sophisticated."
A Helping Hand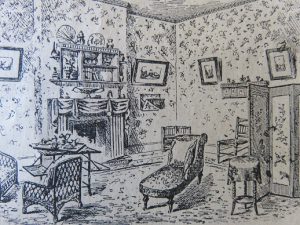 "A sort of backwards glance at gracious living in Victorian Glasgow?"
"Exactly; our readers will love it. I don't suppose you would consider writing the piece for us, would you Mrs Wylie? We pay very well for a full-page article."
"I really do not know as I am so busy; I am not sure I can afford the time …..but for you I will make time."
"Mrs Wylie, you are truly simply marvellous."
"Thank you, I know. Now just before I go …. about that piece on ambiance at a dinner party."
"Oh, don't worry about that. We all know that you are best suited to providing that sort of guidance. I am already pushing that back to page 19, along with the row at the Slough Chamber of Commerce over Britain's possible entry into the European Economic Community. ."
"What happened?"
"Well, the private secretary to the Minister for The Board of Trade referred to it at a dinner in Maidenhead (a place quite near That London). He spoke of our membership as a great opportunity and members of the audience walked out shouting tings like  "Let the Country Vote;" "this day will never come, "why don't you shut up" and some, "what a waster." At least that what I think they said."
"That's a shame I think it rather a good idea myself. Anyway I must dash and get to work on my piece on servants. Perhaps the Stirling Library will have some reference books. I need to go by to pick up a book for Jasper, Call for the Dead, some new author John Le Carré   – in fact Jasper read a review in The Herald and you suggested this new chap might do quite well. It's Muriel Spark's The Prime of Miss Jean Brodie for me. You seem to think that good as well, even if set in Edinburgh."
à bientôt
Muriel Wylie
November 1961