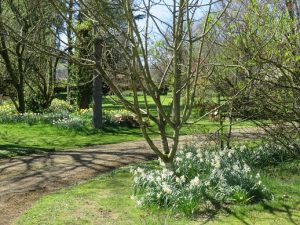 It is early morning in April 1961 in the Rural Bolt Hole. At last, the weather is improving. The days are growing longer, and the daffodils are are still in bloom. The fields are full of lambs and the rivers almost look a little dry. Dibbers perform their song and dance act. A heron stands motionless at the water's edge watching while a pair of bored but superior looking ducks float past.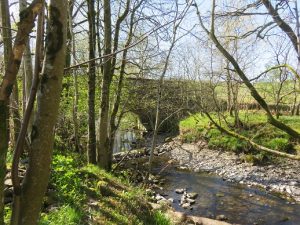 They seem oblivious to the human activity as the inhabitants go about their early morning business, but they are watching very carefully. They see all and they hear all.
Early Morning Activity in the Rural Bolthole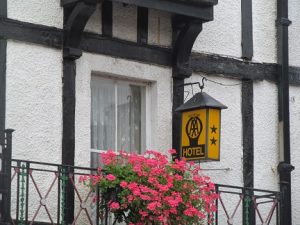 They see shifty Mr Macaulay, the bungalow builder, sneaking out of the back of the Pentland Firth Arms after a night in the arms of 'Able Mabel from the Stables. He has narrowly missed his wife Lottie, who is walking the dachshunds, Bismarck, and Beethoven. She is under the impression that Mr Macaulay is at the Carlisle Concrete Conference for he is big in concrete.
There is Miss Bunty Haystack, the rural crime novelist, watching Auld Young Jock feed the pigs at Dunmoaning Farm and noting things in her little black book. At the river's edge Jasper Wylie, international Man of Tweed and local historian, is collecting broken pottery, proof that the river has always been the countryman's coup (Scottish word for a dump) and that the rustics favoured blue and white.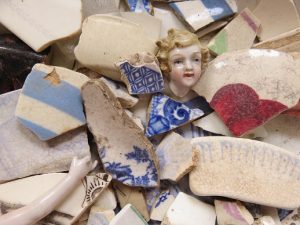 The simply marvellous Mrs Muriel Wylie on Sunday's Church Flower Rota this week is busy with secateurs collecting newly budding twigs and blossom for a Japanese inspired flower arrangement.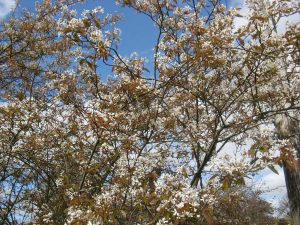 Emerging from the baker's is Mrs Esme Travers, a woman what does, with a string bag full of well fired morning rolls and flat sausage.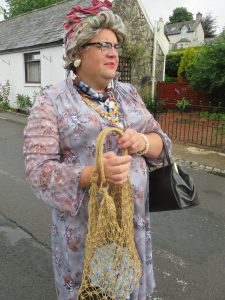 Mrs Travis reaches the gate of her employers and meets the postman on his bike who has a pile of letters. There is something for everyone and coffee summons them all.
Second Breakfast – Thank Goodness!
"Morning Mrs T, I could eat a deid horse chit, first breakfast was just too early."
"Would a fresh morning roll and some square sausage do instead, Mr Wylie?"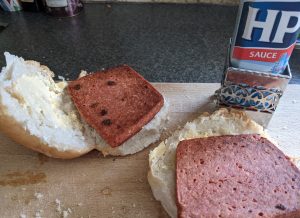 "Certainly, but I suppose as she is coming up the path swathed in horse chestnut buds, I cannot have brown sauce."
"I have already anticipated the view that Brown Sauce is common by putting it underneath your Lorne sausage."
"Mrs T you think of everything."
"Except myself."
"Pardon?"
"Nothing, stand by yer beds; her she comes."
"Good morning Mrs T, Jasper; what a wonderful spring morning. Just look at these buds! It will make going to Church a worthwhile activity. Is that brown sauce I can smell?"
"No. Flat sausage?"
"No thank you. I think I will just have some of the new Seville Orange marmalade on my roll."
"There you are an' there seems to be post fur everyone – letters from America, I think. One o' them looks very posh."
"Even one for you Mrs T?"
"Aye, believe it or not, even one fur me."
A Letter From Cousin Lulubelle in Washington D.C.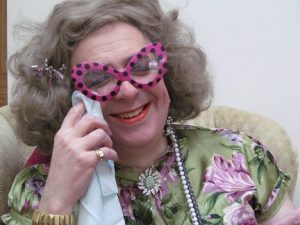 Dear Cousin Muriel,
As ah live 'n' breathe – I hope Cuzzin Woman this finds y'all well and that the wrought iron magazine racks and plant potholders are still going strong AND that the tills are ringing at 'Chez Nous'.
It sounds, Hunny Lamb, as if your involvement as an artistic advisor to the Glasgow overspill developments is proving advantageous. At last Cuz y'all're learn'n' it's all about influence an' volume. Tassels sure are nice, but y'all gotta think about the aspirations of the high-rise housewife.
I was in litt'e ole New York at the weekend and saw your nephew, Sebastian, in a new musical The Young Abe Lincoln, at the Eugene O' Neil Theatre. He provided the amphibian for I want to be a Little Frog in a Little Pond. He tells me he is also understudying Ralston Hill, the understudy for Abe.
As a treat Ah took him to see Judy Garland at Carnegie Hall. Seats were sold out, but Judy's an old friend, so we had front row. You even see Judy hugging Sebastian in a snippet of film. Fair to say he was overwhelmed and over the rainbow.
Now, you'll be getting' a letter from someone important, and I want you to consider the proposal very carefully. Opportunities do not come this way very often, especially your way. So please think about it. It'll put 'Chez Nous' on the map.
Must go. Ah'm helpin' the President to invade Cuba.
Your lov'n' cuzzin
Lulubelle x
A Letter from Nephew Sebastian in New York
Dear Uncle Jasper,
I hope this finds you well and in the pink.
All is splendid here in New York, and my training in "the method" goes well. I have been able to put this to good use as I have a small part in a new musical The Young Abe Lincoln in which I play a frog. For several weeks I have prepared by living as a frog in Central Park and trying to make my eyes look googelly. The director is thrille, by my commitment, but as there are timing issues I may be cut.
The big news is that I have met Judy Garland and am just over the rainbow. Cousin Lulubelle was in New York from D.C (that is what we locals call Washington, the capital). Apparently, tickets were like gold dust for Carnegie Hall but Cousin Lulubelle, who provided the yellow brick for the road, is an old friend of Miss Garland, so we had front row seats. Oh, she was out of this world and sang 26 numbers. You would have adored her Almost like being in love and When you'er smiling. The audience was transfixed you could feel it. I have never experienced anything like it, "the love was tangible" as one critic said. They say, and I know they say many things, but in this case I think they are right when they said this was "the greatest live performance of all time." Unfortunately, it was not filmed although there seems to be some amateur footage.
Is there any chance you And Aunt Muriel might come to the United States this year? I would love to see little Gayle.
Must dash, takes me ages to get the wet suit on.
Fondest Love to you and the Aunt
Sebastian xx
P.S. Big hugs to Mrs T.
An Unexpected Letter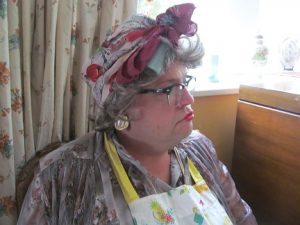 Dear Mrs Travers,
I write as the Chairman of the Board of Governors at New Battle Abbey College in Midlothian.
You may be aware that we are a college dedicated to helping adults return to education especially where they might have been disadvantaged in the past. We were established in the 1930s when the new Marquis of Lothian, faced with crippling death duties, offered this rather grand house to the nation. The heads of the four ancient universities of Scotland are our trustees. You may be familiar with some of the names who have experienced the college including the poet Edwin Muir who was Warden here.
Your tutors at the local college where you currently study at a twilight class in Sociology and Economic History have written to us with samples of your work. We have been particularly impressed by your ability to present the modern plight of the woman what does (but not a lot) through the eyes of Durkheim and Weber. Your personal experience of deviance and divorce set against the background of Busty Betty's down by the canal is a tour de force and might I say should be a policy document for the criminal justice system.
My reason for writing is to offer you a residential course here at New Battle Abbey, naturally with fees paid and appropriate expenses. I am sure you would find it a stimulating and convivial atmosphere.
Please do not hesitate to get in touch if you require further information. I would also much appreciate your recipe for your legendary tattie soup.
Yours sincerely
The Trustees
From the Desk of The First Lady of The United States of America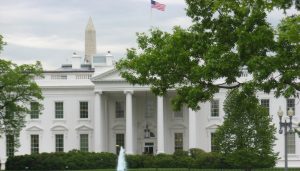 Dear Muriel,
I hope this finds you well in Scotland.
Not so long ago we spoke about the possibility of you advising me on the redecoration of the White House. I was reminded of this the other day when I met your cousin, Miss Lulubelle, who has been advising The President about a secret operation called "Bumpy Road" which seems to involve pigs and a plan.
Meanwhile I have been given carte blanche to do something about the interior of the White House. I am bound to meet some opposition, so feel I need a friend. I am aware that you are terribly busy re-housing Glaswegians and that your magazine racks are a full-time job. However, would you possibly consider spending the summer with me her in DC (this is what we call Washington) as Consultant in Décor and Ambiance to the First Lady. Naturally, there will be a fee as well as accommodation in Georgetown; all expenses paid for you and your husband and indeed your ward and any help you deem necessary.
I have never forgotten your excellent advice about my wedding dress, and you were so right to suggest the boucle twin set and pill box hat would be so very moi.
Please say yes.
Yours
Jackie
Jacqueline B. Kennedy
More Coffee and Distracted Minds
"Anymore coffee Mrs T?"
"Yes Mr Wylie."
"Thank you. Sebastian sends his love."
"How is he?"
"He's a Frog."
"Why am I not surprised!"
"Mrs Wylie more coffee; another roll?"
"No thank you; what was your letter about?"
"Oh, just my subs due for the Eastern Star."
"And yours Muriel, Dahling?"
"Just the usual stuff from Cousin Lulubelle, Jasper and an American asking about tassels, that is all. Yes, more coffee would be nice and then I must write some letters. Are you all right Mrs T? You look a bit pale, happy to cough up the subs if you need them?"
"Thank yous Mrs W. I have a bit of a headache, think I'll take an Askit pooder and sit in the garden for ten minutes."
"Too much sociology Mrs T? I know, no good will come of it."
"Well, that's as maybe."
The Rural Bolthole
April 1961