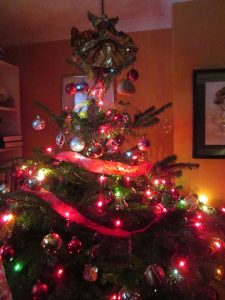 The Victorians Have a Lot to Answer For
Christmas 1961 is not far away now. You may well think that we Scots are not ones for celebrating Christmas. It is true that in the 1640s the "Yule vacation and all observation thereof in time coming" was illegal. Oh how we in our perverse way loved it. For a nation addicted to lip pursing and sharp intakes of breath it was a gift. Strangely New Year celebrations, which despite oddly pagan origins in a Calvinist nirvana, were allowed.  We are, however, a thrawn nation constantly (at least in our own heads) in conflict with ourselves, so that was absolutely fine.
As time passed, Christmas assumed more importance  and the picture was more nuanced. Victorian businessmen, and let's face it Glaswegians in particular, were good at being businessmen and excellent at being Victorian, and saw marketing opportunities by encouraging the celebration of Christmas. Increasingly there were adverts in newspapers and magazines for the many things we had not realised we needed which could be provided by the department stores of Buchanan and Sauchiehall Streets.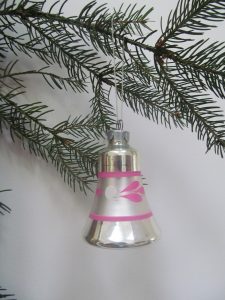 During the last unpleasantness many of our brave boys and girls met with the wider concept of Christmas while serving overseas, but it was not until 1958, that Christmas Day became a Bank Holiday in Scotland and Christmas has become more popular with every passing year. You will now see many a windowsill sporting a silver tree from Woolworths, which looks a little like a glittery version of a lavatory brush which essentially it is. There is now on the new peripheral city estates many "a scheme" living room bedecked with paper chains and tissue bells. It is much needed cheer at the darkest time of the year. In the Rural Boltholes of auld Caledonia stern and wild, the gentry resist the onward march of such vulgarity, their only concession being a few sprigs of holly and spruce cut obligingly by their gardeners who now only come once a week.
Parties, But Don't Get Too Excited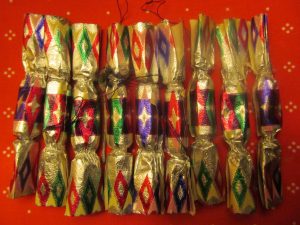 Thus, we find in the West End of Glasgow of 1961, the inhabitants are busy, writing cards, buying presents, taking the children to see Father Christmas in Lewis's Department Store in Argyle Street or Copland and Lye in Sauchiehall Street and planning parties. Well, I say parties, but we are probably talking about a few friends in for evening drinks. This will include a light supper of bridge rolls with ham and cheese gently warmed in the oven, followed by some shortbread and "delicious coffee." "Delicious coffee" is instant coffee made strongly in a fashionable pot with a touch of salt added to bring out the flavour and served with hot milk. Close your eyes and it might almost be percolated. Presbyterianism runs deep, so we really do not want to be going over the top. For as we all know enjoyment today has a price to be paid for tomorrow. Guests know it is time to leave when the host does not put another log or shovel of coal on the fire and the hostess says, "one more for the road."
Sudden Departure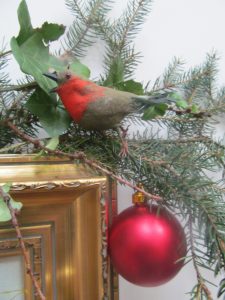 At Glasgow's most distinguished address, a well-appointed home of the type solicitors describe as "often sought but rarely found," the preparations for Christmas have been somewhat slow. Principally because a great deal of effort has been undertaken to recruit and appoint a new daily woman "what does but not a lot." This vacancy occurred because the former holder of this domestic opportunity, a Mrs Esme Travers, has gone on to work as housekeeper in a trendy left-wing adult education college. For her former employers, the city's leading interior decorators Muriel and Jasper Wylie, this has been regarded as desertion of the worst sort.
The Three-Tiered Approach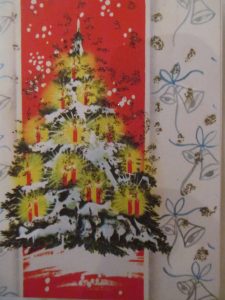 Thankfully the job interviews have taken place orchestrated by Muriel, assisted by her friends Mrs Lottie Macaulay (wife of the bungalow builder) and Mrs Cynthia Savage (wife of the Pickle king, Savage's Pickles and Condiments).  They have made their choice and we join Muriel who must write to the candidates before she can get on with her Christmas cards. Fortunately, she has this task honed down to perfection. She has a three-tier approach. "Those and such as those" receive printed cards; the neighbours have a good quality shop bought card; and then staff (and those who find a card from Mrs Wylie the equivalent of receiving the O.B.E. from Her Majesty), one of a selection from boxes of fifty bought in bulk by the local stationers in 1948. They never seem to run out. Unfortunately, some have glitter that is now rather dim and others have stuck to the envelopes but as Muriel, who dislikes waste, tells the grateful recipients, "You could use it as a bookmark or you should be able to cut out two or three gift cards for next year."
A Man Fully Able To Dress Himself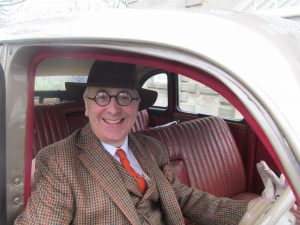 "Muriel, do you have the cards for the post?"
"Certainly not Jasper. It may have escaped your notice but, despite my multiple talents, I have been somewhat busy with staff recruitment. I must write the letters informing candidates of my decision. So many will be disappointed. Of course, you could always write them, but then last time that happened, you missed out Princess Margaret and Winston's was written in Biro. I hope to have finished this by lunchtime and then I will see to the cards. Where are you going, you look very smart, considering you got dressed by yourself?"
"Thank you dear as my Granny Wylie used to say in her room and kitchen in the Gorbals "first up, best dressed." I am going to check on sales of Angel Chimes at 'Chez Nous'. After that I am meeting Hairy Mary from Inveraray and young Gayle for lunch and then we will see if Father Christmas is in Lewis's. I thought you might appreciate the peace and quiet and I am trying to avoid Sharon's soup."
"I don't blame you Jasper, still the end is in sight. Have fun, and remember the Mackintosh Squares. That new coat of Gayle is from Jacqueline's in Byres Road, and there might have been bahookies on Santa's sleigh ride originating from Springburn".
"Already in my briefcase; see you later."
The First Letter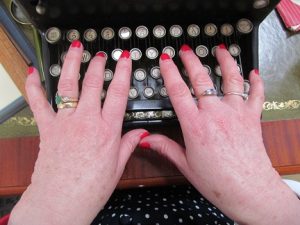 Dear Mrs Pirnie,
Thank you so much for attending for interview for the post of Senior Domestic within the Wylie Household.
I regret that on this occasion I must disappoint you. While your coconut pyramids with glace cherry would be a treat at any children's party, I am afraid that your vacuuming skills somewhat let you down. The direction of travel with either upright or cylinder is backwards. A forward motion leaves footprints especially as in your case when wearing army surplus boots.
I am sure some training in a more junior position would lead to future employment in a first class establishment such as the one you sought to enter.
Wishing you all the best for this festive season.
Yours sincerely
Muriel Wylie (Mrs).
Next
Dear Miss Macready,
Thank you for taking the trouble to come to interview on three buses from Easterhouse.
While I am indeed most happy to consider Glasgow overspill applicants, I am sorry to say that on this occasion you have been unsuccessful.
I think that with careful research and planning you might have undertaken the journey with one change of bus. On behalf of the panel, I would like to point out that the Daly's label inside your rather well – cut and exclusive tweed houndstooth coat gave us some cause for concern. I have taken the liberty of reporting our observations to the Glasgow Constabulary.
Have a lovely Christmas wherever you spend it.
Yours sincerely
Muriel Wylie (Mrs)
No Pulling the Wool Over Muriel's Eyes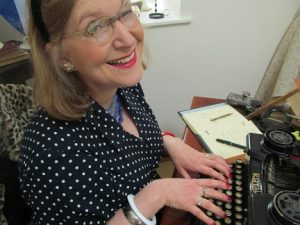 Dear Miss Fifi-La-Mode,
While I agree a French maid has always been desirable in a grand Glasgow establishment, the post requires more than just an outfit. We all agreed you were immaculately presented, however,  housework generally requires clothing that goes beyond thigh level. The purple feather duster, while certainly eye catching, is unlikely to be serviceable.
As to your references from a select retail establishment which formerly operated down by the Forth and Clyde canal, I feel I should tell you that I am well acquainted with the history of this foundation garment business and its activities before the police raid.
Yours sincerely
Muriel Wylie (Mrs)
An Interloper
Dear Mrs McConachie
Thank you for your interest in the post of Senior Domestic. I regret to inform you that at this time I shall not be taking your application further.
While I appreciate your honesty about the not proven verdict and this would not necessarily stand in the way of your employment, I feel you might be more suited to an establishment on the south side.
I am enclosing a leaflet about personal hygiene.
Yours sincerely Muriel Wylie (Mrs)
Sharon receives a blow and some consolation
"I'm sorry to interrupt Mrs Wylie, but I thought you might need a wee sherry before lunch. There's a nice spam roll to look forward to."
"Thank you, Sharon, just put it here on my desk. That is very thoughtful but, and this is a small thing, a pint glass is generally not the done thing with sherry. Now while you are here…"
"I'm no' getting' the job, am I?"
"No Sharon, not on this occasion. Now do not be too upset. Your interview far exceeded our expectations and I am sure that in some circles jelly baby sandwiches would be ideal party food. I would, however, like to offer you the more junior but essential post of 'the woman what does the heavy work' to assist the new woman who we hope will do quite a lot."
"Thank you your grace, and I'll no' let yous down like my ma-in-law."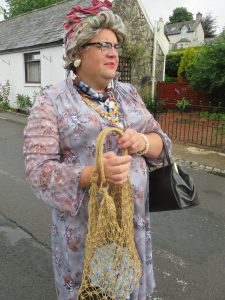 "I am sure you will not Sharon. However, I would be most grateful if you could refrain from mentioning the name of the treacherous one in my company."
"Of course, madam, will I still do yous a Spam roll?"
"Yes, please, but leave out the Spam. I like to finish on a positive note so might I add my observation that your well fired roll buttering has come on a treat. Now I must do this last letter."
Good News for Someone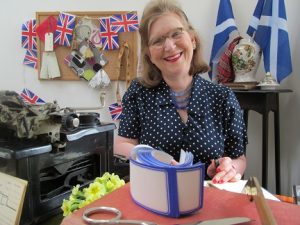 Dear Mrs Sloan,
It is with the greatest pleasure that I write to offer you the post of Senior Domestic at the Wylie residences.
The interview panel were unanimous in their decision. We were particularly impressed by your career to date having experience of both the armed services and nursing as well as a catering qualification.
We also appreciated your honesty in the reasons why you left Cliveden House. I am quite sure that the sight of a senior Cabinet Minister with a model in the all – together in the swimming pool in broad daylight was quite shocking. We feel that your refusal to stay in such a household a moment longer says a great deal about your integrity. I can assure you that we are all fully clothed in this household at all times. Indeed we pride ourselves on being able to undertake a complete change of clothing without taking our dressing gowns off. In addition, Mr Wylie never goes swimming.
Your vacuuming was first class as were your emergency Empire biscuits made with a packet of Royal Scots, shop bought jam, glace icing, and cherry. We were most impressed with your doily management, not to mention your damp dusting techniques which are positively textbook and your thorough comprehension that Spring Cleaning is an art form. Finding someone who actually has experience of polishing parquet floors,in the sub-continent with coconut shells tied to their feet is quite moving. In the bedmaking department your hospital corners received the highest marks. We were, however, most impressed that you make beds wearing white cotton gloves. This has not been seen in Glasgow since before the last Unpleasantness. I imagine that this may have something to do with the unsavoury goings on at Cliveden, but I shall not pry. It was clearly painful.
My husband and I look forward to welcoming you after the New Year.
With good wishes for the festive season
Yours sincerely
Muriel Wylie (Mrs)
à bientôt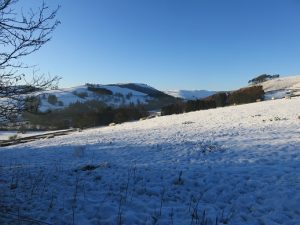 Jasper et moi would like to wish you all a very Merry Christmas and Happy New Year.