It's that time of the week again.
Time to step back 60 years to the world of Muriel & Jasper Wylie where all is marvellousness. And if it is not Muriel will sort it out for you. 
Gala Fallout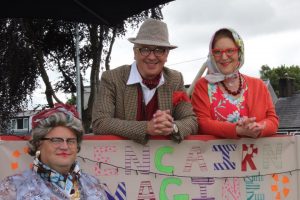 Mrs Travers (our daily woman what does, but even less in August) is conducting an all out war against Big Bertha from the Bakery due to some rather mean comments about Mrs T's femininity at the Gala. This has mainly taken the form of a war of words regarding the freshness, or otherwise, of Bertha's well fired rolls. There is a suggestion that the said Bertha's only limited technical expertise lies in the area of products with a pastry bottom and a fruit filling and that she is rightly entitled to be called "Queen of Tarts."
Meanwhile, Professor Sir Boozy Hawkes is still recovering from being the cause of the collapse of the Gala Marquee. The Professor entered the Gala spirit with such alacrity that he was barely able to play the Church organ the following day. Substituting If you knew Susie for All things bright and beautiful was perhaps not the wisest of moves even if his work does go unpaid. Unlike "the other organist" who is paid.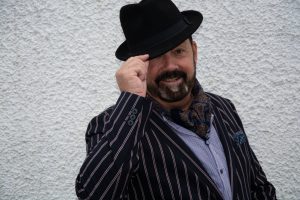 The Handsome Stranger has been seen creeping about the home of crime writer Bunty Haystack hiding among the gooseberry bushes with notebook and binoculars, giving rise to a story among the local children that "Miss Haystack's  going to get a baby at any minute." This story was given greater credence by the appearance of a heron on her fish pond. This of course is being readily interpreted as the arrival of "the stork".
Mrs Lottie Macaulay, estranged wife of the millionaire bungalow builder, has paid 5 guineas for a summer course in Margaret Morris dancing. Having seen her  "Isadora Duncan and scarf" routine, I have to say it looks more like Austin Morris. Jasper , when not picking his crop of gooseberries which are in abundance this year, is in his shed with his many research projects and is helping to catalogue Major Fault's stone balls for an exhibition on 'The Bronze Age and Beyond'.
The Silly Season
So on one level all is normal at least for our neck of the woods at the rural Bolthole. However, one cannot help thinking that during the months of July and August some collective madness takes hold of the nation. Perhaps this is why they call it "the silly season" and why Parliament goes into recess – it saves them from themselves. I cannot blame Her Majesty heading for Balmoral. She is probably exhausted after the debate surrounding The Legitimacy Act giving equal rights to children born out of wedlock. This may have implication for the Home for Fallen Women.
I think our leaders need to conserve their energies as I strongly suspect, and I have told Jasper as much, there will be an election this autumn. In connection with this I have been giving some advice to a young woman of my acquaintance who is going to stand for East Finchley. "Just a few presentation details you understand Margaret by way of helping Mr Macmillan's cause." Jasper of course does not approve and hopes that if there is an election Mr Gaitskell and the socialists will get in. "Well Jasper"  I said "if you want to ruin the country, that's a good way to start. It will be a free for all." Jasper thinks a lot of free things are a good idea. I think it is ill considered. The nation is already awash with National Health glasses and teeth, not to mention eye patches.  It looks like we are all in Treasure Island.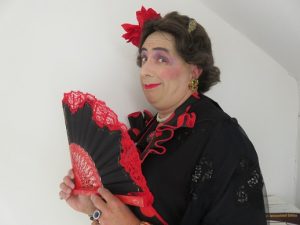 Talking of silly things Lady Pentland-Firth, having opened the Gala last week ,has gone for a long weekend to Girvan, which is on the coast, to help the new assistant minister who looks like Tony Curtis to run his beach mission. All I can say is I hope he can outrun her ladyship. She can get up quite a head of steam when she sees a head of curls.
The Problem of Children Being Bored in Summer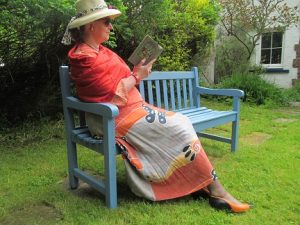 Our shop 'Chez Nous' is quiet; after all who wants to think about interior decorating when the sun is shining. I am, therefore, able to relax a little dans le jardin as well as catch up with my correspondence and write one or two articles to amuse.
Many of you have been writing about the difficulty of entertaining children in the summer months and dealing with the eternal cry "I'm bored." Sometimes I think it a great pity we do not have Summer Camps like the Americans have.  Of course this is only a temporary solution to the problem of children. In Britain we have developed the ideal solution to children and that is the boarding school. This unravels during the long holidays unless one can find a study trip where one learns a language by living with a family overseas for three months. As these are usually organised through convents, they are quite reputable. When the young folk return home for a couple of weeks before resuming boarding school, they can be kept  occupied on the Islands or the tennis courts of friends and neighbours and there is always flower pressing for a rainy day.
I Understand
Of course I do realise that one has to be one of "those and such as those" to have this sort of ideal summer.  There have been many letters from those of you with limited means, and some eye patches,  but who have already set both feet on the path of gracious living. Typical of the letters I receive is this one from a lady in Kilmacolm  in Renfewshire who I suspect has set her sights a little too high, too soon and should have tried Bridge of Weir first.
A Desperate Woman in Kilmacolm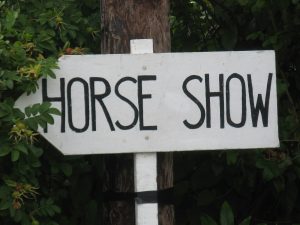 Dear Mrs Wylie,
My husband and I have sacrificed a great deal to send our Dorothy to a good school. It takes everything we have to pay the fees, buy the blazer and the 10shillings extra for elocution and Margaret Morris Dancing.
We find ourselves at a disadvantage during the holidays as none of our friends have islands or tennis courts. Indeed I only know one with a flower press and that is used by their son who is a constant worry. Dorothy became very tearful last week when the Horse Show was run in our village and we had to pretend we were visiting a sick aunt in Anstruther. We cannot afford a pony and I am worried that Dorothy is going to be socially disadvantaged.
Yours in tatters
Evelyn McSween (Mrs)
A Life in the Saddle is Not Everything
Dear Mrs McSween,
I do feel for you, but ponies are not everything. I myself was a superb horse woman, but I have to say despite my talents in most classes at the horse show where Grandmama was the guiding light  I was never what one would call "horsey". Indeed it can be a positive disadvantage. For let us be frank Mrs McSween, the ring is the destination of girls who have failed even in domestic science. It is the female equivalent of the youngest son of being sent to India to work in tea. It is but one short step from the winner's rosette to T-bar sandals and ankle socks which inevitably leads to  a spinster's life.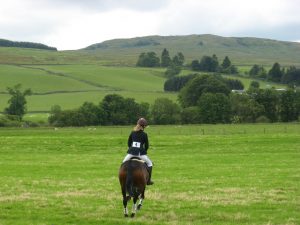 I also have to say that a life in the saddle leads to what I can only call "bahookie spread,"  or as you in the south might say "broad in the beam" and the life sentence of ill fitting slacks. So you should not despair all is not doom and gloom.
Confuse the Enemy with a Good Story
If, Mrs McSween, you feel socially ostracised and your outbuildings contain only a rusty old bicycle, a scooter and the gardener's lawnmower (I am assuming that you do have a gardener or, really Mrs McSween, you should consider your options) instead of anything equine, you might consider a face saving ruse.
Fit out your garage or shed as if it has been home to a pony – some straw on the floor, a range of rosettes and a riding hat on the wall etc.. Your story is that your family has always been horsey and many ponies have passed through your hands. They have come from such a noble lineage that your last horse was given up to improve the Soviet bloodstock line which has never been the same since the revolution. Unfortunately poor Caesar was so exhausted after a week improving the line of the fillies in Minsk, or wherever, that he dropped dead. You of course are distraught and cannot bring yourselves to own another horse. You can even produce a letter from Mr Khrushchev thanking you for Caesar's sacrifice. My daily woman has a son who is good at copying things even in Cyrillic.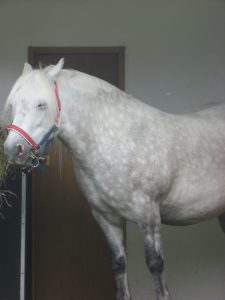 You can show off Caesar's stable, blankets etc. at coffee mornings.  You can shed a tear and say "I just cannot go through that again, but at least the Cossacks are happy." There will be huge admiration at your connections and you will be invited to Bridge. There will also be such sympathy at your loss by people who care more for their ponies than husbands that little Dorothy will be invited to ride other little girls' ponies. "Honestly Mona, if we may, you must come up to the farm with little Dorothy any time. We insist. She must think of our Elle of Bathgate as her own."
You Will be the Star of Your Own Fiction
Do not worry about Dorothy after a few days she will be convinced of the story herself. Children are like husbands – very suggestible, half an apple and a pat on the head should do it. By way of return, you can hold your own 'Memorial Garden Horse Show' at home. Using old saw horses, winter dykes, fire guards and linen baskets with clothes poles linking them horizontally you can create jumps and the children can go over these riding the imaginary Caesar "who has returned for one day from horsey heaven." You can add to the general equine theme by playing games such as 'Pin the tail on the Donkey', singing Muffin the Mule or Horsey, Horsey. There can be prizes of books such as anything by Pat Smyth or Anna Sewell's Black Beauty. Over excitement can be counteracted by readings from suitable literary works such as Nickolas Nye or The Tale of the Trojan Horse.
For active girls you might arrange a visit from the rag and bone man or the milkman – inevitably their horses will leave a calling card and you can shout  "Rosemary, Fiona, Alison, who wants to help feed the roses," they will adore going outside with shovels. Those that are adverse to shovels full of fertiliser can be encouraged to play Newmarket.
Watch Out for Danger
When the other mummies come to collect Georgiana, Felicity, Rosemary, Mary Jane and the others, you will be hailed as someone who in the face of tragedy carries on, selflessly in the memory of Caesar who died so nobly. You will just have to hope that no one like Mrs T or Jasper spoils things by arriving and saying "I expect dear old Caesar is now a pot of paste on a Kremlin desk or a constituent part of a tin of 'Chumsky – meaty chunks for a comrade's best friend". This would not end well.
Boys
Now you might say "what about boys?" Well there is no need to give them a moment's consideration. For boys have no interest in horses whatsoever. "Horses are for girls" will be the cry, until they become men and discover the delights of the turf and the turf accountant.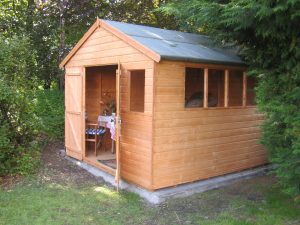 Here lies ruination and needs to be counteracted by the acquisition of a shed and the encouragement of hobbies which use vices, chisels and matching sets of spanners in a presentation box. In any event boys and summer go together more naturally; they just need sight of a river, a rope and an old car tyre and you will not see them until school starts.
Very Convincing
Thus Mrs McSween you can, with a little imaginative elaboration, turn an apparent disaster into a triumph. Your lack of a pony has been turned into a positive situation. I think you could be quite good at this .You were after all very convincing about an aunt in Anstruther which seems most unlikely, it's full of fish.  Were you ever considered for S.O.E.? Why even I am beginning to think you had a pony. Hail Caesar.
Yours sincerely
Muriel Wylie
A Commotion
"Muriel"
"What is it Jasper? I am busy with my correspondence; a poor woman is horseless in Kilmacolm."
"You had better come quickly, or you will be a woman without a woman was does, even if it is very little. For funnily enough, the Milkman's horse has gone missing and Mrs Travers is having a sausage roll fight in front of the Pentland Firth Arms. Mrs Travers said the horse is missing because it is now encased in Big Bertha's puff pastry,  the one with the egg wash glaze and lattice finish."
"Anything else I should know?"
"Yes Boozy Hawkes is  still as fu' as a wilk and keeping score as if it were cricket. And the children are singing, 'Bunty's got a baby.' It's a bit of a commotion, as they say in Edinburgh."
"Really Jasper! It seems summer madness has broken out in reality. Thank goodness Parliament has adjourned or they might do something silly."
à bientôt
Muriel Wylie
August 1959