Juggling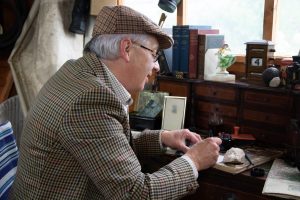 How lovely to see you. Unfortunately, you catch me at a terribly busy juncture –  well somewhere between luncheon and afternoon tea to be precise. Just catching my breath before Muriel returns with another set of instructions. She is currently "busy bashing about". We are juggling business, the forthcoming trip to Washington near America and getting Mrs T (our daily woman what does but increasingly less) ready for her residential place at an adult education college for the summer. She is about to experience a late flowering in the world of Sociology and Economics at a forward-thinking establishment which caters for the needs of those who have had less of life's opportunities. I heartily approve, although it is causing some chaos in the Wylie household.
Muriel Has Gone South
Muriel has, against her better judgement, gone to the South Side. Never fear her smallpox vaccination is in order and she has taken her passport and a picnic. She also has a plentiful supply of Eau de Cologne and smelling salts. It is a rather warm day here in Scotland, the thermometer currently reads 67˚F  and according to the news on the wireless it is 70˚F in Tummel Bridge. Extra trains have been laid on at St Enoch's to take people to Largs and the Solway Coast is terribly busy. Some 500 people have made their way to Iona on a pilgrimage. They must be stewing. However, what, one might suggest, is a pilgrimage without a little suffering?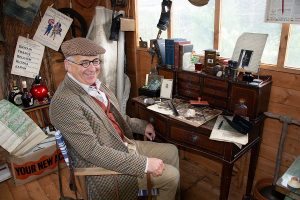 I am confined to barracks. The result, I am afraid, of  an altercation with the constabulary as a result of exercising my right to protest.
Saved by a Passing Yacht
Yesterday, I went with some of my C.N.D. chums to the Holy Loch for a demonstration against the nuclear submarines which currently threaten to have us all "blown to kingdom come"; or at least as far as Kilsyth. And who would want that?  Our plan was to board the supply ship Proteus. I must admit it was, as The Glasgow Herald said this morning, "the craziest regatta ever seen," consisting of kayaks, dinghies, launches and the vessel on which I was travelling, a converted houseboat. Muriel who disapproved of the whole venture said "at least a converted houseboat creates an image of Swallows and Amazons or a sojourn in Kashmir and not some sordid revolution on the Clyde,  with a lot of teachers who should be in their classrooms supervising Singing Together."
In truth it was a little choppy and I had to hang on to Mrs Pat O'Connel, who is indeed a teacher from London. We, however, coped well until the American sailors turned their hoses on us and what some have said they experienced a "pelting by nuts and bolts and tins of metal polish." Altogether 41 were arrested for breach of the peace and being "drunk and disorderly."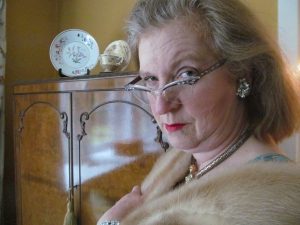 Fortunately, as I was struggling in the water with my 'Mae West' (the life jacket, not the film star) Lady Pentland-Firth was sailing by in her yacht which is moored at Largs and one of her crew jumped in to save me from the briny deep and the police. I was, and of course still am, in the bad books and received many withering looks! Not only did Muriel say I looked ridiculous dressed as a matelot (the only dry clothes on board) but I was jeopardising the whole trip to Washington. It seems the authorities there do not take kindly to those entering the country with criminal records. Presumably, they have enough of their own to deal with. 
House Arrest!
Muriel says I am under house arrest (well shed really) until "the heat dies down." Mrs Travers is enjoying her role as warden. Mind you it could be worse, what with regular deliveries of tea and coffee to the shed. Muriel meanwhile is at a fashionable shop called Tavalan, where she is advising on the stocking of Scandinavian cutlery, occasional furniture, and Swedish glass.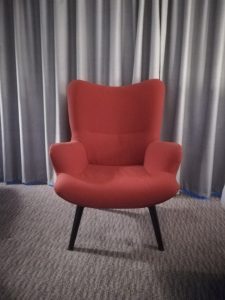 She declares, with missionary zeal, that the "airts and pairts" south of Jamaica Bridge will be given the experience of 20th century design at its best, or at least most profitable.
It has been quite a hectic week for Muriel as she was also out and about in her role as a member of the Scottish Design Council. One of her activities relating to "good design" has concerned the business of Wood and Selby at St Georges Cross. Before my maritime adventure we had worked together on three window displays based on stock items. These were for a dining room, bedroom and what they call a "lounge." This made Muriel wince, but "lounge" it seems is very "Glasgow overspill.". I came up with the concept for the dining room, using an extending mahogany table (space saving is all the rage). I suggested black mela-ware soup bowls on pillar box red plates. On the matching sideboard were half a dozen rose-red glasses. Muriel tied the whole thing together with a purple rug and a bowl of anemones, which she says, "are very Glasgow School of Art." By all accounts it is the talk of the steamy.
Silhouettes Are In
My work during this week of prison rehabilitation is supposed to be researching and sourcing silhouettes. These have been somewhat out of fashion in recent years but alongside the vogue for the Nordic there is also a revival of interest in Victoriana and that simplest of human likenesses, the silhouette. It has been promoted by an exhibition at the Portrait Gallery in Edinburgh about the work of Augustin Edouard who worked in Scotland. The name comes from Etienne de Silhouette, 1709-67. A civil servant at the court of Louis XV, he tried valiantly to control the extravagance of the French Court during the Seven Years War. He was loathed by the Parisians and his name became synonymous with anything cheap and economical.
Of course, the current appeal means we need to stock them at "Chez Nous" as Muriel says "they are so decorative either side of a chimney piece or grouped on a staircase." Personally, I would rather be devoting my time to something more ordinary in the material culture line such as the study of manhole covers or trade tokens, but that sort of thing does not tend to appeal to our clientele, many of whom have had ancestors executed in the Tower of London and know the correct pose for a painting in oils.
A Captive at Sea 
While I was grateful for the timely rescue by Lady Pentland-Firth on her pleasure cruise down the Clyde, there was of course a price to pay. Chiefly several hours of detail about the forthcoming season of Country House Concerts. She is somewhat anxious that Muriel will be away and not there to support her as usual. Of course, this is not unexpected as Muriel usually does most of the work.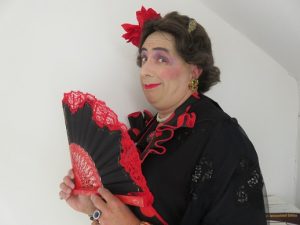 Lady Pentland-Firth has a love of the dramatic and our summer in Washington is seen as desertion, while she is left in the desert that is Pentland Firth Hall, "left to fight off the carrion and the creditors, while I am left all alone, all alone".  Judging by the attentions of the sailors on her yacht I doubt very much if Lady P-F will be alone much. Muriel says she will manage and that it will do her good to have to put some effort into her estate, and its survival, through the Arts.
Queen of Hearts?
So far, Patience has come up with the idea of a Croquet Weekend with the Aristocracy, as apparently this is immensely popular in Glasgow now, with sports shops selling more sets that ever. The game has many complicated rules and so the event will include a workshop and the concert as well as readings relating to sports and pastimes. I suggested Alice in Wonderland to which she replied "Oh Jasper, you think of everything, I shall dress as the Queen of Hearts, you will be with me in spirit."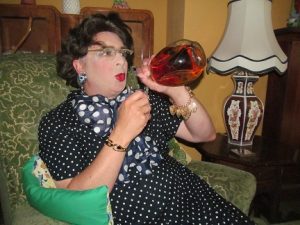 Just so long as she is not in spirits as there have been one or two signs of her slipping back into the whirlpool of amontillado, which was nearly her undoing a few years ago. Advance sales of tickets are proving healthy, so it does seem to have an appeal.
A Positive Menagerie!
Her ladyship's other idea is prompted by a recent visit to London where she saw the Moscow State Circus at the Empire Pool Wembley. It seems she was very taken with Durov, the trainer, who is a "brilliant student of animal psychology." Unbelievably he is assisted by a bear and an elephant and a troop of sea-lions who with balls on their noses and "do all the things that sea-lions do." There were also numerous chickens, an old cock and a grumpy pelican, but her account was a bit confused at this point as the Captain asked her to hold the wheel with him while he navigated the narrows. "I must help for a moment Jasper; the Captain needs me; he says I always point him in the right direction."
Later, having successfully navigated the narrows, she resumed her circus narrative saying, "the highlight featured a cat high on cat nip, which chased 30 white mice up a rope and into a toy aeroplane which was then piloted by the cat." As the troop took their bows, white doves were released into the auditorium. "All I can say Jasper is thank goodness I was in an old Hardy Amis two piece, but it was very moving".
I did try to suggest that perhaps not only was it unlikely that she would get the Moscow State Circus to the south of Scotland, but it was also the kind of thing that would have little appeal to an audience expecting Bach or Handel. I also reminded her that the last time there were wild animals at the estate it went terribly wrong with her late husband's nephew and wife being eaten by lions. "It didn't exactly go terribly wrong for me Jasper darling," she said, "after all, I inherited the estate. One might say those lions did me a favour."
I dread to think what we will find when we get back from across the pond.
Release on the Horizon
"Mr Wylie, I've tea an' gingerbread."
"Come in."
"No. Mrs Wylie says I must just slide the tray in through the shed door, what with you almost being a jail bird like my Billy."
"Whatever you think, but I do have a wee refreshment hidden in the drawer labelled foreign coins."
"Well in that case I will come in. Anyway, I have these for you."
"A whole box of silhouettes!"
"Aye. I jist got 'em off the Rag 'n' Bone man for 7/6d an' a slice o' date and walnut. Seems Mrs Macaulay is having a clear out. Says she cannot stand 'em. They were in the attic when she moved in and she would rather have the Green Lady any day above her mantlepiece."
"Mrs T, you are wonderful! Can we pretend I have been on the telephone all afternoon searching for dealers and they have been delivered by motorbike from Helensburgh or somewhere?"
"Of course."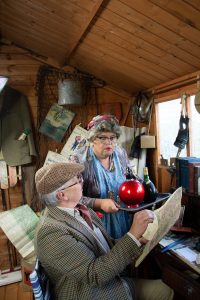 "Speyside or Islay?"
"Don't mind if I do. And by the way she telephoned to say she had bumped into Lady Pentland-Firth who has a spare ticket for Berlioz. The soloist has a finely held legato, apparently. They are having lobster at Rogano, so she won't be home for tea, I mean suppa."
"Well in that case let's get  a fish supper and eat it watching, The Runaway Bus on B.B.C. at 6.30 with Frankie Howard, Margaret Rutherford and Petula Clark."
"Is that the one where they get lost in the fog between London Airport and Blackbush Aerodrome and Frankie Howard is the driver?"
"Yes."
"Ok, if you go round to the chip shop, I will get the TV tables and the vinegar."
"Sometimes Mrs T there is nothing better than an exhausting day bashing about looking for collectibles."
Toodle pip
Jasper Wylie
May 1961
Shed images courtesy of KSB photography