Today Dear Readers we are in the 21st century. We join the elderly Sebastian in The Home for the Terminally Overdressed which provides care for retired thespians, personalities and creatives. 
You join us just in time for coffee and chocolate gingers. For it is the first of many "comfort" stops, held during a Zoom meeting of the board members of the Home for the Terminally Overdressed. This is a unique retirement facility in a secret location, somewhere on the Slough Trading Estate, for thespians and the like.
Reality?
Based on European (and therefore immediately suspect) ideas of helping those living with dementia who once trod the boards or stood in front of a camera, to live out their twilight years. There is no attempt to introduce reality, except the reality of the residents, many of whom inhabit the world that made them household names or at least "legends in their own lunch hours." Coronation Street stars can spend their day at the Rovers' Return. Those who appeared in The Good Old Days have their own music hall and a basket full of feather boas and ventriloquist dummies. There is an interview room for those who were in police shows and even a van painted as Madge's Location Catering  A for sandwiches at lunchtime. There's a reproduction street from Call the Midwife with sounds of bicycle bells and shouts of "now don't push until I tell you". None of it is real, but somehow it is.
The Greatest Shakespearean of Them All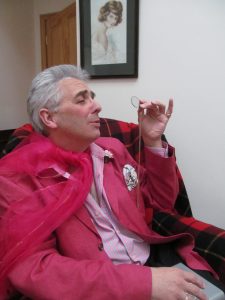 The most notable resident and national treasure is of course Sir Sebastian Wylie Fox. Sir Sebastian is arguably the greatest Shakespearean actor of all time. He famously brought new depth and meaning to Richard III in the 1950s at the Gaiety Theatre in Ayr. Richard III was (for those of you that were not educated privately), one of the many plays written by the most significant of Shakespearean writers, a man called William, who married a woman with a cottage called Anne. The woman that is; the cottage was called Anne Hathaway's Cottage.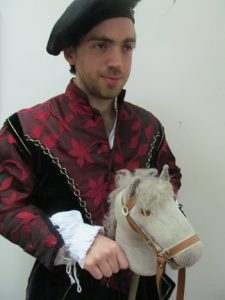 Sebastian went on to study "the method" in New York with Stanislavsky before taking "very off  Broadway" by storm followed by a series of intense cameos in series like Ironside, where he was Raymond Burr's wheelchair repair man in a particularly sinister (now lost) episode set under The Golden Gate Bridge.  For months before he lived that wheelchair repair man role, sleeping with his spanner and oil can and saying things like " seems we are getting a bit of traction here Chief ".
Then there was Bewitched where he understudied Abner, the husband of bemused next-door neighbour Gladys, with such intensity and on one occasions stood in at rehearsals for Samantha's mother, Endora.  He crossed gender effortlessly as one would cross a zebra; a zebra crossing that is, not the animal.  She was sick and Sebastian was the only one who suited chiffon and could sit balanced on a curtain pelmet in a nonchalant yet knowing manner. He and Darrin by the way did not hit it off – neither the first nor second Darrin.
From a Family of Stars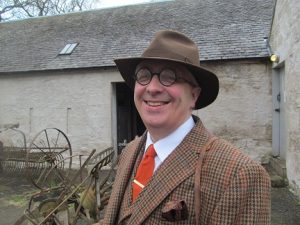 Stars of course often themselves come from a bright firmament.  Not only was Sebastian from Glasgow where, to a greater or lesser extent, all the inhabitants are actors, but he was surrounded by the ongoing drama of his family, every one of them a star. There can be few of you who have not heard of the noble knight's Uncle Jasper, "International Man of Tweed" and his aunt, the Simply Marvellous Baroness Wylie of Waterside.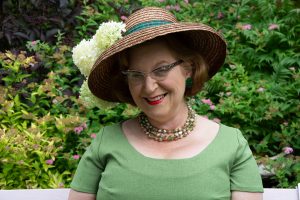 Muriel Wylie was what today we would call "an influencer." Except she would never have worn make up that made her look like a bar of Caramac. Her style, fashion sense and interior decorating, influenced more than a generation. She literally strode (in peep-toe slingbacks) the gap between 1950s post war utility furniture and the flatpack. Her oeuvre ran from tassels to ducks on a wall, to her runaway success the wrought iron magazine rack. Indeed, Muriel and Jasper's wrought iron range say "Britain in the 1960s" as much as The Beatles, Twiggy, and Vesta Chow Mein with the crispy noodles.
National Importance
Sebastian retains the Muriel and Jasper archive, a collection of national importance. It is (were it not for Covid) about to be part of a vast heritage experience called 'Wylie World', which will be a combination of Dollywood, The National Museum of Scotland and Hamilton.  Significantly a suitcase has recently been discovered suggesting that Muriel secretly advised Jackie Kennedy on decorating the Whitehouse in 1961. The media are extremely excited.
Meanwhile…….
At the Board Meeting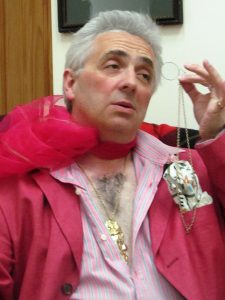 "Ladies and gentlemen, or as I have been advised by the Diversity and Inclusion Sub -Committee, Hey Guys. Do bring your coffee back to the table, we have quite a long agenda to get through before lunch. Now going forward in these uncertain times, we must consider the role of technology in the ongoing roll out of Better Ageing Solutions UK Ltd which for Sir Sebastian's benefit is the offshore holding company for The Home for The Terminally Overdressed. After all, ageing is a business."
"It certainly is Madam Chairman and rest assured I am fully aware of the off- shore interest in the company. Perhaps you might tell me which shore – the Cayman Islands? The Channel Islands?"
"West Wittering, actually Sir Sebastian."
"Nice beach huts at West Wittering."
"Now pressing on, the important thing is ….."
"The important thing is I have a rehearsal this afternoon and lunch will be early so if we might discuss the programme."
"I will come to that. Firstly I would like to say that the continued success of this business depends on staying ahead of the game and we must pivot. And to enable that pivoting to take place, as I am sure the Board will agree, we will have to be agile and maintain focus on emerging digital platforms in a post pandemic landscape."
The Board nods sagely except Sebastian who takes a swig of crème de menthe from his hip flask, receiving a look of withering  disapproval in the process from the Head of Wellbeing, who also advises Casualty."
"Sebastian, do you have anything to add?"
"Only that I have not understood one word of your meaningless gobbledygook, going forward and circling back."
"I think, lad… people, we will come back to pivoting to deliver a truly 21st century solution to ageing after lunch, which FYI, will be in Kathie's in the EastEnders Auditorium. Perhaps for Sir Sebastian's benefit we might turn to our activities for the summer. What are residents thinking Sir Sebastian?"
Sebastian's Plans for the Summer Performance
"Well thank you Madam Chairman, head guy whatever, going forward – who'd want to go backwards? We have been inspired by Radio 3 this morning and are currently thinking Fairies."
"Somehow." chipped in Terry the Head of Perimeter Security, "that does not surprise me."
"I think", retorted the theatrical knight, "some off us might consider that an inappropriate remark."
"Only joking mate; no need to get on your high horse."
"Come now gentlemen, I mean guys. Say sorry Terry or I shall have to bring Equality and Inclusion into the mix and before you know it, we will all be on a "Walk a mile in my shoes" ten steps programme."
"Sorry mate."
"Accepted and FYI, I wouldn't been seen dead in his shoes, Well I have, but I was playing Fagin at the time."
"Gentlemen please – go on Sir Sebastian."
"We would like to propose a number of events based on Fairies starting with a reconstruction of the 1611 performance of Robert Johnstone's Oberon, the Fairy Prince at Whitehall to designs by Inigo Jones, with home-baking at the interval."
"It sounds a little ambitious and I doubt it has been performed since 1611."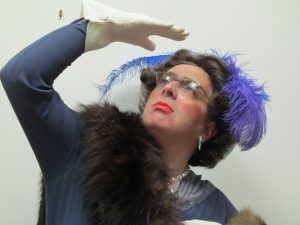 "Lady Pentland-Firth put it on in the 1960s with designs by Muriel Wylie derived from an idea by Inigo Jones, only better. It was a huge success."
"Couldn't we just go for something like the Cornish Floral Dance and a few lines from Midsummer Night's Dream?"
"Well, not if you want my monthly cheque…"
"No need for that…."
"Excuse me Chair, guys, two cultural ladies have arrived to see Sir Sebastian."
The Culture Vultures Again!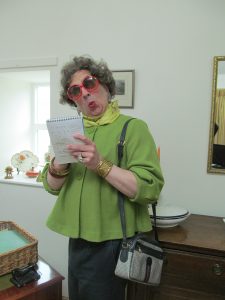 "Ah ……… how lovely to see you Miss Hilary and Vivienne  – so unexpectedly."
"Profuse apologies Sir. We know you won't thank us for coming unannounced, but …"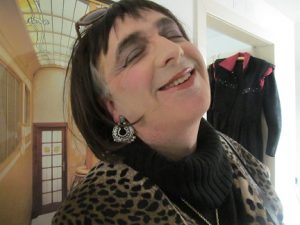 "Not at all ladies you got me out of a bit of a fix, just in the nick of time. I want to leave the Board stewing for a while. Drinky poohs?"
"It's a bit early, but lovely. Thank you."
"Queen Vic, Rovers Return or Princess Margaret's trolley from The Crown?"
"We love The Crown."
"Now there you are gin and dubonnet with ice and a slice. Now what can I do for you? As if I didn't know!"
"Well, you see Channel 5 ½  have run out of things to say about The Queen Mother's hats and have commissioned us to make a series of programmes about late 20th century style and…"
"And you have heard that a suitcase has been found behind the rafters of a house in South West Scotland which belonged to my aunt and contains a series of scrapbooks called The White House Summer, 1961."
"Yes."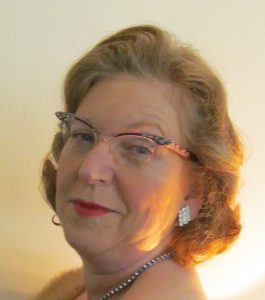 "You presumably wish to borrow these to have a scoop about my Aunt Muriel secretly designing the new White House interiors for Jackie Kennedy."
"Yes, and you are presumably going to say no as always."
"No, I am going to say yes. It will be a great advert for 'Wylie World' when it eventually opens, with free regency stripe face mask and tassel ear-pieces included in the price along with a hand bagged sized bottle of Mrs Travers' (our woman what did, but not a lot), hand sanitiser."
"Gosh that is generous, what fragrance."
"Bleach fragrance – in a presentation holdall made from vintage elastic support stocking material. So, you are most welcome provided you do me one little favour."
"Yes..and what would that be?"
"I believe you both write for 'The Sunday Slouch' which is shortly to have a major supplement on the caring side of Better Ageing Solutions UK. I wonder if you might include this little guide to our summer events?"
"A Summer of Fairies in Slough, – including a lavish performance of Oberon performed by Prince Henry the man who should have been king-" What a marvellous idea, no problem!A double page spread, tagline – 'the retirement  home that just gives and gives to its residents'. Colour pics of you  with your BAFTAs, I think Sir."
"Splendid. Freshen your glasses ladies, as Princess Margaret would have said."
"Ooh, don't mind if we do."
Later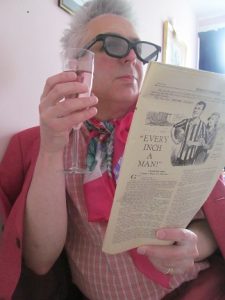 "Sir Sebastian if I might have a moment?"
"Yes Chair, I meal hi guy."
"I am afraid the Board have turned down your summer programme as too expensive given the current climate. Readings from, A Midsummer Night's Dream will have to do I am afraid. Sorry, but what with Brexit, furlough, inflation, etc no can do. I am sure you understand."
"Oh. I understand Chair. I understand, (muttering) The fairies might not though."
"What was that."
"Nothing Chair, nothing. Just you away and pivot."
Sebastian Wylie Fox June 2021