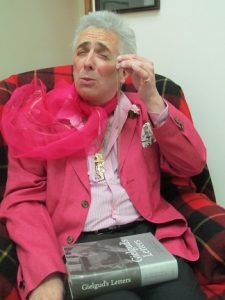 Time:  The Present, January 2019
Place:  A Themed Thespian's Retirement Facility on the Slough Trading Estate
Dramatis personae: Sir Sebastian Wylie Fox, Actor and National Treasure and Assorted Residents of the Home
At the Home for the Terminally Overdressed (and in some cases upstaged) there pervades a certain post festive ennui and perhaps a general mood of après performance flatness.
Never Depressed
One is never depressed Darling, just a little on a downward trajectory as one waits for an update from one's agent or a script in the post with a character role that might add a few pennies to the pension. Provided of course they send a car and have prompts in at least 20 point Arial. It would also help if the production staff could speak clearly; the young do mumble nowadays. It's that social media apparently and really Darling how many times does one need to say "like" in a sentence. It's too ghastly, but the fees here at the Home are enormous. All one can say is thank goodness I had that long run in Emmerdale, not that things have been the same since they phased out farming and my how Annie Sugden gave a voice to that ironing board. One could almost hear the combinations sing as she wielded the Morphy Richards. That, however, as they now say in that meaningless way was "back in the day". Whatever happened to "the past"?
Of course the recent voiceover for stair lifts and funeral plans has been a godsend for Agatha Arkwright. "As I said to the director no one else can simultaneously put a lemon meringue pie into a faux oven, glance at one's declining TV husband in a conservatory arm chair with his 'terminal face', while looking directly at camera and discussing cremation fees with a twinkle. Eyes they say are the window into the soul or in one's case another little ISA." Dear Agatha.
Comedy Passing By
The passing of dear June Whitfield has not helped matters and has prompted a positive festival of reminiscence as the old actors look back to the Golden Age of British Television Comedy when a knock at the door from the Vicar sent the nation into hysterics. Now of course it is all stand-up and swearing.
Long ago as it now seems, comedy was far more subtle. Who would forget the episode when Hattie Jacques and Eric Sykes pretended they were having a foreign holiday and spent  a fortnight in the sitting room in deck chairs with the curtains closed. Or for that matter when Harold discovered his father, old man Steptoe, had been claiming social security for a nonexistent daughter. Oh how we laughed! 
Nothing Like a Bit of Animated Discussion
The Christmas television schedules have not gone down well at all with the residents.  The Morecambe and Wise repeats were of course tremendous, "such troupers, darling". The Queen was simply marvellous, "never puts a foot wrong" and Call the Midwife is "so good on detail; fancy remembering we all ate Lyon's Swiss Roll with custard."
There is, however, concern about the new American woman, in the Royal family – Wallis Simpson having been a shock to the system, in 1936, "far too much bone structure for her own good ."
The Christmas films which begin in August are a complete mystery and the mysteries seem to be a little short on production values. "The Agatha Christie was good enough, but a party in the De La Warr Pavilion in Bexhill  years before it was built – outrageous!" "Still", ponders matron as she observes the inmates "at least they are not just sitting in chairs around a wall."
Stimulating her clients is Matron's raison d'être and why Matron has also laid on two afternoon speakers for New Year's Day in the spirit of the great British Institutions like the Royal Society. In her usual mischievous way she has timetabled "Getting the Public to Pay for Their Hobbies – a Definition of Artists" in the hastily renamed Sister Wendy Beckett Chapel and in a deliberately provocative gesture,  "A Guid Conceit – Do British Cultural Icons have an Over Inflated Opinion of Themselves and Their Place in Brexit Britain?"  This is being chaired by a well known Conservative MP who has asked for a reserved space for his Sedan Chair and a quiet room where he might powder his wig. "That" as matron reported to the Director of Ageing Well in the Wings, as the activities organiser is known, "should set the cat among the pigeons and start to shed some flaky pastry pounds."
A Bit of a Stirrer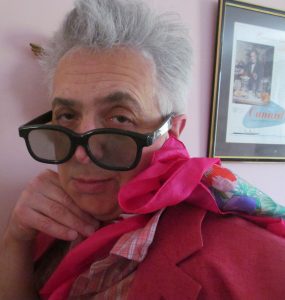 Sir Sebastian Wylie Fox, the Home's most prestigious resident, is not amused. He is cold, having spent the morning at Slough Railway Station protesting against the annual rise in rail fares with the production team of Gardeners World who are worried about getting everyone to flower shows at Chelsea, Hampton Court and Tatton Park on budget and on time. He has spent lunch winding the other residents up about the likely shortage of balsamic vinegar after Brexit and the near impossibility of history programmes being made abroad in beautiful Italian galleries or Sicilian lemon groves. Instead he postulated, over the steak and kidney pudding, that future programmes would place more of an emphasis on British history and some of Britain's finest 'back in the day' themes such as rickets, the Poor Law and child migrant programmes. The latter would not include a trip to Australia in January, but a morning in an archive in chilly Liverpool with a pile of photos of old P&O ships. As to long weekends in Venice with costumed characters in the Fortuny Museum, that was  quite out of the question. It was more likely to be a site visit to a housing estate in Paisley to point out where a cotton thread mill once stood. Not surprisingly retired residents, who once worked with Sir Kenneth Clark on Civilisation and the like, were quite put off their New Year trifle with extra pouring cream.
When The Going Gets Tough, Get Over The Rainbow
Just like family homes everywhere, the Home for retired theatricals has its positive and negative sides especially at the festive season. The food and drink and the collective bonhomie are agents for good, at least to begin with, but there is that tipping point where too many calories, too much alcohol and too many people all confined in small spaces in short days eventually leads to fractures. Old wounds are opened and in the world of greasepaint and backlighting this means recriminations about who upstaged who and who got the part "that was made for me dearie everyone  knew it, my agent knew it , the casting director knew it and darling no one knew it better than you."
Just as in the domestic situation, it is best to withdraw to a private space. Fortunately Sebastian has one of the best spaces available in the Judy Garland Wing which is on the top floor – turn right and you will find it "somewhere over the rainbow". He has had a member of the care team ("we care so you don't have to" as they tell the relatives pointing to their pink polo-neck shirts with the logo above the breast pocket), bring up a trolley of his memorabilia from the basement.
Memories By The Trolley Load
Sebastian sits on the divan bookended by torchères which are a souvenir from "Nero – The Musical" and once appeared on The Antiques Road Show. He sips a French Martini from a glass which belonged to Noel Coward and leafs through his scrapbooks. Here he is in his youth -what a fine figure he was in his tartan regalia.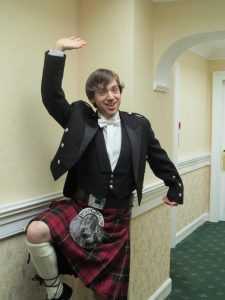 He is transported to New Years of the past when he lived in Scotland where they knew how to celebrate New Year or at least they did until it became a bad idea to drive after three days of partying and no sleep, sustained only by a macaroni pie in a well fired roll.
His late aunt, Baroness Wylie of Waterside, or Aunt Muriel as he knew her was doyenne of the New Year party. She was famous for her "running buffet" which lasted from New Year's Eve until Epiphany without any repeated dishes. Louis Freeman and his orchestra were often hired to provide the entertainment with a set or two from Jimmy Shand. Aunt Muriel and Uncle Jasper were famous for dancing to his Blue Bell Polka. All the old customs were observed.
Sebastian on "Saturday Live"
Indeed earlier this week Sebastian, as the leading Scottish thespian in London, was a guest on Saturday Live on Radio 4 where he amused the audience with quaint tales of old Caledonia.  He made the most of it as this is the only time of year Scottish culture seems worthy of attention. The other guests as ever showed their ignorance of any life beyond  St Albans as they had Auld Lang Syne explained to them and urged by Sebastian not only does the word "sake" not occur in the song, but they should refrain from crossing their hands until the line "and here's a hand my trusty friend" instructed them so to do. He reminded people that at the uncomfortable opening of the Millennium Dome, the Queen was the only person who actually knew how to do it.
Sebastian explained the various other rituals which went on north of the border at this time. He quoted Aunt Muriel's stricture that the greeting in the days preceding Hogmanay was "Happy New Year when it comes," and not just a flippant "happy new year" as that might encourage Fate to think differently. In the hours before "the bells", homes were cleaned from top to bottom and fires smoored until the New Year dawned. All bills were paid and if possible old quarrels settled. The first person across one's threshold should be a tall, dark man with something to eat, and drink and a lump of coal to ensure that one's hearth would be warm in the coming year.
After a hearty meal, (steak pie was traditional, but Aunt Muriel coming from the West Eend of Glasgow, served Beef Wellington with a mushroom sauce) everyone embarked on a round of First Footing which might take several days. As Uncle Jasper once remarked New Year was the time of year when one might go out to buy a pint of milk and not come back for 72 hours without anyone asking any questions. "I thought" said the smug presenter, "that the shops were not open at New Year."  "Exactly" replied Sebastian.
New Year's Day at the Rural Bolthole
"Of course Aunt Muriel and Uncle Jasper always went to the New year dance on the 1st or 2nd. Sometimes this was in the Club in Blythswood Square or at the Central Hotel. Unless of course they were at their rural bolthole and then it would be Lady Pentland-Firth's country estate. Here everyone joined in the Gay Gordons, even if many people were not Gordons and the Dashing White Sergeant and St Bernard's Waltz got most onto the floor.  For the more expert like Muriel and Jasper there were complex reels and strathspeys .
One year" Sebastian recalled, "Lady Pentland-Firth decided to have a New Year's Day Concert just as they have in Austria's Vienna, which is a place in Austria. This was a smart occasion with the great and good of the rural bolt hole in attendance. Lady Pentland-Firth performed herself although as many commented she was somewhat typecast as Lehár's The Merry Widow which is an operetta by Franz Lehár. Mrs Travers, our daily women what did but oh so little, was transfixed by the spectacle and said the line 'Oh feel ya, O feel ya' was very apposite as in the case of Lady Pentland-Firth as many had. My dear friend Dimitri, a former Bolshoi principal, performed a pas de deux with Aunt Muriel as if sprites in the Vienna Woods. Dimitri's performance was noted for his double cabriole derrière which brought gasps of disbelief from the audience and Aunt Muriel was said to have provided classical ballet with its most unforgettable moment ever. It was so memorable Dame Ninette de Valois said "it should never be repeated, Mrs Wylie brought tears to my eyes," as she left the Pentland Firth house with a large handkerchief clasped to her face."
What Would 1959 Bring?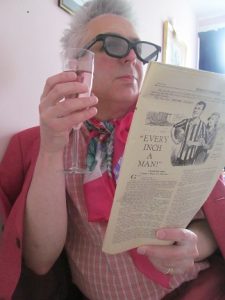 Sebastain took another sip of his French martini and thought he should really be joining the rest of the guests as they came out of the lectures to see what mischief he could create. First he looked through a scrapbook for 1958 and the letters and photographs brought those times and places back. He could almost hear Aunt Muriel's voice as she summoned Jasper or Mrs Travers; he could smell her perfume and hear the swish of her underskirts. The smell of custard from the kitchen and Drambuie over ice was all around him.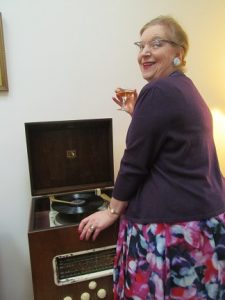 He could hear the radiogram with the Blue Bell Polka. They were such happy new years and even although he was in New York in 1958 Cousin Lulubelle always kept him up to date. Sebastian wondered what was in the 1959 album, but that was not on the trolley. Well never mind, it would have to wait until next time.
Time for tea with the residents and a bit more fun before bed
Happy New  Year to anyway who's there.
TTFN