The Artemis website is the home of the Muriel & Jasper blog which is set exactly 60 years from present time. It was begun as an experiment to see if we could engage people in looking at the past in slightly different way and mixes the life of Muriel & Jasper with information about life in 1962.  Enjoy this unusual peek into the past….
Being Nice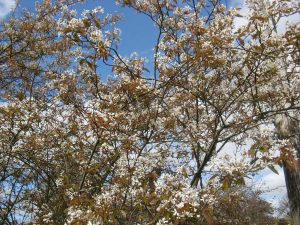 In Glasgow, the famed "Second City of Empire", it is late April – quite possibly it is the same for you – and the blossoms are out across the city. The Spring weather has been rather nice, although events (depending on your view, of course) have been less than nice. For overseas readers, please note that in Britain it is important to be nice, even although no one knows exactly what that means.
The news is far from nice. In Bedford prison James Hanratty has been hanged for the A6 murder, despite protests saying he is innocent. I do not approve to capital punishment. It smacks of barbarism. Surely we are taught that all can be redeemed in some form or another. The Commonwealth Immigrants Act removes the right to free immigration from former Empire countries, unless you can prove you have employment in the United Kingdom. While I am no Socialist, this does not seem very nice either and I begin to wonder what has happened to our Prime Minister. Opinion polls show that less than half the population has confidence in him and, frankly, I am not surprised.
In The Morning Room
"Jasper, what are you doing lounging around?"
"I am finishing a new book, Muriel."
"From the library?"
"No, from Mrs Sloan; she, is apparently a regular in Smith's in St Vincent Street. Seems to have an interest in these sorts of novels."
"What sort of novel Jasper? Nothing too contemporary I hope – I know what that man in adult fiction is like in John Smiths."
"What do you mean Muriel?"
"You know full well Jasper – brown corduroy jacket, unkempt beard, and a ban the bomb lapel badge."
"You mean like this?"
"Oh, Jasper you are surely not going to wear that in public! Marjory Anstruther is coming for suppa tomorrow and she has relatives in navel navigation. It's nearly May; you can wear your blazer if you wish. Protest badges are not good with blazers."
"Times are changing Muriel."
"Not here they are not, if I have anything to do with it. Standards must be maintained. Anyway, what's the book?" 
Blanket Washing Would be Better than Brain Washing
"The Ipcress File, it's a spy novel about brain-washing by the….."
"Don't say it Jasper, walls have ears! Goodness me, I would be far happier if Mrs Sloan had made a start on washing the blankets than suggesting reading material for you."
"Mrs Travers would have been trammelling the blankets now – had she been here."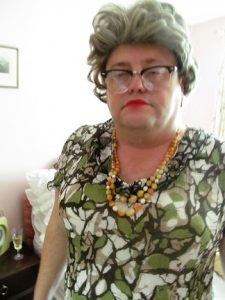 "I suppose she would, but she isn't. Anyway I thought you didn't like Mrs Sloan, what with her hot water and lemon drinks and smaller food portions?"
"True. She is a bit stingy with the mash and crumble but perhaps I have misjudged her. A woman with an interest in cold war diplomacy is surely a boon, and she seems to be able to get new books pretty quickly. It's always good to have an agent in John Smith's."
Easter Bonnet Disappointment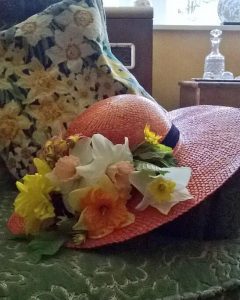 "Well don't forget you promised to pick Gayle up from School. Hairy Mary from Inveraray is on her afternoon off and you know how disappointed Gayle was not to win the Easter Bonnet competition. I don't like that new headmistress. I bet she is one of those who say they no longer trust Harold Macmillan. She will be laughing on the other side of her face when Harold Wilson is Prime Minister, and they ban private schools. Of course, his wife is such a beautiful knitter."
"Muriel, you don't like the new headmistress because she refuses to bow down to your monetary inducements. The competition was for a home-made hand decorated bonnet, not something sent over from Paris. Primary school children do not wear Dior for Easter. They wear hats decorated with chickens made out of left-over wool made into pompoms with cardboard rings cut from a cornflake packet, all set against a background of flowers made from the twisted cellophane of already eaten Quality Street. It's very on trend."
"What's on trend for you sounds like the get up of a bride-to-be on a factory night out to me!"
Being On Trend
Between you and me Jasper can be quite annoying sometimes, but he has reminded me that I am supposed to be writing an article for "The Glasgow Lady" about Spring trends. I really haven't got the time at the moment, what with "Chez Nous'"being so busy and my charitable work for the Country House Concerts and The Home for Fallen Women. Although in truth the advent of "the pill," has reduced the number of falls. Perhaps soon we will cease to exist. This will be a pity as the committee are a very sociable group of ladies, dedicated to meeting the downside of dancing head on. However, as I never fail in my duty of marvellousness for you, ladies, here are a few words about being "on trend," which now seems to be referred to as "being trendy".
The Glasgow Lady Presents on Trend – with Muriel Wylie of "Chez Nous", Glasgow's leading Interior Decorator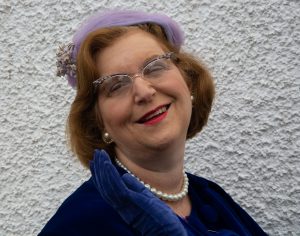 In the Home
The return of mahogany is here!
With the mad rush for light wood and Scandinavian design, it is true that mahogany has been totally neglected, but it is making a return to many a quality home including, I am reliably informed, to parts of Paisley.
The Spanish has always appreciated the quality of this timber with beautiful grain and rich brown and red colourings. In Britain, Thomas Chippendale was the first to really appreciate the nature of this timber and made many beautiful chairs and tallboys. As my dear friend Lady Pentland-Firth always says, "one can never have enough tallboys", and she picks them up all over the place. Certainly, a tallboy can perform wonderful service when placed firmly against a white wall even in a room full of other pieces with light Nordic charms.
Copper is Back
Like mahogany, copper has made something of a comeback this spring.  Copper jugs and vases are, as my friend Constance Spry says, so attractive with budding branches and primroses.  They complement modern teak and old mahogany. So polish up that copper kettle and let it sing. Tarnished metal suggests you cannot be bothered or do not have a daily woman.
Tapestry Never Loses Its Charms
I am happy to report that tapestry is back in vogue for 1962. If the bright, modern, garish look with oranges and yellows is not for you and you are rather boring and predictable, then there are plenty of wildflower designs from which to choose.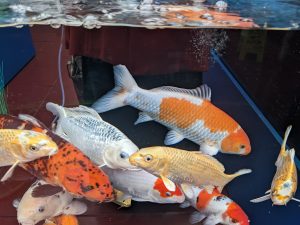 Fish are a strong motif for this decade.  Although a tank of tropical fish in the hall says Dentists' Surgery like nothing else…or a narrow social circle. Why not pair an underwater inspired wall hanging with a Venetian glass fish, especially if you live in a Corporation house on one of the new overspill schemes? It will make up for the lack of shops and transport.
Deep Tones Are "In" for Walls
Decorating with taste is not for the faint-hearted, but Spring is a time for new horizons so why not try something different when you redecorate your home this year. It is tempting to stick to safe colours. I know many of you are beige people, however a bright sunny room can take a strong blue and green combination, although in Glasgow this might cause confusion, or even riots among those who follow "the fitba" as I believe it is called according to my new neighbour, Big Nanna.  Dark, sunless rooms ( i.e. Aberdeen) work well with burnt oranges and bright lemons. At 'Chez Nous' I have some lovely glazed cotton which would brighten up the dullest rom and which Jasper overbought last season.
Woodwork
As the television D.I.Y. enthusiast will have it "flush doors are the thing". I am afraid I do not agree and I wager that in two decades time we will all be removing our hardboard panels to reveal delightful wooden mouldings and that all things Victorian will be back in fashion. I imagine Mr Barry Bucknell does not agree, but so few men have taste.
As For the Wardrobe…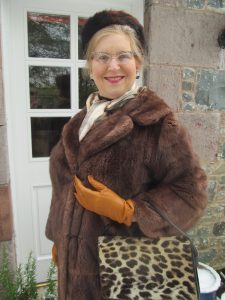 Fur is not between May and September, so do send to cold storage. If you must keep something for a cold snap, retain your old beaver, but brush with rabbit bran, to keep it glossy. A stole for evening wear is permissible, although many ladies are turning to mohair for that 'crafty homespun' look. If you can produce something with your own wool and spinning wheel, preferably dyed with lichen from your walk, this is all to the good, apparently.
Foundation Garments
While one never likes to use the "f word", I thought it might be helpful to suggest that spring cleaning one's drawers might present an opportunity to splash out on some new fancies. Wilson's in Sauchiehall Street is right on trend with slips in crocus yellow and "cocktail sheaths" in French Coffee.
Buttons and Belts
Both are large for 1962 as suggested by Pierre Cardin and worn most successfully with black and white check. Red wool suits are also de rigueur.
On the Road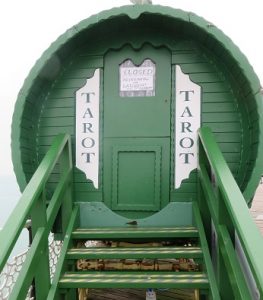 Caravanning is increasing in popularity and is set to be very fashionable this summer. It is nothing new of course, and at the beginning of the century those and such as those would take to the road like Mr Toad in a horse drawn vehicle of the ornamental type. It was considered very romantic.
I am afraid that in my more mature years I see nothing to recommend driving  Devonshire trailing a home on wheels behind a Ford Poplar (well in your case) and in front of several hundred bad tempered motorists of the male type. No, I prefer holidays that come with starched table linen, menus, dancing and a bit of a view like say Capri, Positano or Nice. They are very useful, however, if you take up fortune telling.
In the Kitchen
Wooden salad servers with ceramic handles are all the rage in smart kitchens.
Tinned foods are becoming increasingly acceptable, especially if one has unexpected guests. How about sliced tinned ham lightly grilled with pineapple and mustard, served with chipped potatoes. Jasper is quite keen on that, or anything for that matter. For pudding, try tinned pears with a ginger sauce.
In the Garden
Lilly of the valley is very up to the minute and so favoured by M. Dior. Indoors they look wonderful in a basket, or indeed as trimmings for a straw wedding hat. So, Audrey Hepburn.
Do enjoy being "On Trend", Ladies.
Muriel Wylie of 'Chez Nous'
Next month in "The Glasgow Lady"
As Prince Charles starts at Gordonstoun, join Muriel for advice on how to pick the best school for your child. Also in an exclusive interview, following an unexpected inspection by the Board of Governors, she asks a Glasgow headmistress what criteria she will use in the future to select Easter bonnet winners.