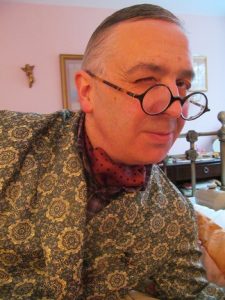 More Clubs in Glasgow Than You Can Imagine.
In Glencoe, a member of the Perth Mountain Club has been found dead and two Glasgow students are missing. On the east coast of Scotland two anglers have drowned at Eyemouth, when a twenty-five-foot wave swept them out to sea. It has been snowing over much of the Highlands. Those and such as those have checked their rural boltholes for mice and burst pipes and, with a lack of amusing rustic diversions, have hurried back to the city to the social whirl.
It is fortunate that in "the second city of the Empire", as Glaswegians see their city, there is much to keep one occupied when it is too cold to attend to one's rockery or play a few rounds on the golf course. Glasgow is a clubbable place and there is a society for just about anything you might care to think about. Compiling a list would be exhausting and require a wee rest and an Askit powder at the very least.
Members' Day at the Epicurean Club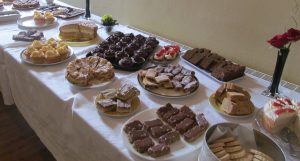 Muriel and Jasper are members of a wide variety of clubs, societies and philanthropic organisations, and indeed office bearers of quite a few. It is considered one's duty to play a part in civic society and of course none come without plenty of tea and traybakes. As the days lengthen, Scottish country dance societies, literary groups and stamp collectors are coming to the end of their syllabuses.
At Glasgow's St Andrews Hall, The Epicureans are having a members' day with s series of talks and tasting events. Wives and friends have been invited because like so many clubs this one is of a largely male nature, with the exception of Dr Winnifred "Winnie Wilts"  Wiltshire, who is on the Public health Board , is the club secretary and one of this morning's speakers. She has been talking for some considerable time and with some rather graphic slides of meat processing which has sent several of the wives and friends scuttling from the lecture theatre clutching hankies. In the vestibule, lunch – a cold buffet – is being set out and the offer of a wee sausage roll sample from the well-meaning waitresses has not helped. Muriel and her friend Mrs Lottie Macaulay (she of the husband who is in concrete), find refuge in a quiet corner.
Muriel and Lottie Make An Exit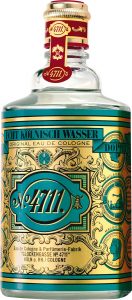 "Are you all right Lottie?"
"Just a little faint Muriel, I will never look at toad-in-the hole in the same light again."
"Here dab some of my 4711 on your hankie, it will help cool you down. I always carry it for emergencies. I'm fine strong as an ox, the last unpleasantness saw to that. I just saw the opportunity to come out with you, it's so boring and oh dear how these men like the sound of their own voices."
"Dr Wiltshire isn't a man Muriel."
"No but a new pair of tweezers and some decent foundation garments wouldn't go amiss."
"I suppose so."
"Have you enjoyed anything so far Lottie?"
"Well, I did rather like the talk about the lemons of Lake Garda that was most interesting and lemon curd with the scone at the coffee break was really quite delicious. The Epicureans certainly do not stint themselves."
"Of course, they don't Lottie! They are men, well mostly.  Oh the lemons of Lake Garda took me back to our holiday there – so good in a G&T.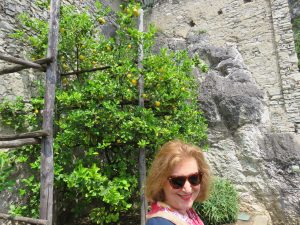 I will have to go back in. I think Jasper is the last speaker before lunch, but you stay out here if you want. I am sure Jasper will not mind."
The Chair Sums Up a Poisonous Session
"Well ladies and gentlemen what a stimulating hour and a half that has been on Food Adulteration in Victorian Glasgow.  Dr Wiltshire that has been truly an insight, thank you for sharing your work with us. Who would have thought that the dash of mustard on the morning sausage might contain in good part a fair amount of lead chromate and indeed the sausage itself forming its unique consistency with considerable insect parts of a crunchy nature?
Now before I forget, this year's summer outing will be a combined visit to a fish smokery and a whisky distillery with overnight accommodation at a three star hotel. All meals and shortbread are included.
Mr McIver, where is he? Ah yes there you are, Mr McIver is in the tartan trews at the back. He is taking names, with a 10-shilling deposit, if you would be so kind. Now before the buffet lunch it gives me great pleasure to introduce Mr Jasper Wylie who is going to talk to us about Rice Pudding."
Let Us Go Right Back
"Thank you, Chairman; if I might have the first slide please."
"Rice, like potatoes, has not always been popular in the British diet as it was associated by the working class with immigrant groups. But like the potato, we find rice pudding mentioned in the 16th century. The Tudors, in fact, called it white pot.  One of the first references was by Gervase Markaham…….."
No Talking at the Back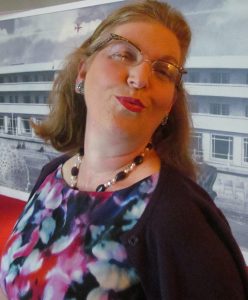 "Budge up Muriel."
"Oh, Lottie are you feeling better?"
"Yes, thanks and I have bought one or two things from the stalls."
"Good. What?"
"Shush."
"Sorry sir my friend has been feeling a little unwell."
"Well, be quiet – this speaker is excellent."
"He's my husband actually."
"We all have our crosses to bear dearie."
Just In Case You Don't Know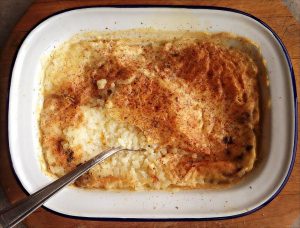 "…. In the United Kingdom Rice Pudding is a dessert which is made from short, grained rice which is high in starch and often sold as Pudding Rice. It is remarkably like Arborio rice. It is typically made with milk, cream, sugar and flavoured with vanilla or nutmeg. It is often served with jam and who can forget being at school and stirring in the blood to make it pink! The use of evaporated milk is usual in Scotland this gives it a creamy texture and the flavour of caramel…."
Something To Talk About 
"So, what are you going to do this evening Muriel?"
"Well, I can't quite decide Lottie, Julian Bream is at the Empress and he has had an incredibly good crit in The Herald and Molly Plowright is never wrong. I think it might appeal to Jasper, especially after he has spent the day with this lot. Apparently the first half is Dowland and demonstrates that the music of the period is as good as the lyrical poetry."
"Shush again! I would appreciate being able to listen, he is just reaching the apogee of Rice pudding development, the pudding in a can."
"Oops sorry. Well Muriel, that sounds a bit eyebrow to me, but its very you and Jasper. I am afraid all the years of being married to a man in bungalows has taken its toll and I am more of a Matt Monro sort of girl."
"He is a favourite of mine too, Lottie . I think it best to have catholic tastes."
"But I thought you were with the Church of Scotland, at least nominally given the foreign soup affair."
"Mulligatawny?"
"No thanks I have a fisherman's friend would you like one?"
"Ladies please!"
1937 – A Giant Leap in the Rice Pudding World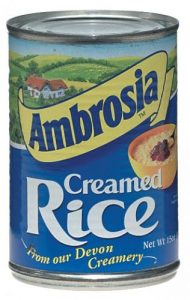 "…..In 1917 Alfred Morris opened the Ambrosia Creamery in Devon producing dried milk for infants and then for the troops in World War 1. In 1937 Ambrosia was the first company to make creamed rice in a tin can……."
The Shortcomings of Men
"Muriel did you read about that man who has died in Glencoe and the two students who are missing?"
"Yes, and what about the two swept off the front at Eyemouth."
"Nice chemist in Eyemouth."
"Really, Lottie? I will need to look out for it next time we are there. Don't you think sometimes that men have something missing?"
"All the time and quite a lot. I mean who, but a man would go for a walk up a mountain in the snow in winter?"
"Probably those who are not fishing on the water's edge in the middle of a storm on the North Sea. Just for combing! At least this lot are inside and the only possible mishap will be when one of them breaks their neck falling over the lead for the projector."
"At least that would liven things up."
"Look you two if you don't shut up I will call one of the ushers. How can you possibly be so lacking in savour faire? This is the best bit, the literary connections regarding rice pudding."
"Apologies again and may I just say if anyone has savoir faire, it's Muriel."
"Ladies, one last chance to prove it."
Rice Pudding and Literature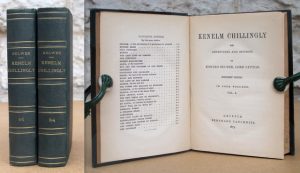 "….. In Edward Bulwer Lytton's Kenelm Chillingly we have the telling line, 'Don't fear that you will have only mutton chops and rice pudding.' Henry James also associates mutton and rice pudding when in Passionate Pilgrim he says, 'having dreamed of spinach and a salad de saison. I sat down in penitence to a mutton chop and a rice pudding.' In Jane Austen's Emma and Charles Dickens, A Schoolboy's Story, we find the same association of mutton and rice pudding.
We also have what amounts to a negative view of this pudding from A.A. Milne in a poem about Mary Jane who is 'Crying with all her might and main/and won't eat her dinner -rice pudding again/what is the matter with Mary Jane. T.S. Eliot's character Bustopher Jones in Old Possum's Book of Practical Cats is full of gloom when he has lunched on cabbage and rice pudding. I, however, think there is another side to Rice Pudding – let us take the example of Buddha….."
Cross Jasper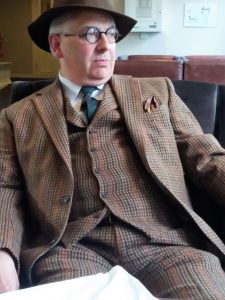 "Well, I have faced some difficult audiences, but I never imagined that one of the hecklers to be removed from my lecture would be my own wife and our neighbour whose husband is in concrete."
"We were not heckling Jasper, were we Lottie?"
"No Muriel, just talking, giggling and sucking on a Fisherman's Friend."
"And what do you remember about Rice Pudding and its fascinating history?"
"Well, there is the pot versus oven method."
"Lottie, what do you recall?"
"The fascinating differences between rice pudding in the Scandinavian countries.  Who knew there were so many and Iceland too? I was mesmerised."
"And the post lecture discussion about skin versus no skin it was electrifying all 54 minutes of it."
Situation Remedied by the Skin of a Rice Pudding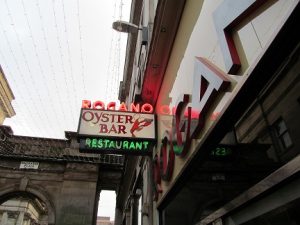 "Well, I think we got out of that all right Lottie thanks to you and the skin business."
"You don't think I over-egged the pudding, so to speak?"
"That depends on if you are in favour of the North of England Variation."
"Oh, please don't start me off Muriel, my sides ache. Are we going back for the afternoon session?"
"Depends Lottie on whether you can do two and a half hours of The Impact of Refrigeration on the Argentinian Beef Industry."
"I have run out of Fisherman's Friends."
"I think if we stay, we will have no friends. Anyway I am not sure we will be allowed back in. That usher said he had his eye on us. Fancy a drink and lunch at The Rogano. It's Mediterranean week, all that talk of Italy has out me in the mood for a touch of the exotic."
Later, In The Tasteful Townhouse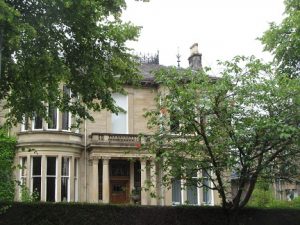 "That was a lovely concert, Muriel the Dowland was simply marvellous it just showed that the music of the 16th century was as good as the lyric poetry. That was good of you to go and get the tickets. I thought you were not enjoying the members' day event with the Epicureans."
"Of course, I was Jasper. You know what Lottie is like; it's a big thing for her going to something so intellectually stimulating. She gets nervous and giggles – but I believe in widening horizons. I telephoned the box office at coffee break and they said I would need to rush to the theatre to get a couple of good seats, they were selling fast. So, I am afraid I had to sacrifice the Argentinian beef industry and beetle down to the Empress. I am sure you can fill me in."
"I can do better than that I have the speaker's transcript – Spanish and English."
"Really? You think of everything Jasper. Hard though it will be I won't be able to read it until next week though as we are out again tomorrow night."
"Again, where?"
"Cinema – I have already booked for Saturday Night and Sunday Morning."
"You mean the new film based on Allan Sillitoe's ground-breaking book with a rising star Albert Finney?"
"The very one."
"But you hate serious social-comment films."
"It's what a marriage is all about Jasper. Even if it means sitting in a cinema watching social realism and bad manners in Nottingham."
"I forgive you for the talking and giggling Muriel."
"Good and when we come home there will be rice pudding, Spanish style."
"How do you know about Arroz con leche, with it's gentle lemon and cinnamon flavours and its comforting nature."
"Jasper I have made a study of rice and men."