The next exciting instalment of the Muriel & Jasper blog highlights the tension between East and West through the 1950s. This week is  we find Jasper on the grouse moor…..
Interrupted Contemplation of a Tart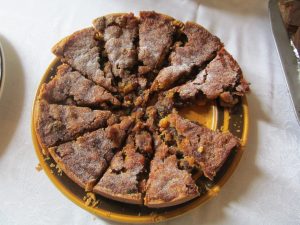 I was just reading the papers, while guarding the shooting party's picnic and looking forward to a slice of raised ham pie, a scotch egg and a chicken drum stick, not to mention some Border Tart, when Muriel came through the heather "looking simply marvellous in matching purple tweeds and accessories that might have been assembled by Coco Chanel herself". The words in parentheses are Muriel's – she felt my narrative lacked poetic description; just in case any Broadway producer might be thinking of making a musical version of her life as the principal exponent of gracious living "in a world going to pigs and whistles with plastic rain-mates and manmade fibres."
Famous Author Shot…
It seemed, to use an Edinburgh saying, that there was "a bit of a commotion going on." Now in Edinburgh terms this can mean anything from war, famine and pestilence, to the late arrival of The Scotsman newspaper or someone inadvertently putting an extra and unnecessary lump of coal on the fire when the weather is only just below freezing. In this case the concern was due to the shooting of Bunty Haystack on the Glorious Twelfth. Bunty is our neighbour in the rural bolthole and the well known author (Muriel tells me she is a writer, rather than an author) of the rural crime mystery series which include "The Slurry Pit Slayings", "A Turnip Too Many" and the sensational "Bailer Twine Strangler". As they say in the countryside, there is nothing more useful than bailer twine, it "takes you from the cradle to the grave."
…But Not Dead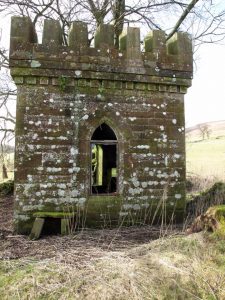 I followed Muriel back through the heather, trusting to luck that no one would interfere with the picnic baskets as I was by this point beginning to have a severe attack of the munchies. It was a long time since breakfast. We arrived at the beat to find the gentry looking angry at the interruption to their sport, the visiting comrades (a trade delegation) from behind the iron curtain looking bemused and the beaters including the entire family of Young Auld Jock muttering about the inability of the young lairds to shoot straight. The wives of the beaters who had come up to serve lunch were gathered around the folly where rested Bunty Haystack, alive, but moaning.
Big Bertha Puts in her Tuppence Worth
"Well" said Big Bertha, the baker and wife of Young Auld Jock's, eldest son Just Jock, "look on the bright side Miss Haystack. In future you'll be able to write mair frae experience than jist your lurid imagination. And by the way yoose hav'nae paid for they doughnuts you had last Saturday and they wis they wans wi' jam in the middle."
"That's enough Big Bertha, give the lady some air."
"Just saying Major Rhodes, in case she dis'nae make it."
"I am sure you will get your money Bertha, although I have to say your French fancies are not what they were."
"Och nonsense Major yoose have jist been listenin' to yon woman what does fir Mrs Wylie and her man who speaks nothin' but a pack o' lies aboot ma confections an' ma fancies."
"Enough of this now Big Bertha! Has someone sent for the doctor?"
"Yes Major, my cousin Miss Lulubele has gone in the back of the beaters' trailer to the village with the most handsome of the Jocks driving the tractor."
An Unexpected Appreciator of Accessories
"Could be some time then Mrs Wylie but thank you. I knew you would be organised and, if I might say so, you are looking particularly ravishing in purple with carefully considered accessories."
"Oh Major you are a one."
"I deny it emphatically Mrs Wylie, but I love your lizard handbag."
"Oh just what came to hand Major. One does what one can and as my late grandmamma said one owes it to those who have to look at one to make the best of one's self."
"Quite so Mrs W, quite so. Could have done with you in Omdurman, capital, capital! Now has anyone a jot of anything to eat while we wait for the doctor?"
Fortunately I had popped back for one of picnic baskets as I was really suffering hunger pains so the Major and I enjoyed some raised ham pie. And in truth I feel Muriel looked somewhat relieved at my appearance with said picnic basket. Bit of an old rascal, that Major Rhodes.
The Doctor Arrives 
"Here comes the tractor and trailer Muriel with your cousin and Doctor Payne. I must say the driver looks stunned, the Southern Belle pleased with herself and the doctor somewhat exhausted."
"What took you so long cousin?"
"Oh Muriel hunny lamb, don't take on so! We had a little breakdown in the bracken an' I had to heilp this haaandsome young maan get a grip of his wrench. And then we couldn't find the doctor."
"Where was he?"
"Well Cussin Muriel, seems he had an out of hours appointment with young Cissy who works in the Royal Bar of the Pentland-Firth Arms."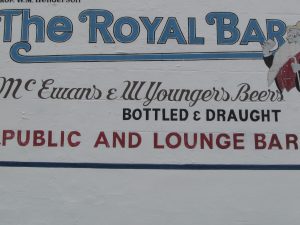 "What not her? With, and I quote, the five different weans wi' different fathers and one o' them a ginger."
"That's right ma dear. The doctor has been avisiting Cissy quite a lot recently. They say it's the dropsy and she certainly does but you know what they say you never miss a slice of an already cut loaf."
A Misunderstanding
"Well Doctor what seems to be the trouble?"
"Nice of you to ask Mrs Wylie. I have not been feeling myself recently."
"So I have heard Doctor, but I was really asking about Bunty Haystack, you know she has a new edition coming out?"
"What! At her age Mrs Wylie? Why that is almost flying in the face of medical science as we know it! Perhaps I should examine her further and make sure everything is all right on the ground floor?"
"No Doctor! I don't mean that, I mean she has a new edition of her work "The Enclosure Murders" – a reinterpretation of 18th century rural unrest. Jasper has done the forward he is into that sort of thing."
"Och away wi' you! You had me going there Mrs Wylie. I was thinking about writing something racy for The Lancet. No she should be fine. It's the shock really – a flesh wound. Mind you quite a lot of surface area if I might be personal; it has probably saved her life. This could have been very nasty and I have alerted the village policeman, but he is busy with a nasty accident involving a fallen dyke, a stonemason and a shepherd."
"Polly Wanton?"
"Oh you know her, Mrs Wylie?"
"Yes of course, she did one of our boundary walls last year, remarkable strength."
"Now if some of the beaters can help me get her in the trailer. I will take her to the cottage hospital, just for observation and we can remove the shot there. She will be fine in a few days."
The Handsome Stranger Appears
"Anymore for Scotch eggs?"
"Oh don't mind if I do Muriel."
"It's only your fourth Major."
"Ah here come that mysterious chappie who is always hanging about in the shadows; surprised he didn't get shot too."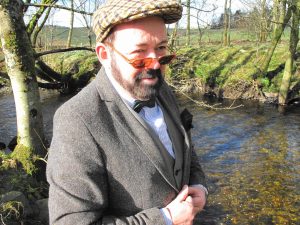 "Indeed it's the Handsome Stranger."
"Sorry to intrude Major, gentlemen, comrades. If I might have a word Mrs Wylie? Under that Scots pine will do."
"I've already tried that one Mr… err..!"
"That's alright Major; no names, no pack drill if you know what I mean?"
"Of course, I understand perfectly. Did a spell in Berlin before the first lot if you get my drift?"
"Perfectly, Major."
"I take it something is amiss."
No Accident
"Yes this was no shooting accident, Muriel. That was intended, I can tell by the trajectory."
"Yes, it was pitted pretty badly; she is going to be sitting on an air-ring for quite a while."
"We are going to have to be on our metal Muriel. I am declaring this a Code Purple."
"You are too kind. I felt it suited the mood of the day and quite frankly its one of my colours, but then most of them are."
"There's something very odd about this trade delegation and something even odder about that author, have you read much of her work?"
"No they are ghastly! She has a bit of a violent streak for someone in Honeysuckle Cottage. Mrs Travers, our daily woman what does, but not a lot is rather fond of them. And I may I just point out that she is a writer, not an author!"
Activated Again!
"What are you doing over the next week or so Muriel? I may need your help."
"It's August; it's the Flower and Fete Show (F.A.F.S.) next week. I shall be pretty tied up with that considering I am on the executive committee, or Inquisition as it is fondly known. I am on cut flowers this year."
"What about vegetables?"
"The men take care of that, they have an understanding."
"Do you know if the trade delegation is going?"
"Yes indeed Lady Pentland-Firth has invited them so that the comrades gain an understanding of Scottish Culture – to build bridges."
"Don't tell me the show will be followed by country dancing?"
"How did you know?"
"I had a funny feeling. Well it could go one way or the other – either trade will boom with the comrades or they will beetle back home to build a whole lot of new missiles. Just don't do The Duke of Perth, promise me. Anyway keep an eye on them and the Haystack woman and I shall be close at hand. Consider yourself activated Muriel and your husband is semi-activated."
Flower Show Duties Beckon
 
"You're telling me! Anyway I must bash on and get this picnic cleared up and get everyone back to Lady P-F's for drinks and then we have the judgement of the gardens."
"Of course, but don't you mean judging?"
"I chose my words carefully; here it is a matter of judgment."
"Well I wouldn't like to be in your shoes Muriel it sounds like the toughest of missions to me. Where on earth do you start?"
"Same place we have started for 180 years, climbers for the county set – they have the wall height – and hanging baskets for the cottagers."
"Indeed now I understand; the Major said his was rampant."
"That is putting it mildly."
"Well good luck with your deliberations Muriel. I wouldn't know where to begin. What is the rule for hanging baskets?"
"Oh there are many rules but a good indicator is if the rendering is coming off the walls."
"Has the Flower Show ever not taken place?"
"Only once August 1914, so a little shooting on the moors is not going to stop F.A.FS.. It is more important than anything in the world."
"Perhaps I should enter? I am a Cambridge man you know Muriel."
"I am well aware of that, but unless you know your onions and have 20 generations of best beetroot behind you, best to watch from the side lines, even if you are a Cambridge man."
à bientôt
Muriel Wylie
August 1959