As 1960 approaches its end in the world of Muriel & Jasper, we that live in the 21st century learn that there is nothing new under the sun!
A Treat with Mrs Travers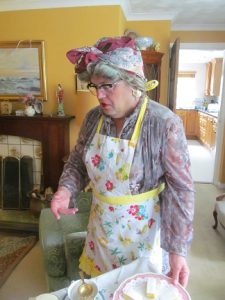 "Well, that's us almost ready Mr Wylie, if yous warm up the television an' put oot Cousin Lulubelle' s TV dinner tables. I'll dish up the steak pie an' bring through the trays."
"Tickety-boo, Mrs Travers (our daily woman what does but not a lot). I could eat a deid horse chit (corned beef sandwich to non-Glaswegians)."
"I hope you' re not making assignations aboot ma cookin' Mr Wylie. I've never served horse, not even in the last Unpleasantness. What dae ye think I am, French?"
"Only joking Mrs T, and certainly no one could mistake you for French. The crimplene and elasticated bandage are not exactly a noted Parisian look."
"I don't follow."
"Not to worry. Is there extra gravy and link sausages contained within, snuggling underneath the puff pastry?"
"Of course. Dae ye wish HP as well?"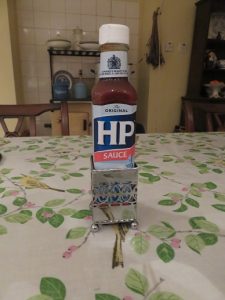 "Naturellement, Mrs T."
"Have you been in that shed wi' the paraffin heater on today?"
"Yes, how did you guess?"
"Only that heid o' yours is fu'o' mince."
Promises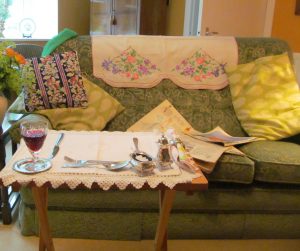 "That's the television warmed up. You won't tell her, will you?"
"Tell her what?"
"Tell her that we've firstly that we had a tv dinner. Secondly we are watching the 'other channel' and lastly that we are watching Coronation Street."
"I take it she didn't like it then?"
"No, she thought it wis an', I quote, "pandering to the lowest common denominator," not of course helped by ma suggestion that of all the characters she's most like Mrs Walker of The Rover's Return".
"But I thought she would like to be compared to the strongest female character who is a woman of business."
"A woman of business is one thing Mrs T, but a publican's wife is another. And of course she cannot forget her father's words that 'no good ever comes to anyone who deals in drink' or words to that affect."
"Well, it didn't hold him back."
"Apparently, he didn't deal in it, he just was one of their best testers as Muriel's mother said as she helped him out of the rose bushes or searched the cisterns, Shanks of Barrhead of course, for the hidden bottles."
"Well, perhaps she will be more like a new character, Miss Nugent owner of a baby linen shop and lay preacher."
"No I don't think so. Now eat up or it will get cold and you must not tell her I have served up suppa in front o' commercial television."
"I won't breathe a word. Oh here it is. I wonder what will happen tonight? I do like the three ladies in the snug, that Ena Sharples is a character."
Muriel  – Busy, Busy, Busy
"Would you like seconds Mr W? There is pudding."
"I couldn't Mrs T; that was delicious. Would you like another port and lemon while it all goes down?"
"Don't mind if I do Mr W. By the way if you don't mind my asking, where is Mrs Wylie? I haven't seen her all day."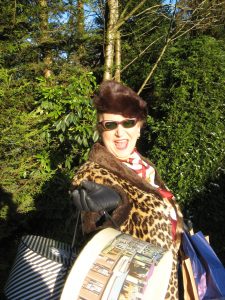 "She was Christmas shopping this morning, then lunch with Lady Pentland-Firth and the other ladies of The Home for Fallen Women to discuss the final details of Saturday's Christmas Soup and Sandwich lunch. This afternoon was her lecturette at the Central Hotel to the Soroptimists on festive interior decorations entitled 'Deck the Halls', with an opportunity to make a simple, but striking hall decoration with a plant pot and a twig. Or words to that effect."
"She must be due back."
"No, she has gone with Mrs Chatterjee to experience Nine Lessons and Carols, at the University Chapel."
"That Mrs Chatterirgin. Muriel could play Rose in that Broadway musical Gypsy."
"Dear me Mrs T, is that what they are saying? You mustn't tell Mrs W that she is being likened to a stage mother. Anyway, I do not think Muriel meant any harm. She has Gayle's best interests at heart, and she did manage to increase the production values of the show."
"I guess that is what Mrs McLeod's woman meant when she said. "All they needed was a painted backcloth, and a straw roof on four poles not the complete set of the Desert Song from one of Muriel's chums at The Citizens Theatre." Of course, how could the Headie refuse when the private schools are so competitive, and the nativity play is such a showcase for prospective parents."
"Goodness Mrs T that is a bit damning, perhaps I should have a word with her."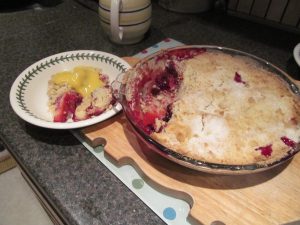 "Rather you than me, what about a spot crumble and custard?"
"Yes, please that would go nicely with Candid Camera."
"And a wee spot Carnation Milk."
"Just a dod."
 Replete
"Do you wish anything else Mr Wylie?"
"No thank you Mrs T. I have had an elegant sufficiency."
"Well I'll wash up and get the bus home."
" Just take a taxi Mrs T. It is a miserable night, it's a north wind from the east.
"Don't mind if I do; much obliged. Here you can catch up with The Glasgow Herald and have a wee snooze."
News From Across the Pond 
Well it seems there is a Nor'easter in the United States. Coming from the Gulf of Mexico, there is a weather front which has hit the eastern seaboard with 10 inches of snow and over 21 in New Jersey. The New York Public Library is closed and so are both La Guardia and Idlewild airports. The National Guard has been called out. I expect we will get it in January as usual.
Things seem to be quite difficult in America, not only has there been a mid-air collision over New York, there is trouble over the Presidential election with Republicans in Texas disputing the voting and charges of fraud in Cook County, Illinois. Perhaps they are just poor losers? In any case a Federal Judge has overturned this, and John F. Kennedy will be declared the President Elect. As if the United States does not have its troubles to seek, there has also been a fire on the new U.S. aircraft carrier killing 50 people and injuring 150.
Good News Hard To Find
Despite it being the festive season, not all has been jolly here in Glasgow. Anthony Miller has been executed at Barlinnie Prison. He was convicted of the murder of John Cremill in Queen's Park. It was a robbery that went wrong. Miller's last words, (he was only 19) to the hangman are reputed to have been, "Please Mr". I cannot help feel, that capital punishment is not right, there have been too many mistakes.
Scary Frogs at The Alhambra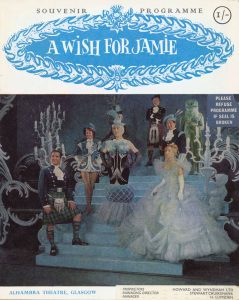 On a jollier note Cliff Richard and the Shadows are at the Glasgow Empire and I think that might make a nice outing for Mrs Travers as part of her Christmas present. At the Alhambra Theatre in Wellington Street, a new pantomime has opened called A wish for Jamie. The cast includes Rikki Fulton, Russell Hunter, Kenneth McKellar and Reg Varney. There are some very scary frogs apparently and some excellent musical numbers by the talented Peter Darrell. I think that would be nice for Boxing Day if I can get tickets.
Later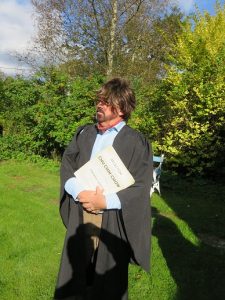 "Jasper, I am home. Mrs Chatterjee and I have had a simply marvellous evening. The singing was terrific and there was a splendid supper in the Staff Club. Professor Sir Boozey-Hawkes (he of Madrigal fame) was asking for you, wants us to go over on the 2nd for a little soirée. Professor Chatterjee was charming, he says he is so grateful to me for showing Mrs Chatterjee the Glasgow ropes. Is all well? I take it Gayle is sleeping and Mrs T has gone for the night."
"Not a good analogy regarding ropes today dear."
"Sorry, what was that?"
"Nothing."
"I said, is Gayle asleep?"
"Yes dear."
"Wasn't Gayle marvellous yesterday? She managed to make that scene like something by Rafael. I have never seen blue worn so well in a primary school. There is room for improvement in diction, but I can see to that."
"Muriel, I know much of the Nativity Play's success was down to you. It looked fabulous, but might there be a little chance that Gayle would have preferred a more modest role and that you might just be being a teensy bit stage-mumsie?"
"Nonsense! As I said to Gayle when we were doing our warm up You'll be swell, you'll be great. Gonna have the whole world on a plate. Starting here, starting now, Honey, everything's coming up roses."
"I see."
"Jasper, have you been eating and watching television, at the same time? I can smell brown sauce in the morning room."
"Yes, and having a port and lemon in the Rovers' Return on independent television."
"And what have you got to say for yourself Jasper Wylie?"
"That's show business Muriel!"
Jasper Wylie
In the spare bedroom December 1960