Well Conceived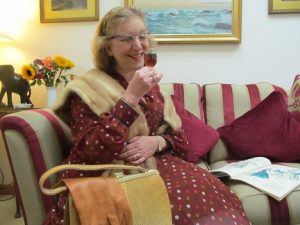 Well that is most interesting, and no I do not mean the £9 million Scottish Office grant  to small farmers (why farm and expect others to pay), the Fife Coal Miners Strike (fortunately I have a full bunker) or the government's plan to deport "undesirable colonials", (I am thinking of developing a new masterclass on how to become a desirable colonial, with free mackintosh square). What has taken my eye is an advertisement for Burdon's Heavenly Cream Sherry, "a sherry so well conceived as to be the master of all others."
Now if there is one thing I like it is a well conceived sherry, or better still two well conceived sherries. It is shipped into Britain by Coleman & Co. of Norwich, the people who make the mustard. What is also fascinating is that a tassel hangs from the foil top and it is known as "The Sherry with the Tassel."
This strikes a chord with me as I have found fame as the interior decorator who has such a flair with tassels. Jasper has said it is a wonder the good varsity here in Glasgow has not seen fit to establish a Chair of Trimmings with me as its first professorial occupant. Just imagine what glamour I would bring to the platform of a graduation ceremony. Of course I would want a little more pink in those robes, but nothing is impossible. 
How To Be Like A "Knowledgeable Spaniard"
As well as using some rather sophisticated advertising, the makers of Heavenly Cream Sherry are just like moi – unable to stop themselves from sharing their knowledge and expertise. They probably know that what one gives, one gets back threefold. As well  as details about the product they have what I can only describe as a small piece of information, we shall call it an "information-ette" just as a small kitchen is a kitchenette, (not that I have any experience of one, but Mrs Travers has told me).
This is about the best kind of Sherry Glass, a "copita". This is a glass "from which a knowledgeable Spaniard drinks his sherry." Of course I do like a knowledgeable Spaniard rather than one "who blighted my life!" Forgive me I couldn't resist it and I do realise one can require such an enormous amount of cultural context to keep up with my feverish brain and bon mots.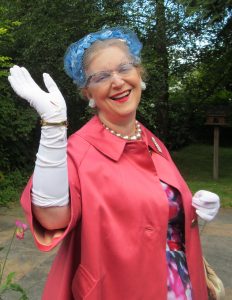 Sometimes I do think I take being simply marvellous for granted. So pay attention and learn. The Copita "is designed to preserve the full bouquet and flavour of the sherry", hence its distinctive shape. It is what we in the design world call "a tulip shape." Copitas are almost impossible to obtain in this country what with there being a shortage of Spaniards in Shawlands and Shettleston and a positive famine in Sanquhar although St Andrews is always a law unto itself.
Burdons have in a most selfless act, imported a special shipment of these wonderful  glasses. It seems if one would like a set of four, one should send 10 shillings plus the tassel from any bottle of Burdon Sherry.  I wonder if I might approach them and offer to be the only retailer of the copita glass in Glasgow. They are bound to see sense when I describe my wealth of knowledge in the tassel department. Even if I am supposed to be selling more tables with "sticky oot" legs for the new semi detached couples. 
Treacle Scones and a Knock at the Door
"Good morning Madam your coffee and a treacle scone fresh out of the oven."
"Oh thank you Mrs Travers, I was just thinking about sherry."
" Is it no' a bit early, even for you Mrs Wylie?"
"I wasn't thinking of drinking it Mrs T. I was just thinking about the fact that we do not have the sort of sherry glasses that one would find in the home of the knowledgeable Spaniard."
"Hmmm, I wonder how that could possibly be Mrs Wylie, most unusual?"
"So do I Mrs Travers and I intend to get to the bottom of it."
"Will I leave the percolator with your special high mountain blend or while away 10 minutes in the hall and return for a fill up?"
"Just leave the percolator please I was half expecting Lady Pentland-Firth.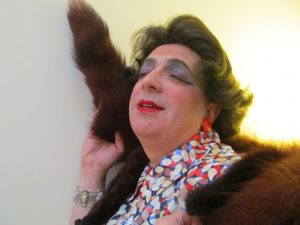 "Oh there is the door."
"Perhaps that is her now?"
A Spirit Seller at the Door
"Mrs Wylie it is a person selling things."
"If it's Encyclopaedias or onions you deal with it. If it someone travelling in ladies underwear then tell them Sebastian now lives in New York."
"Actually it appears to be purveyor of alcohol."
"Well in that case I will come to the door. Don't let him in. I am completely out of shower caps to cover visitors' shoes in case they bring  unwanted autumn substances onto my washed Chinese rugs."
"Good morning doll, do you need anything for hubby in the drinks line? What's his favourite tipple? I guarantee I can beat the price of your local grocer."
"My husband does enjoy a nice glass of Nuits St George as do I."
"Sorry Madame, but I am more of a purveyor of Spirits."
"I don't suppose you have any Burdon's Heavenly Cream Sherry?"
"No, but I do have a couple of bottles of the old juniper juice – mother's ruin know what I mean, below the counter won't affect your coupons in anyway?"
"I don't think so thank you."
"Sure doll, looks as if it's going to be a heavy night."
"I don't suppose you have any Copita glasses; you know the ones used by knowledgeable Spaniards?"
"Sorry darlin', used to stock glassware before, you know before…."
"In that case I don't think I need anything."
"Much obliged to you Madame. Tell yer man if he needs me he'll get me at Kilmun Street , one of the corner boys knows where to find me. Anyway must get on I have a lot of calls, dry thrapples to quench, know what I mean doll …and I am on duty this evening."
"Temperance meeting?"
"Oh sense of humour have we? Yes in a manner of speaking love, me and the other boys that are on fire watching duty meet up in the Temperance Hall to coordinate things. Bit rich that really, but we can have a swift half after, bye darlin'."
Hot Flushes and Fancy dress
"More coffee Madam?"
"Yes don't mind if I do Mrs T; it was a bit chilly at the front door."
"Really? The thermometer is well up this morning unseasonably warm I'd say, but then it might just be the hard physical lot of a daily woman what does so much, or one o' they hot flushes again."
"Don't talk to me about hot flushes, some days I feel as if I must be in the jet stream of one of those new Pan American Boeing 707s. How are things in the kitchen?"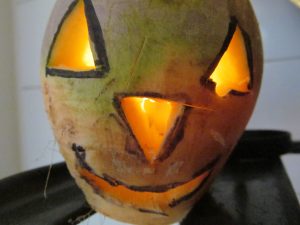 "All under control I have a corned beef hash on the stove for Mr Wylie and I have made a red jelly for Gayle's party this afternoon and made up some gift bags of Helensburgh Tablet and Honeycomb Crunch for the children to take home. The dead man's fingers are on a tray ready for the oven. The apples are in the cauldron and I did the turnip lantern yesterday."
"What are you going to dress as?"
"Thought I would just extend the elasticated stockings and look like one o' they Egyptian Mummies."
"Well just remember Gayle is still very young we don't want to scare her. I thought I might be something from Peter Pan."
"Captain Hook, Nana the dog, or the crocodile?"
"Actually Mrs Darling – the name seemed appropriate"
"You mean one of the two emotionally repressed adults with poor parenting skills and a woman what does who "serves a minor plot function."
"I cannot wait until you finish that sociology course at the night school, Isn't that the telephone?"
A Colonel on the Telephone
"It is someone wishing to speak to Mr Wylie, I said he was oot be he insists. It's a Colonel James Clark,  about Mr Wylie's 40th Anniversary of the end of the Great War exhibition in his shed I think."
"All right I will take it. Yes. Good Morning Colonel, Muriel Wylie here. I am afraid my husband is at our luxury retail outlet for the discerning householder and those with a semi on a mortgage, but beggars cannot be choosers. How can I help you? Speak up, you sound as if you are speaking from a hole somewhere in a foreign country and I don't mean Paisley? Oh you are from Paisley. only joking; yes I use your thread often. Yes I am quite sure Jasper would be only too delighted to show you his papier-mâché model of the Western Front and his scale diorama of the signing of the Armistice in the railway carriage. When would you like to come?  Yes certainly the 10th,May at 19.15. Isn't that a bit far away? Still we can confirm. I will get my husband to telephone, yes I am sure if he cannot get through due to tapping we will be able to locate a homing pigeon. Yes lovely to speak to you too, goodbye.
What a strange man and really I was hoping that Jasper might find a more cheerful subject for an exhibition, that war is beginning to get me down.  At least he has filled in the trench. Thank goodness British railways turned down his request for an old railway carriage, although I don't know what we are going to do with half a dozen unwanted shop mannequins dressed as members of the German Chiefs of Staff. The trouble is they are not convincing even if they are turned backwards to hide the fact they all have busts. There's the door again, will you get that Mrs Travers I am just finishing my treacle scone."
An Early Guiser Seeks Muriel's Advice on Skin Care
"Madam it is a young lady in some distress and already in fancy dress for the guising."
"Best show her in Mrs T. I cannot stand at the door a moment longer."
"Miss Smith, Madam."
"Good morning have I got the correct address?"
"Well certainly young lady if you are looking for the advice of a lady of fashion, speech and deportment."
"Yes I am. As a matter of fact you see I am wondering about my complexion. I feel it is not fashionable."
"Well, you are rather white looking."
"Do you think so? I rather fear I am not fashionably pale enough."
"Well I think you have judged things quite right for that dress and the 1850's  crinoline is so becoming."
"Could you help me with my beauty regime I was wondering if you might have any arsenic? I believe it whitens the skin so."
"No dear but I do have some astringent and some Ponds cold cream which might help, if you would like to take a seat I will just pop upstairs and get you something. Where did you say you live again?"
"I didn't, but it's Blythswood Square."
A few moments later…. Miss Smith has gone and Jasper is home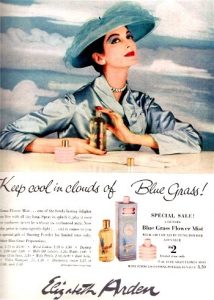 "Here we are, this should put some colour back in your cheeks. I think you your clothes must be a bit musty, they do look very Victorian, here's some Elizabeth Arden Blue Grass for …… Miss Smith where are you? Mrs T have you seen Miss Smith? "
"Can't say as I have Mrs W… give me a tick I am just putting the dead man's fingers into a low oven."
"Hello anyone home? I have just run the gauntlet of guisers in the street, sorry Muriel in the avenue, I wasn't sure if we had any spirits so I stopped off for some brandy and rum to make a punch for the adults. Oh, Mrs Travers, Tutankhamen I presume or is there just a special offer on elasticated support stocking. Any excitement?"
Do We Know Them?
"It has been non-stop Mr Wylie, like Paddy's market."
"Jasper?"
"Yes Dahling."
"Do we know a spirit salesman who lives in Kilmun Street, Maryhill?"
"No; not to my knowledge, oh wait a minute Granny Wylie knew a couple in Kilmun Street , yes and he had a shop. Bit dodgy, under the counter  black-market stuff. Heart of gold though called Granny "doll". He was a fire watcher. Shame really, he was killed in the Clydebank Blitz, I think they were in a temperance hall – parachute mine."
"And Jasper what about Colonel James Clark, of the Paisley thread making family do you know him?"
"Oh no Muriel, he would have been way out of my social league, more likely to be someone your father knew. Actually I have been doing a bit of research on him quite a chap, his men loved him, why do you ask?"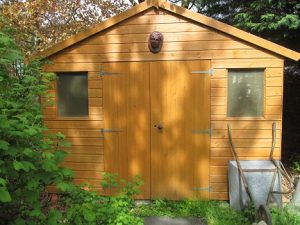 "Well he has booked to visit the Museum in a Shed on the 10th May at 19.15 he was very specific, I said you would telephone him to confirm."
"That has to be a mistake Dahling. He was killed at Ypres on 10th May 1915. There is a plaque to him at Dumbarton Castle."
"What about the Smiths of Blythswood Square do you know them? You must it is so near your Club."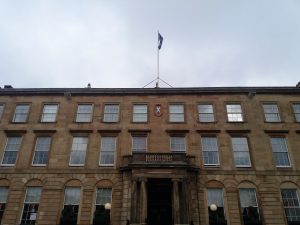 "Yes of course we know the Smiths or at least know of them everyone in Glasgow does. He was an architect, so was her father he was Hamilton the architect – famous, but not perhaps as famous or infamous as their daughter Madeline. She was tried for the murder of her lover, in the 1850s.  They said she did it with arsenic, but it was "not proven," but she has been dead since 1928. I think she went to America."
"Jasper, have we any sherry?"
"What sort of glass would you like it in?"
"The shape of the glass is irrelevant Jasper, just make it a large glass."
Hope you have had a good Hallowe'en.
à bientôt
Muriel Wylie