Admit it! Like me you enjoy the festive season and then long for 12th Night and an opportunity to tidy up and "get back to normal."
What Is Normal?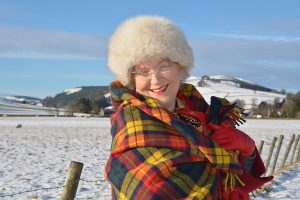 Now I am not quite sure what that is for you as I strongly suspect most of you are not normal anyway. For me it is a place for everything and everything in its place and the routine of daily life. I say that despite the fact that my life, unlike yours, is far from routine. Being "simply marvellous" and a leading figure, sorry I mean the leading figure in what has fast become the movement for "gracious living," many unexpected events are as Malvolio said "thrust upon one."  Malvolio in case you were not educated at a leading Glasgow school like moi is a Shakespearean character from a play called Twelfth Night which was written by well known Shakespearean playwright, William Shakespeare.
I once played Olivia at finishing school as I was considered rather too beautiful for that other role where a boy plays a girl playing a boy playing a girl. Or at any rate something like that involving a lot of confusion and cross dressing which was far more suited to many of the girls in the Hockey Team who seemed up to the challenge.
Traditional Balls
So the Christmas wrapping paper has been smoothed and ironed as it will do for next year's gifts to the Home for Fallen Women and the windows of the Advent Calendar (an annual gift from the grateful people of an unnamed French town, where I supported the Resistance in the last Unpleasantness) have been pressed back into the card and will thus make a thrilling gift for a child at The Orphan Home next Christmas.
Mrs Travers, our daily woman what does, (but not a lot) has been cutting up the Christmas cards to make gift tags and boxes for a future Church Sale of Work. Jasper has taken the Christmas tree to the Corporation dump and  I alone have been busy with wrapping the baubles for safe keeping. Some are heirlooms – Murano glass brought back from Venice by my Edinburgh Grandfather MacCavity. You may recall that much of my good fortune stems not just from natural ability and je ne sais quois,  but from the MacCavity Confectionary Empire and nationwide painless dental surgeries.
Grandfather had been helping with the unification of Italy and still found time to handpick a set of glass baubles and bring the Garibaldi biscuit to Scotland, where anything that looks like a fly cemetery has a ready market. I can still see my grandmother to this very day, dressed in a lace tea gown, trembling with emotion (lace is a very good prop for trembling) as she passed the box of treasures to me saying, "Muriel I have cared for Garibaldi's balls since the Risorgimento, now I pass the task on to you."
A Guest of General De Gaulle
Of course I had to get back to normal pretty quickly as earlier this week I flew to Paris from Renfrew Aerodrome. Much to my surprise as a holder of the Legion of Honour I was invited to the inauguration of General Charles De Gaulle as President of France and the Fifth Republic.
Now I know that I make very little of this, modesty being one of my many attractive traits, but  during the last Unpleasantness I worked for the S.O.E. undercover in France with my chums Dynamite Di and of course Winnie, who has a bicycle and now runs a wool shop in Auchterarder . We caused a great deal of trouble during the last Unpleasantness blowing up bridges and putting itching powder in the uniforms of S.S. while they were having team building sausage festivals. I would like to tell you more, but I am still bound by the Official Secrets Act. I dare say you will learn more long after I am gone as shelves of John Smiths in St Vincent Street Glasgow and James Thins in Edinburgh groan with biographies and accounts of our exploits.
Of course the ceremony was nothing like a British Coronation. It was a simple affair at the Élysée Palace and a 21 gun salute on the banks of the Seine which is the river that flows through Paris. At the Arc de Triomphe, the President rekindled the flame of the Unknown Soldier as a mark of respect to the war dead of France.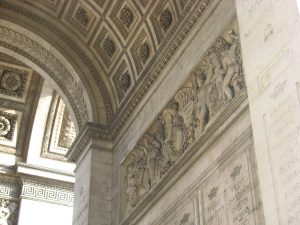 We sang La Marseillaise and there was a lot of that double kissing which is tricky for many Scots as it involves twice the bodily contact when they can barely cope with one kiss.
He is a strange man and I rather think he will not help Britain to join the European Economic Community. He rather paid me a backhanded compliment when he said I was so chic I might almost be taken for a Frenchwoman. I suggested he might like to consider some redecoration of the official residence as the Salle de Fête was now considered a little over the top for modern tastes. To give him his due he said he would consider it but much of his time would be directed at dealing with Algeria, where there has been a bit of a do. I didn't linger – Paris in January can be cold and I had to get back home for our sale at "Chez Nous". However, I did manage to get some perfume at the duty free – Arpège for myself and a little sample of Ma Griffe for Mrs Travers. I bought Jasper some pastries which were a little squashed by the time I got home but he ate them anyway.
Doom and Gloom And The Wrong Firewood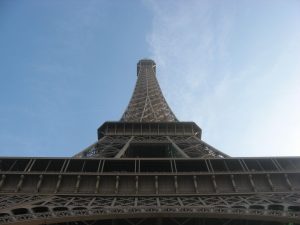 In some ways I wish I had made some time for Paris as everything at home seems grey and, like most others of my acquaintance, I have been feeling a little "blue" as they say.
The weather has not been too good and the papers are full of doom and gloom. The road conditions in the North of Scotland are bad and there is trouble in Cuba with Castro having arrived in Havana. The Soviet Deputy Premier has accused the United States of starting the "cold war" and here we are told the British textile industry is in danger as an average of 2 cotton mills closed every week last year loosing 30,000 workers. I find the prospect of a country unable to clothe itself positively alarming. Surely it will never happen?
I have not seen much of Jasper who for the last few days has been in the Sterling Library in Exchange Square writing a lecture on 'The History of Keeping Warm' for the Hysterical Society just in case the January speaker does not turn up.  Apparently, and according to Mrs Travers, he is up to a section on firewood and she is reliably informed that  fruit bearing trees such as holly should never be used and most certainly none with nuts. These are also omens of bad luck. Spruce and larch are explosive and to be avoided. One must seek ash, plane or birch for a warm friendly blaze. He hopes by the end of the week to have tackled shale oil and paraffin. Let us hope the booked speaker is not detained by bad weather. Mind you as the guest is speaking about 'Early Iron Foundries in Scotland' there is not much in it.
A Need to Get Out
The thought of all this and Mrs Travers up to her oxters in Seville marmalade brought on an acute feeling of cabin fever and I just telephoned the hairdresser, put on my face and a tasteful winter ensemble and here I am under the dryer with Raymond trying to "do something" with me. According to his business partner Rudolph who is floating around with a giant can of hairspray while wiping the condensation off the windows, Raymond is Glasgow's answer to "hat hair".
Nothing to Read at the Hairdresser's
"Oh coffee –  that' s nice Rudolph, no instant is fine, a blind man would be glad to see it as my mother used to say. Now… something to read?" Well I see Mrs Lottie Macaulay, wife of the millionaire bungalow builder has Vogue. Penelope Pitt has Punch and Maud Montague has The Spectator, how she can justify it with that perm goodness only knows, she looks like a burst cushion. So that leaves me with Muscle Builder (Raymond has a subscription apparently) or Woman Magazine. I don't need muscles and Jasper would collapse in a heap if he tried to get any so it will have to be Woman.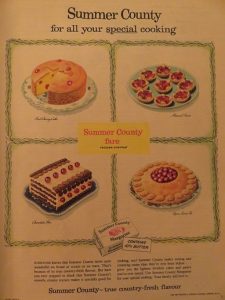 Aimed at the younger market really you know the 35-ish sort of lady in a new Taylor Woodrow home on an estate,  two children and a husband in paint technology, all venetian blinds and three piece suites. It's all Ostermilk adverts and recipes that use margarine as the mortgage is stretching their ability to buy butter. Still any port in a storm and I shall be some time under the dryer.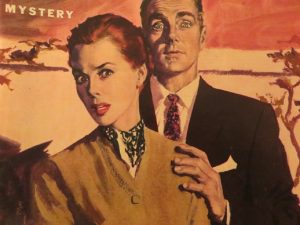 Even so I shall have to brace myself for the serial, "Man of Secrets" by Elizabeth Ferrars.
Woman's World
Well we are not off to a promising start.
The letter page contributions which pays a guinea for each one published, are rather worrying. Listen to this – a newly married lady from the Isle of Wight tell of her greatest achievement being her January list of birthdays which she pins on the side of her kitchen cupboard with a large envelope full of birthday cards. Now that is a marriage I would keep an eye on.
And another – an unmarried lady from Liverpool has some tips about nails, no not the ones on the end of one's finely manicured finger tips but the metal kind. She advocates keeping them rust free by greasing the lid of the tin they are kept in. When driving nails into hard wood she suggests smearing the tips with tallow or lard. When using a soft wood that is likely to split Miss M.B. has a handy tip and that is to blunt the tips of the nails by holding them upside down and hammering. This would result in a hospital admission were Jasper to try it, but then he is a man who faced with the need to put a picture on the wall requires at least two joiners. I am pretty sure Miss F.B. of Liverpool was in my school Hockey team and played the part of the shipwrecked Viola disguised as Cesario  in Twelfth Night.
At least she has a bit of get up and go which is more than can be said for Mrs M. H. of Stoke Poges who cannot keep her kitchen dresser tidy from Friday to Monday. What can I say about Miss S.W. of Cumberland? Except it is just as well it is a remote part of the country and difficult to get to for normal people, as the said lady recommends, for "an original and appetizing sauce for fish", that you fry a chopped glove of garlic in olive oil and add about half a bottle of tomato ketchup. I don't think so Miss S.W.. Have you heard of Elizabeth David in Cumberland? She has excellent recipes for hollandaise, maltaise, bercy, and remoularde sauces.  Of course Sauce Messine is just the thing for lobster. I am not even going to comment on the lady from Hampshire who substituted birdseed for confetti at a recent wedding she attended. The church was unlittered but many guests had to return home to change outfits. Does Hampshire have railway connections to London?
 A Giant Shoe and a New Jersey for Doris Day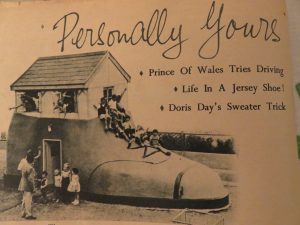 I know there is a great shortage of housing, but I do wonder about the family who are according to Woman literally living in a shoe, no not a shoe box, a shoe. A  Mr Clayton who is Entertainments' Manager at a holiday camp in Jersey has built a giant shoe to entertain young campers. He is apparently so fond of it he has moved into it with his wife and baby, Mandy.  The sitting room is in the toe cap, a kitchen with electric stove in the heel and there is a bedroom in "the uppers". Mrs Clayton used to be a TV Topper, so presumably she is used to the public and an audience. This is just as well as next year Mr Clayton is planning to move the family to Noah's Ark.
At least this is not as depressing as the call for blankets made of 6 inch knitted squares for destitute refugee children. A leaflet can be supplied for "old age pensioners to knit them!" Firstly I am appalled that almost a decade and a half after the Unpleasantness, there are still refugee children and secondly that old people are doomed to knit.
Well I suppose a knitted item would not be so bad if it were the sweater designed for Doris Day in  the new film Tunnel of Love.  Apparently it is plain golfer style but made charming by the addition of large lazy daisies made from a washable synthetic raffia.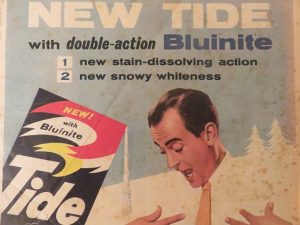 Oh here is an advert for adding Tide's Bluinite to a white washing. As if January wasn't blue enough without adding more. I should have stayed at home.
"Raymond I am ready to be combed out. Could I take this Woman magazine? It's for my woman what does – she uses margarine."
à bientôt
Muriel Wylie
January 1959