This week Muriel outlines the new trends for interiors that she has seen at Earls Court .
 Expecting the Not So Quiet American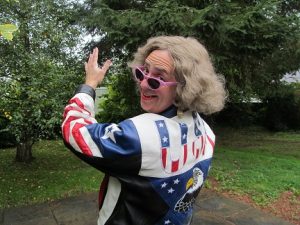 "There you are Mrs Wylie, some o' that American 'cawffee', the black widow, I mean your cousin Miss Lulubelle Saunders Du Bois brought back from the United States with her, and some o' they flapjack thingies they eat. I say give me a scone any day."
"Thank you, Mrs Travers, much appreciated, and I am expecting her here for lunch so that is diplomatic."
"Yes, I thought I would do Cullen Skink and we can call it Fish Chowder, that is what they eat in Boston."
"How do you know that?"
"Professor Sir Boozy Hawkes told me. He said he ate nothing else when he was on sabbatical to Harvard, which is quite a good varsity, to study the influence of Scottish Dance on early cultural engagement in the colonial settlements. It seems they have even found evidence of the Strathspey among the Mohawks. He is writing a paper on it."
"Well whatever next Mrs T – the allemande with the Alquonquin? And goodness me your vocabulary has come on a treat since you started the Sociology Twilight Class, for those who didn't make it first time."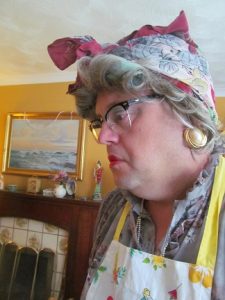 "Patronising" muttered Mrs T.
They Do Things Differently in the South
"Sorry what was that?"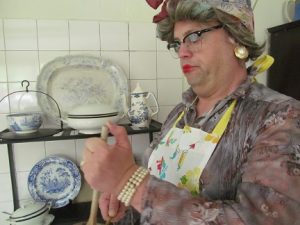 "I said, pastry I am going to make some pastry for a Border tart. I was thinking of having a go at those muffins they Amereicans like, but you can go too far in the matter of cultural sensitivity."
"Quite right – we can't let her have all her own way. Any was my cousin is from the very Deep South and they do things very differently there, so no doubt we would get it wrong."
"You mean different like they do in the south side o' Glasgow."
"Exactly. It must have something to do with the prevailing wind. They have swamps like we have Fenwick Moor."
"I have heard tell o' alligators, but I think MacFisheries would need a week's notice for that. Mind you I could try Kevin at 'The Kilted Kipper', he goes in for the unusual."
"I know, I have met his 'bidey in'. It's very odd to have a lady-friend who is a contortionist who having spent a life time in the circus moves into wet fish, mind you she knows her whitebait."
"Ooh I can't stand them, it's the little faces looking at you and then the crunching."
Food Sensitivities
"Try not to think about it Mrs T. I must say for a member of the working classes you are remarkably sensitive. Well let's not worry too much. My cousin just wants to see my report on trends in interior design, so that 'Chez Nous' can go from strength to strength. I am sure she will be happy with your version of chowder."
"If you're sure I could do kedgeree as I have some nice fresh eggs from Miss Haystack's hens."
"Whatever you think, now I must get on."
"Oh before I forget, Lady Pentland-Firth rang to see if you might discuss the sausage recipes for the Sizzle in aid of distressed seamen."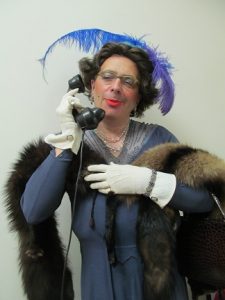 "Could you please telephone her and say I am incommunicado. However, if Wednesday suits we can go over the menu before The Women of Glasgow Lunch? Now where did I leave my notes from the Value for Money in Furniture Exhibition in Earls Court?"
Report:
From: Mrs Wylie Managing Director of 'Chez Nous – Interiors to Envy'
To: Miss Lulubelle Sanders Du Bois, Finance And Research Trust Inc. Int. – even the little people matter – a bit
Opening remarks: My recent visit to The Council for Industrial Design at Earls Court gave me an insight into trends for the next decade particularly for our target market, those furnishing their first home.
New Materials – Scotland is at the Forefront
The Scandinavian influence is still strong with an increasing use of teak and a noticeable increase in the use of metal especially for chair legs. The satin finish in steel is set to be very popular. Sideboards are to be longer and lower to accommodate wider windows and lower ceilings. Newer materials like glass fibre for curtains were everywhere. (Quite honestly, its horrific and one gets a shock every- time one draws the curtains, but it will no doubt amuse the Corporation house tenant or first-time buyer).
The Bridge of Weir leather manufacturers were getting a lot of attention and a leading designer used Dumfries worsteds, linen and cotton mixtures to cover his three- piece suites. The use of Harris Tweed in furnishing was also popular.
Dual Purpose Furniture is the Way Ahead
What particularly struck me (and not for the better) was the use of dual purpose furniture. Thus, a sofa can become a bed by unzipping two compartments at the back and pulling out legs and then unhinging the back and lowering down onto the floor. (The bruising one might receive from this is, I was assured, minimal.) In an instant, it seems, one's sitting room can be turned into an emergency bedroom for unexpected guests or those who have taken a refreshment too many. Frankly I cannot think of anything worse than coming down into the sitting room in the morning and finding people asleep probably having knocked cocoa all over the washed Chinese.
Jasper is Thinking Japanese
I was impressed by the Edinburgh trained architect Elizabeth Henderson who had remodelled 2 Victorian rooms on a budget of £400. This she designed for a couple with 2 children. Blue and Orange are her colours and there was a laudable use of Japanese prints for inspiration. We will certainly be stocking these at 'Chez Nous', Jasper is already in touch with Tokyo.
Small Tables are a Gold Mine
What I particularly liked, and can see will be what the accountants refer to as a fast revenue stream, is the increasing popularity of small tables. It seems that with the development of television and the increasing popularity of Open Plan living rooms, the large table and set of matching chairs is no longer a must-have. Instead we are (well not me, nothing would induce me to part with Grandmamma's Deacon Brodie mahogany oval with optional extension) desperate for gate legs and loose leaves. Ercol is the name of the moment.
Small wine tables are affordable and one can see the appeal to the high rise dweller of the telephone table, which at 5 guineas comes with a seat attached, room for 4 large directories and a detachable cushion. I have ordered one for Mrs Travers, although she does not have a telephone it will give her something to aim for.
We Must Take Our Lead from Magazines and Poodles
For the new semi-detached estate dweller there are a host of ideas and one which is already proving popular (why is beyond me) is the wrought iron table, with a frosted glass top. It appears to be the perfect thing for those lucky enough to have what is called "the porch". It makes the perfect stand for houseplants and provides the link between house and garden.
Wrought iron is also sought after as a material for magazine racks. The magazine is an important sign of disposable income as well as forward thinking. Men like them even when they find other forms of tidying up too difficult. You will often hear the comment from husband to wife, "isn't it time dear that we had a magazine rack?" (Thankfully not in this household.) It is often found with a growing interest in woodwork and a desire for a shed or work bench.
For those who cannot tear themselves away from wood, the nest of tables is a must have. As Jasper says "Even bungalow dwellers must have somewhere to put their nuts when company calls." For those who favour the modern, there is Formica which comes in a variety of "gay colours." Ceramic tiles are popular as a table top, especially those with a poodle motif. This suggests an interest in all things French, even if one has never had so much as a French Stick with one's soup.
Go Gay in the Bedroom with Ticking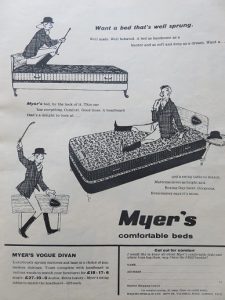 For the bedroom, the emphasis is on the divan bed. These low lying beds are ideal for children's rooms or for guests. They are narrow and discourage teenage friends staying over, if you get my drift as they say. Myer's is offering one with a sprung mattress and a choice of "gay tickings" as well as optional headboards and the opportunity to add a 'swing table' to match. You can expect to pay just under £30 for a single. Try some of the new Dormy blankets in Acrilan, "warm soft an unshrinkable." (You can; I wouldn't of course.)
Past and Present For the Best of Both Worlds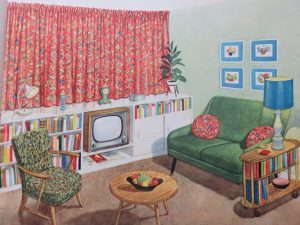 As well as blue and orange, the popular colour schemes include coral and green, "the gayest colours", which combine freshness and cosiness. For those not ready to completely abandon themselves to the modern, my illustration shows how the careful use of fresh colours and a neutral carpet (mushroom should be on every lip) and a traditional chintz gives one the best of both worlds. 'Chez Nous' stocks many chintzs with that air o je ne sais quoi.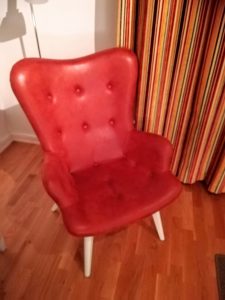 u
The turned or what we in Scotland call "sticky oot" legs give that modern Scandinavian look.
Arrival of the Southern Belle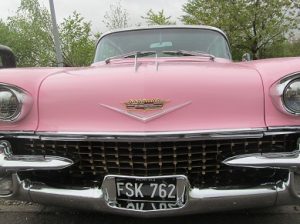 "Just so as you know Mrs Wylie, that's your cousin arrived in the pink Cadillac. Sorry to disturb."
"That's all right Mrs T, I have just about finished. Where is Jasper?"
"He had an emergency meeting at his Capodimonte Collectors' Club."
"I bet he had. Could you bring in a tray with some sherry and bourbon?"
"Yes M'm"
"And there's no need to overdo the southern thing; this is not Tara."
"Yes M'm. Should I begin making something from the dining room curtains in case y'all have to go to Atlanta?"
"No Mrs T, just bring the tray. And fear not, you are not about to be ravaged by advancing Yankees."
Talking Southern
"Miss Lulubelle Saunders Du Bois, late of Birmingham Alabama and currently missing at least two husbands widely believed to have perished by accident, of course, in that lil'le ole Mississippi."
"Thank y'all Mrs T for that mighty fine introduction, one worthy of General Robert E. Lee himself and the courtesy of the old south, which is….."
"Gone with the wind?"
"Very funny, Mrs T, very amusin', I do declare."
"Good to see you Cousin Lulubelle. How is Elvis?"
"Why Cousin woman as I live and breathe I feel like doing a cotillion in a crinoline, he is goin' from strength to strength. Now is that report ready for me to read?"
"Yes here you are, you have a quick look at that and I will pour us a coffee."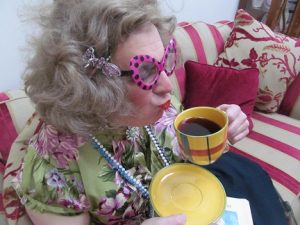 "Thanks hunny child, nice and strong. the way I like it."
Contrary to Expectations Cousin Lulubelle is Pleased 
"My that's mighty good fish whatever it is. Muriel that Mrs T is a real treasure, mouthy but you cannot have it all . Well you can but then y'all are not me."
"No thankfully. What do think of my report?"
"Well Cuz, I have to say – well I don't but I will, this is a mighty fine piece o' work. Concise and to the point, like modern decorating trends. It gives me something for the Bank as I think we should be expandin'. I'm thinkin' horizontal and vertical integration."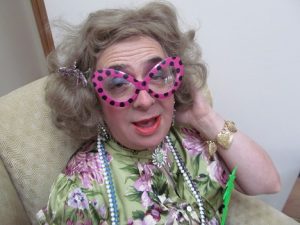 "What do you mean?"
"It's business talk Muurial Hunny. At rock bottom, it means y'all don't just sell the room dividers and telephone tables, y'all make 'em as well. And y'all build the houses you put 'em in."
"Isn't that a bit too ambitious?"
"Hunny Lamb as I've told y'all a million times if you wanna drink champagne then y'all gotta think champagne. You're spot on with the trends for the 1960s so far. This is goin' be a decade like no other – I feel it in m'bones. There'll be a magazine rack in every home mark my words. And they'll be 'Chez Nous' magazine racks. We're sellin' dreams Cuz, sellin' dreams!
And by the way where is that handsome husband o' yours? I hope he isn't hidin' from li'lle ole me. Ma bite isn't nearly as bad as my bark."
Later
"Well! How could you Jasper?"
"What do you mean?"
"You knew full well that Cousin Lulubelle was coming and you chickened out."
"There was an A.G.M. emergency at the Collectors' Club, trouble with the agenda."
"Well here's something to put on your agenda. You are going to be the face of the Magazine Rack."
"I don't think so!"
"Well it's either that or the giant French poodle outfit."
à bientôt
Muriel Wylie
March 1960