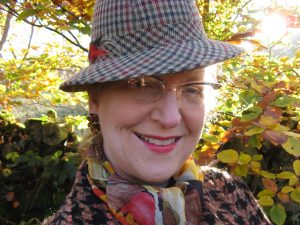 The Trouble with Abroad
Who would believe that September has passed so quickly?
In the wider world a lot seems to be happening, that is worrying. The German Democratic Republic (a likely story), which is quite near the rest of proper Germany, has decided to limit access to East Berlin to West Berliners. This can only lead to trouble. If they are so fussy, I do not know why they just don't build a wall around it and be done with it. There is a lot of trouble in the Congo. Jasper says this is the fault of Empire and chickens are beginning to come home to roost. He keeps muttering about Joseph Conrad and The Heart of Darkness. Who would have thought they ate chicken? Which reminds me I have a nice recipe they might like. Someone must have an address.
A group of middle eastern countries, one would not want to visit in a gift on account of there being no branch of Boots or Timothy Whites, have got together with Venezuela, a country quite close to South America, to form Organisation of  the Petroleum Exporting Countries (O.P.E.C. for short). Presumably, this is to make a day out in the Trossachs even more expensive, although I usually take a picnic of course.
Cuba, a Caribbean island run by some scruffy individuals, has nationalised the American banks. Now while I imagine they quite deserve one- another, this can only push up the price of cigars. Thank goodness I do not smoke and of course, now they say they are bad for one and one believes them. I have read the reports.
Keeping Everyone Out of Mischief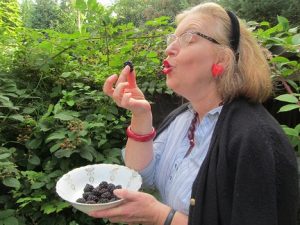 Abroad is always such a problem. If only they were kept more occupied. I mean who has time for coups when almost the entire month of September has been spent jam and jelly making. Mrs Travers, our daily woman what does (but not a lot), and I have positively raided the hedgerows for raspberries, brambles, and damsons and of course sloes for gin. At one point the kitchen smelt like Platform 1 at Paisley Canal Station which is adjacent to Robertson's marmalade and jam factory. Unlucky for them, we shall not have to resort to shop bought – not that we ever do. The pantry is somewhat full. One never knows when Mr Khrushchev is going to be up to his old tricks.
Fortunately, this year we have had the help of Hairy Mary from Inveraray. She is the nursery nurse who looks after my ward Gayle. She is the daughter of our nephew Sebastian, a thespian, who is currently undergoing method training in New York. He is big in tights. Gayle has gone to Westbourne – fee paying but I think it is worth it. She is in what you would call infants, bet when one is paying it is "Preparatory." It sounds more proactive, would you not agree? Mary does not want to go back up north and who can blame her, lovely, but one cannot eat scenery. Anyway she is, as my Grandmother would have said, walking out with a young man she met at the Gaelic Church. In any case Gayle is only at school for half a day and as a Glasgow Woman of business and noted expert in gracious living there are many calls on my time. Her continued help is appreciated.
Beware the Spirit World
Mrs Travers has been kindly sharing her many years of preserve making know-how with Mary. The only problem is Mary is a little fey and has the second sight and so all plants tend to come with warnings or cautionary tales. Mrs T gets a little agitated by this sort of thing so I decided we would not make any rowan berry jelly as that tree comes with all sorts of connections with "the other side" and the spirit world.
As I said to Mary, being  a member of the Church Women's Guild and Senior Flower Rota Organiser (I am a martyr to oasis and scrunched up chicken wire –   Hogarth Curves being my speciality) "the new Minister would take a dim view of my being involved with any hocus pocus." "I understand perfectly Mrs W," she replied. "And we wouldn't want you being deflowered now would we? Mrs Travers says you are in enough trouble over soup and tray bakes."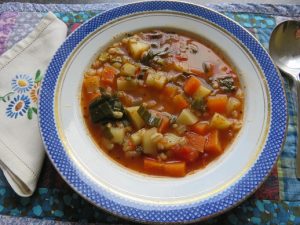 "That" I pointed out "is a question of scriptural interpretation. To my way of thinking there is nothing wrong with mulligatawny or minestrone soup. A church should reflect its community."
Suffice to say we agreed that we were on pretty safe territory with bramble jelly. Nevertheless, we were rushed off our Rayne sling backs, well at least I was Mrs Travers tends to wear something a little more suited to those with podiatry issues that take bunions and fallen arches into account.
Ingredients in High Demand 
We are now into October and that means pickles and chutney. Anticipating a run on the required ingredients, we were up early this morning and the three of us moved in on The Co-op in a pincer formation and secured the necessary items. Lottie Macaulay (uhsband in concrete) was quite put out when I grabbed the last packet of peppercorns. I sent Mrs T and Mary home with a large consignment of vinegar and sugar.
In case you think I am one of those West End ladies who takes advantage of their daily woman and treats her as a beast of burden, rest assured I have purchased one of those shopping baskets on wheels. Jasper said it would be useful for moi aussi when taking things to a Jumble Sale or one of my Sales of Work for the Home for Fallen Women.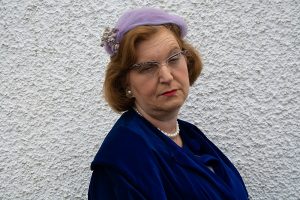 I just gave him one of my looks adding "It may suit Mrs T, but it would clash with my duster coats and doubtless the wicker basket would ladder my Christian Dior hosiery." Like most men, he looked vacant.
New Blood at the Hairdressers
I had an appointment at the hairdressers. Unfortunately, Raymond was not there as he has been taken unwell after a wee night with his college students. So I was offered Trevor, who looks about 10 years old. However, Anne Marie, the receptionist, says he is a devil with backcombing. I said I wanted something different; something that said royalty – like Princess Margaret. He seemed delighted, but in case this gave him carte blanche to decimate my Crowning Glory I added "and by that Trevor I mean, stepping off a plane in Mustique not reviewing the fleet at Tilbury for the Spanish Armada." "I get it Mrs Wylie" he said, "no tight curls and mirror jewels then."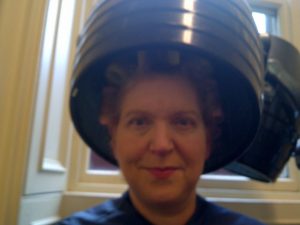 My only complaint was that Trevor, once he had switched on the dryer gave me an out of date copy of Woman and Home. I did say something but didn't feel that his personal copy of Muscle Man was much of an improvement. I do not know about muscles – a puff of wind would blow Trevor away. I think he has promise, but I am going to tell Raymond to take him firmly in hand.
New lines and 'Gaylines' for Autumn at 'Chez Nous'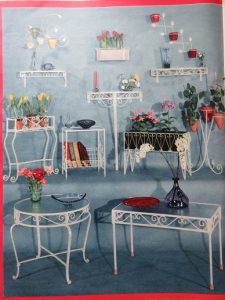 Jasper, in case you are wondering, is at work. Yes it does occasionally happen. I think he is secretly enjoying being "the face of the wrought iron magazine rack." Incidentally, these are flying off the shelves like snow off a dyke. Fortunately, thanks to Cousin Lulubelle my business partner, I have several blacksmiths at my disposal who are working night and day.  She says there is nothing that says rural Scotland more than a leather aproned son of toil bent over an anvil with his hammer in full swing. I suppose mass production might be possible, but part of the charm lies in them being handcrafted I feel.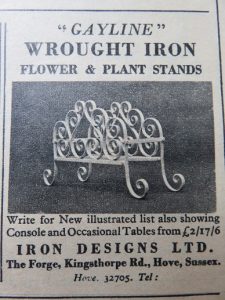 As a result of the enthusiasm for this decorative, yet useful, item we have decided to make a big feature of wrought iron this Autumn and have on offer a wide range of jardinières and small tables for inside and for the outside. We can also now supply gates and architectural ironmongery.  I particularly like a leaf and scroll plant holder, priced at 34 shillings and 11 pence from the "Gayline Range".  These I buy in to supplement those supplied by my rustics.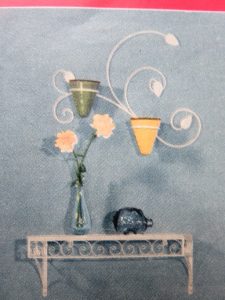 Another "Gayline" product is a substantial plant-holder although priced at £4. 9s 6d it is a little pricy, but the plant-grower will appreciate it. The fashionable spider plants and mother-in-law's tongue cactus will look at their best in these surroundings.
East  / West Divide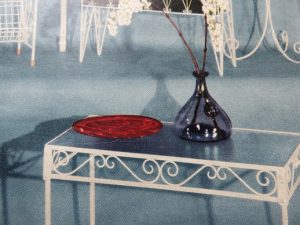 Wrought iron is also the perfect vehicle for displays of Scandinavian glass. Nothing says 1960 more than a few pieces of Nordic glassware. As we speak Jasper is busy placing Hadelands Glass from Norway on a circular table in our window display at 'Chez Nous'. The remainder comes from Denmark and is by Holmegaards of Copenhagen. As you will see when you visit nothing looks more spectacular on a wrought iron and glass table than a hand-blown piece of ruby red glass.
Of course, I wouldn't give any of it houseroom, but it is ideal for the new detached and semi detached houses that are springing up everywhere. Mr Macaulay is in negotiations with Cousin Lulubelle about the possibility of supplying several key pieces for the bungalow showhouses he is building in the Glasgow suburbs. Edinburgh customers should take note that these products are not available in the George Street branch of 'Chez Nous' as your taste tends to be somewhat more traditional, therefore, we still stock a full range of tables with Queen Anne legs.
They Say Imitation………….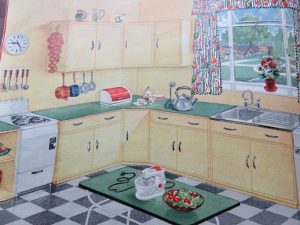 "Well Mrs Wylie how are we doing, isn't that magazine cool?  I know it's the June issue, but have you seen the 'Gayline' wrought iron? And those kitchen curtains are to die for."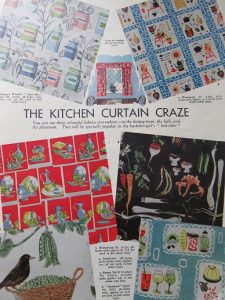 "Indeed Trevor."
"Now I think I will comb you out and prepare you for Mustique."
"Thank you, Trevor. Can you tell me who the lady is over by the window? She looks familiar."
Oh, that is a new client. Funnily enough she said she wants exactly the same as you. Now the name is on the tip of my tongue…umm yes, it's a Mrs Dangerfield."
à bientôt
Muriel Wylie
October 1960