We take you back 60 years to the world of Muriel & Jasper Wylie, two favourites from the Theatre of Artemis. It is 3pm, Good Friday; the fashionable West End ladies of the parish are just leaving the parish church after a lengthy service…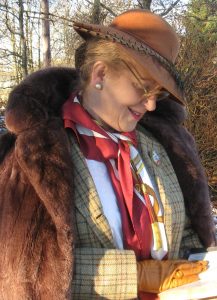 Over At Last 
"A wonderfully reflective service, Minister; you really managed to capture the essence of Good Friday."
"Thank you, Mrs Macauley; it is not an easy one to get right."
"I can appreciate that. The notion that there is a green hill not so far away for us all is certainly food for thought; and reminds me, I must pick up some honey roast ham. My husband and I are going for a picnic at the Queen's View on the road to Drymen on Sunday."
"Not missing Church, I hope Mrs Macaulay? Mrs Wylie's tableau, 'Rolling away the Stone – A Woman's Viewpoint' is bound to be, well em, bound to be different."
"Oh no! I would not miss that for the world. Anyway I am on hair and make-up and I cannot wait to see the suffragette outfits. Setting it on Glasgow Green in a relevant context is very clever, don't you think?"
"Quite so, although presbytery is a little nervous. Anyway, do join my wife and I for sherry at the manse, it is nutty brown and rather good. I do not see your husband, the one who is in concrete."
"No, he is working late with his secretary. She is helping him with his end…"
"Of year?"
"Something like that."
A Vision in Tweed – and it isn't Jasper!
"Miss Bunty Haystack, lovely to see you. What a marvellous amalgam of tweeds! Who knew there were so many? And such vibrant colours. Might I say you read the lesson beautifully, although the sound effects and your own added private thoughts of the centurion were perhaps a little reminiscent of a Penny Dreadful novel."
"Too kind Reverend; one does what one can. I am so glad you are appreciative of my little sartorial effort. I do in fact dye and spin all my own yarn. From head to toe I am a pallet of Mother Nature's colours. And let me tell you gathering crottel from the beach is no picnic. At any moment I might be tossed out to sea and we wouldn't want that would we?"
"No, no of course not. What about your props?"
"Muriel has my sponge and vinegar but I have left that spear behind the lectern. I will collect it tomorrow, when I am pew polishing."
"Yes, most effective I only hope the beadle does not require too many stiches. Are you coming for sherry?"
"Well just a quick one. I am expecting a call from The Glasgow Herald. They want to do a piece on my latest Rural  Murder Mystery, which reminds me – knowing you would want your own first edition, I have left a signed copy in the vestry."
"Too kind, and what is the title of your latest masterpiece?"
"Lambs to the Slaughter." It's 18 shillings; you can put the money through my letter box next time you are on a parish visit and I am pretending to be out."
Always Ready to Advise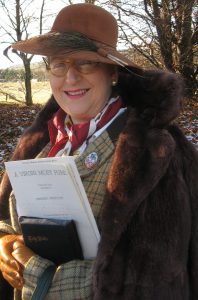 "Mrs Wylie, not like you to be lagging behind and leaving after an organ crescendo."
"Well I volunteered to pick up Bunty's crucifixion bits and bobs. Now really be honest, what did you think of that reading? A bit too Edith Sitwell for my liking?"
"That's very good of you to do that for Miss Haystack, Mrs Wylie. And did you enjoy our Good Friday Meditation?"
"Well perhaps enjoy is taking things a little far, Reverend. In fact, if you are looking for a positive critique…"
"I wasn't."
"Well, I think to be frank if you want to attract a bigger audience, the whole thing needs a rethink and a bit more variety. It's the same old stuff every year, your never seem, as my woman what does says, tae get oot the bit."
"That is the point Mrs Wylie. And you have to understand this is not the Theatre Royal or Woolworth's Pick and Mix Counter."
"Pity because they are very popular, especially the nut brittle."
"Will you be joining us for sherry in the manse; it's nutty brown?"
"Yes, I heard. At least it's not amontillado – I have kept up my Lenten promise and not a drop has passed my lips. I had our nursery nurse, Hairy Mary from Inveraray, walk round earlier to the manse with some cheese straws, things on sticks and such like. I know how difficult it must be living on your stipend. Though how they base a professional salary on the income from a 12 acre field is beyond me."
Where is Jasper?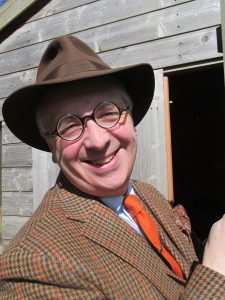 "You are generosity personified Mrs Wylie. And where might I ask is Mr Wylie? It is unusual not to see him sleeping in church."
"Mr Wylie sends his apologies. He has gone to Dunoon with the Labour Party to object to the Polaris submarine. He is with the C.N.D. you know. I don't approve but a man should have definite opinions even if they are wrong. He will, however, be back later as it is steamed treacle sponge pudding and he is giving a talk to the Hysterical Society."
"On what?"
"Custard, I imagine."
"No, the subject of the talk."
"Oh I see, 'West Meets East, a scene painter in the Holy Land – the story of  Scottish Artist David Roberts.' He's been working for a whole day on it."
"I might come to that, it sounds interesting."
"More likely it won't be, however, hope springs eternal Reverend. Even in the hysterical society the Lord moves in mysterious ways, His wonders to behold."
"Quite so Mrs Wylie and what about that cleaning woman of yours, will she be there; with her comic asides and barely concealed double directoires with the elasticated knees?"
"Of course; she operates his slide projector. Jasper like most men can only do one thing at a time and even then, it can be touch and go."
At The Manse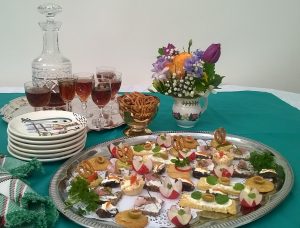 "Sherry, Mrs Wylie?"
"Thank you, so kind."
"So, good of you to send round the cheese straws and canapes."
"Oh, think nothing of it, dear. I quickly realised that pastry was not your thing, it needs cold hands."
"Mrs Wylie, might I have a word about Sunday's Flowers. I was thinking a simple vase of daffodils in keeping with the austere nature of our national Church."
"Darling, I mean Reverend, I don't do simple. No; it will be two identical Hogarth Curves of white lilies and trailing ivy – the line of beauty. All will be simply marvellous, I assure you.
It seems Bunty wants a word, so excuse moi. Yes, Bunty, you look fabulous. Simply marvellous reading, you put Good Friday on the map."
"You are too generous Muriel."
"Not at all, I speak as I find – I mean every word and all those voices. Who would have known that you could perform the centurion with so much conviction and such accents. Now tell me, what gave you the idea of the Aberdeenshire dialect? As you proved, it is a difficult one to pull off."
Cynthia Savage (Husband in Pickles) has News 
"Muriel, I have been looking for you everywhere. Isn't this sherry ghastly? Where's Jasper."
"Don't ask."
Fine, I won't. It's just that Mr Savage said he saw him getting on a bus with a banner saying, MORAL REARMAMENT."
"Yes, he will have done. Did he happen to notice if Jasper had his waterproof Mackintosh Square? As if not I don't want him sitting on my expensively faded peony rose linen weave when he comes home. One never knows where these socialists have been, and the bus will be full of them! By the way is your costume ready for Sunday? Must dash, things to do before Jasper gets back!
Lady Pentland-Firth is Waiting Outside the Manse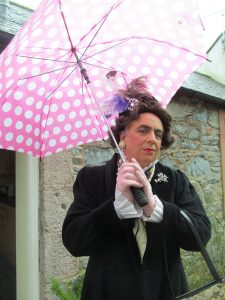 "Muriel, over here."
"Patience how are you; or more pertinently where have you been? I didn't see you at Church."
"No, a bit later than intended. I was on the Dunoon Ferry, having been for a run with my chauffeur who wanted to check that my battery was fully charged. I came across a police car with a couple of ne'er do wells inside, one of which was Jasper."
"Why am I not surprised! And tell me where he is now?"
"Pitt Street Station."
"Is he being charged."
"Well not since I reminded the Chief Constable about New Year 1947 and the incident with the meringues and the night porter at the Central Hotel but the less said about that the better. Suffice to say Muriel you can pick up Comrade Jasper in the morning and if anyone asks, I paid for a new section of fencing."
"Well in that case we can have a girls' get together.  What about Murder in the Cathedral at the Citizens' Theatre and a spot of suppa afterwards at the Gay Gordons? I will see if Cynthia, Bunty and Lottie are free. Good Friday might be not so bad after all."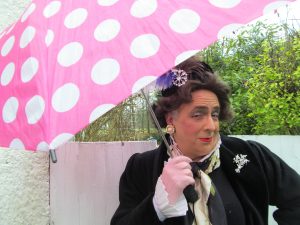 "Wonderful idea – I'm up for a bit of drama."
"Mrs Wylie, if I might just have another quick word before you go about the flowers for Sunday…"
"All in hand as I said, Minister, there is no need to worry. Now, I must pop home, for hot cross buns with Gayle.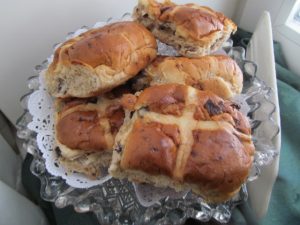 Tonight I'm off to the murder of an archbishop and then the Gay Gordons."
à bientôt
Muriel Wylie