This week Muriel sorts things out for Mrs Travers and acknowledges her family's wrongs.
Kismet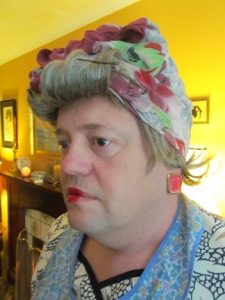 It is not often these days that I get the upper hand with Mrs Travers, our daily woman what does but not a lot, especially in the summer months when she has the "sweating and swellings." Sometimes, however, Kismet deals the entrepreneurial employer and woman of business a trump card. 
Mrs Travers – a Canny Shopper
This was presented to me following the appearance of Mrs Travers, along with Big Bertha of the Bakery, at the Sherriff Court last Friday. They were charged with breach of the peace following a very public brawl. The cause of this was Big Bertha's questioning of Mrs Travers' femininity following the recent Gala. Of course as with most things there is a much longer history here involving quality issues around those Scottish staples – the bridie, the well fired roll, the fern cake and the apple turn-over.  As to the roll and sausage with runny fried egg, for the sake of decency, that is not a road I propose to go down.
Now Mrs Travers is a woman of many parts, some of them quite lose, but in one area she has a firm grip and that is when it comes to "the messages" as we call shopping in this part of the world.  She is as they say "a canny shopper."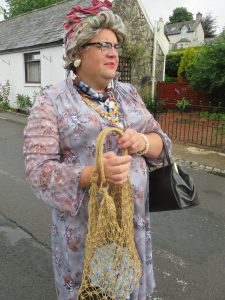 There are not many items which enter her string bag that have not been the subject of her forensic study on the shop counter. When the door bell of a local emporium opens and Mrs Travers enters, there are few purveyors who do not feel a slight queasiness in their stomachs or momentary rush of blood to the head.
At the butcher's she examines each cut of meat like a pathologist looking for times and dates and cause of death. At the fishmonger's she likes to see signs of 20-20 vision in her mackerel and no evidence of colour blindness in her rainbow trout. For dairy products, the milkman is well aware that he must be able to name cows and fields and as for bacon it is not always easy for a farmer to say which side his Gloucester old spot liked to lie on. Suppliers of tea and coffee like Thomsons in Renfield Street are used to enquiries about how far up the hill the beans or leaves have been grown.
Jasper to the Defence
The Scottish housewife is like no other (even one that comes from Warrington, which is half way between Manchester and Liverpool) and shopkeepers have to get up very early in the morning to get one over them. So I have a feeling there may well be something in Mrs Travers questioning of Bertha's bakery products.
This does not, however, give her carte blanche for street brawling. Fortunately this being the "Fair Fortnight" (annual trades' holiday) in our neck of the woods, with Mrs T's court appearance  being the last of the day and the Sherriff  being anxious to get on his way to visit family in Nottingham, the fine was fairly lenient.  Mind you this was in some ways quite surprising given Jasper's character reference and his "summing up" in which amidst his overuse of the phrase "I put it to you" and his arguments against the death penalty he had the Sherriff crying "Please no more Mr Wylie, this is not the trial of Madeline Smith, Joan of Arc or even Lizzie Borden, simply a breach of the peace affair. We do not need to cast our minds back to the case of Regina versus somebody or other. I find the defendant guilty- fine £10, now if you'll excuse me, my wife won't get into the car unless the chrome is polished."
The Benefits of a Guilty Woman What Does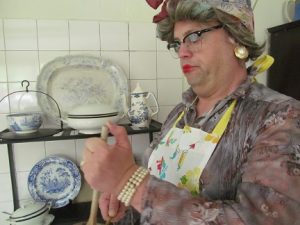 In the time honoured fashion of the Travers family, who are no strangers to the full majesty of the law Mr McPhial of 'Delay Ruin and Expense' shouted "Time to pay". This was granted although of course I stepped in and paid the full amount, thus earning the undying gratitude of Mrs Travers for at least for a week. I have taken full advantage of this and I must say her work has never been better.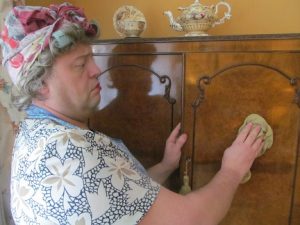 Gooseberry jam is in full production, scones are in abundance, furniture polished and dusted and as we speak she is busy brass polishing the stair rods, coal scuttles and fire place furnishings. This is one of her pet hates and she does everything in her power to avoid it. This morning, however, it was "certainly Ma'am anything to do yous an obligement, you know how I take pride in ma brasses."
Mrs Lottie Macaulay, my neighbour and wife of the millionaire bungalow builder, is green with envy as her daily woman has not been the same since she came back from a week in Saltcoats. "Muriel your house is looking wonderful. It's amazing what you can do when you employ a jail-bird. I cannot even get mine to polish my nest of onyx tables or dust the Green Lady by Tretchikoff. I wonder if I could get mine to have a punch up in Timothy Whites?" Of course it won't last, but as they say Muriel, darling make hay…."
Tradition Born of the Munchies
One useful result was that I had the upmost help and assistance with my part in The Pentland-Firth Picnic. This has been an annual fixture since the 18th century when the 4th Earl of Sandwich stayed with the Pentland-Firths, along  with his mistress the ill starred Martha Ray. The Earl got an attack of the munchies in the middle of the night and  required a snack. While Martha was sleeping in the Chinese Bedroom, he crept downstairs where Lady Flora Pentland-Firth, who was a beauty from the Hebrides and known  affectionately by all who knew her (and many did) as "the paps of Jura", was having a cup of hot chocolate. Taking pity on the Earl, she said " I could give you something with some bread and a couple of slices." Thus that quintessential feature of the picnic was born – the sandwich.
Picnics – a Class Affair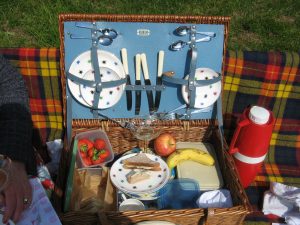 Every August since, the Pentland-Firths have honoured the memory and contribution of Lady Flora. Her story did not end well as she descended into madness when she followed the sandwich with a sausage roll after the Earl's second visit, when he was hunting for Jacobites. It was widely felt that her contribution to al fresco living should be noted as it is such a part of British culture and let us face it few things are. So despite herself becoming a sandwich short of a picnic, she is celebrated as a woman who has mattered in our island story.
The gates of the Pentland-Firth estate are thus  thrown open to all who live in the Parish and their friends. It is one of the most colourful and gay days of the year and the lawns begin to look like a patchwork quilt as tartan rugs and picnic hampers fill the spaces between herbaceous borders, follies, the shell grotto and the boating lake. It is a class affair of course, the working classes with the latest up to date picnic equipment, all shinny melamine plates and modern thermos flasks. Those aspiring to gracious living, who have paid the 2 guineas for my course on outdoor living,  have their folding chairs and hampers. The upper classes on the other hand are easily spotted as they have old Bovril tasting flasks and moth eaten blankets, which are explained as naturally plant dyed and showing the ravages of the Duke of Cumberland's forces in 1746. These "heritage textiles" are placed on groundsheets which came back from Balaclava and still have a bit of wear in them.
The lower orders unpack their shop bought picnic teas with their potato crisps, pork pies, scotch eggs and Lyons jam tarts while their social betters feast on something unidentifiable left over from Friday night suppa, but with an awfully good bottle of wine from a wood wormed hamper that survived the Battle of Loos. Those who have attended my course sit with their refined cream cheese and cucumber sandwiches (the cream cheese stops the bread from going soggy – unbearable),  strawberries and freshly baked cakes.
Lady Pentland-Firth's Role
By tradition tea, cakes, lemonade and ices are served in the orangery by the more notable members of the Parish. I am known for my fresh lemonade, with cherry on a stick and mint garnish, which Mrs T made by the gallon without any complaint. Such is the power of the bench and a kindly employer with a £10 note in her good lizard bag.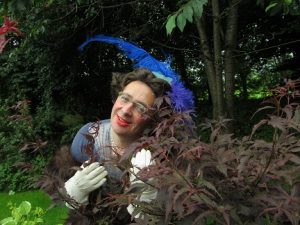 Lady Pentland-Firth herself judges the decorated straw hat competition for the ladies, but  oddly enough has more interest in the tug of war competition between the estate workers and the village tradesmen. By tradition competitors are required to remove their shirts. She then presents pokes of sweets to the children who have most successfully completed the treasure hunt. Entertainment is provided in the form of clowns, stilt walkers, fortune telling and of course a tombola; not to mention Scottish Country dancing, so we won't.
This year for the first time, her ladyship decided to have something rather different from the usual musical offering provided by the Pentland-Firth Silver Band. She asked Grace, my additional help who does the heavy work, if her husband might bring along his steel band. As Grace and her husband are obviously not local, being from the West Indies, this did cause some minor Presbyterian lip pursing until with the help of some rum the music began to get everyone moving their hips and we were transported to a tropical island.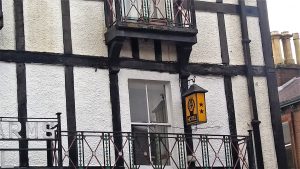 While some gave up their preconceptions in favour of more enlightened views, the faces of the silver band members told a different story and were a prerequisite to some minor scuffles in the Pentland Firth Arms later.
An Opportunity to Right An Ancient Wrong 
You may recall that Grace and I are distantly related as cousins. Grace is the result of our common ancestor's activities as a sugar planter in the West Indies. It seems he planted much more than sugar cane. As Grace and I shared a picnic, beautifully prepared by Mrs Travers  (enthusiastically doing her stint on the coconut shy)  and listening  to the music, she asked me if in the light of her revelations about our connections through the MacCavity Plantations, I  would prefer it if she left and went elsewhere. I said she was welcome to go anywhere she wanted and that I would really rather she was not my employee as we are cousins and both descended from Ethelred who was  more ready than generally supposed.
She looked crestfallen, until I added, that  I was well aware of the injustices of the past and as a trustee of the MacCavity Estate, I had a degree of say in how a discretionary fund for the public good was spent. I would therefore like to assign to her a sum of money which is rightfully hers to set her up in any way she felt was appropriate. Grace said not unnaturally that she was astonished by my generosity and had thought of trying to resume her nursing career . However, what she wanted more than anything else was to set up a business importing African inspired textiles and decorative objects into Britain and that her husband wanted to further his musical interests perhaps establishing a Jazz Club in London.
Things In Common
I have to confess most of this was Jasper's idea, but I am well aware of my good fortune in life and the advantages that I have had. It was, however, my idea to bring the matter up at the picnic. Somehow it is much easier to discuss things out of doors with a cream cheese, chive and cucumber sandwich. There is also something about wasps that brings people together. Well most people. I do not think there is much that unites the Silver Band these days, however. They were formed when the Pentland-Firths owned coal mines but these were taken over  after the last Unpleasantness by the Labour Government with nationalisation. It would seem they have lost some of their puff.
I asked Grace what she thought about politics and she said that being a Conservative she thought about it very little. Her husband it seems votes Labour. We both wondered if we might alter our hasbands' views before the General Election which we are both convinced will take place this autumn.  "Change his politics Muriel, I can hardly get him to change his socks!" "Isn't it strange" I said, "how we can all be different colours and creeds and yet under the skin, all men are equal."
"Yes Muriel – equally useless. Can I tempt you to a spot of rum punch?"
"You certainly can, dear cousin, you certainly can. Mrs Travers, that will be two rum punches please."
Muriel Wylie
à bientôt
August 1959