On the 24th December 2012, the first ever "Bon Mots" were posted and thus was born the Musings and Jottings of Muriel & Jasper. Happy 10th Anniversary to this most unusual of blogs set exactly sixty years ago, mixing fact and fiction and keeping many amused over this decade.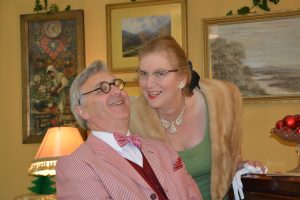 Merry Christmas to all our friends and here is the latest instalment from the the intrepid Glasgow couple….
In the Half Moon Bar at the Central Hotel Glasgow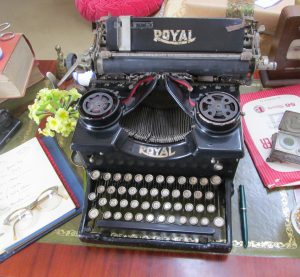 "Muriel, I thought you were never coming?"
"No Jasper what you were thinking was how long do I have to wait for my game casserole and baked Alaska."
"Well, it is nearly 1.30, my stomach thinks my throat has been cut, and let's face it Mu Dahling with all the goings-on of late anything is possible."
" I am sure in that eventuality you would somehow  still manage to put away half a dozen oysters; did you ask if they had any?"
"Yes, fresh in in this morning from Loch Fyne and I have ordered a bottle of Champagne, after all it is ten years since we first met all our dear readers and shared our musings and jottings from Glasgow and the rural Bolthole."
"Why Jasper you are right, a decade of being simply marvellous and campaigning for gracious living in a sometimes less than gracious world. Who would have thought, that our bon mots penned from the Parker Duo-fold or the old Royal Typewriter would be enjoyed by so many? Our readers include so many interesting people, television  personalities, actors, university professors, men of the cloth, captains of industry, and even ladies from the right side of Virginia in the USA and of course Carlisle. Then of course there is Edinburgh, one does what one can."
"You have forgotten Paisley Muriel."
" I try my best."
" That's not fair.  No I will never forget Paisley, like Calais and Queen Mary, it is etched on my heart, which reminds me we are out of Andrews Liver Salts and Askit powders."
Preparing to Enter the Pompadour Restaurant
"Champagne madam ?"
"Just a soupçon garçon."
"Would Madam also like the oysters and the game?"
"Yes to the oysters and no to the game. Could I have the chicken chasseur and dauphinoise potatoes."
"Certainly Madam; and might I ask are Sir and Madame celebrating?"
"Yes, we are – ten years of goings-on from Glasgow and Southwest Scotland."
"It has certainly been a decade of change Madam, at least in Glasgow. I am not sure about Southwest Scotland. I have never been. What is it like?"
"It is pretty much like 1862."
" Back in time?"
" Back in everything."
" How interesting I must venture there one day."
" Yes do, but a word of advice – a more manly demeanour might be advised. It's full of sheep, trees and men with big choppers."
"Madam I am already there; I will tell you when your table is ready in the Pompadour Restaurant, enjoy the Champagne."
New Everything!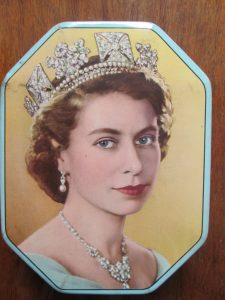 "Cheers Muriel. It really has been a decade of change hasn't it. So much has happened – the death of The King, the new Queen, the end of rationing, the Empire being replaced by the Commonwealth, Churchill no longer Prime Minister , commercial television and the new peripheral council estates around Glasgow, and their demand for new furniture."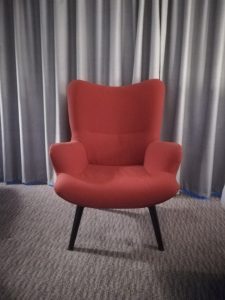 "Indeed, Jasper and that demand has been good for our interior decorating business "Chez Nous". Despite my initial reservations and the unwelcome  pressure from my American  Cousin Lulubelle, Scandinavian tables with their sticky oot legs have been our saviour, along with the magazine rack of course."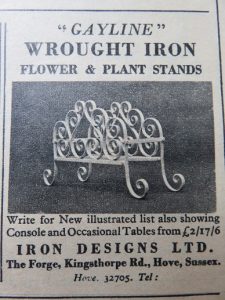 " Even this year so much has happened,  Muriel, to think a man has circled the earth in a rocket and on the other hand we have been close to extinction with the Cuban missile crisis. Thank goodness I was able to go to Moscow and smooth things over with the promise of a free bedroom makeover at the Kremlin ( with scatter cushions) and you were able to see to things in Cuba. Not to mention Lady Pentland Firth dealing with JFK, such a pity about Marilyn . I must not say too much, walls have ears, but I am aware that we could say nothing to our public as they wonder where we were in the late summer. Still, I hope they buy my ruse of writing a book."
The  Marilyn Problem Solved with help from Mrs Travers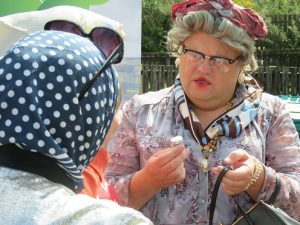 "Muriel what exactly did you do with Marilyn?"
"Oh, the Handsome Stranger arranged for her to have a completely new identity running a Bed and Breakfast in Upper Nithsdale."
"Surely someone will recognize her? Then they will  realise she is the world's most famous film star who isn't dead after all."
"Not at all Jasper – Mrs Travers has been coaching her for weeks at the so-called adult education college. She is now fully versed in disapproving looks, knitting, patchwork quilting, soup making, tray bakes and how to wear a pinny and flat shoes."
"What's her backstory, the accent might slip not to mention the walk?"
" A war bride whose former American Air Force pilot is now dead. They ran a successful small hotel out west and now, as they had no family, she has returned to Scotland."
"And your book?"
"That is forthcoming. I need to leave a legacy for those of the future who wish to be simply marvellous. After all one does not want my famous Christmas candle cakes to disappear into the wind."
" No dear. or they would just become candle cakes in the wind."
"Your Table is ready, Sir,  Madam." 
A Leisurely Lunch
"This pie is delicious Muriel;  I do miss Mrs Travers shortcrust. I don't suppose we need to rush luncheon; Gayle is at the Kelvin Hall Circus with Hairy Mary from Inveraray all afternoon and we are not due at Lottie's Christmas Eve drinks party until 6pm. Have we anything else to do?"
"Well, I thought on the way home we might stop off at The Home for Fallen Women. They do appreciate a visit from the Chair at this festive time and matron has asked if I might distribute presents.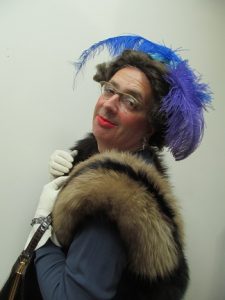 Lady Pentland-Firth wanted us to go to her Telemann's Table Music Concert, but I said no. Baroque and Germans before bed on Christmas Eve is too much. That said, you needn't think that's the green light for Coronation Street and Harry Worth. We are on the slippery slope of moral decline, although I have to admit Jasper that Ena Sharples is positively Dickensian. Of course, to me Dickens is Christmas."
"Which of the novels are you particularly thinking of dearest?"
" Oh, the usual ones, One Pair of Feet is my favourite. Pass the salt please."
In the Taxi after Lunch
"I see Jasper you managed to pick up a copy of The Glasgow Herald while I was dabbing a little Ma Griffe in the Powder Room. Anything important?"
"No just the usual Christmas cheer, shipyard strikes on the Clyde, linoleum strikes in Kirkcaldy, nursing shortages as a result of economies made by the health minister."
" Who is that again?"
" A Mr J. Enoch Powell."
" Umm, I don't like a Politian who requires two names with which to identify himself. Jasper, mark my words he will cause trouble, the Tories are not what they used to be. Now before I forget Jasper there is an invitation to a Memorial Stamp Exhibition for Mrs Sloan who has been tragically sucked to death in quick sands, that is on the 13th. The subject is "The winds of change"; it's in Edinburgh, with the Scottish Philatelic Society and the Commonwealth Institute. They want you to open it. I have said yes.
Now remember, as you have had quite a lot of wine, if any one at Lottie's asks if you have a hangover , the answer is "no" you have "a touch of influenza". Jasper, are you listening to me?"
" Sort of Muriel but look at this in the Glasgow Herald."
In Paris near France, police today found the remains of a body, believed to be that of a lady in two suitcases deposited at the left luggage of the Austerlitz railway terminal, both parts were wrapped in material normally found covering restuffed mattresses from a Glasgow factory. Although the head was missing, all four limbs were present, and the lower ones covered in support stockings available at Timothy Whites. Traces of a crumble topping have been found under the nails.
"Oh Jasper…………!"