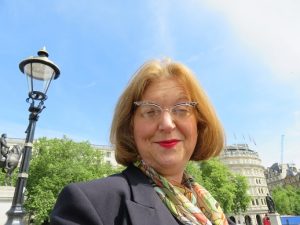 Common Like Jasper
It has been a simply marvellous day here in that London. I am writing to you dear friends and readers of 'The Glasgow Lady' from the Imperial Hotel in Russell Square while the sights and sounds of today's Royal Wedding are still fresh in one's mind. Today saw the marriage of H.R.H. Princess Margaret to a commoner, Mr Antony Armstrong Jones. I cannot help but muse on the fact that it is in that respect not unlike that of my marriage to Jasper.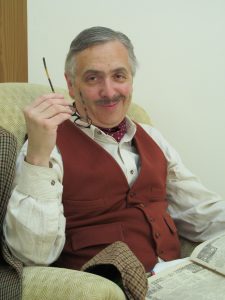 In addition to being common Mr Armstrong Jones, or Tony to his friends, is a photographer. That again is also a little like Jasper who, being a window dresser, does not have a proper job either.
An Ambiance Consultant
What, you are asking yourselves, is Muriel, a mere lady businessperson and national expert in gracious living, doing in London at the centre of Royal affairs? Well, surprising as it may seem (and it has been dreadful keeping the secret from you) 'Chez Nous', Glasgow's leading interior decorator of choice, has played no small part as 'Ambiance Consultants' for the day.
Now if there is one thing I excel at (oh all right, if you must – I agree there are many) it is ambiance. While I understand that clustered around your small black and white television sets you would not be able to appreciate this, trust me it was obvious to the people who matter. While the detail may have been down to others the general themes for colour flowers etc. were originally mine. It seems that in the various royal abodes the name Muriel and the business 'Chez Nous' are on the tip of many a privileged tongue. One is a by word for contemporary living and Prince Phillip even has one of my wrought iron magazine racks in which he keeps his carriage driving periodicals.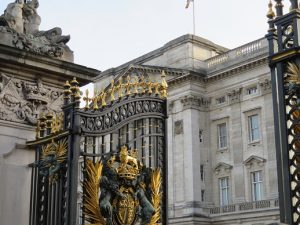 As a result of a meeting last autumn, I have been busy liaising with courtiers, florists and Messrs Norman Hartnell and Victor Stiebel, designers of the royal wedding dress and the outfits of the principal ladies. None the less it came as a complete surprise to receive an invitation to the event itself from the Chamberlain. Not only that but in ink was a message, "Do hope you can come" and signed Margot and Tony. When I told the editor of Glasgow Lady she immediately said, "Muriel you must give the ladies of Glasgow your unique view of the day, at our expense of course." Well what could one say, it would have been churlish to refuse.
Not Invited But Just As Well
Jasper was not included in the invitation, quite possibly because he is a republican and a member of the Kelvinside Labour Party – we all have our crosses to bear. In any event he had a previous invitation to attend a lunch marking the election of Glasgow's first Lady Provost, Mrs Jean Roberts. Even I have to admit she deserves the post having given many outstanding years of service to the city.
Mrs Roberts is very keen on exporting the good name of Glasgow and increasing the happiness and prosperity of its citizens. She says we hear "too much of the Gorbals Story and little of the grandeur of the River Clyde and the glories of Glasgow." Jasper, who was born in the Gorbals, does take issue with Mrs Roberts over this as he is immensely proud of his birthplace and says it is possible to be "…from but not of the Gorbals."
He also thought I deserved a break as he seems concerned that, prompted by a dream I have been spending too much time dwelling on possible difficulties 60 years hence, to miss quote the man who invented Scotland – Sir Walter Scott.
A Quick Whizz Round Glasgow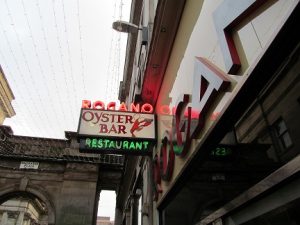 I travelled up to Glasgow from our Rural Bolthole at the beginning of the week to select my finery and to have some time with Jasper. He met me off the train and I treated him to a new pair of sports trousers from Daks at McLaren's in Gordon Street at the very good price of £5 and 15 shillings. We had lunch at The Rogano, "the smartest place in town."
Then it was back home so that I could pack as we had to be out again for a pre-theatre Royal Wedding Special suppa at the 101 Restaurant in Hope Street with the Macaulays who also treated us to good seats at the Kings for Salad Days, one of my favourite musicals.
Of course, I couldn't sleep. It was not a good idea combining the richness of the Foie Gras at lunch with a 'Fresh Claws Cocktail' at suppa. Added to which I had to be at Renfrew Airport rather early for the flight to London. I was delighted to be greeted at the steps of the B.E.A. Viscount by my old friend Chief Steward Lee seeing I looked a little tired sat me in First Class with a Bloody Mary, which he rightly suggested was "Ideal for take-off."
Getting The Feel of the Crowds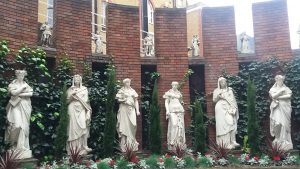 As 'The Glasgow Lady' is paying, I took the taxi rather than the terminal bus to the Imperial Hotel – such a lovely entrance for a city centre hotel with its statues in the courtyard entrance. Naturally, I was welcomed back like a long lost relative by the reception staff who quite naturally gave me a superior room. After a cup of Earl Grey and a freshen up, I went out to get the feel of the city on the eve of the Royal Wedding. Everywhere was decked out with flags and looked quite splendid and it soon became obvious why the newspapers have been referring to " the great squeeze of London" as there were already about 100,000 people in the Mall.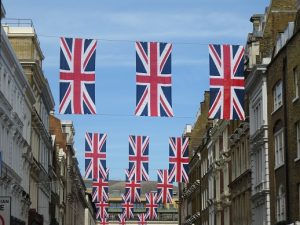 The crowd were good natured, though rather over excited, and children with balloons jostled with hordes of jolly laughing women fresh off coaches and sucking iced lollys as it is over 70 degrees here. Although it was still afternoon people were already camping at pitches on the Mall, hunkering down with sandwiches and portable radios. The majority appeared to be young women although older women were also in groups knitting furiously to pass the time. Unfortunately knitting while waiting for royalty always reminds me of the French Revolution.
Tea With The Dean
'The Glasgow Lady' had arranged for me to have afternoon tea with the Dean of Westminster who had just come from the Wedding rehearsal. He said he was thrilled with my contribution and that he had never seen the Abbey looking so marvellous. "Mrs Wylie, the retention of the Persian Carpets in the Sanctuary and the Royal Blue Carpet has been such a good choice and your suggestion for flowers – snow white lilies, iris, tulips white roses and marguerites – symbolising the Princess's childhood was little short of genius."
I had to agree and hoped that the decoration would not detract from the deeply spiritual nature of the occasion. "Mrs Wylie, Muriel if I may, why do think we approached you, the Queen of Ambiance? We never doubted you, well all except the Moderator of the Church of Scotland who suggested you might be unsound on the question of traditional soup and tray bakes. Her Royal Highness, however, said that she herself was very keen on Mulligatawny Soup in an ecclesiastical setting. By the way, just in case it might be helpful the Church of England is extremely broad on soup questions. Now if you will excuse me, I must run an iron over my cope."
Seated in Plenty of Time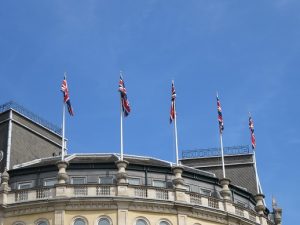 This morning I was up early and drawing the superior curtain of my windows revealed a wonderfully sunny day. I had a good breakfast in my room, before dressing and made my way to the Abbey enjoying the decor of the city, with the flags flying on all the important buildings. Being ever punctual I was at the Abbey in plenty of time. The floodlights came on just as I took my seat next to the Earl of Dalkeith who has interrupted his election campaign for the by-election in Edinburgh North. The lights caught the fabric on the prie-dieu in front of the altar and I was glad that I insisted on pink silk.
As the organ broke into Purcell's Chaconne, along the royal blue carpet came the clergy, followed by the foreign royalty. You can tell they are foreign as no one knows who they are and they all have titles like characters from The Prisoner of Zenda such as prince Karl of Hesse and Prince Maximillian of Baden. When the Bridegroom took his place with his best man Dr Roger Gilliat I thought he looked pale and tired. Perhaps he had had too much fresh claws and fois gras!
For Better or Worse?
The Queen was a most striking in a gorgeous full length royal blue dress. She outshone all the others, hard to believe she has only just given birth to Prince Andrew, who "is no trouble at all". Even the Earl of Dalkeith noticed H.M.'s magnificence as he said to me "she looks stupendous, doesn't she Mrs Wylie?" I wasn't so sure about the Queen Mother in cream and gold lame. Sometimes less is more and for my taste it was a bit too Lady Pentland-Firth who is very gold lame.
A fanfare announced the arrival of Princess Margaret and the Duke of Edinburgh who was of course giving her away. Princess Margaret floated down the aisle to Christ is made the sure Foundation in white Hartnell organza followed by eight bridesmaids. Her hair-piece and tiara made her seem taller than she is. Dr Fisher conducted the ceremony and I could not help but notice that Princess Margaret stumbled over the words, "for better or for worse" and the Queen bit her lower lip. I wondered if they were thinking of Group Captain Townsend.
Magazine Racks Reach the Abbey
The Archbishop pronounced them "man and wife" and as they went to   sign the register the choir sang "I will lift up mine eyes to the hills". They emerged to Purcell's Trumpet Tune. I thought to myself that it had been most dignified, happy and magnificent wedding but I couldn't help thinking about the slight stumble on the words. On the bright side, however, at least she should get a discount for the wedding photographs.
The Earl of Dalkeith asked if I would like a lift back to Edinburgh as he had to get back to make a speech at the hustings. I declined as I had decided to stay an extra night courtesy of 'The Glasgow Lady' and file my copy. He looked a little misty eyed I think he had a soft spot for the Princess.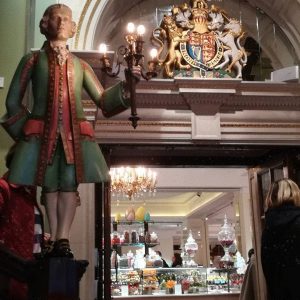 As I was not invited to the wedding breakfast, I made my way out through the Great West Door to lunch at Fortnum's. The Dean stopped me and said once again that I had done a simply marvellous job indeed he added "Muriel thank you. You added light and shade to Royalty and richness. Indeed I would go so far as to say you added a Wordsworthian ambiance. Tell me have you any of your wrought iron magazine racks left, with a generous discount of course?"
Lunch at Fortnum's and a Revelation in The Herald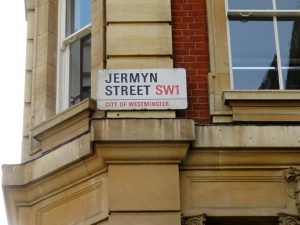 After a morning of pageantry it was rather nice to walk among the excited crowds past the House of Commons where only yesterday Scottish Labour Members had objected to having the day off for the Royal Wedding and said the House would be better debating the question of Scottish unemployment. Jasper would agree but sometimes it is nice to escape from reality and I am thrilled to have been part of our modern Ruritania even for a morning, especially when I think about my dream and my worries for the future.
I managed to get a Herald just off Jermyn Street on my way to Fortnum's which I read with my lovely lunch. There is a new project being run by Hugh Fraser to attract tourists to Scotland. It is a scheme of loans and not free money for Highlanders as they might spend it unwisely. Usual suspects on the board i.e. men!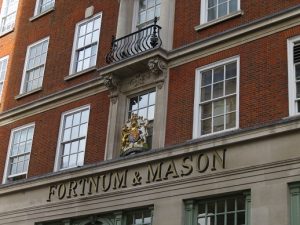 Now it would be funny if some of them turned out a bit like Colonel Victor Barker of Suffolk whose funeral as The Glasgow Herald reports has just taken place. It turns out that Colonel – D.S.O. no less – was a woman who "masqueraded" as a man for 30 years. Victor was born Lillian Arkall-Smith and married married an Australian soldier in 1918 only to part after a few weeks, the "worse" clearly following the "better" rather more quickly than usual. She then met another Australian soldier, whom she lived with having a boy and a girl. However, she left him and seems to have disappeared for a while, until re-emerging as Captain Barker, "going through a form of marriage in Brighton with a chemist's daughter." The report in The Herald is clearly disapproving and almost seems to be laughing at Victor. I am not sure if any of this really matters providing everyone was better and not worse? I for one rather like the sound of Captain Barker who had an antiques business in Andover, played cricket and rode to hounds.
Perhaps people even royal people should just be left to be who they are and marry who they want to be with. Perhaps things will work out with the photographer, but would it really have mattered if she had married Group Captain Townsend after all? Sometimes I think Britain is a ridiculous country, too wedded to the past for the benefit of the few. Gosh I am beginning to sound like Jasper. I have a feeling that the 1960s might make a difference, but then why might things be so bad 60years hence? Still I am not worrying about that today.
The Telephone Rings in the Hotel Bedroom
"Call for you Mrs Wylie"
"Hello Muriel, it's me, but Mrs T wants a word first."
"Hello Mrs Travers, that's good you have finished sugar soaping the kitchen cupboards. Did you pick up my dry cleaning from Pullars of Perth? That's good I am glad you and Mr Wylie are enjoying a wee sherry. Tell me what did you think of the ceremony?
Oh you liked the gold lame did you. Yes I agree very Glasgow!"
Muriel Wylie
At the Royal Wedding May 1960