This week we discover what was happening in George Square, Edinbugh 60 years ago….
At Waverley Station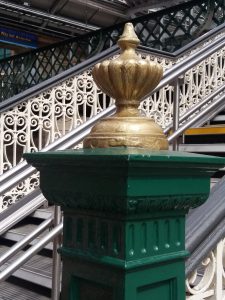 "Come on Madam, hurry up! You are keeping this train waiting and if I don't blow my regulation whistle in the next ten seconds it will be more than my job's worth."
"Don't you threaten me my good man, I'll have you know my family were among the entrepreneurs who started this railway line."
"Well if you do not get on, you will also have finished it."
"Really, I never have this problem in Glasgow, sometimes I think it such a pity that Glasgow and Edinburgh were linked at all. Edinburgh is so frosty even in June."
"Ok Doll, on or off?"
"Very well, I am getting on, but I will remember your face and demeanour, -Labour voter I imagine."
"N.U.R. through and through."
"What does that stand for – Not Useful Really?"
My Seats 
"Excuse me, I think those are my seats?"
"Sorry Mrs, but you don't need two seats."
"I may not need two, but I have purchased two. One for me and one for my hat box and Mappin and Webb lizard bag."
"Sorry, dear lady, I will move over there."
"Thank you; at least there are some gentlemen around today. Now just let me put down two Mackintosh Squares, one for me and one for my tasteful purchases."
"There's no need for that lady, I have come from Inverness."
"Exactly."
Dressed As If For A Funeral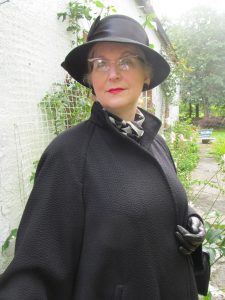 Well, just let me get my breath and a Fisherman's Friend and I will be right with you. Honestly – my hair – I look like a burst cushion, but then I suppose one cannot be a modern, politically-minded woman, I mean lady, no, perhaps it might be woman in this case., without some sacrifice. At any rate, I have been revolting. Protesting if you will, in George Square Edinburgh. Not the one in Glasgow for that is perfect in every way, apart from the starlings.
Since you ask and since you are probably curious to know why I am in black, let me tell you more. You see I am mourning. Mourning for lost heritage. I, along with some university wives and other interested parties, gathered today to protest against the demolition of houses in George Square. These are to be replaced by a tower block for the teaching of arts subjects. While of course I am in favour of the arts, I am not in favour of the whole sale demolition of the past. It's as if all those who came before counted for nothing.
A Major Row, A Court Judgment and The Riot Act
Anyway, the row about George Square has rumbled on for some time. I am sure you will have been following it in The Glasgow Herald or at a pinch The Scotsman. The National Trust for Scotland has been involved and so has Sir Compton Mackenzie and other literary luminaries. Sadly, this week at the Court of Session a judgment by Lord Guest has given Edinburgh University the green light to go ahead with demolition which began today. In effect an action by The Reverend Ian Simpson, a resident living in the boyhood home of Sir Walter Scott (Number 25), was dismissed giving the vandals full access.
This square was begun in 1766 by architect James Brown. Although perhaps a little less regular than the buildings in the New Town to the north, it had fine views of the Braid and Pentland Hills and was less windy than the houses around Charlotte Square. Of course, less windy in Edinburgh is a matter of degree. There is only very windy, plain windy and less windy.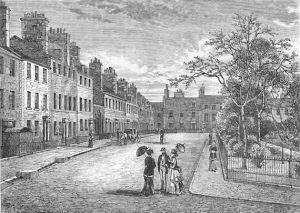 Here in George Square, grand houses provided the homes for Scotland's leading lawyers and for lairds when in town. One would have rubbed shoulders with the simply marvellous Duchess of Gordon and the Countess of Sutherland. Perhaps less desirable Scotland's effective ruler, Henry Dundas and Judge Braxfield lived here as well and as mentioned before the young Walter Scott.
Today's protest was not the first to be witnessed in the Square. In 1792 there was a major uproar in the city on the King's Birthday, normally an occasion for celebration. A mob gathered outside the home of Dundas's mother and stones broke windows. The Riot Act was read and troops were dispatched from the Castle with drawn sabres.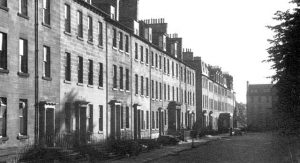 My protest today was of course non-violent, despite the arrival in the afternoon of three workmen who with sledge hammers entered numbers 51 and 8 and within ten minutes the windows had been put out and replaced by boards. A sad accumulation of domestic items was made outside including a Victorian bath and many empty cognac bottles were retrieved from a mathematics professor's house. Who could blame him? If I had to do sums all day long, I would need cognac! My protest has been in vain, but at least I made the effort, it is all too easy just to let things happen. The new buildings are scheduled to be completed in 1966.
Ticket Inspection
"Tickets please! Ah Madam it is yourself and are we comfortable?
"Yes thank you, within the boundaries permitted by British Rail scratchy upholstery, yes, I am. Thank you."
"Might I see your ticket?"
"Yes, it is here in my special silver railway ticket holder, a present from Pappa when I first became engaged with public transport."
"Does your hat box have a ticket?"
"Naturally, but it's for a child as its under 16, I have an arrangement with the Stationmaster at Queen Street."
"Yes, I have heard many Glasgow ladies do."
"Well really!"
A Welcome Interruption From A Well Dressed Gentleman Opposite
"Don't you worry Madam, he's rather cheeky individual. Since you look a little faint, would you care for a wee pick me up since it is after 6?"
"So very kind, but no thank you."
"Don't worry, I don't expect you, to drink from my bottle. I always travel with a few wee miniature bottles of Brandy and a couple of spare glasses. You look in need of a refreshment."
"Well you are very perceptive. All right, just this once, seeing as I have been protesting."
"There you go then, George Square was it? I thought so. Terrible shame – lovely houses in their time. Now if you'll excuse me, I have some equations to solve."
"Not at all, I have The Herald and Maureen Burnett's 'Woman's Page' to catch up with."
The Very Foundations of Protest
Oh, that is better. Now let me see, what is dear Maureen writing about? How remarkably interesting, she is pointing out that many women are protesting with their purses in the matter of "feminine figure support." Protest must be in the air! They are demanding emancipation and are becoming "uncompromising and aggressive." She is quite rightly saying that not exceptionally long ago any uncomfortable foundation garment could be sold if it promised to reduce the figure by even an inch. Apparently, women would now rather die (or is it diet?) than suffer discomfort.
"This" it seems "applies to glamorous basque foundations as well as everyday corsetry." Maureen offers a solution and suggests that what most customers want is "light boning." For some women even this is no longer acceptable, and she quotes, "I have never needed bones and I don't need them now." A doctor, however, advises caution against this revolt saying that a lack of support can cause harm. Slouching results in sagging producing "tired and dowdy women." He concludes that "after 35 all women need real firmness." The corsetiers in response agree saying that "boning has become featherlight and flexible." There is a final piece of advice which I find most persuasive and that is that Maureen herself has seen "too many cashmere twinsets lose their appeal because wearers develop a thick middle." The sensible thing is always to consult a trained corsetier."
Strangers On A Train
"Pardon?"
"Sorry I was lost in reverie. Thank you, by the way, for the drink. I am not normally a lady who accepts drinks from complete strangers. Indeed I am rather against eating and drinking in public as a rule."
"Oh, I quite understand, but sometimes rules have to be broken and traditions challenged don't you think?"
"I am beginning to think so."
"One for the road?"
"You know I don't mind if I do. I am sorry, I did not catch your name?"
"Edmund Whittaker."
"Muriel, Muriel Wylie."
"Would that be the simply marvellous Mrs Wylie of 'Chez Nous'?"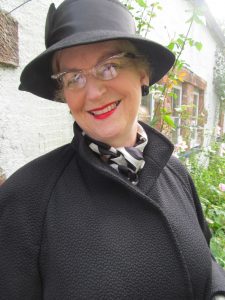 "Indeed yes."
"Delighted to meet you Mrs Wylie. My wife has frequented your shop in George Street on several occasions and one of my students gave me a very comfortable cushion from your shop for Christmas. "
"Oh, you are a teacher?"
"Yes, well a university professor actually, Mathematics Edinburgh."
"House in George Square recently demolished this afternoon perchance?"
"Yes indeed, very sad, but things move on and there will be a fine teaching building in its place, although I will miss my old bath I must say."
"Why are you going to Glasgow, Professor, if I might ask?"
"Oh, just going to see a colleague at the quite good varsity about my work on relativity. I am trying to find a solution to Maxwell's equation."
"Do you mean James Clerk Maxwell?"
"Yes, do you know of him?"
"Well my grandparents knew the family, they frequently had suppa together. I am afraid I am no mathematician Professor, but my husband says Clerk Maxwell was revolutionary and that he was the most important man who ever lived."
"He may have a point Mrs Wylie, but as a Catholic I can think of at least one other contender."
"Oh yes I take your point, tell me what is your stance on soup and sandwich lunches? I am with the Church of Scotland and let me tell you introducing new ideas there has been an uphill struggle."
One Person's Heritage Trail Is Another's Horror Story
"It's often a case of Time you know, especially with soup. Everything is relative after all. One person's historic site under threat is another person's sign of liberation and progress.
Take George Square where I live or rather lived. Some of the previous residents were rather dubious. Granted the old Duchess of Gordon was a real character with all that white makeup and the rouge applied with a rabbit's foot that flaked like a plaster ceiling. However, Judge Braxfield was a horrible, cruel, uncouth man, whom a refined and handsome woman such as yourself would have to keep at least six feet from. As for Henry Dundas, he was an absolute ruler and certainly no friend to the working man as many would discover.
So fine Georgian houses, full of taste and refinement were not necessarily complimented by the characters of their owners Mrs Wylie. Georgian elegance, in the drawing room, garden or the landscape was built on the backs of enslaved people abroad and working class women and children in this country. Perhaps, sometimes a new building might be a better thing than a group of old buildings, even if Sir Walter did live there. Now, look we are coming into Glasgow, well It has been a pleasure Mrs Wylie. Let me help you with that hat box. Mackintosh squares what a good idea, could you send me one?"
Later
"Hello Dahling,  Did you get arrested?
"No, but I met Professor Whittaker on the train, he's a mathematician."
"He was, you mean. Sir Edmund died four years ago. Must have been someone else. Important chap, worked on Clerk Maxwell stuff, deeply religious man too. Mrs Travers has made steak pie and rhubarb crumble. Fancy a drink."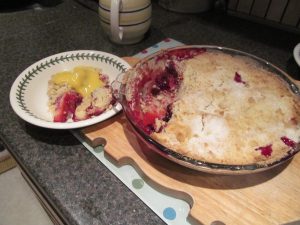 à bientôt
Muriel Wylie
June 1960
With thanks to the Glasgow Herald 18th June 1960 and M. Cosh Edinburgh in the Golden Age.