Muriel writes from a perspective of 60 years ago, advising on what to do to survive a crisis should one happen….
Setting the Scene
It is April 1960.
In America at the 32nd Academy Awards ceremony Ben Hur has won 11 Oscars. In Green Bank, West Virginia, The National Radio Astronomy Observatory has begun a search for "intelligent" Extra Terrestrial Life. In South Africa the Prime Minister, Hendrik Verwoerd, has been shot and seriously wounded by a white farmer. In the United Kingdom, the seven week old son of H.M. The Queen has been christened Andrew Albert Christian Edward. The rock'n'roll singer Eddie Cochran has been killed in a car crash in Wiltshire. 60,000 people in London have demonstrated against Nuclear Weapons. Glasgow is stunned after The Cheapside Whisky Bond Fire kills 19 firemen; it is the worst peace-time fire disaster in UK history. Merryman II won the first televised Grand National and The Times has dropped the use of the term Imperial and Foreign News. As if this wasn't all enough, in her rural bolt hole in South West Scotland Mrs Muriel Wylie continues to be troubled by a vision of the future 60 years hence.
At Home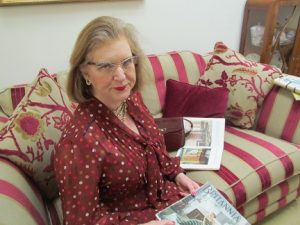 "That's the post Mrs Wylie."
"Anything exciting?"
"The Capodimonte Collectors' Club Magazine for Mr Wylie; Scottish Pottery Monthly for Mr Wylie; Save our Rural Buildings Newsletter, Mr Wylie; Rustic Gate Update, Mr Wylie; International History of Tweed Magazine, Mr Wylie; Covenanting Capers Illustrated, Mr Wylie….."
"Yes I get the picture Mrs Travers, our devoted woman what does, (but not a lot), please put them in the wrought iron magazine rack which we are featuring this month as a special offer at 'Chez Nous', the interior decorator of choice."
"I though you felt magazine racks were common Mrs W?"
"They are, but Cousin Lulubelle says common sells and she has made Jasper 'The Face of The Magazine Rack for 1960.' Lulubelle says people need somewhere to put The Radio Times and that every new television sold should have a magazine rack to go with it."
"Free?"
"Don't be ridiculous!"
"Sorry Ma'am, which reminds me this one is for you. It's from Buckingham Palace."
"Place it on the silver salver and bring my best letter opener."
Correspondence From The Palace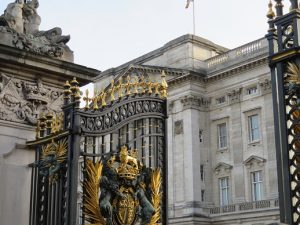 Dear Mrs Wylie,
I am commanded by Her Majesty to reply to your letter of 28th March. It is good to hear from you, yet again.
How kind of you to send your good wishes following Her Majesty's safe deliverance of a child. He is indeed doing very well and promises to be no trouble whatsoever.
Unfortunately, royal family tradition makes it impossible to name him either Jasper after your husband, (his work on Railway Signal Boxes notwithstanding), or sadly Prince Sebastian after your nephew. This is also unsuitable, despite his having played one of Her Majesty's ancestors in Shakespeare's Richard III, which is a play, by the well-known playwright William Shakespeare. Princess Margaret, however, says she would be quite willing to give it a go when her turn comes as she likes the odd theatrical.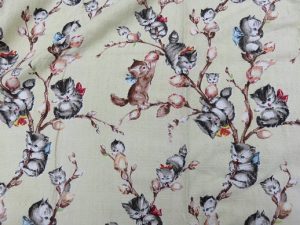 Thank you very much for the length of fabric for nursery room curtains from your shop 'Chez Nous'. Prince Phillip feels, however, that pussy cats and Pussy Willow may not send out the right message as Nanny draws them each morning. We will, however, treasure the wrought iron magazine rack, which already contains copies of The Hotspur and Carriage Driving Monthly.
The question of the Royal Warrant will have to wait I am afraid. As you can imagine Her Majesty is very busy.
Now I must dash as Prince Charles needs tooth paste on his brush.
Yours sincerely
Lady Susan Simper
To Work!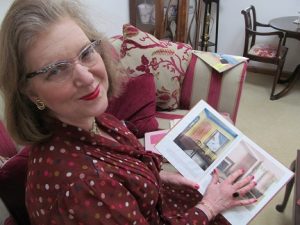 "Sherry, Mrs Wylie?"
"Indeed, Mrs Travers."
"By the way here's that extra typewritin' paper you asked the stationer for. He says it's exactly the same as Georgette Heyer uses. I take it yer still writing yer guide to survivin' a future crisis?"
"Yes, Chapter 2, today. If we might have supper at 7.30p.m. that will give me plenty of time to send my pearls of wisdom to 2020 via this reliable Royal."
Leaflet Number 2: Introduction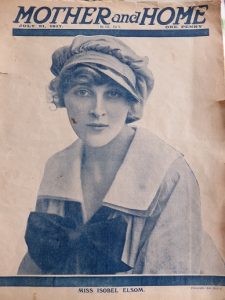 As L.P. Hartley said in The Go Between in 1953, The past is a foreign country, they do things differently there. Some things they do correctly and thus, we can learn from the past, or at least try to. If sixty years hence you are in dire straits, you could do worse than explore the advice given in earlier times. I have in front of me another of my mother's Mother and Home magazines from the first Unpleasantness, dated July 21st 1917 when the impact of war was becoming obvious. We see it at "Tea Table Talk", as reported by 'Dame Tatler'.
Making Do With Fewer Servants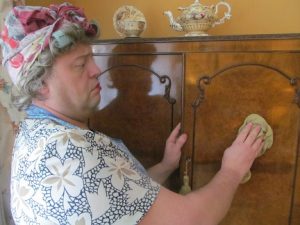 One of the issues you may well have to deal with is a possible shortage of servants. Heaven knows I am no stranger to this problem. As I speak to you from my country cottage, I have only the barest minimum of help in the form of a daily woman, with bad legs known to many a Mrs T; various occasional women to do the heavy work; a nursery nurse for my ward Gayle and a gardener to assist my husband, Jasper, in the garden. Do I grumble? No, I do not.
In my Dear Mamma's day, many servants were diverted to make munitions and so she and others just had to make do. Mamma even abandoned a clean napkin at every meal. She followed the example of Queen Mary and used a napkin ring.
The lack of staff posed problems at holiday time. Although we could not go to a fashionable seaside resort at home or abroad, a country cottage was a possibility. No Glasgow Lady of any standing would previously have gone away without at least two domestic employees and such local assistance as might be obtained. Many of my mother's friends like those of Dame Tatler in Mother and Home, discovered there was a great deal of joy to be had in a small cottage "doing for oneself." Now the beach may have been out of bounds due to restrictions but as Mamma and her friends found – the most enormous fun was found in making sunbonnets, smocks and simply rolling up one's sleeves.
Keeping Hands Busy
In times of crisis it is best to keep head and hands busy. Handicrafts and accomplishments have ever been the comfort of the Glasgow Lady of substance. The skills of painting and drawing are never more useful than when the country has its back against the wall.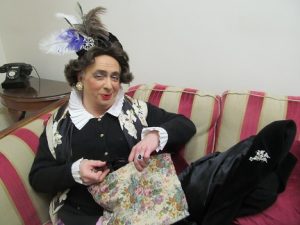 Lady Pentland-Firth has herself confessed recently that during the last Unpleasantness she often found herself with her back against the wall, but she found instant relief with an HB pencil, a sheet of cartridge paper and a life model from the Royal Artillery. She is considering a retrospective exhibition of her wartime artwork in the not too distant future. We await with baited breath for that! Perhaps setting up an art group might help to divert attention from troubles. It's worth a try.
For those of you who prefer something more useful you might consider a sewing bee. When my dear Mamma took us to Devonshire during 1917, she developed a great passion for rustics and their smocks. Now some in my Mamma's circle took this very seriously as there is history in the various stiches and designs and many a Kelvinside lady found they were spending hours with a simple farm labourer discussing length of stitches and width of ruches. While a smock might look ridiculous in Byres Road, it is most fetching on a moorland setting and so sketch-able.
Re-fashioning the Unfashionable
Sometimes you might find that normal things are in short supply during an emergency so it falls on the housewife to be innovative. A child who turns up its nose at last summer's sunbonnet in the wrong shade of green might well be placated by the addition of a string of beads threaded on ribbon and tied around the crown. Never throw away a broken necklace – there are many things you can do with the beads. For example you can sew them around a circle of tatting or fine crochet to place over a milk jug in the garden when you are having tea. It will keep insects out in a most attractive way. Equally you can use them to update a tired twinset, or even turn an afternoon dress into something for the evening.
Using Psychology to Change Attitudes
Keeping clean in the country can be difficult especially with children so happy playing in the garden or woods. An apron is the obvious answer. Now of course boys will object to this, however it is all in the presentation. If you have any scraps of old fabric, say in plain green, a lively lad will be persuaded that it is just like the under-gardener's apron.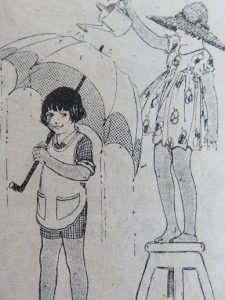 What boy does not like a pocket or two; where else can you put stones, acorns, marbles and worms and keep them safe? I had one made for Jasper and he loves it. As Dame Tatler says small boys soon find that "a girl's affair" is "not such a senseless garment after all."
A New Occupation
A national emergency can find that for some reason or another we are not only restricted as far as holiday destinations are concerned, but our living conditions are changed. One has only to think of the blackout during the last Ujnpleasantness or the need to rearrange bedrooms from upstairs to downstairs to minimise the impact of air raids, from the point of view of evacuating the house in time to reach the Anderson Shelter. This can be very difficult for the mind and ones' nerves. Now before you reach for a tonic wine or visit the doctor, think about taking up something new by way of diversion.
My mother was always attracted by the unusual, and one day she was visiting her dear friend Lady Newnes, a well known organiser of theatrical costumes and settings. It seems that Lady Newnes' response to the threat of German Imperial Domination was to become a siffleuse which is a professional lady whistler.
The Siffleuse
Now it has to be said that Grandmamma would never have approved of this as whistling ladies were almost as bad as ladies who went out of their houses without gloves or danced more than one polka with the same man without an engagement ring. Lady Newnes, however, did have this antiquated view and said young girls should be encouraged to whistle indoors as it expanded their lungs. Out of interest, Jasper points out that 'Siffleuse' was also a famous thoroughbred race horse who won the 1,000 guineas in 1893 and was named after the famous lady whistler Alice J. Shaw. Another famous whistler was American Diana Dixon who studied under the "pucker whistler", Mrs Bertha Stockwell. Miss Dixon's repertoire included 500 musical compositions and fifty American bird calls. Isn't that fascinating, ladies?
Making Do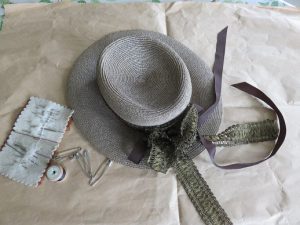 Difficult times often result not only in shortages but also rising prices. My Mamma, like me, was very fond of hats and in summer only the best leghorn or Luton straw would do. It was, however, very difficult to get hats woven or blocked during the First Unpleasantness. So please don't throw that straw hat away. I know they are awkward to store and keep and it is difficult to get a hat box big enough. So "take a good size sheet of brown paper, fold it in half, and pin or stitch it round two open sides.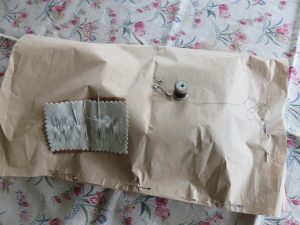 Put your hat inside, add a lavender bag, and finally fasten the remaining side with safety pins." Your hat will be safe until next season.
Quick Tips for Emergency Situations
Finally for this invaluable "How to survive an Apocalypse" leaflet, I have asked my nearest and dearest for their top tips.
"You can make mince go further by adding porridge oats."
Mrs Esme Travers
"Save water – take a bath with a friend, mine is a big roll top."
Lady Pentland-Firth
"If the electricity fails, you can cook outside by making what our Australian friends call a barbeque. Use some household bricks and two side of an old budgerigar cage."
Jasper Wylie
"Sell stock in luxury brands and buy it in emergency products and essential foods. Don't lose your nerve. Remember we are in it for the long term."
Cousin Lulubelle
"An excess of dried marrowfat peas? Soak well, cook long and cover with a cheese sauce made into a cream with a little vinegar and a dash of tomato ketchup.
Cynthia Savage, of Savages Pickles and Condiments.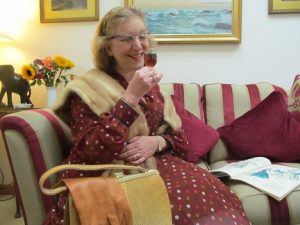 Remember as Samuel Smiles said, Courage combined with energy and perseverance will overcome difficulties apparently insurmountable. I also find a glass pof sherry or a G&T helpful as well.
Store this leaflet in a clean dry place next to your torch, candles and gin glasses – the crystal ones, do not let standards fall no matter how difficult your circumstances.
Leaflet number three in preparation
à bientôt
Muriel Wylie
April 1960