Pentland Firth House
Scotland
August 27th, 1961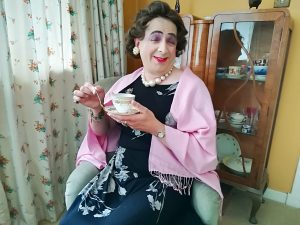 My Dear Muriel and Jasper,
Thank you so much for your Air Mail from Washington D.C. which is quite close to America.
I am so pleased that all went well on the Atlantic crossing, particularly as my rather large portfolio contains vast numbers of Cunard shares. My late husband the Rear Admiral, (who died mysteriously, eating one of your cousin's rissoles in a bun at a flower show lunch) was always keen to support the merchant marine. Comforting sailors has always been one of my most successful philanthropic endeavours. Below deck activities have been close to my heart. I am enormously proud that my "Mobile Moby Dick Canteens" have been such a success, as they greet our tars coming ashore looking for a warm welcome from our charitably minded ladies and it has to be said not a few gentlemen, anxious to share their knowledge of Glasgow or Leith, not to mention their handy-work skills.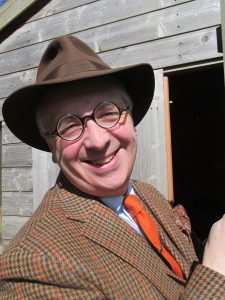 I can well imagine that Jasper has become something of a sensation as the Americans watch him eating an entire chicken leg with a knife and fork. Watching Jasper nibble anything has in my experience always been most diverting. I hope he is not putting on too much weight. I have heard that portions across the pond are enough to feed one of my cottagers and his entire family for a week.
The White House is no doubt finding you simply marvellous beyond belief and I hope that you are able to concentrate on your redecoration plans despite being chased around Martha Washington's three-piece suite by the President. Generally speaking, I have found that men forget about their bad backs when the occasion presents itself. The Rear Admiral had the most dreadful sciatica, but he could always rise to the occasion and climb the rigging if he heard the mere mention of a sea shanty. One verse of, Blow the Man Down or a bit of Percy Grainger and he was ten years younger. Quite frankly I am surprised the President has time, given the current trouble with Berlin. Indeed, I understand that he is trying to urge President de Gaulle head of "that France", to agree to urgent talks.
By the way I was at Gleneagles last week, for tea with some of the Pentland Firth outlaws (simply ghastly darling) and who should be there, on a bit of a golfing break, but Prime Minister Harold Macmillan with Lord Home. He asked me for my advice on what to do about Berlin.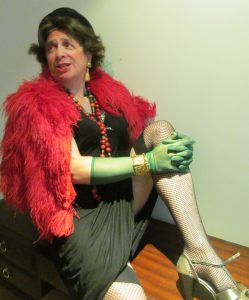 He knew I had been active there in the 1920s, when I was in cabaret and the toast of "The Pie and Pickelhaube Naughty Night-Night Club". "Harold, sweetheart," I said, "nobody is going to fight about Berlin, cable the President's summer home at Cape Cod to that effect. Most importantly, tell him to get Jackie a new hat. Stop worrying and go out onto the golf course and look nonchalant on the fairway. That will calm nerves and the Russians will be confused and see sense." He took my advice, and the Glasgow Herald has reported widely on Harold's new couldn't care less attitude, well they didn't put it quite like that of course, but that is the gist of it. We had a drink at the bar later and he thanked me saying, "You know Patience it was just as if Muriel Wylie was in the room." I could have been put out, but you know me darling never one to hold a grudge. Even if he did rub salt into the wounds with "…back of the head pillbox, it will be the biggest sensation since the baker boy beret, it is so 'Chez Nous', so Mu." It's a good job we are friends darling.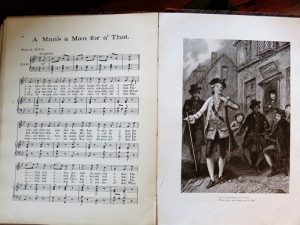 Although you may find it hard to believe Muriel, The Country House Concerts have been quite successful despite the absence of your legendary organising ability and personal contribution. Some did ask if you will ever reprise your version of Così with Jasper. There were sighs (of disappointment not relief – well I think they were)  when I said "sadly not".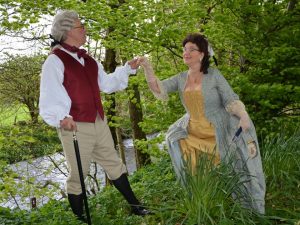 Annie Fischer came by way of the Edinburgh Festival and her Brahms Sonata in F was "a turbulent expression … enclosed in an expression of heavenly serenity and beauty." I have no idea what that means, but the music critic of The Herald said it so it must be true. We gave free seats to the cottagers as you suggested, and they appeared to enjoy the Bartók peasant scenes although, "the band", was a little put off by young Auld Jock's snoring. He redeemed himself at the after-show party with a performance as Marlene singing Ich Bin Die Fesche Lola. Who would have thought a wind-beaten rustic would look so good in tights and feathers? I must say, Lottie Macaulay (she who is married to the bungalow builder who in your absence has made a mint in concrete) has really stepped up to the mark and the interval catering was excellent. The Border Tart with wiped cream went down a treat. Fortunately, Lottie was so busy she was unaware that her husband had been discovered in the orangery with an oboe player from Oban. I don't know why she puts up with him. Now there's a candidate for a rissole in a bun if ever there was one!
All is murder and mayhem here. There have been riots in Middlesburgh, wherever that is. The police are still looking for the A6 killer and Haley Mills and Alan Bates are staring in a new film Whistle down the Wind. Oh, and I almost forgot a box of dynamite has been found in a loft in Kilmacolm. No one can recall the explosives ever having been placed there, which is typical Kilmacolm if you ask me. If it had been Bridge of Weir, then someone would have remembered. Some people have been injured in "a sanitary ware accident" in Paisley. Quelle surprise.  I have no further details. Britain has applied for membership of the EU, well intentioned I am sure, but mark my words in 50 or 60 years' time it will come back to bite us.
Your washed Chinese is back from the rug repairers, looks as good as new. The manager of Forsyth's telephoned earlier this week to say he had an attractive black and white tweed suit with a stand-up collar of black Persian lamb and a Dior pleat at the back of the skirt – should he put it on one side for you as, and I quote, "It has Mrs Wylie's je ne sais quois written all over it."  I said yes and charged it to your account.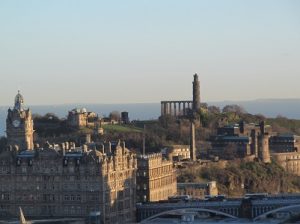 Well, I must dash. I am going to Edinburgh ce soir to see Cleo Laine in The Seven Deadly Sins. It should have been my old friend Lotte Lenya, but she was not keen on the new choreography. Give Sebastian a special hug from me and tell Gayle I will be at Prestwick Airport to pick her and Hairy Mary, from Inveraray, up next week for the start of term. I have alerted Westbourne School regarding your suggestion for the 'Show and Tell' on the subject "My Holiday in America with the President." I must say the Headmistress seemed less than enthusiastic, but I did as you suggested and mentioned your possible cancellation of the cheque to the library book fund. Miraculously her mood changed after that.
I look forward to hearing about the redecoration of The White House. Will it be pink one wonders?
With all my Love
Patience
The Right Honourable The Lady Patience Pentland-Firth