Chilly for June
Finally it is summer, well at least what passes for early summer in 'Shangri La', or Scotland as it is generally known. May was glorious, but something cruel always seems to happen as we approach the school holidays, and thoughts turn to a wee fire in the grate and perhaps even a pot of soup containing early produce from the vegetable garden.
Tights, Hearts and Popular New Music
If you live in New Zealand, which is extremely far away,  I see that you now  have television and like those of us here enjoyed The Adventures of Robin Hood. For information Jasper says a case can be made for Robin being Scottish. Our nephew Sebastian (the thespian famous for portraying Richard III) says this is quite believable as he has been held to ransom by several men in tights in Glasgow during the pantomime season.
In America, the first heart pacemaker has been implanted. It has been suggested that this may, for example, benefit my business partner Cousin Lulubelle who is widely rumoured to be somewhat lacking in the heart department in the first place.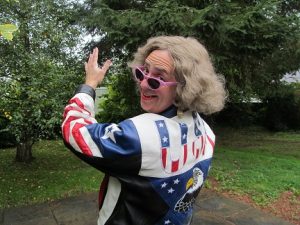 That said, she provides me with cultural information from across the pond. She was the early influence behind Elvis, although now that   "The Colonel" is in charge, this is largely forgotten. More recently she has spotted an interesting 18 year-old singer in Greenwich Village, while out with Sebastian, who lives in the area. Her name is Barbra (no I have not misspelt it, the Americans did that first) Streisand and she won $50 at a talent show. Apparently "one to watch" as Lulubelle says, and she should know!
Closer to home (well Cheshire which is where anyone from Manchester or Liverpool claims to live) John Lennon, Paul McCartney, George Harrison, Stu Sutcliffe and Tommy Moore have performed as a pop group called The Beatles. You may recall I encouraged a couple of these young men when I met them at a Church Fête a few years ago – our car had been stolen and we had to travel to Liverpool to reclaim it. I have a feeling they might do well. My friend, Eleanor Rigby, who also lives in Cheshire keeps me up to date with their activities. Sometimes I wonder if I might have been an impresario, like Bernard Delfont.
Muriel's Summer Lecturettes – Sold Out
In a way I suppose I am, as I play such a vital role in my community either in Glasgow or in the countryside where Jasper and I are fortunate to have a rural bolthole and live like anthropologists among the rustics.
This week you are fortunate to catch me at all as I have been as busy as a bee. I have been rushing around all over the place lecturing the uninitiated, and the plain unimaginative, in two aspects of contemporary fashion. Firstly, my hugely popular (indeed sold out) 'In Full Bloom' or 'How to wear Cabbage Roses' and my advanced course especially for this summer "Bows to the Front" (with dissertation earns a certificate signed by moi).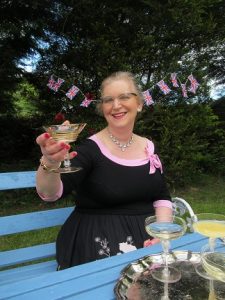 This covers everything from bows in the hair to bows at the bodice and neckline, bows at the waist and of course on presents too. I have written to Mrs Jackie Kennedy suggesting this might be a winning look for her at the forthcoming American Elections. These are like British elections but take three years instead of three weeks. Perhaps they make better choices?
In between I am dashing back and forth to 'Chez Nous' and trying to get Jasper to make some decision about a holiday. He, however, is busy with History Society matters which are conducted like the Security Council of the UN. In case you are interested Mrs Dangerfield "the Wanton Widow of Wigan," has been made Secretary. I am not sure it was good choice. Meanwhile he has gone to a trade show "Leap into 1960 with a caravan." I think not.
Now you join me putting the finishing touches to the Minutes of the Meeting of The Committee of the Country House Concert Party which was held here this morning.
The Lady Pentland-Firth Concert Series Committee Meeting
Summer 1960
Minutes of the Organising Committee:
Present
Madam Chairman: The Honourable Lady Patience Charity Pentland-Firth, Life President (widow of the Late Admiral Lord Pentland-Firth whose mother was a Minch).
Secretary: The Simply Marvellous Mrs Muriel Wylie, (Managing Director Chez Nous Limited, Gracious Living Consultant)
Treasurer: Mrs Lottie Macaulay, (Wife of the Bungalow Builder and Concrete King)
Programme Organiser: Mrs Cynthia Savage (of Savages Pickles and Condiments)
Committee:
Mrs Charlotte Vivian-Smyth (of independent means, but owns a boudoir grand piano with adjustable stool)
Dr Patricia Peek (Local G.P. and Mountaineer)
Mrs Anne Ainslie Anstruther, (wife of Major Ainslie Anstruther, retired)
Refreshments kindly provided by Mrs Travers (a woman what does but not a lot, mother to Billy who is usually resting at her Majesty's Pleasure).
Pineapple cakes courtesy of Big Bella at the City Bakeries
The Dame Myra Concert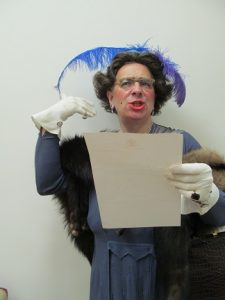 Lady Pentland-Firth opened the meeting by thanking everyone for their efforts at last Saturday's concert, the first of the season. The committee had been fortunate to secure the services of the legendary pianist Dame Myra Hess who played a well-received programme – principally of Schumann a well known composer of music by Robert Schumann. Her Carnaval Op.9 "Scènes Mignonnes sur Quatre Notes" was particularly well received. At least everyone did the right amount of nodding, smugly.
Her ladyship read some letters of appreciation. Some of the audience were, however, left a little confused at the end of the concert when asked for their choice of an encore. Mrs Travers, who had just indicated that the tea urn had reached temperature by putting down the piano lid at a crucial point in the Allegro Affettuoso part of the Concerto for Piano in A Major (without orchestra), requested "You are my Sunshine," followed by Young Auld Jock who asked for "Oh Can You Wash a Sailor's Shirt?" The audience felt this rather odd.
Mrs Vivian-Smyth, who wondered if her boudoir grand had been compromised, suggested that this might be the chance to review the decision made several years ago to allow "one's staff", to stand at the back after the interval, having set out the refreshments in the first half. Her view was that if one allows the working class to participate in something they cannot possibly understand, it will not be too long before clapping and whooping takes place between movements. Talking may follow. The next step would be revolution in the country. It would be like St Petersburg in 1917 all over again and she should know her mother, Volga Olga from Vladivostok, was a cousin of the Tsar. (This is doubted by many who say her mother was a Vera from Vauxhall.)
Dr Peek felt sure that such behaviour is connected with diet and deprivation, not to mention the Pic'n'Mix Counter at Woolworths.
Anne Ainslie Anstruther felt much of the blame could be laid at the door of I.T.V. and Sunday Night at The London Palladium which of course she had not watched, as they only had the wireless, but had heard terrible things about.
Mrs Wylie, in a powerfully poetic response, said she understood all of these points of view, but felt it was beholden on those who were privileged to spread the benefits of knowledge, particularly as Glasgow would soon have a new working class University, an institution she was currently advising. Music was something that should be enjoyed by everyone. Mrs Vivian-Smyth said that clearly her mind was being influenced by Mr Wylie and the socialists. If we were not careful Summer Saturday afternoons would feature the Everly Brothers rather than Elgar. Anne Ainslie Anstruther asked "What exactly are the Everly Brothers?"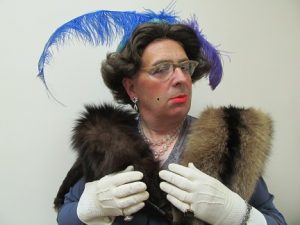 Lady Pentland-Firth said as Chair and Life president, "and the one with the dosh", she understood the various points of view. Indeed Sir Thomas Beecham was not particularly fond of lady musicians as Dame Myra had discovered, but time could not stand still. She herself had to face the fact that as a country estate owner the barbarians were at the gates. This was particularly difficult as the Pentland Firth Gates could not be opened until the return of Mary, Queen of Scots, which was not anticipated anytime soon.
There was some inaudible muttering by committee members about "who does she think she is? A jumped up cabaret singer, who once worked as a cinema usherette" and was rumoured to be " bottle of Amontillado a day woman." Her ladyship suggested that as a compromise perhaps Mrs Wylie would consider running a concert etiquette class in the village. She herself would pay for this and attendance would be compulsory, but there would be free bottles of ginger, macaroni pies and well fired rolls. Mrs Wylie agreed, and a vote was taken and motion carried.
Coffee and pineapple tarts were then served by Mrs Travers, who asked leave to post a birthday card to Prince Phillip.
Competition on the Concert Front
Lady Pentland-Firth then requested that the committee look at the rest of the series particularly in the light of other country houses beginning to hold concerts, some, like Pollok House, "included Croquet." "There is" she said "a danger of audience dilution, so we must be ever vigilant and maintain the village's reputation as a Countryside Cultural Destination of choice", even if it meant the Everly Brothers.
Meanwhile they should consider the forthcoming 'Night of Enchantment'. To steal a march on Pollok House this would consist of madrigals, excerpts from Shakespeare's Midsummer Night's Dream which was apparently written by William Shakespeare and is one of the most successful Shakespearean plays. There would also be excerpts from costume plays and verse speaking.
Mrs Cynthia Savage said she had already secured the services of Miss Maritsa Leighton, who would herself select a piece of verse. The Chair said she had never heard of her and asked for more details. Cynthia Savage responded tartly (which comes from years of being in Pickles) that before her marriage Miss Leighton had been "a professional."
Mrs Wylie asked if marriage automatically confirmed amateur status on women. Dr Peek said that unfortunately this appeared to be the case even in 1960. Mrs Vivian-Smyth and Mrs Ainslie Anstruther both took deep breaths and in a synchronised move took notebooks from their handbags and addressed a memo to themselves that the doctor should be removed from their Christmas card lists. This meeting confirmed their distrust of a woman who enjoyed hill walking and went to an evening class in blacksmithing.
Catering Worries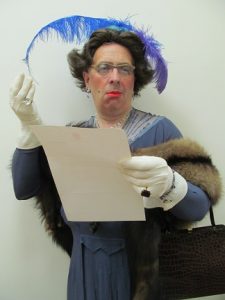 Fearing the meeting was going off at a tangent Lady Pentland-Firth, said that there were expectations of food at the Midsummer Concert and asked the committee to suggest how so many guests might be catered for at a reasonable cost. Mrs Wylie suggested that people should be encouraged to bring their own picnics and that the committee concentrate on providing an unforgettable suppa for the V.I.P.s and artistes in an enchanted fairyland grotto. This was generally agreed to be a simply marvellous idea.
Cynthia Savage immediately offered a full range of condiments including her husband's 'Premium Reserved Pickled Pears' to go with the jellied gammon promised by Mrs Macaulay. Lady Pentland-Firth said her cook would provide Liver's Loaf – an old family favourite at shooting parties. "Was that after one of her cabaret sessions?" whispered Anne Ainslie Anstruther into Mrs Vivian-Smyth's good ear.
Suspecting insurrection, the Chair banged her gavel made from Wallace's Oak and gave Mrs Ainslie Anstruther the responsibity for  the cheesey eggs and the  crisp cheese slices to Charlotte Vivian-Smyth; Mrs Macaulay would do Mandarin Creams and Mrs Wylie The Strawberry Cups. Her Ladyship would provide wine and all would contribute to the non-alcoholic choice of Orange Ice Shake or Raspberry Milk Shake bearing in mind that these would have to be made in flasks that should be fully washed out and not tasting of Bovril as usual. Dr Peek said she had been left out, "Not at all" said the Chair "I would like you to take charge of First Aid just in case anyone is badly affected by either the cheesey eggs or the crisp cheese slices."
There were two sharp intakes of breath before the Chair summarised.
A.O. C. B.
Cynthia Savage asked what exactly a madrigal was? No one knew, but Mrs Wylie was asked if Mr Wylie might be prepared to find out and give a pre-concert talk on the subject. However, could he please make it brief as the last talk on Robert and Clara Schumann stretched to an hour and a half and Major Ainslie Anstruther "has a bit of a problem, if you know what I mean". Dr Peek said, "I do indeed." Her ladyship appeared understanding.
The meeting was closed at midday.
Mrs Muriel Wylie
Secretary