Poles Apart
"If you could do something about the Hosta I should be most grateful, young auld Jock. The snails are having a feast. Mind the goose's head."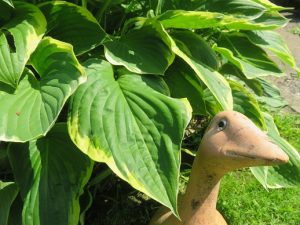 "Aye ken Mr Wylie sir. Onythin' else?"
"Mrs Wylie says that when she comes down the garden path later, in a 'Mrs Dalloway' sort of fashion, she expects to see the rambling rector fully attached to the big pole."
"So yous have heard aboot his war time record tae?"
"No! Not the nationality, the new wooden pole-thing with the trellis."
"Aye, I ken."
"Is that true about the Rector? I thought he was a musician, before taking the cloth."
"Aye, they big drums and the big brass plates."
"Cymbals?"
"Aye that's what they said."
"And which orchestra did he play with?"
"Most of them from what I kent."
"Well wonders never cease. Anyway I did not mean the retired clergyman from England, I meant the rose."
"Aye I ken full weil, Mr Wylie. Just because ma family hae been in this village since time immemorial does nae mean I dinnae ken the price o' a loafa breid an' what year it is."
"And what year is it?"
"1906."
"Actually it's 1960."
"Typical of yoose incomers, coming in tae oor village and moving time on."
"Yes and failing miserably. Now when you have finished Mrs Travers has a cup of coffee and a scone for you, providing you take it in the potting shed sitting on the Mackintosh Square that Mrs Wylie gave you for your breaks. She really didn't appreciate you sitting on the burnt orange damask of the bergère, having just carted two loads of manure to the leeks. Now if there is nothing else. I will push on – busy day.
Oh, and your envelope is under the lemonade bottle. Mrs Wylie knocked off 6d because of the petunias, 'most unimaginative' were her words, but I have put it back, not a word to Bessie."
"I thought her name was Muriel."
Danger In The Shed?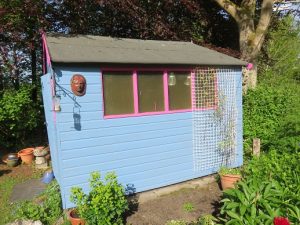 "Oh, Mrs Dangerfield! You startled me. I was not expecting to see you here so early. I thought we said after lunch."
"Ooh I know, Mr Wylie, we did, but then I said to myself it's the early bird that catches the worm, get yourself along to the History Society Headquarters and start making yourself useful. Honestly, what on earth am I like?"
"Well you have rather caught me on the wrong foot. I have a report to right for the parish magazine on the Midsummer Night Country House Concert."
"Mr Wylie, both of your feet look perfect to me and if I might say what lovely shoes, such a gentleman. Do not worry about poor Mrs Dangerfield. I shall work away here quiet as a mouse, while you do your important journalism. I move like a shadow. My husband, my late husband that is, used to say if I was in the Secret Service, I would be a trained killer. Really Mr Wylie he did, he really did! By the way I have reorganised your card index of members addresses and have filed the transcripts of the last 5 lectures. What else can I do?"
"Well that's splendid Mrs Dangerfield, marvellous actually. You have no idea how much work there is running a major local society alone."
"Oh I can guess Mr Wylie. You have the look of years of unrecognized hard work in your eyes and might I suggest perhaps a little care-worn in the brows from the worry. You know what they say 'uneasy lies the head that wears the crown'."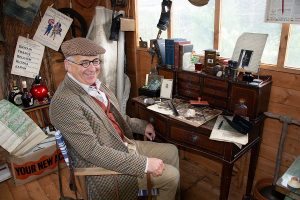 "Well, thank you. I don't think any member of the committee, or indeed the wider parish, has previously appreciated the burden of high office and the responsibility of being the chronicler of village history. Studies of droving roads, five bar gates and drystone dykes do not write themselves, you know."
Flattery With a Trowel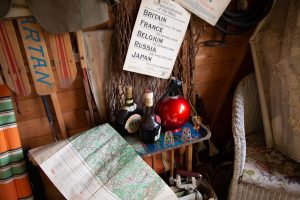 "Oh the uncaringness of the uneducated and overprivileged mob Mr Wylie. Well I have only been here for three hours, but don't worry I awake with the birds, and I have learned to live with migraine. I can see that you are a man of unceasing toil trying to explain, with your interesting collection of interesting things, how our little community came to be the place it is today. It's like you have frozen time in this museum in a shed. It's nothing less than a cultural pheromone."
"Don't you mean phenomenon?"
"Perhaps I do. Silly old Mrs Dangerfield."
"Well I appreciate the insight of an obviously intelligent woman. I clearly made the right choice at interview. Would you mind perhaps taking a look at the proposed list of speakers for the next session and telling me your thoughts?".
"Of course, anything. And I mean anything, Mr Wylie."
"I am sorry, but I did not have a chance to make you a workspace I am afraid my Museum in a Shed is a very humble interpretation of our interesting story and its interesting things. Display and workspace is limited."
"Now don't you worry about that. I have taken the liberty of making a little corner over there. I just had to move the Egg Preserving pail and the stirrup pub, from the last Unpleasantness a little to one side, just enough for my little portable and a cup of Camomile – very calming I always say. Would you like a cup? I have brought my own flask. I am not sure that Mrs Travers would appreciate my using her kettle. She is quite formidable."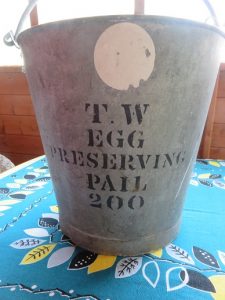 "Don't worry about Mrs T, she takes a bit of getting used to. Anyway, she's always better after her first Askit Pooder. My it's a bit chilly for June"
"Yes, well, sit down and put this crotched rug around your knees. I brought two, one each."
"How thoughtful, in the winter I have a paraffin stove, but if we put it on now, we wouldn't get the benefit."
"No indeed, I imagine the benefits will come later Mr Wylie."
"Honestly, Mrs Dangerfield how did I manage without you?"
My Report on the Midsummer Concert for the Parish Magazine : Working Title – Ancient Priests and Modern Marketing
To quote young auld Jock, we are now 'on the slippery slope downhill towards winter and the nights are fair drawing in'. While this is the case, especially for those in the Free Church, we have a way to go and what a way to go, for our Midsummer Country House Concert was a night to remember. In truth it was a day and a night to remember, thanks to the generosity of Lady Pentland-Firth.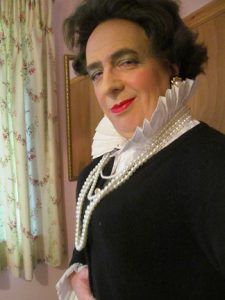 The gates of the estate (although not the Mary, Queen of Scots' ones, which cannot be opened until there is a ginger, I mean redhead, on the throne) were opened to allow early arrival and the setting up of picnics and an opportunity to experience a wide range of events to mark the solstice.
Guests were met by a high priest, (barely recognised as Herr Kutz, the former German POW who stayed on after the last Unpleasantness as a village barber) who with his team of druids directed cars to the field set aside for the purpose. Children were given a goody bag courtesy of Muriel's cousin, Lulubelle, containing sweets and small toys with a celestial theme, such as a sputnik shaped egg cup and flying saucers made of rice paper and containing sherbet. There was an Eagle comic for the boys and two cardboard rings and some red and yellow wool for the girls to make a woolly sun.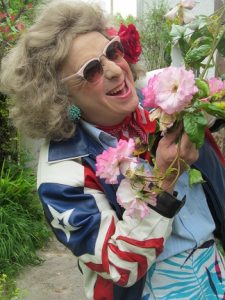 Cousin Lulubelle, who is an American, says this is called 'marketing' and is a means of capturing the future customer at an early age. She is by coincidence establishing a range of toy and confectionary outlets in Britain based on advanced products from the United States which is part of America.
Excellent Entertainments and Fabulous Food
For the grown ups there was on offer a range of activities and entertainments, some frivolous, some more serious and educational. Croquet, supervised by the Queen of Hearts (Hairy Mary from Inveraray) and Alice in Wonderland (young Gayle), was available on the South Lawn using a range of specially created mallets and balls resembling storks and hedgehogs. These were supplied by Mrs Lottie Macaulay whose husband, not only has wandering hands but is a businessman and has lots of fingers in other pies in this case with a manufacturer of umbrellas and toilet brushes. Fortunes could be told, and astrological charts drawn up by a gypsy who bore a passing resemblance to her ladyship.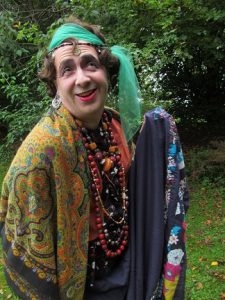 For those unable to create their own picnics, there was a magnificent tea tent providing a range of delicious items for a very reasonable price. These included Cheese Eggs and Liver Loaf, Crisp Cheese Slices and Muriel's specialities the tomato stuffed with scrambled egg and peas and her take on the strawberry tart without the tart 'using a swiss roll and a lot of cream thus removing the messiness of the sweet jam' – her words not mine.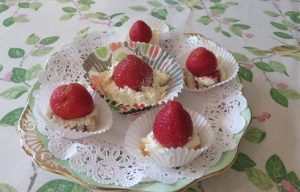 Once the fire in the Juniper wood, accidentally started by the Scout leader with the assistance of the new minister and an ancient portable spirit cooker, had been brought under control everyone settled into a rather jolly time with the sound of I-spy and the smell of hard boiled eggs drifting over the rose garden.
My Lecture
For those seeking intellectual stimulation an illustrated lecture was provided by yours truly on the subject of Madrigals as in the evening the Motherwell Iron and Steel Madrigal and Glee Group had kindly agreed ( Lady P-F being herself a major shareholder in the Motherwell Bridge Company ) to present a selection of The Triumphs of Oriana in the Orangery. Due to time pressures I had reduced the slides to a bare minimum of 200 and had only reached the fascinating event that was the publication of Nicholas Yonge's Musica Transalpina ( a most inspirational collection of Italian Madrigals translated into English) in 1588 when my paper was cut short as it was time for the children's Fairy Fancy Dress parade, which Muriel was judging.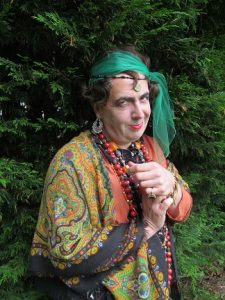 Lady Pentland-Firth very kindly said she realised that the audience would be heartbroken to miss the sections on the influence of French Chanson and the importance of the poetry of Petrarch, and this would be rescheduled for a dark winter's night, when there is little on television. It was gratifying to have so many of the audience, say that I had transported them to the Italy of Dante and indeed wished they could have been in his inferno. It is good to know that sometimes one's work has not been in vain.
Parade of the Fairies
The fairies were indeed a magical sight as they paraded around the fountain garden to the sound of Mendelsohn's Wedding March, played on the harmonium by Miss Moffat, the Church organist, a former missionary who used to play to the heathen in either Hindustan or Helensburgh. One or two notes were a bit off, but as Miss Moffat said, her organ had not been used for many years since her bellows had been nibbled by a rat on harvest thanksgiving and her stops were not responding as they had done when she was in the bush.
Muriel and the Handsome Stranger entered in a chariot (well even aulder Jock's hay cart pulled by an ass, or in this case Mr Savage of Savage's Pickles and Condiments) as Titania and Oberon to present the prizes. Gayle made a lovely Tinkerbell, but was sadly excluded, much to her fury in case there were charges of Nepotism.
In the end the prize of best fairy was awarded to Cinderella's Fairy Godmother. Unfortunately she turned out to be Trevor from the Boys' Home, currently on leave from a spell in Borstal. Muriel, ever quick in difficult situations, said he had won best fairy in the Changeling section and awarded the Kelpies from the ballet class a special prize, reflecting Scottish Fairies and Folklore.
Too Much Mead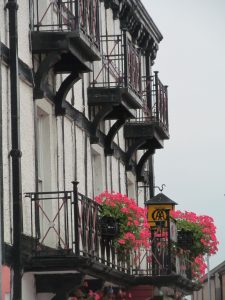 The afternoon finished with a performance of O' Lusty May, a 16th century Scottish song performed by the regulars of The Pentland Firth Arms, who emboldened by mead subsequently refused to leave the stage set up in the Coach house. This made things rather tricky for the ladies of the Isadora Duncan Memorial Music and Movement Class as they performed, or tried to perform, Come away Sweet Love by Thomas Greaves, 1567-1604.
Somehow the Ordinary Nymphs with their Fa-La-La-Las and the Nymphs of Sport with their "delights" and la-la-las did not go well as they tried to avoid the amorous attentions of the woodchoppers, shepherds and ploughmen.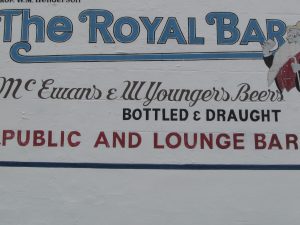 It was just as well that not before time the Pentland Firth Arms were open and those whose tastes would not run to a night of Music by Berlioz and poetry by well known Shakespearean playwright William Shakespeare, disappeared down the drive singing, Anita the Pride of Clydebank…..
"The Marquis of Bute chucks bunches of fruit
At Anita, Anita, the pride of Clydebank."
Followed by
"…. In my time I have had a few, but I am courting Bonnie lezzie Lindsay noo!"
Several Nymphs required the attention of Miss Braithwaite from Timothy Whites, (who has a certificate in First Aid), with her smelling salts.
Coffee Time
"Coffee, Mr Wylie. Can I come in?"
"Yes, Mrs T, I am just putting the finishing touches to my piece."
"So, I see. Good morning Mrs Dangerfield. Hmm very cosy, nice knee rugs. I can fetch another cup if you wouldn't mind moving your broomstick oot ma way."
Jasper Wylie
June 1960
With thanks to Mr J Taylor, The Glasgow Herald, June 1960, P.A. Scholes The Oxford Companion to Music, 1942 and KSB Photography.