This week finds The Wylies in London. It's June 1959….
"When a man is tired of London he is tired of life; for there is in London all that life can afford.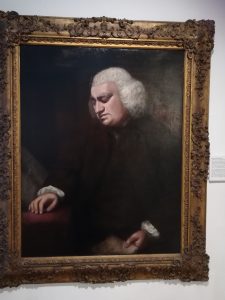 Dr Johnson (who was not a Shakespearean writer, but quite good with words  especially in alphabetical order) 
Fire Up the Roast Beef
Dr Johnson once said that "when a man is tired of London he is tired of life." Unlike many Scots, who regard it as a train journey too far, I never tire of it. It is of course very tiring and over stimulating but therein lies its charm. I never miss the opportunity to visit what many of my fellow Glaswegians refer to as "that London." There is nothing quite so exhilarating as getting on the 'Royal Scot' to Euston safe in the knowledge that the joints of beef have already been fired up in the sidings at Cowlairs, the batter is mixed for the Yorkshire pud and the consommé is simmering nicely and will be ready by Carlisle for first sitting lunch. One only needs a good book.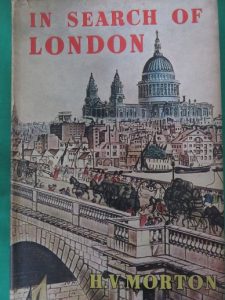 I take H.V. Morton's In Search of London and my trusty Ward Lock's Illustrated Guide to London. 
Fabric and Fleabane
Last week to quote Heinrich Heine (another non Shakespearean writer) my footsteps were directed through the "stone forest of houses" and "the rushing stream of faces" one finds in the metropolis. Muriel, my lady wife, has been involved in advising Miki Sekers about  an exhibition of Paintings and Fabric Design, which opens next month at 29 Bruton Street. This also involves the talents of Cecil Beeton, who is a dab hand with the Kodak Brownie, Oliver Messel who designs for the stage and Graham Sutherland who is a modern dauber.
I have been instructed to locate some new sources of trimmings and fabrics for our shop 'Chez Nous' and my wife's cousin, Lulubelle (our sleeping but rich and bossy business partner) wants me to see if there are any possibilities for building developments. There are many such sites, for the damage of the Blitz is still evident and large parts are still "a city of jagged ruins, of hob grates perched in the sunlight in shattered walls, of cellars draped with willow herb and Canadian fleabane". If one looks carefully, antiquities can be found as the market stalls on Sundays testify. I feel sentimental for pre-war London and all the buildings that have gone.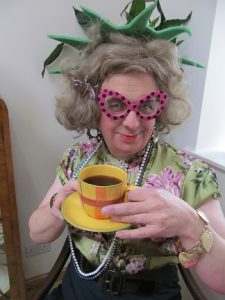 However. Cousin Lulubelle says "Sentiment, Huny Lamb,  don't put no sarsaparilla on the counter and the future is development for housing and parades for shops." Ghastly woman.
Nice Swing 
Naturally I put in the hours, well almost two, for future plans but business was never my thing and the trip for me was an opportunity for material for my Museum in a shed exhibitions and ideas for the winter programme of the Historical. Muriel said if I played my cards right then I might have some free time.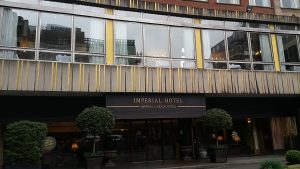 We put up in Russell Square at the Imperial Hotel as usual and from here ventured forth. As we are currently redecorating the salon of Lady Pentland-Firth's country house we went together to the Wallace Collection in Manchester Square so that Muriel might gain some inspiration and colour scheme ideas from the Sèvres porcelain. Personally I was taken with the wax portraits and the snuff boxes. I have taken snuff which is quite de rigueur  at some of the more exclusive Burns Clubs in Scotland, but I think it a rather unpleasant habit.
There are rather a large number of portraits of actresses, for example of 'Mrs Carnac' by Reynolds and two portraits of  'Mrs Robinson', one by Romney and the other by Reynolds. The language of the portrait fascinates me; strange how so much can be said without speaking. Of course there is 'The Laughing Cavalier' and the famous Fragonard of 'A Girl on a Swing'. Muriel was pleased when I said how much she looked like her, "only darling with less good bone structure and an obvious failure to use Pond's Cold Cream of an evening". I added quickly that I would not be constructing such a swing, which looked so unsafe, at home but I might order something practical from Gamages for Gayle our ward.
Thinking About Candy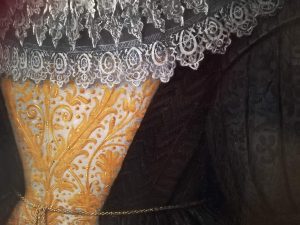 Muriel was particularly taken with the wall papers and drapes of the rooms but it was the golden yellow in a Dutch portrait that got her  "thinking yellow" for the Pentland-Firth project.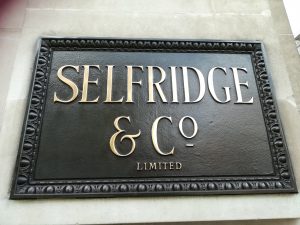 We had tea in Selfridges on Oxford Street and Muriel decided that she required some Helena Rubenstein items as Mrs Travers, our daily woman what does but not a lot, had forgotten to pack these in the vanity case. We parted company and I wandered off towards Regents Park where I felt sure I would see something interesting – and indeed I did. For I came across the photographer Barry Hicks taking pictures of a model, Candy Scott, for what is called a "Come to Britain" campaign. Candy is a model and a showgirl at the Windmill.
Candy was wearing a red skirt and white blouse and carrying a basket and is being  photographed at  interesting places around London to encourage visitors. From my chat with Mr Hicks as Candy prepared for another shot, the accent is on glamour. I am quite sure The Windmill is not on Muriel's approved list of places to visit, it is certainly not mentioned by Mr Morton or Messrs Ward Locke.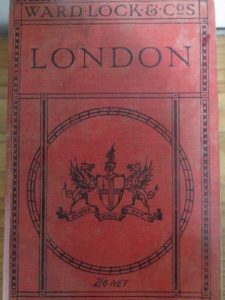 I do, however, think Candy Scott may, like girl on a swing at the Wallace,  attract a lot of attention with her basket and artful jumping in the air in front of Buckingham Palace.
A Different London
Far from the glamour of a photographic shoot for tourists is the East End, which nevertheless has its own fascination. From Liverpool Street station one can explore the area of Shoreditch and Spitalfields. This is not  the London Mr Hicks would probably want prospective visitors to see. It is the London of pawnbrokers' balls, rag and bone men, scrap yards and tin baths in front of the fire on a Sunday night . It's a rough place with tough men, putting their hopes into the football pools with their wives  aspirations restricted to an hour in the pub on a Saturday night with a port and lemon. It's a place where immigrants have settled from Huguenots and pogrom victims to more recent arrivals from the Empire.
The manufacture of textiles and furniture have always been part of the economy of this part of London, close to the River Lea.  Furniture making is still carried on hence my visit with 'Chez  Nous" in mind. Wandering about the lanes, one can see evidence of Georgian history in the buildings and warehouses that have survived. There is some elegance here too.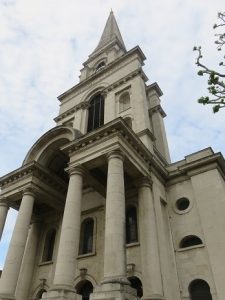 Nicholas Hawkesmore's Christ Church built between 1714 and 1729 is a masterpiece. Apparently Huguenots would use it for occasions, but generally found it too fancy for regular worship.
Silk, Storms and Staircases
Muriel spent much of the weekend with Miki Sekers of the West Cumberland Silk Mills. Since the last Unpleasantness they have given up parachute manufacture and their products have been used by Molyneux, Dior and Givenchy. Mr Sekers has asked Beaton, Messel and Sutherland to create paintings and drawings for his designs. They are planning to produce furnishing fabrics in 1960 which is why they have asked Muriel for advice.
I meanwhile went to Greenwich via Blackheath to see The Queen's House and The Old Royal Naval College. The Queen's House was built for Anne of Denmark wife of King James VI and I and is really the first neo classical building in England along with the Banqueting House in Whitehall. Rather odd to think she arrived near North Berwick outside Edinburgh in a storm that was blamed on witches and then a few years later she had one of the most elegant floors and beautiful staircases  in the country.
Pickled Sailors
Such is the pace of change sometimes. They would have been astonished to see the growth of the Empire which is reflected in the Naval College and its wonderful chapel and the magnificent Painted Hall. James Thornhill's painted interior is in the baroque style and Muriel says she might be able to do something similar for Lady Pentland-Firth  with a local artist, two step ladders and a plank. Lady Pentland-Firth favours a nautical theme as it would reflect her late husband Rear Admiral "Salty" Pentland-Firth, hero of Jutland, who died mysteriously at a Flower Show lunch when he fell head long into a rissole.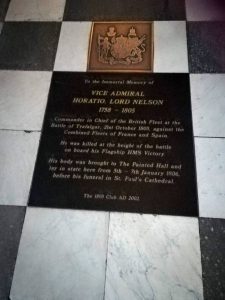 It is here in the Painted Hall  that one can see where Nelson lay in state after his body was brought back from Trafalgar in a barrel of fortified wine. This was not necessary for Lord Pentland-Firth who was pickled from the inside out after a diet which consisted of dark rum and more of the same. 
A Nice Day Out With the Dead
On Sunday I visited Highgate cemetery, which is wonderfully atmospheric. The West Cemetery is the final resting place of Radclyffe Hall, author of The Well of Loneliness, a favourite of the librarian at the Stirling Library in Glasgow and I promised her I would take a photo of it for her. She's very good at keeping books for me so this seemed a small favour.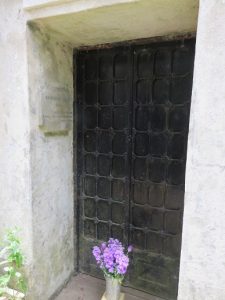 Miss Hall is buried in a tomb along with Mabel Batten and apparently an unknown person places flowers at the door of the tomb every week. The tomb is just off the Egyptian Avenue, which architecturally is quite magnificent.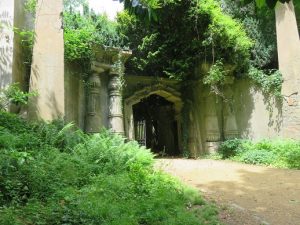 One has to cross the road to visit the East Cemetery and for me it was a bit of a pilgrimage to see the relatively new grave of Karl Marx who was moved by the comrades to a rather impressive site in 1954. Then Laurence Bradshaw was commissioned to make a bronze sculpture of Marx and that was unveiled in 1956.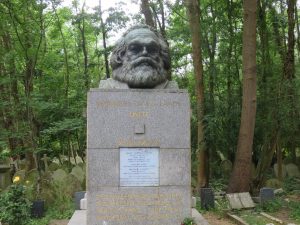 Marx is not one of Muriel's favourite historical characters as she blames him for George Bernard Shaw Clement Atlee and free false teeth.
The Room Divider
For our last day in London I persuaded Muriel to come with me to Dr Johnson's House in Gough Square off Fetter Lane near Fleet Street. She was happy to do so as Princess Margaret had given her seal of approval to the fabric show and there was little else to do in 17 Bruton Street.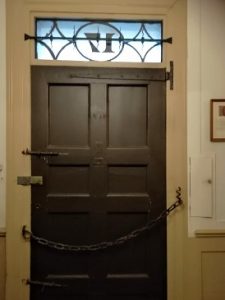 We were both impressed with this lovely little red brick Queen Anne house, almost destroyed in the last Unpleasantness by bombs which caused such devastation in the city.  The house has most clever ideas incorporated into it. This includes security measures to prevent child thieves from being lowered in through fan lights and moveable, wooden partitions containing doors to divide one long room into three. Muriel said she is thinking of revising the room divider for the model semi-detached house where it will be known as "the Johnson" and will be of a concertina design that can expand and contract with the move of a hand. "We must"  she told Cousin Lulubelle in a letter home, "make living in a small space more imaginative." I rather liked his wig powdering cupboard and his dictionary really was very clever.
The Host to Many
The house seemed to be home to a whole variety of people who came to visit and stayed on. Dr Johnson it seems did not like being alone, despite the fact that there were many arguments between the colourful characters that inhabited his world. He wrote on the top floor at a long table with several amuensis and a view of St Pauls. I may introduce a long table in my shed.
The house contains some interesting items including Elizabeth Carter's bookcase, Mrs Thrale's tea equipage, and a portrait of a gentleman who may be Johnson's servant from Jamaica called Frank Barber. I am not sure that Dr and Mrs Johnson would have been on the list for invitations to a fancy exhibition preview in Bruton Street with Muriel and Princess Margaret. They were hardly fashionable or, to put it frankly, a matching pair of oil paintings. H.V. Morton mentions their "outwardly preposterous alliance". Lucy was the widow of a Midlands draper and was 20 years older than Samuel. He was an untidy, hugely framed man given to "convulsions," " mutterings"  and "twitching". Lucy was described rather meanly by David Garrick the actor as "very fat with a bosom of more than ordinary protuberance, with swelled cheeks of florid red, produced by thick painting and increased by liberal use of cordials". I am sure Muriel could have sorted her out at the Helena Rubinstein counter in Selfridges.  Another described her as always drunk and addicted to opium. Whatever her shortcomings Johnson loved her dearly and he mourned "Tetty" as he called her until his own death.
Jasper and Dr Johnson Comparable in Matters Sartorial
It was according to Morton that in this house, where he lived from 1748-1758 Johnson wrote Irene for David Garrick at Drury Lane. The two men were friends. He wrote "covered with dust, with sagging stockings and with a bushy old fashioned wig singed to the net by bedside candles". For the opening night at Drury Lane he made an effort and dressed himself in a red waistcoat with gold braid and a gold laced hat. It was usually "the brittle" Mrs Thrales who lived in the house who had to tidy him up for parties. Here he also wrote The Rambler twice a week for four years and to Lord Chesterfield in his famous letter.
Johnson had left this house before he met Boswell who came from our part of Scotland. Boswell was a much younger man but both were neurotic and Boswell a drunk and a womaniser of the serial kind. He did, however, write a very good biography of Johnson, perhaps the best of all biographies.
"Well Jasper, he's almost as scruffy as you in that shed of yours –  the house is about to close. Are we finished with Dr Johnson and with London?"
"Yes dear I think so; I am tired"
"Of London?"
"No dear by London."
"Time for the train?"
"I think so, let's get a taxi."
"There's one – taxi!
"Keb guv'nor?"
"Euston, my good man; thank you."
TTFN
Jasper
June 1959
P.S.
Here is Candy Scott and her little advertisement