Muriel and Jasper's blog continues to find a home here with Artemis. Posted on Fridays to reflect life 60 years ago. Traditionally there is something a little different at this time of year to reflect Hallowe'en and All Saints Day. The Narrator is our guide this week.
Surprise! Surprise! A Dark and Stormy Night!
It is a dark and stormy night as Jasper Wylie (international man of tweed) is driven home in the Pentland-Firth Lagonda by her ladyship's newest chauffeur.
The Fall and Rise of Lady Pentland-Firth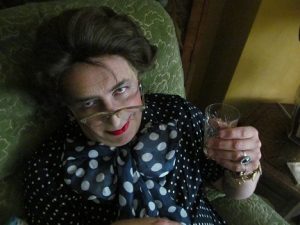 I say newest as they tend not to last long, withered beyond their years after only a few months serving Lady Patience Pentland-Firth, widow of the late Admiral Pentland-Firth hero of Jutland, who died mysteriously at a Flower Show Lunch some years ago. Patience has had several squeezes since then, most of which have turned out disastrously. Notably there was a gentleman who was not all he seemed (which of them, are I ask) who having designs on the Pentland-Firth estate came close to murdering Scotland's favourite aristocrat. Fortunately he became the victim of a delayed Auchenshuggle Tram from Hope Street and was not so neatly divided into three.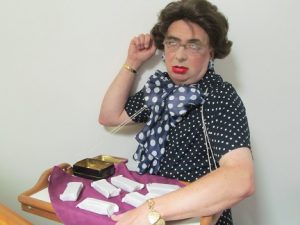 As Mrs Travers, the Wylies' daily woman what does but not a lot, would say her Ladyship was also rather fond of the "swally" and following her late husband's death and her failure to inherit the estate, at least initially – her amontillado addiction brought her to her lowest point. For a while she was a Cinema Usherette until she was rescued by Muriel and Jasper and restored in their care. Thankfully all this has passed and Her Ladyship has worked hard to restore her own fortunes and those of her estate which she reclaimed after the heir, a vegetarian was eaten by lions. In recent years the estate has made something of a reputation for itself as a business and concert venue. Tonight, however, has been a more traditional affair with the annual Hallowe'en Ball.
At Home with the Supernatural
The Pentland-Firths have always had an affinity with the supernatural. Lord Ringan Pentland-Firth was for example widely reputed to have been a warlock who foretold the Battle of Flodden, The Battle of Culloden, The White Heather Club with Andy Stewart and the invention of the well fired roll. These events are what have made us Scots who we are, whoever that may be. Even Patience's mother-in-law was reputedly gifted with the second sight being a Minch.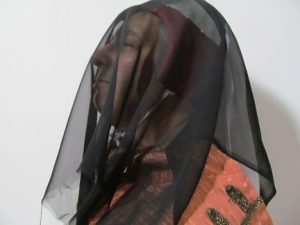 The Minch women were always famed for their fine spinning, their long hairy limbs and the gift of the second sight through big googly eyes. They were often heavily veiled for the safety of those who came within their gaze.
Little wonder then that the eve of All Saints' Day is one with which the Pentland-Firths have always felt an affinity. Since the 1880s when Gladstone came to stay, there has always been a Hallowe'en Ball to raise funds for charity. This year the beneficiaries will be Muriel's charity The Home for Fallen Women. There is some irony in this as the Pentland-Firth men have, over generations, contributed to this cause greatly.
Spooky Scotland
This year 1959 the theme has been Spooky Scotland. This is not a difficult one as it is a pretty spooky place in normal times let alone the night when the dead walk. Pentland-Firth House is the ideal location and many a visitor has recounted a chilling moment when visiting her ladyship. Visitors from the south in particular mention strange figures in the gardens who seem to be from another time and place who all bear the same name of Jock with a prefix of, "young", "old" or "daddy". Servants are described as being like the cast of A Cottar's Saturday Night and the sight of a toothless game keeper with his hands around the neck of an old cock has sent many a maiden from Maida Vale into a fainting fit. Of course they are not apparitions. It is explained these are just cottagers from the local village, busy going about their daily lives. Some it is true may be a little strange – the result of being rather more related than they should be, but they are by and large harmless and anyway it has "aye bin" that way. For these are the ways.
Many Spooky Entertainments
This year Patience Pentland-Firth has excelled herself and there are bonfires the length of the long drive. Ghostly lanterns hang in the portico and guests have been welcomed by members of the Varsity Anatomy Class dressed as their first patients. In the grand entrance hall a small symphony orchestra conducted by Professor Sir Boozy Hawkes, a noted specialist on Mahler, is playing "The Resurrection".
The building is lit by candlelight and in various reception rooms there are activities to entertain. Turnip carving for beginners is led by the noted folklorist Winnie, (she of the bicycle and the specialist Wool Shop in Auchterarder). In the Library, Hairy Mary from Inveraray has been telling fortunes, while in the Morning Room, Bunty Haystack, the noted writer of rural crime novelist, has been reading from her latest book of short stories. "The Pitchfork Poltergeist and other tales of malevolence in the countryside." In the kitchens there is ducking for apples and eating treacle scones while on your knees with hands tied behind backs. The dungeons have been opened for the night and Jasper has been giving a tour and talk about Napoleonic Prisoners of War showing examples of their carving from animal bones and with lurid descriptions about Very Very Auld Jock (1788-1873) who as a boy reputedly collected frogs from the estate lake so that the inmates might have "some home comforts".
Dressing Up and Dubonnet in the Bath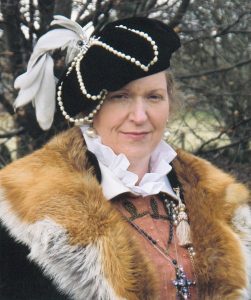 The guests themselves arrive in various guises. Jasper goes as the spirit of a Highland Colonel of the early 1800s. Muriel is Mary, Queen of Scots. Mr and Mrs Macaulay, who are estranged but appear as a couple socially, are The Earl and Countess of Nithsdale, the countess having notably helped the Jacobite earl escape from the Tower of London by disguising him as a woman. Mr Macaulay, who is a millionaire builder and concrete king, looks strangely at home in female dress of the 1690s, indeed later he wins a silver tassie as the best dressed lady of the night. The Handsome Stranger and Professor Sir Boozy Hawkes are Burke and Hare the notorious Edinburgh grave robbers. In addition there are numerous headless horsemen of Tynron, Wolfs of Badnoch and witches a plenty.
The food theme is red and in addition to pink coleslaw and a vast tub of beetroot chutney there is a bath of Dubonnet in which reclines a skeleton, glass in one hand sponge in the other and a Sobranie cocktail cigarette between its teeth; on the head a pretty bath hat. When asked if she had ordered the skeleton from the Glasgow joke shop in Millar Street, Lady Pentland-Firth said no she had recently found it in the Priests' Hole from the house's Episcopalian period. This at first alarms the would be drinkers in the bathroom, but after a few dips into the Dubonnet they soon forget their qualms about the nature of the remains lolling in the Shanks' roll top. The slurping of Dubonnet is soon accompanied by the singing of Ain't it grand to be blooming well dead.
Chauffeured Home Later That Night
The strain of umpteen Napoleonic Prisoner tours and umpteen trips to the bathroom for refreshments soon take their toll of Jasper who is in no fit state to drive home. As a committee member and indeed Chair of The Home for Fallen Women Muriel is required to stay and help clear up, so Jasper is sent home in her car with Jasper slumped in the back with Mrs Travers who has been helping with the washing up and apparently 'vimming'  the bath when it was empty.
On arrival at the rural bolt hole both passengers alight and attempt to hold each other up. They congratulate the chauffeur who is dressed as a Victorian coach man, but minus his head.
"That is jolly clever, if you don't mind me saying so" says Jasper to the driver.
"Thank you, sir" replies the driver, "not having any eyes to see the road makes it tricky but one does what one can to get guests home safe and sound."
"It's puir dead brilliant if you ask me" says Mrs Travers attempting to zip up her surgical boots with one hand and retain hold of Jasper with the other.
"I was admiring your costume too, Madame. Do those surgical stockings and all encompassing apron signify anything in particular?"
"They signify 20th century bondage Mr errr, what's your name?"
"Most folks call me Coltman because of my knack with young horses " says the collar and tie,"and because of it being my name."
"And where do you come from Coltman?" asks Jasper, who has just picked himself and Mrs Travers up from the recently pruned rose bed.
"I come from Tynron sir. I was driver to the Minister in a neighbouring village until he died recently in a tragic accident."
"Sorry to hear that Coltman. Here please accept a little something for your trouble, perhaps you might come in for a stiffener for the journey home?"
"Thank you sir but I am on duty and it is a dark and stormy night and you should get the lady inside or she will catch her death."
"What lady?"
"Make mine a gin and dubonnet Mr Wylie."
"Yes Coltman, you are right. I should get her inside. She will be on breakfast duties in 3 hours."
"Give him a little drinky Mr Wylie, he's driven us. Least yous can do; but gawd knows how he's going to take his swally wi' nae heid. Mind you it will nae be throbbin' in the morn."
"Goodnight Sir. Goodnight Madame."
"Fancy Mr Wylie he called me Madame. He must think I'm Mrs Wylie, I knew these support stockings and elasticated bandages were simply… what is it? Aye – simply marvellous. Let's go inside Mr Wylie an' have one for the road and we can get a wee heat before nighty-night time."
Next Morning
It was unclear who put who to bed, anyway breakfast did not materialise until three in the afternoon which was accompanied by a lecture about the evils of drink from Muriel, tempered by the fact that the event had been a great success and had made a lot of money to support the Fallen Women of Glasgow. The whole thing had been photographed by "The Glasgow Lady Magazine" with the promise of a front page picture next month and a featured article.
An Explanation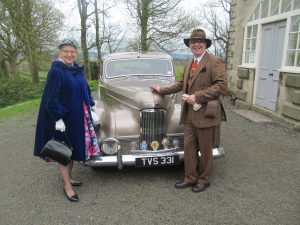 Some days later the Wylies were invited to have lunch with Lady Pentland-Firth to discuss the event and pat each other on the back for such outstanding philanthropy.
"Well Muriel, we shall have to start planning for next year and dear Jasper your tour was really the highlight. The Professor of History at the very good varsity in Glasgow was so impressed he is thinking of holding a weekend conference here and wants you to take part as a leader of old things in the community."
"Well it is good to know I am appreciated. And can I thank you for having Coltman take us home in the Lagonda? That was a real treat even if I did have Mrs Travers snoring on my shoulder."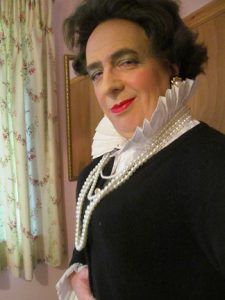 "I am sorry Jasper there is no one here of that name, at least not now. There were Coltmans here in the 1880s. One was my husband's father's coachman but he was in a terrible accident. He was driving the Minister home after a Hallowe'en Ball here, funnily enough. It was a frosty night, first of the winter, and there was a collision with a farm cart coming across the road at great speed. The Minister was badly injured and died three days later of a stomach injury caused by the horse harness and the coachman was thrown up into the air clear of the horse and carriage and fell headlong into a turnip masher."
"Did he survive?"
"Well he might have if Very Very Auld Jock had not been out turning the handle for the morning feed."
"Oh I see, but I don't see. Who took us home then?"
"Sorry to say Jasper it was not me who arranged for you to go home. I was too busy judging the fancy dress, couldn't believe that Mr Macaulay would make such a good woman could you Muriel? I think Jasper, darling, you must have just had far too much of my Blood in the Bathtub cocktail. They do say, however, that from time to time a headless coachman helps lost travellers particularly on the road to Tynron.
By the way Jasper, I hear you are making good progress with the Tynron Twostep at the country dancing. Perhaps next year you might think of giving us a demonstration? We could have a 'Headless two step' what do think Muriel?"
"Oh Patience I think Jasper's two step is guaranteed to be headless. Jasper's ability to see the dance is not necessarily a benefit, indeed blindfolded might help, we could call it Dance Macabre, with apologies to Saint-Saëns."
"Too funny, Muriel!"
"Yes Ladies, too funny! Now if you will excuse me I must get back home. I need to ask Mrs Travers something. See you later dear."
"Yes Jasper. Patience and I just need to check the accounts, but I will be home for tea. And Jasper."
"Yes dear."
"To paraphrase Mrs Travers, don't lose your heid!"
October 1959