The Muriel & Jasper Blog: This week we join Muriel & Jasper and their entourage on the journey back to Glasgow. Jasper also has the chance to find out what's in the news in 'The Glasgow Herald' 60 years ago.
 At Euston Station, St Valentine's Day
 
"Well Gary and Edd, I cannot thank you enough for the last few days. It was simply marvellous having a guided tour of the Laines, which are quite near Brighton and very close to Sussex."
"The pleasure has been all ours Muriel and we very much look forward to seeing you soon and perhaps even meeting Lulu, the lady 'from the right side of Carlisle'. Pretty amazing to think there is one."
"I know but just think about the delicious water biscuits and Lulu is very much on your wave length. She is permanently in ballroom hold, speaks French, is very fond of The Wizard of Oz and has perfect diction – her Italian vowels are envied all over the north of England."
"What more can one ask for? Now I think I see the Station manager Mr Pullman coming. I telephoned him yesterday to say that you would be patronising Euston."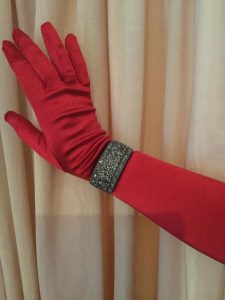 "Too kind of you Gary. And thank you again for my lovely bracelet, I fully intend to wear it to the next Country House Concert. Lady Pentland-Firth will be green with envy."
Treated Like Royalty
"Good morning Mrs Wylie, what a pleasure it is to welcome you at our humble little station. Now I have arranged for a car to take you and your party directly along the platform to the first class carriage. Will your woman what does (but not a lot) be travelling separately in second class."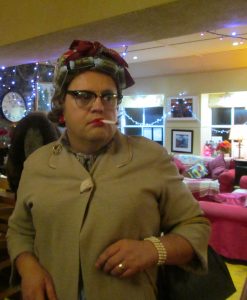 "Thank you so much Mr Pullman, tempting though that is, I have decided to give her a treat. Rest assured, she has been liberally sprayed with Eau de Cologne."
"Thoughtful as ever, Mrs Wylie. I, like many others, cannot understand why you are continually overlooked in the New Year's Honours."
"Too kind, but one wouldn't want the attention, I am something of a shrinking violet."
"Of course and how considerate of you to prepare a person formerly used to the wooden benches of third class travel for the fully sprung horsehair upholstery of British Rail."
"Well one wouldn't want to alarm the other first class travellers would one? And many may be unfamiliar with the fragrance of Vim and Jeyes Fluid."
"You are the very model of gracious living Mrs Wylie and you might like to know that your fellow passengers include two gentlemen from a certain Embassy travelling to Scotland to observe Scottish heavy industry at work."
"Well that should be a short visit."
"Too funny and by the way, I believe Miss Haystack , the famous rural crime writer, who has been missing Agatha Christie fashion is travelling incognito with you."
Bunty in Disguise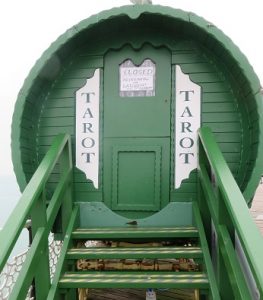 "Yes she is dressed as a Scottish variety star so as to look inconspicuous."
"Good, well I have taken the liberty of putting her dismantled gypsy caravan into the goods van."
"Thank you I am not sure why she needs it, but she says it is good for writing in."
"Where are the rest of your party?"
"At the station book stall and by the way Station Master, has anyone ever told you, you look just like a friend of mine, Sir Roger De Coverley, fondly known to others as the Handsome Stranger? How curious."
Stocking Up For The Trip
"Hurry up Mrs T or we will miss the train. Look I can see Mrs W waving to us."
"Sorry Mr Wylie, I was just getting The People's Friend and some chocolate from that machine and a wee bottle for emergencies.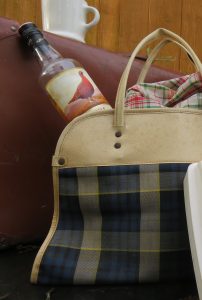 "
"You do not need any food Mrs T, in First Class they give you lunch. I expect we shall be tucking into roast beef by Crewe Junction."
"Well just in case I have a pork pie, some fruit cake and a Fry's Turkish Delight. Do you ken Mr Wylie yous cannae get a Scotch pie or a well fired roll for love nor money in that London. I for one will be glad to get home. Why are we going home today anyway? I thought Mrs Wylie wanted to see that Furniture Exhibition at Earls Court one more time, she seemed to enjoy it yesterday. It was good of her to take me."
"Yes she was in her element and has lots of new ideas for the shop, but we needed to get Gypsy Cream out of Brighton to a safe house as quick as possible."
"Comrades after her, are they?"
Mrs T Has a Souvenir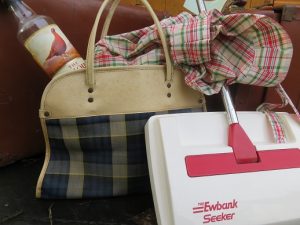 "You bet Mrs T, you bet. Added to which there is an impending rail strike tomorrow and Mrs Wylie wants to see Gigi one last time as it finishes it's run tomorrow. So, we should be home in time for an evening showing and a salmon suppa at The Rogano, By the way what is it you have there?"
"It's a Ewbank carpet Sweeper, I got it at a stall in Earls Court – Care of Carpets – I have always wanted one of these. It beats tea leaves and a broom, I'll be the talk o' Maryhill."
"I think you already are; now here is Bunty, I mean Gypsy Cream."
"No Mr Wylie for the purposes of this trip you mean Jacobite Jill, the Elusive Escapologist."
"I think we might have overdone the tartan; she looks like a burst bagpipe, Mr W."
"That's me folks, just got some reading for the train. It's always such a joy buying one's own books and here Mr Wylie, I got you a Herald seeing as you have read all my books."
"Aye so he has!"
"And for you Mrs Travers I have a macaroon bar and some tablet. I know how homesick you have been for all things Scottish."
"That's good coming from a woman who looks like she's been sucked into a loom in Hawick."
All Aboard
"Come along everyone."
"Sorry Muriel."
"Jasper Mrs T, Jacobite Jill, may I introduce Mr Pullman the Station Master, who has made the most perfect arrangements for us."
"Good morning everyone, your carriage awaits. Now Mrs Travers would you like me to put that rather awkward sweeping contraption into the goods van?"
"No thank you Mr Pullman. Someone might nick it at Warrington, which is half way between Manchester and Liverpool."
"Very well, please get into the carriage."
"Has anyone ever told you that you look like the Handsome Stranger?"
Settled Down in First Class
"Well Jasper that has been a lovely trip. I always enjoy a few days in London and Brighton was a real treat, it was lovely to see Edd and Gary again and I think, with my advice, Brighton is set to be something of a place that will be in the news. I am glad Mrs T has settled down she is clearly enjoying reading her People's Friend. Who would have thought a special on Rothesay would hold so much appeal? And Jacobite Jill is clearly enjoying her Bunty Haystack mystery. I don't think I have read Milk Parlour Massacre."
"I certainly have not. Nothing like laughing at your own work!"
"Well I was going to read, but I always find it difficult to concentrate on trains. You tell me what's going on in The Herald Dahling and I will dose before lunch."
Keeping up to Date with the Help of The Herald
"Well Muriel, it's a good job we are heading home as there is likely to be a Rail Strike tomorrow unless the Minister of Transport, Mr Edward Heath, can produce an improved pay offer to the N.U.R. before midday today."
"Really Jasper, it's your friends the Bolsheviks again. Give them an inch and they take a mile. Are there any special measures in place?"
"All police leave is cancelled and employers have been asked to stagger working hours to ease traffic congestion. Perhaps we should open 'Chez Nous' a little later tomorrow.
"As always Jasper, it is business that suffers."
"Muriel people don't go on strike for the fun of it. Sometimes it's about putting food on the table."
"If you say so Jasper – anything more interesting?
Dali, Thor and the Queen Mother's Leg
"Well a Galloway bull has made 112 guineas at the Newton Stewart Spring sale; there has been a fire at the Alliance Box Company in Possil Park; Betsy, the artistic chimpanzee has died in America – Salvador Dali did not like her work."
"I am not wild about his."
"The R.A.F. has revealed its new missiles in East England – the Thor; and the French are about to have an atomic test in the Sahara. There are plans to close railways in the Highlands but we are not to worry there will be plenty of buses and Russ Conway is on television this evening. Oh yes and the Queen Mother has a leg injury"
"Anymore details?"
"What, about impending Armageddon in Norfolk and the Sahara?
"No! The Queen Mother, she never puts a foot wrong."
"Well clearly she did in this case. It seems and I quote 'she knocked and injured one of her legs last weekend' Makes it sound like she has more than the usual compliment of two."
"Really Jasper! Sometimes it would seem you have a working class chip on your shoulder."
"Fawning obsequiousness, Muriel is not a sign of a chip on one's shoulder. You will, however, be glad to know that it is healing rapidly. She has been attended at Clarence House by her doctors – Lord Evans, Sir John Weir and Mr William Tucker the orthopaedic surgeon. No going to the local G.P.s and moving from chair to chair for her."
"Jasper you can be so……."
"Truthful, Muriel? Anyway you will be pleased to hear H.M. is up and about."
"I wonder what happened?"
"I could hazard a guess."
Call for Lunch 
"First call for lunch"
"Muriel I am quite peckish, let's go to the dining car."
"Where is Jacobite Jill?"
"She has gone to the goods van to check her belongings. Mrs Travers do you fancy some lunch?
"Well yes, but what about ma Ewbank?"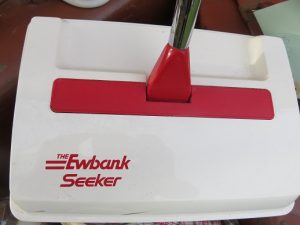 "I know you are inseparable from it but why not take it to the Guard's van, and you can get it afterwards? And bring Bunty, I mean Jill, back with you. It's French Onion Soup or Fruit Cocktail to start."
"Can I have the cherry?"
In the Goods Van
Mrs T arrives to discover  a certain lady is tied to a chair, about to be strangled by two strangers on a train.
"Well, well, well! If it isn't the woman who destroyed the first Beetroot five year plan, you must think us very stupid Miss 'whoever you are this week'. You see we never forget those who try to undermine the glorious work of the revolution. You are such a decadent bunch with your dismantled Gypsy caravans in which to write your ridiculous crime novels. Yes, I have read those you set in the Motherland – 'Slaughter on the Steppes' and 'Bazooked by a Babushka'.
Today I read in your capitalist Herald that missiles are aimed at us from Norfolk. Norfolk? Really? Is that not where your Queen Mother lives – you know the one with the bad leg and the three doctors? Why with three doctors we could cover the Urals and still have appointments to spare.
There is no point trying to escape, we learnt to tie knots in the Young Pioneers didn't we Vladimir? Now you must pay and the Aberdeen train will pass us shortly. Open the door Vladimir."
"Yes Boris."
Mrs T to the Rescue
"What dae yoose think yer doin' ya bampots? Take that!"
And with that shout of defiance Mrs Travers hit Boris in the stomach with the full force of her Ewbank and try as he might he could not hold onto the sliding door and fell backwards onto the line and the Aberdeen train. Meanwhile Jacobite Jill had used her escapologist skills to untie herself and grabbing her Crystal Ball hit Vladimir on the head so that he spun round and out of the train assisted by Mrs Travers and her string bag containing assorted confectionary from Euston and the steam iron she had "acquired" from the hotel.
A Grateful Man from the Shadows Arrives
"Well done ladies" said the ticket inspector who turned out to be Professor Sir Boozey Hawkes, of the Varsity in Glasgow where he is an expert on music associated with transport.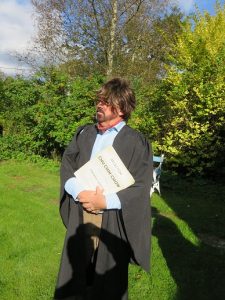 "Oh Professor, what have we done? What will become of us?"
"Nothing Miss Haystack, it was self defence. And not only were they here to get revenge for your beetroot activities, but they were also here to undermine our Thor programme."
"What in Norfolk?"
"Exactly – Norfolk is such good cover."
"What for?"
"Most things, and Mrs Travers how are you? Pretty shaken I imagine?"
"Professor I hardly think so. I'm frae Glasgow, it could be Fair Friday. Jist one thing tho', my Ewban has gone under the Aberdeen train going south ."
"Not a problem Mrs Travers we will have it replaced. It is the very least the nation can do, nor will you be prosecuted for half inching that steam iron and Miss Haystack you should be prosecuted for wasting police time but if you agree to writing a novel in which the Chief Inspector's Lodge comes out as a shining example of brotherly fraternity we can get round that. Now you must be hungry and I must get off at Preston and report two foreign nationals who decided the Aberdeen train was a better option than the train to Siberia."
"The comrades are not going to be pleased"
"No, but they won't do anything. They know that we know but they may see our Ewbanks as the new weapon of the Cold War, so we will have to be on our guard." 
A Nice Lunch before Glasgow
"Well this is nice, I love meals on trains."
"Certainly, you have more than done justice to the roast beef, Jasper, and the lemon meringue pie. Mrs Travers you don't seem to have lost your appetite despite the pork pie and chocolate. Jacobite Jill, despite the weight of tartan on your shoulders, you look happier than I have seen you in days."
"Oh you have no idea Mrs Wylie."
"Nothing dims ma appetite Mrs Wylie, even supposing I had just stopped Miss Haystack from being strangled in the goods van by twa burly foreign types and pushed them oot the train wi' ma new Ewbank, I would still have room for another roast potato."
"You have such an imagination Mrs T. Talking of foreign types, I am surprised those two delegates to the Heavy Industries Conference are not in for lunch. Perhaps they got off at Crewe. Did you see Jill?"
"Yes, they did actually. Said they had some business with the N.U.R. regarding the proposed strike. Seemed quite cut up about missing their lunch."
"Coffee – Ladies, Sir?"
14th February 1960