It Is Late June, 1961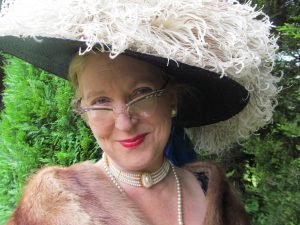 Prince Edward, Duke of Kent, has married Katherine Worsley at York Minster. It was attended by the Royal family and Mrs Muriel Wylie, resplendent in a hat covered in ostrich feathers, was there as  representative of that simply marvellous magazine "The Glasgow Lady" . It is rumoured that the suggestion of  "the boat neck" for the dress came from  Mrs Wylie.
The government has announced the introduction of Panda Crossings to assist pedestrians in the face of growing traffic numbers.
Michael Ramsey has been enthroned as the 100th Archbishop of Canterbury. He brings to the chair of St Augustine the most marvellous eyebrows.
Barclays Bank have opened their No. 1 Computer Centre in Drummond Street London with an E.M.I. Mainframe Computer. If only people knew – it is the beginning of the end of getting your cheques back and bank managers who know your family.
Ernest Hemingway has been released from a psychiatric hospital; he is considered a suicide risk.
In other literary news, twenty seven years after Henry Miller's Tropic of Cancer was published in Europe, it has been released in America. It has caused a scandal. There are descriptions of "that side of things" which apparently do not happen in America.
Discussions continue about Britain's entry into the Common Market. It will not end well, as it involves people from "abroad".
In Glasgow, It Is Also Late June 
Current affairs are all very well, but for most Scots it is time for the Royal Highland Show, the S.N.O. Prom Concerts and the holidays. For here in Auld Caledonia "stern and wild," to quote Sir Walter, the summer holidays start earlier than in such places as "that London." For all time, the school holidays have been aligned with the tattie harvest.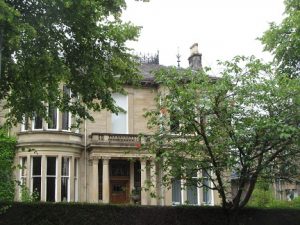 The start of Scottish summer is marked not only by the onset of 6 weeks of rain, but of graduations and school prize givings. In Glasgow's much sought after West End, home of the aforementioned Mrs Wylie and her husband Jasper, there has been much preparation for attendance at their ward, Gayle's, first prize giving.
The Westbourne School for Young Ladies is assembled in The Bute Hall at the centre of the University.   The mummies and daddies, guardians, relatives and assorted friends are seated on the balcony waving to those below. It is, however, hard to glimpse the wee ones because of the sea of hats. Muriel is sporting her rather grand hat from the recent royal wedding so that those and such as those an see marvellousness in action.  The organ, playing the school song, fades away.
The Chair Speaks of Eggshells and Murder
"Good afternoon my Lords, Ladies and Gentlemen, honoured guests.
As Chair of the Board of Governors it gives me great pleasure to welcome you to the Bute Hall here at the exceptionally good varsity in Glasgow. It has been another terrific year, particularly in Domestic Science, with many gels exceeding expectations in their ability to carry eggshells to the waste bin on a plate. In senior school we have excelled in public speaking debates, giving a jolly good thrashing to that school, which shall remain nameless on the south side. Some gels of the hockey type will be going on to find satisfaction in the armed services and we wish them well.
Preparation for life as the wife of a Glasgow entrepreneur, begins, however, in the formative years of a child. It is never too early to think about fork suppers. So, we begin with prizes for the Preparatory  Class who have been practising their curtsies. It is with enormous pleasure that presenting prizes (the books are the gift of an anonymous donor) we have one of our leading, contemporary literary figures. In recent years, she has shocked and puzzled the nation with her gritty tales of horrible murders in rural Scotland. This week sees the publication of her latest tour de force, "Three Little Pigs- How They Squealed" available at John Smiths, the Booksellers in St Vincent Street. Ladies and Gentlemen please give a big welcome to Miss Bunty Haystack."
Whisperings From Above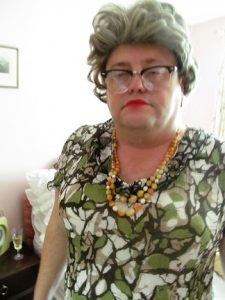 "Well Mrs Wylie, how did she manage that?"
"Goodness only knows Mrs Travers, our woman what does, but extraordinarily little and is now about to desert us for the summer. She refuses nothing but blows. Mind you perhaps that is inappropriate given her love of murder weapons. I think she knows one of the governors, if you get my drift."
"Indeed, I do Mrs W. I once caught her in old Young Auld Jock's chicken shed with Major Iain C. Dent, who said she was helping him to find an old broiler."
"What did you say?"
"I said, well looks like you've achieved yer goal."
"You didn't!"
"I did, well I speak as I find Mrs W. Frankly, I saw something very nasty in the chicken shed."
"Yes, I have heard that about the Major, but then he was wounded in the Dardanelles."
"Well, yous wid never know. All I can say is they must've got a mustard poultice on pretty quick."
"Added to which, she has, of course, a well-oiled publicity machine."
"Aye, I've heard that an'a, too Mrs W."
The Beginnings of  Marvellousness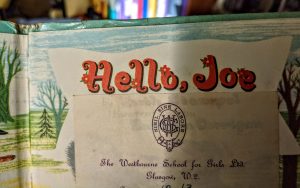 "And the prize for Progress in the Preparatory Class goes to Gayle Wylie Fox, daughter of Sebastian Wylie Fox, the promising actor who sadly is unable to be with us today, due to commitments off Broadway."
"Thank you very, Miss Haystack for my prize."
"My pleasure Gayle; now I hope you will enjoy Hello Joe. It is a story about a crow and how helpful friends can be. That is an important lesson in life. Might I say I have never seen such a beautiful curtsy from a young lady. You must have a particularly good teacher."
"The best, my guardian Aunt Muriel; she is teaching me to be simply marvellous."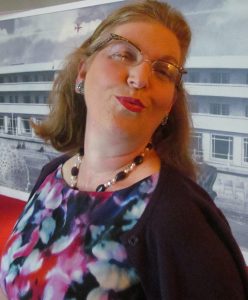 "I am sure you will be and might I say what a lovely dress."
"So very kind Miss Haystack, yes, it is a suitably modest party dress for an afternoon occasion such as this, in lemon, with a brown collar, as you can see. And it's from Copland & Lye in Sauchiehall Street."
"Goodness Gayle you are so like your aunt, well off you go and take your seat."
An Audience is Never What it Seems
"There you are Mrs Travers, there's a wee hanky before you start to soak the programme."
"Och I cannae help it Mrs Wylie. The wean is growing up so fast and I might never see her again."
"Honestly Mrs T, you are going to a summer school in the borders not the North -West Frontier."
"I ken Mrs Wylie, that it's no Inverness."
"Actually, I meant India, but I know what you mean about Inverness. Really pull yourself together. Look Mr Kensington-Gore has his woman,  Beryl, what does for him, and she is a model of lady-like decorum. Not bad for a bookie."
"Actually, Beryl isn't a wumin."
"What do you mean?"
"She's Bert! Used to be a stoker on the Clyde paddle steamers, until he met Mr K-G on a tour of the engine room, when there was a delay at Tighnabruaich."
"Well, who would have known? I swear that foundation is Elizabeth Arden. What about Mrs Kensington-Gore? She's big in floristry, I believe"
"I think ye'll find it's forestry."
"Well, I never. Takes all sorts to make up our world. "
Touched by Lady Pentland-Firth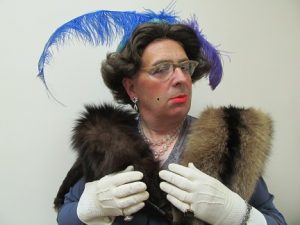 "Thank you, ladies and gentlemen, thank you Miss Haystack and now the prizes for music and movement. It gives me great pleasure to introduce Lady Pentland-Firth who has just returned from Australia and the first SS Canberra cruise. Her ladyship needs no introduction. She is force of nature in the artistic world in the West of Scotland, and it seems fair to say that without her, Glasgow and indeed South West Scotland where she has her vast estate, would be cultural wastelands. There can be few musicians, writers, and actors who at some point in their lives have not been touched by this lady who combines an aristocratic exterior, with a bohemian heart; Lady Pentland-Firth."
A Winning Streak
"Who's that with her Mrs Wylie?"
"You mean the handsome chap with the white uniform and a slightly shell-shocked manner."
"Yes, very easy on the eye."
"No idea."
"Ladies and gentlemen, it gives me great pleasure to award the first prize for Music and Movement in the Preparatory Class to Gayle Wylie Fox."
"How is it Mrs Wylie that Gayle is winning all the prizes?"
"Well natural, inherited, talent I imagine Mrs T."
"Aye right. Any idea who's the anonymous donor of the prizes?"
"I am."
Not Everyone A Winner
"Mrs Wylie, how lovely to see you again, you must be so proud of your ward winning seven prizes and the new Dux of the Preparatory Shield. Whose idea was that I wonder?"
"Too kind Mr Kensington-Gore and Ber…"
"Beryl, she does for me."
"So, I believe, delighted to meet you, Beryl."
"Yes, Beryl kindly agreed to accompany me to day as my wife is on a Constance Spry course in the Caledonian Forest. Now I must find Imo."
"I think she is over there with those frightened looking girls, the ones handing over the money. Pity Imogen didn't win anything, but I couldn't find a book that said extortion."
"Yes well, must be going."
A Chat with the Head Mistress
"Hello, Mrs Wylie I cannot thank you enough and well-done Gayle; all very deserved."
"Thank you Head Mistress; one likes to do what one can to help behind the scenes."
"Mr Wylie not here this afternoon?"
"Sadly, no. We are shortly to depart to America near the United States for the summer. Jasper is terribly busy with 'Chez Nous' as all must be tickety-boo for departure."
"Indeed, which reminds me I am looking for one of your wrought iron magazine racks for my niece's wedding, any chance?"
"Gosh, I don't know! There has been such a demand we have blacksmiths hammering night and day, but I will see what I can do."
"Much appreciated and rest assured, I shall be grateful when it comes to the Christmas play."
"See what I can do."
Patience is a Virtue, Apparently!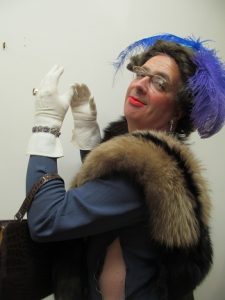 "Muriel coo-eee. Mrs T, did someone mention blacksmiths?"
"Patience, how lovely, I thought you were still in Australia near the other side of the world."
"I was darlings, and SS Canberra is a wonderful boat, but, as to Australia! The place is unfinished and I hate spiders. Besides, I met Chuck;  say hello Chuck. He is a matelot, does navigation and things with stars and set squares. Does not say much, but looks wonderful on the Bridge in his white shorts with binoculars. Don't you Chuck? We came back by Quantas, Mrs T."
"Not by aeroplane then?"
"How drole! I believe you are both away soon on your adventures. Don't worry Mu darling, I will keep an eye on everything, even if you have abandoned me and the Country House Concert Series. Jasper not here?"
"No, he is at the Edinburgh shop, but he should be back for the evening if you want to pop round."
"Yes, I do darling. I bought him a boomerang for the museum of interesting things and a kangaroo for Gayle.
"Very generous Patience, but we must not spoil Gayle, she has to learn that life is not just about having everything handed to one on a plate. Now must head for home, Mrs T is doing a Scone Spread for the prize-winning parents and home-made lemonade for the children. Hurry up Gayle, bring Little Joe; no there is need to lend him to Imogen."
à bientôt
Muriel Wylie
June 1961