This week the Muriel & Jasper Blog features Muriel's examination of "The Lady's Companion", a Victorian magazine. It demonstrates that in many ways such magazines have not changed over time…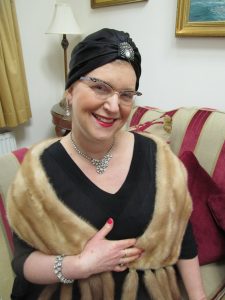 The Woman to Know
I know I have a reputation for being forthright – both in my everyday life and as, (dare I say it) a leading lady of business, not to mention something of a literary lioness, as my contributions to The Glasgow Herald and 'Glasgow Lady' testify. It is not that I seek to impose my views and thoughts on others; it's just that I have learned over many years, and a great deal of experience, that, and I quote "in many things Muriel knows best and gets things done." This is not to say that I do not react to criticism and differing viewpoints. If I might refer to William Shakespeare, one of the best-known Shakespearean writers, "If you prick us, do we not bleed? If you tickle us do, we not laugh? If you poison us, do we not die? And if you wrong us, do we not revenge?" You know where you are with moi.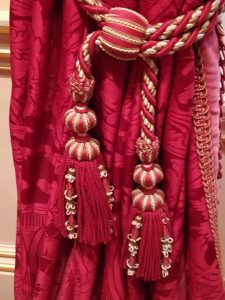 One cannot dwell on this sort of thing for too long, however, and there comes a point when one just has to get a grip and bash on. After all if one cannot trust one's own instincts whose can one trust? It is good to have the courage of convictions particularly when it comes to the females of the species. After all where would I be if I had listened to those who said, "well how can a woman run a business based on tassels and lampshades," or "the sticky oot Scandinavian table leg will never catch on."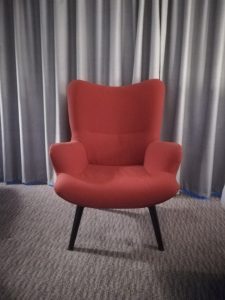 I have dared to be different and my wrought iron magazine racks are flowing out of the shop like snow off a dyke.
Sometimes Those Closest To Us Are Full Of Surprises
Of course a lot of who we are comes from our ancestors. I have been thinking about this a lot over the last week since I found my grandmother's archive and realised that she was in the closet! That is, to say, she was a secret journalist, writing for The Lady's Companion under a number, of nom de plumes. We do not always know our own families as well as we think. I have always thought of my dear Grandmamma as a corseted upright lady who would feel faint at the sight of an uncovered occasional table or an opened bedroom door. She had only to catch sight of a cucumber and the maid had to summon the doctor. It seems , however, that Grandmamma, had another side to her and I doubt very much if my grandfather was aware, that his wife was also "Marion" or "Alison" or indeed "Penelope" of The Lady's Companion dispensing advice that was firm but fair.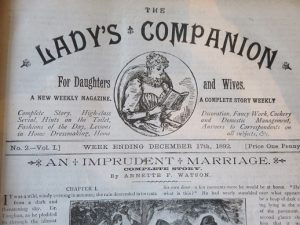 That indeed is where I think I get it from, my directness that is. I have a feeling that my grandmother's persona as a delicate lady confined to the chaise long was more how my grandfather wanted to see her. I sometimes wonder, dear friends, how much of how women experience the world is more to do with how men want them to experience it than the actuality. You will notice that women like me are described as "bossy", whereas men are "leaders." One has to be thankful for women's magazines as the first chink in the curtain. I have been examining some of my grandmother's work in detail over the last couple of weeks and I am happy to share some of her 1890's bon mots with you. 
Fixated on Bamboo and Silk Pongee
The Lady's Companion ran to something of a formula –  fictional stories and advice on areas such as interior decoration, cooking and needlework. In each section the public were invited to write in and ask for advice. They even provided patterns for dress making. The sewing machine was described as a girl's best friend. The home was the focus, but so was taking charge of your home and how it looked and functioned.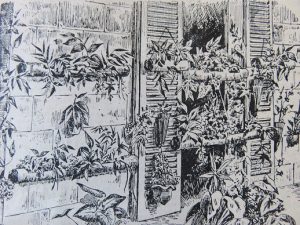 It is clear that Grandmother, like me, had firm ideas about interior decoration. For example, in the summer of 1893 she was fixated on bamboo and pongee silk. I think it safe to say that her bamboo, over-filled plant containers and rustic cedar tree stump in a zinc tray placed by the French windows were the flying ducks of her day. She also pioneered the striped curtains which brought a touch of the tropics to Kelvinside. Afternoon tea was such a lush affair. Sometimes it was hard to know if one was in Morningside or Mandalay.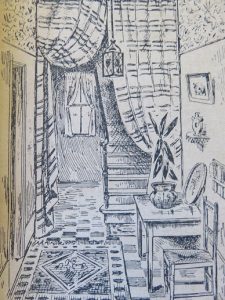 I cannot help but notice that as "Marion," writing about Home Decoration and Embellishment, my grandmother could be at time a little techy with her correspondents as they nervously enquired about scratches on mirrors or their choice of colour schemes which were inevitably wrong. The following serve as examples.
Help to Those in Dire Need
To Miss Florrie S: By grey silk shaw, I presume you mean shawl. China silk will wash, but I think you had better send it to a cleaner. Practise from a copy book every day to improve your writing.
To FW: If there is no top to your bed you certainly cannot fix a valance.
Rye, Essex: I have answered so many "Mauds", it is impossible to remember the requirements of each.
Tortoise Shell: Pongee Silk makes the perfect covering for drawing room cushions, but figured muslin is a must for the bedroom. And do you really think I won't recognise your scrawl Miss Florrie S? Your nom de  plume is ridiculous.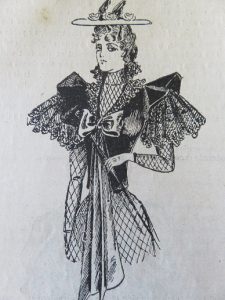 To Edith Maxwell: Your room sounds quite ugly. I should go for hedge sparrow tints.
To Eveline. For so small a room you had better have a yellow paper. Your faded green curtains will have to go, consider art blue with gold pongee silk cushions to contrast.
To Elsie: With a name like Elsie I imagine you are looking for something inexpensive, you must therefore have bamboo and wicker furniture.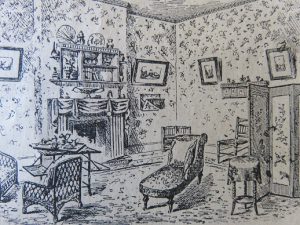 To Minnie: Your rooms sound cheerless with painted walls and oh dear linoleum too. Have you considered bamboo?
To The Country Girl: Oh, dear a room with three doors, how tiresome. An over-mantle might prove to be a wise investment. Pongee silk in the country? Perhaps not.
To The Poor Man's Wife: I think you tease, for if you can buy this magazine you are not poor. However, perhaps it was given to you in which case follow this advice. A pot of paint on a wicker chair can do wonders. Packing cases should not be discarded, covered in blue serge they would make window seats. I appreciate your frugality in wishing to make a dress out of the left over rose covered cretonne from your chairs, but there is a danger that when taking tea if the minister should call, you will all but disappear. We all aspire to pongee silk, but one step at a time or you will end up in the workhouse.
More Wise Words
I must say I do admire my dear Grandmother all the more for her forbearance with some very tiresome enquiries as you will see below. However, it is also clear that home decoration was not her only forte.
To Maggie: Yes, a gypsy table always adds interest.
To Miss Fanny B: Tablecloths, and other napery, should not be the concern of the bride. I feel you are being put upon. I would suggest a lighter pair of blankets and a thin quilt for the honeymoon period. You will have more than enough to bear.
To a Constant Reader: Yes the 24th November 1871 was a Friday.
To Ada Baltic: Your writing is rather too backward to please me. A medium heel is best, but you really should have consulted "Annabelle" about this.
To Nesta: People who do not trouble to use correct English say 'great big' and everyone knows it is not correct. Eyebrows that meet generally denote the mark of the devil. Yes, you can play solos on a five-string banjo. It is best not to smile too much when bicycling even if you do have a sprung saddle.
To Edith: A woman cannot support herself alone. I suggest you go back to your husband and try to win him to a better state of mind by winning him with your love.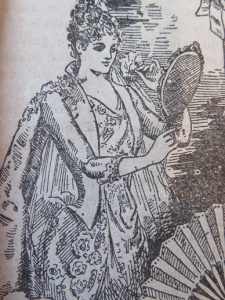 I presume you did not try the hedge sparrow tints?
To Primrose: To commence a business career at 24 is out of the question. I am afraid that it is impossible to make a career out of fancy work. This is a pastime and little else. Really this is "Penelope's" department but I am sure she would say the same. Have you considered marriage or developing an interest in bamboo?
To Doubtful: Do not consider a piano. Emulation is the downfall of many, a comb and paper might do the trick for your husband and a ball and bat for your children. A small bamboo table will do just as well for your family photographs.
To EFK: Do not be so foolish, "Nothing to live for". Indeed, there is –  pongee silk to name but one thing.
To A Constant Reader: You, again. Taking too much interest in how the aristocracy dress is a feature of the lower middle class and leads to envy. I hope you do not belong to this class.
To Primrose: I had pointed you in the direction of Annabel had I not? As I am here – let me say, a woman has no right to marry beneath her. A man can occasionally raise his wife to his own level, but a woman must inevitably sink to her husband's. Give up these sweet stolen meetings I beg you.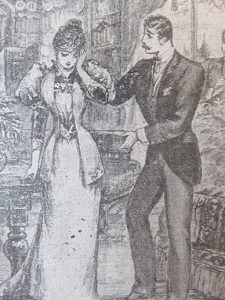 The world beckons and with your tastes in poetry you could soon have a matching set of pongee silk cushions on an ottoman of your very own. Remember when poverty knocks at the door, love flies out the window.
To Madge: What a disappointment to hear you are no fan of fancy work and eau de cologne. Never mind many women are suited to hot poker work and country pursuits, though I do fear for your future.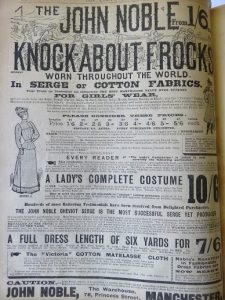 Can I recommend John Noble's "Knock-about Frocks?" I believe a cheviot serge is quite invigorating.  Penelope has the instructions for the cricket bat postcard.
Next Year At 'Chez Nous'
As you can see dear reader my Grandmother did not vacillate on matters especially when giving advice. She said what she meant and meant what she said. We will return to The Lady's Companion later in the season. I feel it has much to offer the modern woman.
"Mrs Wylie."
"Yes Mrs Travers."
"I've yer cousin, Lulubelle, on the phone fur yous."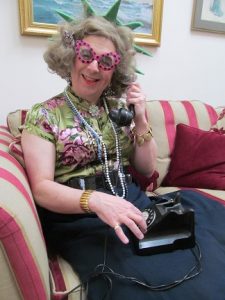 "Good morning Lulubelle and before you go any further, the magazine racks are going through the roof. There cannot be a Radio Times or People's Friend in Scotland that is not contained within the confines of some skilfully twisted wrought iron.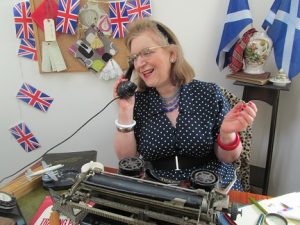 Pardon, the line is not clear, are you telephoning from Tallahassee?  Oh, sorry Tillicoultry. I never know which side of the pond you are on. Next year, yes of course I have thought about the 'Chez Nous' stock for next year. How would you feel about bamboo making a comeback? Good, I am also thinking silk pongee. Yes totally from the top of my head. It's called creativity, Cousin."
Muriel Wylie
July 1960
NB
Silk Pongee is a soft thin cloth and in the late 19th and early 20th centuries was a major export from China. It is woven along the banks of the Yangtze River. It is a good blouse weight and suitable for linings.