We have quite a few new followers of the blog  and many of them are puzzled as to how Muriel has an American cousin. This week we have delve into the archives of the Muriel & Jasper blog to rediscover the story.
Introducing Miss Lulubelle Jackson DuBois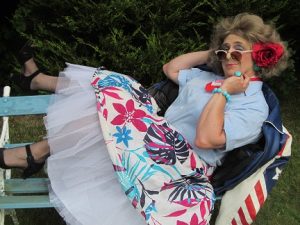 Every family has its secrets and lies and its rivalries. Every family has its annoying relative who, usually lacking charm or sense of humour, enjoys correcting your grammar or raining on your parade. These relationships are established in childhood but continue to cast a shadow over one's life, long into adulthood. We should make a stand but we rarely do. For Muriel her bête noir is her American cousin "Miss" Lulubelle Jackson DuBois, the daughter of Aunt "Macaroon" Mary, her mother's sister.
The MacCavity Family Connection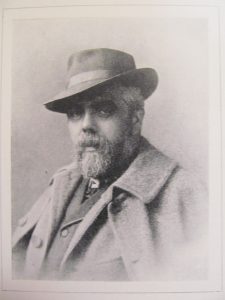 Frank "fast boilings" MacCavity travelled to the United States in the 1880s with business in mind. He took with him his youngest daughter, Mary, known in the family as "Macaroon" for her love of this sweet delight and to help her recover from being jilted at the altar. He attempted to implement his ill fated scheme to promote a new range of multi-coloured jelly babies in the Southern States. In his usual caring way of combining profit with philanthropy he envisaged introducing this extra sugary range of jelly babies alongside a proposed network of Painless Dentistry Surgeries.
MacCavity discussed the idea with a local contact, Boss Clinntone and his highly talented wife who thought any new ideas on making the south healthier were good.  MacCavity suggested that the Painless Dentistry Surgeries should be financed in part by federal taxation. This enraged the matrons of the "old south", and those of the north too come to think of it. They began to meet and have afternoon tea parties to discuss how disgusted they were by this attack on their liberty, not to mention their right to buy jelly babies in one colour of their own choosing. MacCavity was deeply wounded and retired to his hotel room where it seemed to be impossible to get a bed sheet that did not have two identical holes cut into it. Despite his unpopularity, he was puzzled by the arrival of a number of anonymous gifts of matching luggage made from rather smart oriental carpets.
Marriage into the DuBois Family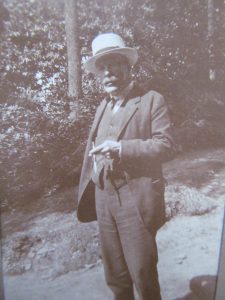 If the business side of things was a disaster then it would have unexpected consequences for Mary, who having recovered from the loss of her first love, promptly fell for Beauregard Jackson DuBois, a smooth talking landowner and iron and steel manufacturer.
The wedding was held at the DuBois Plantation just outside Birmingham and her father returned to Scotland leaving her to her new life in the south.  Mary was entranced by the manners and grace of the "old south" and quickly became the southern belle of Jackson County. However, she soon tired of endless cotillion dances and fiddle-de-deeing and never quite came to grips with the blue grass music scene; it was a bit like having New Year at home in Scotland but all year round.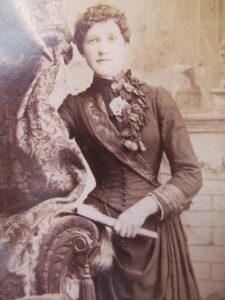 She was a very sociable young lady who was interested in her new surroundings and she particularly enjoyed the company of the many African families who helped to run her husband's estate. She was drawn to their rather lively music and dancing. Things went badly wrong when Mary invited her new friends to the Plantation Christmas Drinks' Party. She thought it would be like the Ghillies' Ball at home, but was sadly mistaken. The DuBois clan were outraged and Mary was confined to her room where Beauregard decided he would show her a thing or two. Things went downhill after that.
Lulubelle Arrives and her Mother Departs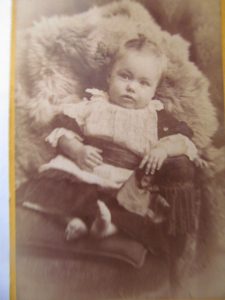 The following autumn Mary gave birth to a daughter who was christened Lulubelle. By this point Beauregard had shown his true nature and his foul temper. Even a wee baby could not save this marriage. One morning Mary had had enough and said out loud "well this is one Scottish southern belle who ain't gonna take no more sassin', no sire-ee".  With the help of some of her African friends she escaped to New York and as far as we know became a singer in a nightclub.
Lulubelle's Early Years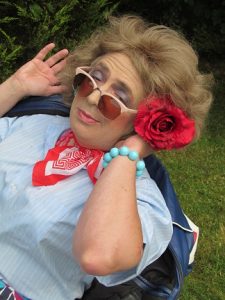 Lulubelle of course remained with her father and his family on the plantation.  As she grew up, Lulubelle was clearly more like her father in stature. Indeed her height and broad shoulders that she inherited from Big Daddy often gave her a rather mannish appearance which rather mitigated against the ideal of the Southern Belle. The red hair from her mother's side which she dyed blonde gave her a wild unkempt Scottish look. This appearance combined with a rather deep voice would lead Muriel to quip that her cousin resembled a pantomime dame from the Glasgow Pavilion, rather than the flower of southern womanhood.
Lulubelle had all the advantages of a southern upbringing. She was taught the finest of manners and the importance of dignity and how to be generally fascinating. Like her mother (or so the DuBois family maintained) she was, however, wilful, aggressive and not at all virtuous. In this and many other respects she broke every southern code; she would smoke and chew gum, wear white shoes out of season and was said to know intimately every hotel from Birmingham to Mobile.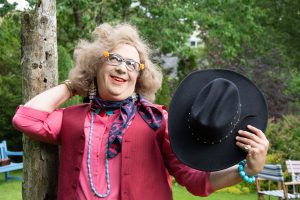 By the age of 28, she had two husbands under her belt (well it was rumoured one was under the porch and the other had provided an appetizer for alligators when he slipped while fishing on a well greased levy). It was just as well Lulubelle was such a good friend of the Sheriff – such a good friend, that it was Sheriff Pressly who first nicknamed her "Southern Comfort". It was widely rumoured that Lulubelle was William Wyler's first choice to play "Jezebel" in his 1938 film which showed "that choices could bring sorrow". Allegedly Lulubelle said at the ladies' poker nights she introduced on Mississippi Steamboats, "Sister women, all I see is thayat ma choices brought me two full pocket books". The role went to Bette Davis.
A Head for Business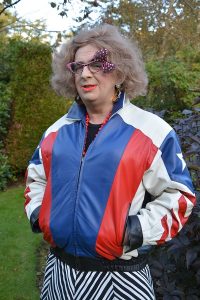 With Big Daddy's iron and steel business and the contents of two silent pocket books, Lulubelle was a very rich woman. Her Daddy incidentally had been confined to a wheelchair after a stroke brought on by shock at the sight of his  former wife on stage with Al Jolson. Lulubelle took on the management of the estate and became rather an expert with figures. She managed to return the estate to something resembling its glory-days, which it had not known since the War of Northern Aggression, as Daddy called the difficulties of the 1860s. It may have been this that led to her setting up an accountancy practice called B.A.T.S. (Birmingham Accountancy Trustees Syndicated Inc.) with the motto "Find our door before the Revenue finds yours."
There were other businesses such as the Confederacy Catfish Canning Company. Who can forget that catchy teatime jingle on the radio, "Catch'em, hook'em, can'em and leave some for your tea" sung to the tune of "Chick, chick, chick, chick, chicken…".
Pastures New Beckoned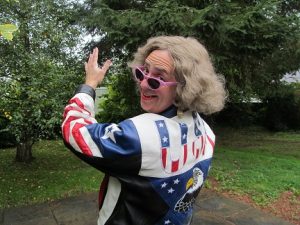 Despite all this, Lulubelle was bored and restless, and one night at her book club exclaimed in the stifling Alabama heat, "I feel y'all like some kinda animal on a hot tin roof, or like a woman in a glass menagerie. Indeed I desire nothing more than to escape on a streetcar – don't y'all agree hunnys." This may be why she married an older retired military man from the East coast of England who saw an opportunity to use his experience as a Norfolk turkey breeder to raise young chickens in Alabama. These were all the rage once the cotton plantations had experienced the boll weevil.
General Bernard Cinders was a kindly man with an eye for the ladies and his eye, and Norfolk landholdings, came to rest upon Lulubelle. It was just as well as General Cinders was not too good with money but knew a good broiler when he saw one. Within months Lulubelle saw that there was money to be made from serving good wholesome food with a southern flavour at no nonsense, and certainly no tablecloth, restaurants. It was Muriel (in a moment of jocularity with her cousin) who came up with the slogan "Breast is Best" which can be seen all over America, or the now legendary, "Lulabelle's Breasts in a Bun – you'll never taste better". Sadly General Cinders did not live long enough to see the success that his wife made of the business, due to an unexplained accident at their marital home.
Lulubelle decided it was time to get to know her Scottish family a little better and in 1953 bought an estate in the Highlands and came across. While Muriel finds her trying, Lulubelle stepped in to help save "Chez Nous", after it was discovered that Miss Berry and her paramour Mr Napier in accounts had not just one hand in the till, but all four of them. Lulubelle was bought up on the premise that you help "your folks" and as Muriel is closest relative, she stepped in.
And that is how Muriel has an American cousin!