This week Muriel meets with three of her friends.
 Daniel Is In His Den
"Good afternoon Mrs Wylie, is that you for your 2.30 with Daniel?"
"Well it isn't anyone else."
"Excellent. Sorry to say but Daniel, or as we like to think of him Mr Backcomb, has sprained his wrist during a rather energetic demi-wave, so I have slipped you in with Rita from the Shawlands salon."
"But that is on the south side."
"It's OK Mrs Wylie, Daniel said you wouldn't be too pleased, but I have checked and Rita has all her facilities, well most of them anyway, she's a bit hard of hearing."
"Well I suppose beggars cannot be choosers and I need to look my best."
"Mr Wylie taking you somewhere nice?"
"No. I have important business meetings, that's what women who mean business in Glasgow do. Anyway, Mr Wylie wouldn't notice if you dyed my hair purple."
"It's very popular with older ladies Mrs Wylie, brightens the silver."
"Just as well I am neither old nor silver."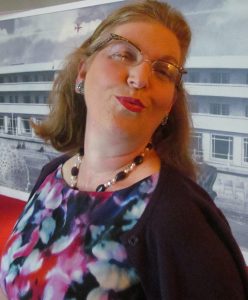 "Now if you will allow me to take your fur coat, I will hang it up; padded hanger of course."
"Daniel always puts it in his office he says he knows blonde mink from Karter's when he sees it."
"Of course, now let me get you gowned up. Daniel told me that you have a special cape in a fashion fabric so that passers by can see you from the window."
"Yes, and my special comb and scissors are in a box labelled, "Star Client's", but never fear you won't get your implements muddled up I am the only one."
"Now let me just take you to the V.I.P. section at the back next to the Cona Coffee stand and I will pop you next to Mrs Macaulay."
Introducing Rita from Robroyston
"Hiya Mrs Wylie. I'm Rita from Robroyston, currently on secondment to Shawlands, but today sub-seconded to Byres Road. I will be your stylist for this afternoon's adventure with your crowning glory. Been any holidays yet?"
"No! I have not and please if you wouldn't mind cutting back on the adventures, I would be grateful."
"Good cut, of course."
"The girl at the reception desk says you're normally a morning client. Did yous sleep in? Was it a heavy night, was there one too many wee swallies?"
"With my perfect skin, maintained by decades of Pond's Cold Cream, do I really look like a woman who has been, to use your vernacular, on the ran dan?"
"Sorry Mrs Wylie yes, of course – will someone turn the radio down?"
Another Opening Etc., Etc.
"Actually, I was busy this morning as always. I had to be at the Kelvin Hall, where I was guest of honour opening the Milk Fitness Show."
"Really, sounds exciting."
"Yes, it's the 12th Annual Show of  Dairy Breeds contest, promoting physical fitness in man by drinking milk and in beast to produce it, in prime quality and freshness."
"I do like a glass of milk with a fry up m'self, takes away aw that greeese."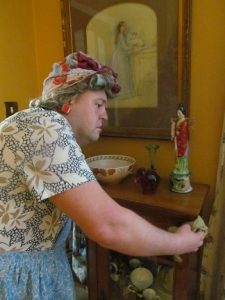 "If you say so, I wouldn't know. My daily woman what does (but not a lot) knows better than to present a full Scottish breakfast swimming in grease. I am, myself, a hot water and lemon lady of a morning, but my husband is partial to a bit of Belfast ham and black pudding."
"A bit more off the side, did you say? I said could someone turn the radio down I cannot hear the client."
Nuns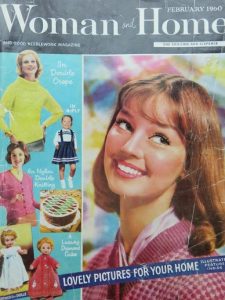 "Oh Muriel it's yourself. I didn't see you there and this dryer is rather on the noisy side. I was just totally engrossed in Woman and Home, there's a marvellous piece on Audrey Hepburn- she makes a wonderful nun. I am just reading Gay London's Gossip, and I was thinking about your lovely nephew and his good friend Dimitri, the ballet dancer. Have you heard from them? Still in that New York I imagine."
"Oh Lottie, I didn't recognise you, you look so drawn under the dryer. Still never mind I expect it's this lighting, rather unforgiving. I must have a word with Daniel.
To answer your question Sebastian is well. I had a full report from Cousin Lulubelle who says he is under-studying in a new play on Broadway which coincidentally is about nuns."
"Really? Well I never Muriel, don't tell me he's playing a Nun".
"No of course not! He's a Nazi."
"Nazis and nuns?"
"Yes, he's telegram boy and has a bicycle."
"What's it called?"
"The Sound of Music, apparently we are getting it on the London Stage next year."
"We should have a girls' trip Muriel. Now have you read Black Narcissus? That's about nuns. No Nazis but repressed urges you can really feel. Oh this dryer is getting too hot!"
"Rita could you just turn Mrs Macaulay down; she's getting rather hot and bothered."
Milking Things
"Thank you Muriel I don't know what's happened to my girl, she won't be getting anything extra at the end today. Anyway, what are you doing here Muriel? You're usually here in the morning."
"Well as I was just telling Rita I was opening the Milk Fitness Show at the Kelvin Hall."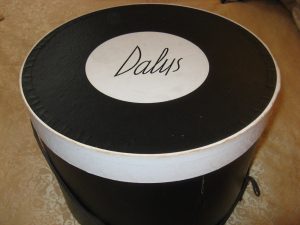 "Oh really. Now I did meet Lady Pentland-Firth in Daly's carrying a hat box this morning and that's where she said she was going. Something about physically fit farmers, sounds ghastly. Who organises it?"
"It's the Glasgow Cooperative and the Glasgow Agricultural Society."
"I find it hard to think about milk on such a scale, although I do like a glass with an omelette. It takes away that greasy feeling. I am sure you would agree."
"You forget Lottie, I was Cordon Bleu trained; my omelettes hardly know what grease is. Elizabeth David learnt her technique from me you know.
Actually, the whole thing has been very imaginatively done. The importance of milk is interpreted through…"
"Don't tell me… dance."
"Well, in a manner of speaking, yes. There is a grand variety show with all the acts underlying the importance of milk and health. There's Scottish Country Dancing…."
"I knew it!"
"Also trampoling acrobatics, pole vaulting and a high jump contest. The Scottish Milk Publicity Council is also putting on 'Fun and Frolics' in the large byre which is the centre piece of the Kelvin Hall arena."
"Well whose idea was that?"
"Need you ask?"
Know Thyself
"Oh, I should have known. Muriel you are so clever. No wonder you are an international woman who means business. I am just an overdressed nouveau riche woman of limited intelligence, married to a philandering millionaire bungalow builder who has made a pile in concrete."
"Well Lottie, they say the first step to change is self-awareness and you seem suddenly to know yourself inside out. And by the way horizontal stripes on a two piece costume are unforgiving on a woman who is partial to a greasy omelette. By the way how many eggs do you use?"
"Too many no doubt, but I do add milk."
"Oh no! Not milk! You never add milk; a little cream yes, but milk – no!"
"Oh, here comes Lady Pentland-Firth."
The Country Woman Comes To Town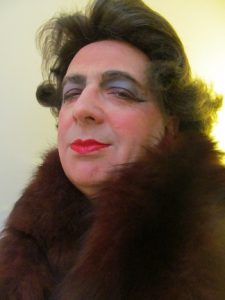 "Good afternoon Muriel, Lottie. I am Daniel's three thirty, but I understand Daniel has sprained his wrist. Doesn't surprise me. Apparently, I have Beryl from Blackhill who is seconded from the Broomhill Salon. I am normally here on Wednesday mornings when I am in town. I have been assisting some farmers with milking in the Kelvin Hall, it's all about physical fitness in man and beast."
"I do know Patience; after all I opened the show."
"Oh, sorry Muriel. I forgot it was you. I thought it was someone well known and I cannot be bothered with those speeches. I am a country woman at heart, I just wanted to see the beasts."
"We can quite imagine Patience."
"Lottie you really must go, there are butter and cheese stalls and well fired rolls with bacon and a Milkshake and Ice Cream Parlour, all the rage across the Pond. As someone who is not bothered about appearances, you could have a ball tasting all the goodies. Muriel I was surprised not to see Jasper there. They have a hysterical, I mean a historical, section which would interest him – you know old dairy bygones that sort of thing."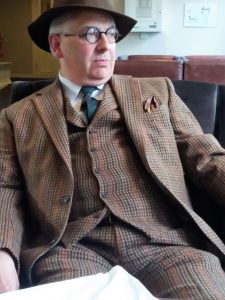 "Yes he going this afternoon; he wants to see the milk maids in the Milkshake and Ice Cream Parlour and Miss Milkshake of 1960 is going to be there too."
"Hmm, I can imagine dear Jasper having a bit of a thing for gingham and plaits."
"She is serving the MacCallums."
"Whatever you say Muriel."
The Fourth Woman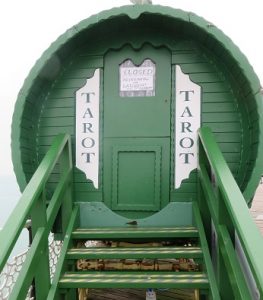 "Sorry to keep you your Ladyship, that's Beryl just finished her last client. If you would just like to come over here and make yourself comfortable while I get Miss Haystack's coat. She's been a bit under the weather, something about Brighton and a gypsy caravan crushed on a train. Such a vivid imagination, but I suppose she needs it for her line of work."
"Good afternoon Lady Pentland-Firth, Muriel, Lottie. I am normally a Thursday morning, but Daniel has sprained his wrist and they said they could fit me in if I didn't mind Beryl. I am heading for the Milk Fitness Show, thought I might get some ideas for my new book 'Death in the Dairy' and its sequel 'The Milk Shake Murders'. I have a new book deal with Messrs Crow, Step and Gable. Has everyone been?
"Not me, Bunty. Muriel opened it and Patience has been learning to milk it, or something like that."
"Well Lottie you could come with me. We can get a taxi; it's cats and dogs outside. There's a special milk pudding stall. We could treat ourselves and anyway I know you don't bother about your looks either so we could have two – my treat. And anyway I would welcome your opinion on the possibility of something gruesome with gingham and plaits.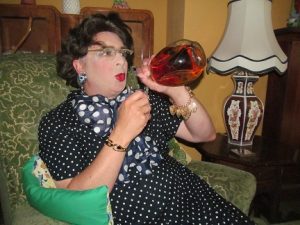 "Indeed Bunty that sounds like fun, if a little wounding, and my husband can just get his own suppa if we are late. We could all meet up for drinks later. What about you Lady P-F? Oh sorry. I always forget about your little drinky-pooh problem; silly old me. And Muriel, what about you or have you given up gin for Lent?"
Gaiety and Sausage Sizzles Ahead
"Well Lottie I see that despite an hour and a half under the dryer in a most unflattering colour combination you have lost none of your rapier-like wit, which is such a novelty in the nouveau riche of Glasgow's bungalow land. No, I shall see you ladies later. I have been invited to the young farmers' 'Night of Gaiety'.
"What a pity your nephew is not here Muriel and that ballet dancing friend of his Dimitri, do you know Dimitri Bunty?
"I met him once or twice, funny lad reminded me of someone."
"Has an arabesque that would make you swoon. Oh for goodness Ladies, don't look so shocked – it is 1960. Lottie you are looking a bit red in the face, best get out in the fresh air. Don't forget our meeting tomorrow to discuss the sausage sizzle for the Destitute Sailors' Society or we shall be all at sea!"
Muriel Has Sacrificed More than her Cherry
"Well Mrs Wylie that's you almost you done. Have you really given up gin for Lent?"
"No Rita, a much greater sacrifice."
"What's that?"
"The cherry."
"Oh Mrs Wylie, what a brave woman you are."
"Well Rita I said to myself Muriel if you are gong to be a martyr might as well make it big and go for the maraschino."
"They are right; you really are marvellous. Now let me get the mirror, there you are."
"Oh! What have you done Rita? I look like Mary Queen of Scots after the axe. Get me Daniel on the phone – he can hold his scissors in his other hand!"
Muriel Wylie
Lent 1960.