A Wee Refreshment at the Club
"A restorative brandy if you wouldn't mind Andy."
"Not at all Mr Wylie and might I enquire after the simply marvellous Mrs Wylie?"
"Indeed, thank you. My lady wife will join me later. She is quite well and currently engaged on missionary work of a most important nature."
"Spreading the word among the heathen perhaps?"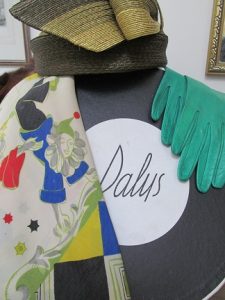 "No, she hasn't been in Helensburgh for years. Far more serious than that. As we speak, she is fighting her way through the jungles that are the Easter millinery displays at Copelands and Daly's."
Down Memory Lane
"A pincer movement in Sauchiehall Street then Wylie Old Boy?"
"Precisely Colonel. Care to join me?"
"Don't mind if I do, mustn't linger though got a regimental dinner at the Central Hotel, guest of honour don't ye know. "
"Snifter Colonel."
"Pink gin would be capital and a packet of those crispy things with the little packets of salt. Long time until the beef wellington and Mrs Colonel keeps me on short rations."
"Me too. Have you had a busy day Colonel?
" So, so. Bit of a trip down memory lane really.  I have been for one last trip to Mary hill barracks, they are tearing it down Wylie. Can you believe what they are doing?
Maryhill Barracks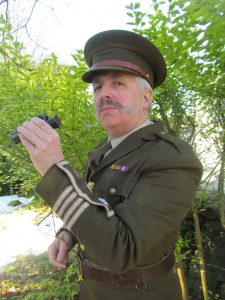 "Oh, indeed I can; they do many things and not always for the best. Were you based there?"
"There with the Argyll and Suffer'ins, before we left for India, of course we have lost that too now, they saw to that."
"I think the people who lived there rather wanted it back Colonel, it wasn't ours to hang onto."
"Steady Wylie, heard you are a bit of a pinko."
"Drinks gents and a packet of crispy things with the little blue bag full of salt for you sir."
"Splendid Andy, keep the change."
"But I am paying Colonel."
"So, you are Wylie, sorry about that put it down to sunstroke, went a bit doolally. Had to have a month in Simla. Keep the change anyway."
"Cheers Colonel! Do you know much about the Barracks?"
"Not really spent most of me time in the 'Elephant and Bugle', I expect you do though, they say you are a bit of a history buff?
Jasper And History
"Well, a little, the Maryhill barracks were established as the city grew and so did the fear of "riot and tumult." Maryhill was a separate burgh of course and became something of a garrison town. On the one hand the locals were kept in order and on the other the troops were thought to have gone native. This was particularly the case in 1919 when the 40 Hours General Strike took place. Then of course Rudolph Hess was held there and Charles de Gaulle visited."
"Another couple of undesirables. Ever been abroad Wylie? It's hell. Let's have another Andy. All I can say, this whole European idea – not good at all, suppose you are all for it?"
"Well,  if it keeps the peace Colonel."
"If we had kept the peace, I would not have been promoted to Colonel. Anyway what about this new housing development. I understand there will be homes for 1,900 families in high flats."
"So, they say."
"What about you Wylie how has your morning been at that shop of yours with Mrs what's her name?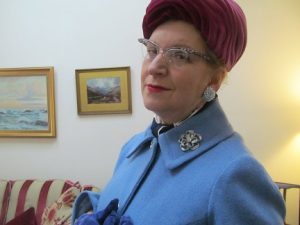 Anyway fine figure of a woman your lady wife, good winter model, would have gone down a treat in the Khyber Pass."
The Gorbals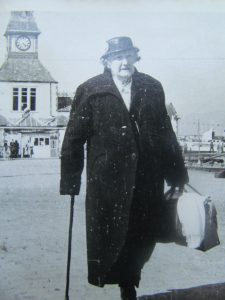 "Actually, I was also on a trip down memory lane. I went to the Gorbals, thought I would have a last look at 23 Florence Street. I loved there with my Granny Wylie, she entertained the troops in the first Unpleasantness."
"Which regiment?"
"Most of them, I believe."
"Your old house still there?"
"Just, but it was a tenement with an interesting history, home to Irish immigrants escaping the famine and poverty, for yet more poverty. They had an outbreak of Bubonic plague there in 1900, hushed up of course. Now it's all coming down and the people are being exported to prosperity in the aim of making Glasgow a noble and attractive city. 100,000 slums are to be cleared but there is only room for 40,000 houses on all the sites throughout the city."
Skywards
"So Wylie, where are the people going?"
"Operation Overspill will provide homes in 29 areas for a quarter of a million homes beyond the city."
"Tall order Wylie and I am a strategy man myself, sounds like some radical solutions are needed."
"The planners intend to build upwards, so it is really is a tall order as you say! The plan is to construct homes which will be high, wide and handsome. The Glasgow skyline will be changed for ever. According to Professor Stevenson, Director of Housing Research at Edinburgh University, we will give people dignity by sending them skywards in lifts."
"Suppose the lifts break down?"
"I am not sure they have thought about that. Muriel, my lady wife, says it's the usual thing – men make plans and women push prams, except in this case of course they might have to bump them up a few flights of stairs."
The Colonel See Trouble Ahead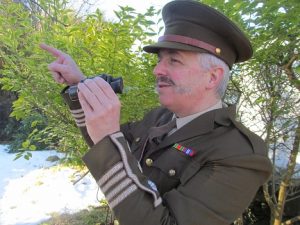 "What about provisions old chap."
"These will be provided by shops in Arcades below the flats, it will be like Marseille or Nantes where they have "Unite d'habitation. It is very Le Corbusier. The idea is that flat dwellers go up and down to their luxury cabins, each with its own private deck, alone yet part of a community."
"Marseille, Nantes? But Wylie that's abroad? Have you been? Ghastly!"
"It is well intended."
"The road to hell, as you know Wylie, is paved with good intentions. At times like this I wonder what the old Iron Duke would say? Wellington was a 'details man'. He would want to know not so much where the enemy were, but who was making the roads to move the troops; who was organising the beef to come done on the Scottish Drove roads to feed the men; where were they getting food and clothes from; what about scythes to cut forage. He described his men as "the scum of the earth", but he was dashed annoyed that their cutlery was less good than the French. So what about roads, heating lighting etc.?"
"Well Colonel there is to be a ring road going right through the centre of Glasgow linking many of the 29 areas."
"Through the middle? Preposterous! And heating?"
"All electric."
"Sheer stupidity! No one will be able to afford it; the houses will be riddled with damp. I tell you Wylie, in 60 years they will all have been demolished.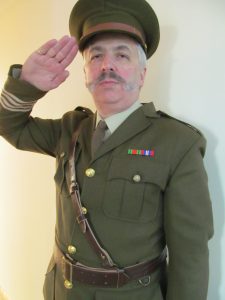 Anyway I had better get into me dress uniform, takes quite a while to get the medals on, but look Wylie it has been splendid talking to you, we must do lunch next week; bring the Mrs. Perhaps you wouldn't mind getting this one – bit short today. Oh, and who is that magnificent woman coming up the stairs, with hat boxes? Love a hat box, all those ribbons and the tissue.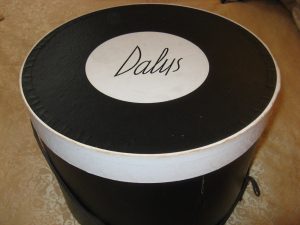 It's Mrs Wylie, golly Wylie you are a lucky chap! Are those slingbacks? I am very partial to sling backs and a heel myself, got the ankles of course. Toodle pip."
Muriel Arrives
"Hello Jasper; just bumped into the Colonel at reception, or should I say he bumped into me. Dropped his walking stick on my foot and then while grabbing my ankle, asked me what size shoe I was. It's a wonder we won the last two Unpleasantnesses, it really is."
"He's invited us for lunch next week."
"Well, I shall require armour plating. What have you been up to?"
"This morning I went to Florence Street for a wander and then dashed into John Smiths in St Vincent Street for a book I had ordered on Lord Raglan. I got you a new book about Elizabeth Rigby, Lady Eastlake."
"The pioneering woman journalist?"
"Yes, it was 18 shillings, but you are worth it. And I bought this for Gayle, it's Mrs Happiness and Miss Flower, the Japanese dolls. It's the very latest in Rumer Godden's doll series. There are also instructions about making a Japanese dolls' house including creating a miniature garden."
"Oh, that is lovely Jasper, she was in India you know. I wonder if she knew the Colonel? "
"I think everyone knew the Colonel. I got a book for Mrs T as well about Annie Besant and the Match Girls' Strike. Apparently she is thinking of a Social History Course at the College next year."
"Mrs T and labour history that does not bode well Jasper. I have already paid quite a lot for the Sociology course for her."
"It seems she may be eligible for some sort of grant."
"Just so long as she gets that carpet turned on the stairs."
Hats, Hats, Hats!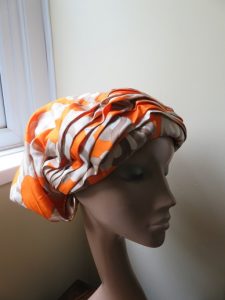 "How was your day on the Maginot Line of ladies fashions?"
"Wonderful. I could not decide which of three Easter bonnets to buy so I just took them all. I owe it to myself, Jasper.  Look one with a sea anemone effect, with petals of soft organza; this lovely turban of orange and white silk and lastly in black straw and lightly veiled."
"Was that Pettigrew and Stephens?"
"Oh no, Jasper Dahling; these are Daly's. I couldn't carry anymore. Pettigrew and Stephens are sending a boy round with the others.
Just in case you think my day has been nothing but shopping I also called into the McLellan Galleries where they have an exhibition called GROW about Glasgow's overspill plans; they are going to flatten your childhood memories."
"I know dear, and I am not sure that ultimately it will be that much better."
"I am sure you are right, Jasper  but Cousin Lulubelle our business partner and an American says a quarter of a million people moving house means an awful lot of new long-john coffee tables, wrought iron magazine racks and ruched scatter cushions to put on faux leather suites. I have been speaking to Sir Basil Spence and he is building twenty storey flats on stilts, everything is going to be electric. That is rather a lot of table lamps".
Profitable Newness
"I suppose so Muriel but I just wonder how Granny Wylie would have coped flinging the lavvie key and a  jelly piece out of the window if she was 20 floors up. Have you any other money making schemes up your three quarter length sleeve?"
"Well yes, as a matter of fact I do. Have you seen the profits results from Grattens's Warehouse?"
"You mean the Bradford Mail Order Firm?"
"Exactly their pre -tax profits are 3.5 million."
"I don't understand how it works Muriel."
"Well it's an American idea. You join a club, get a huge catalogue and can pay monthly.  You need never go out except to post the order and the payments. All you need is good advertising and warehouse space."
"Where would we get that?"
"The new overspill areas also have industrial sites. The Corporation wants new businesses to provide people who are being decanted with jobs."
"Sometimes Muriel you are more like your cousin than you realise. Next thing you will tell me is that one day you will be able to order these things by typewriter."
"Jasper that is a flight of fancy. Now shall we order? I am so hungry. To paraphrase your Granny Wylie 'I could eat a deid horse chit'. I hear the liver and onions in a sherry and sage sauce is very good and let's get a bottle of something. Lent is nearly over, no one's looking and they are hardly likely to have cooked the liver in Amontillado."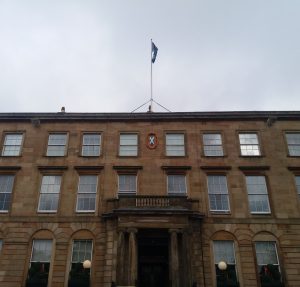 The Wylies at the RSAC Glasgow March 1961