From: The Desk of Mrs Muriel Wylie, International Decorator, Washington D.C. 
To: Mrs Lottie Macaulay (Wife of the Bungalow Builder who is in Concrete)
Next Door to the Residence of Mrs M. Wylie, Glasgow's Exclusive West End, Scotland 
Dear Lottie,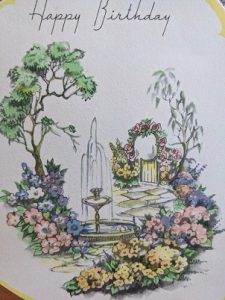 How kind of you to remember my birthday with a card from last year's selection at the Post Office. I of course do not mind, but others (rather fussier than myself) might object to a yellowing envelope.
Of course, I shared my birthday with the President and First Lady's Wedding Anniversary. I think this helped make the occasion for them. Certainly, the First Lady kindly made an illusion to the help I had given her with her wedding dress and how much help I have been in cementing her position as a fashion icon in my own image.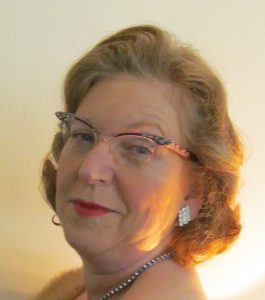 Talking of cement, how is Mr Macaulay? Are you still in separate bedrooms, or have you managed to deal with that floozie of a secretary? I think in future you should insist on sitting in on interviews and then you will be able to spot tell tale signs such as balcony brassieres before 6pm and an inability to place a sheet of carbon paper the right way round. It is also the case that no secretary worth her salt pulls out a sheet of quarto from a typewriter without loosening the roller first. One sees this so often in films and it is just so wrong. Sometimes I think, dear Lottie, that men would be best kept on that stuff they put in their tea in the trenches.
Between you me and the gate post, and please not a word to Bessie, the President could do with something in his tea for he has taken a bit of a shine to me. Of course, I take it all in my stride. However, the occasional firm word has been necessary not to mention one or two of my famous looks and the threat that there might not be the gift of one of my limited-edition Mackintosh Squares when we leave. Fortunately for this past couple of weeks he has been busy with underground nuclear testing. Although I suppose that might be a euphemism.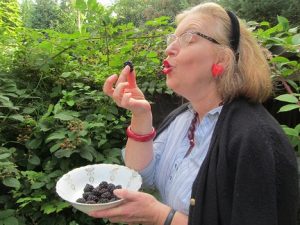 I must admit knowing that autumn is in the air makes me a little homesick for Scotland and I shall miss making raspberry jam and collecting brambles and the sight of Mrs Travers preparing the store cupboard for winter.  Out of interest, I wonder if your woman what does has heard anything from Mrs T. A letter from Hairy Mary makes me suspicious that she is not attending to her duties as diligently as she should. Jasper had a brief air mail from the college saying she was working on essays about Kitchen Sink Drama and New Wave Cinema. Apparently, she has been elected as student representative on the Academic Council as she always brings a traybake. I fear she may never be totally committed to damp dusting in the future.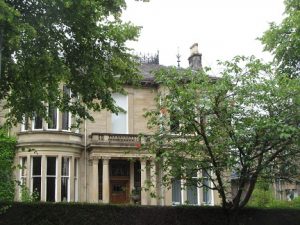 It is very good of you to look after our "much sought after, but seldom found" town house, even although it puts yours a little in the shade, both literally and metaphorically. You might of course pick up one or two little decorative hints when you pop in. I would be very grateful if you could just check that Hairy Mary from Inveraray is putting the milk bottles out in a sparkling condition.  One does not want the neighbours thinking that in my absence, there is a turn towards carpet slippers and socialism.
I have had a report back from Westbourne School that young Gayle has settled in well and that she quite unexpectedly, but "deservedly" came first in the special My Summer Holiday Show and Tell. I hear that Sheena Gardner's daughter, was a bit upset at coming second with 'Memories of Montrose'. I am quite sure the headmistress saw through that rather crass ruse of Sheena's with her "Oh, I was just passing so I thought the staff might like some of my home – made shortbread" routine. Who would dream of using bribery to influence a school competition? As they say "you can take the girl out of Stewarton….."
Jasper is quite well, thank you, although he worries about the Hysterical in his absence. He does, however, have lots of new ideas for themed evenings in the future.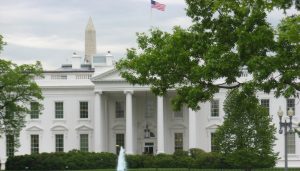 The White House have been very good at laying on entertainments for him while Jackie (we are on first name terms in private; I gave her leave) and I are up to our necks in fabric samples. Jasper saw Roy Emmerson beat Rod Laver at the U.S. Men's Tennis Open at Forrest Hills and we both saw Darlene beat England's Ann Jones.
We have been given tickets to see a new play by a Samuel Becket next week called Happy Days at The Cherry Lane Theatre. The location of the theatre sounds more promising than the play which features a very talkative woman called Winnie waist deep in a mound under bright lights and a henpecked husband called Willie. While of course this does not reflect our experience, a fundamental for drama I always think, I am prepared to give it a go. Apparently, Mr Becket has said "strangeness" is a theme. Now on that point I have to say this can be a rather strange country, I think I have already alluded to the chicken legs and lack of cutlery. Talking of strange things, a couple called Betty and Barney Hill have said that they saw a mysterious craft in the sky and that it tried to abduct them. I am thinking of trying to contact them as it might be useful regarding one or two members of the Women's Rural.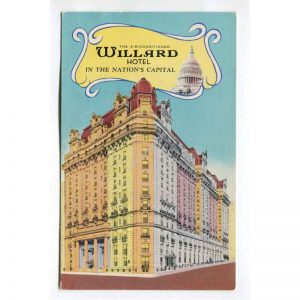 Must dash Jasper and I are having lunch at The Willard, and I am going to look for a little something for you at Garfinckel's.  Jasper says, he doesn't like it as it is a rather strange shop. It upsets him that all the faces he sees in it are white, which does not reflect the population of DC. He does have a point.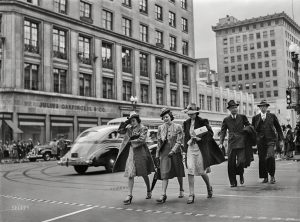 However, they do store furs over summer, sell Dior and Hartnell and have a lovely tearoom and a pastry cart. The French ambassador's wife gets her hair done there. At this rate I am going to need another suitcase for when we return.
With fondest love
Muriel x
P.S. perhaps you might tell the manager of Daly's restaurant that I have an idea for a pastry cart. It would be a sensation in Sauchiehall Street.