At the Bus Station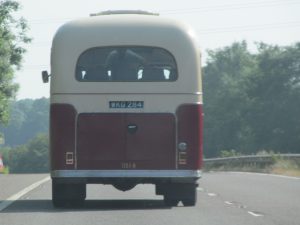 "Mrs Travers will you get into that bus, or I shall have to send for reinforcements."
"I dinnae think I can Mrs Wylie. Who'll look after yous an' Mr Wylie when I'm  awa' at the adult education summer school? Who will turn the washed Chinese rug, sweep the stair carpet with tea leaves and whitewash the coal in the drawing room grate as per Sandringham House in Edwardian times?
"Mr Wylie and I will be perfectly fine and anyway we shall be in America near the United States, so you would be under-employed in an unfulfilling way."
"Aye ken Mrs W, but some – one needs to take care o' the much sought after West End home and the Rural Bolthole in an unexplored 'Shangri La' in South West Scotland."
"Here have this handkerchief and dry your eyes."
"Swiss lace trimmed?"
"Of course."
"Thank you. But suppose yous are  hit by wan 'o they ice bergs in the Atlantic and perish in a dramatic manner wi' Mr Wylie clinging to Irish dancing folk from the steerage section."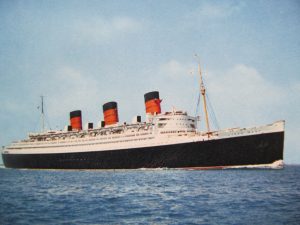 "It's the Queen Mary, Mrs Travers, not the Titanic. There are enough life jackets and boats. And anyway it would be the end of this exciting drama about a woman of business who triumphs in the face of post war difficulties to create an interior design empire based on wrought iron magazine racks."
"Is that yous goin' all fourth wall again?
"Exactly."
"I thought so. "What about Mr Wylie?"
"He is more brick wall."
"Like all men."
Everything is Under Control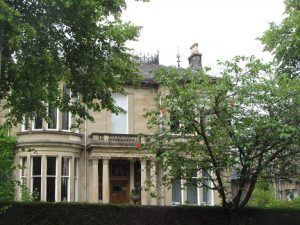 "Anyway, to put your mind at rest, I have arranged for a skeleton staff for the Glasgow house from the West of Scotland Servants Registry – just to air the place. Mrs Lottie Macaulay, (our neighbour and wife of the philandering Bungalow builder who is big in concrete), says she will keep a roving eye on the place as she is very practiced in keeping an eye on the roving Mr Macaulay. As to the Rural Bolthole in Shangri La, well Young Auld Jock is going to maintain the garden and Mrs Y.A.J. will take care of the house. Lady Pentland-Firth will look in from time to time. Does that put your mind at rest?"
"Och, I suppose so. But wit happens if I come back a changed wumin, having had ma eyes opened tae the wider world an' the opporchancities  afforded by an education for those previously socially disadvantaged by an iniquitous class system?"
"Well, we will have to cross that bridge when we come to it. I might equally be transformed by our trip to America, the land of opportunity –  the home of the expense account and cheap oil prizes."
"So, might Mr Wylie."
"What?"
"Be translated."
"Somehow I doubt it."
Mrs Travers Pulls Herself Together
"Here yous can hae the hankie back; that's me pulled ma sel' together the noo."
"Right, the bus driver has just started the engine. Have you got everything?"
"Aye, medication, embrocation, Andrews' Liver Salts, toffees, spare elasticated stockings and plenty o' Askit pooders for the swellin's and sweatin's."
"Splendid now here is one of my special edition Mackintosh Squares for public transport and other places socialists might have sat. Plus, a spare one"
"Oh, don't! Yous're goin' tae start me off agin."
A Lady from Saracen Street to the Rescue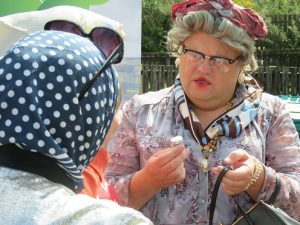 "Hi-ya! Would you be Mrs Travers, a woman what did, about to explore herself in a rural setting in the Borders."
"What's it to you?"
"I'm Maureen from Saracen Street – Amalgamated Society of Glue Workers Shop Steward. We're going to be room-mates."
"I don't think so."
"I have a couple of hip flasks."
"Oh really! Let's get on the bus an' stick together.
"Here, this side looks nice. Window or aisle Mrs T?"
"Call me Esme."
"I am a socialist you know."
"Here, sit on this."
On the Boat Train from Waterloo to Southampton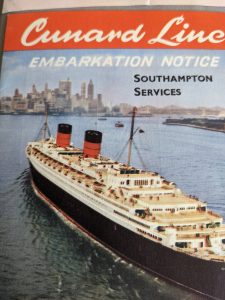 "I wonder how Mrs T is getting on?"
"I am sure she will be fine and enjoy herself. It will do her good to be away from her son Billy and his criminal activities. I just hope he does not use her flat in Maryhill for illicit purposes. Honestly he is useless, like his father. At least young Dean is proving to be bright wee boy."
"Look we are coming into Southampton; I can just see the ship."
"Gayle, Hairy Mary, it's time to tidy up and get ready for embarkation. Look Gayle there is the Queen Mary. Put your comic and colouring book away."
Welcome aboard the RMS Queen Mary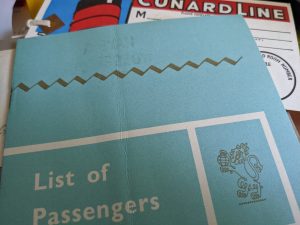 "Captain,"
"Mrs Wylie, welcome aboard the Queen Mary. How simply marvellous you look. So long since we have had the pleasure of your company aboard. Might I say you have only changed for the better, like good wine. What has kept you from us?"
"Oh, the perils of being a successful woman of business, Captain. I never seem to stop bashing about, one becomes a victim of one's own success.  The Glasgow overspill has kept me busy night and day, not to mention my charitable work and a bit of espionage on the side.
"Always a merry quip Mrs Wylie."
"One tries, despite a sea of adversity and a morass if indifference Captain, although I hope our travails upon the sea will not be too adverse."
"You are in safe hands Mrs Wylie, when you are with an old queen."
"Exactly what my nephew Sebastian, the thespian says.  Captain you will remember my husband Jasper, International Man of Tweed and this is our ward Gayle and her nanny Hairy Mary from Inveraray. Poor Mary, she is rather nervous about being at sea and wondering how you find your way in the dark. She is missing her young man at the Gaelic Church with his pibroch."
"I quite understand. Miss Mary, let me assure you there is nothing to worry about. We are Clyde built, have good sailing weather ahead and once the tugs push us out, it is just down the Solent, over to Cherbourg and turn left.
Incidentally, we are planning a Scottish Night tomorrow. I am sure you will be able to keep us right and I am a bit of a dab hand with the old Highland dancing myself. Gayle, how lovely to have you on board. I am sure you will enjoy seeing New –York, not to mention F.A.O. Schwarz, the oldest toyshop in America. Now we have a special playroom for you and the other young ladies and gentlemen. Do you like fancy dress?"
"Yes, especially if I can be a mermaid."
"Well, we are going to have a children's fancy dress competition so perhaps you can be a mermaid. Now here is Jimmy, your Steward who will take you to your staterooms. They are adjoining, please do join me for cocktails later. I believe you will be at my table."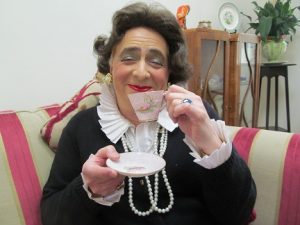 "Good job Lady Pentland-Firth is not here, or she would be under his table!"
In The Stateroom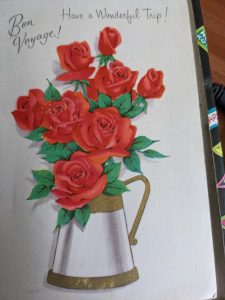 "Very funny Jasper, but Patience does indeed seem to like a man in uniform."
"Or out."
"Jasper, don't forget to tip the steward."
"There you are Jimmy."
"Thank you, Sir, and I couldn't help overhearing, pardon my indiscretion, did you mention Lady Pentland-Firth?"
"Yes, do you know her?"
"I think we may have met in the 1930s in Berlin."
"Oh, quite likely, no one forgets Patience do they Muriel? Do tell what was she like?
"More like Peter, than Patience if truth be told."
"The truth Jimmy can be dangerous and damaging to this story of everyday post war British Stereotypes."
"Quite so Sir, just ring if you require anything."
"Look Jasper, he has unpacked."
"Muriel! It looks as if you have brought most of Daly's with you."
"Jasper, ship-board life requires many changes of clothes, but remember no evening dress first and last night it is just not the done thing. One can always spot the first timers and south-siders."
"Muriel that steward looks remarkably like the handsome stranger. I hope this is not going to turn into some sort of unbelievable spy drama as we cross pond?"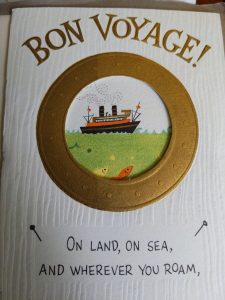 "Don't be ridiculous Jasper! Look isn't that kind? Flowers from Cousin Lulubelle and Jackie and President Kennedy, with a card, 'Looking forward to welcoming you at The White House, have a lovely sail. Bon Voyage'. We are being well looked after."
"What does your cousin say?"
"Hunny Lambs – see y'all on the pier. Are you all bringing any wrought iron magazine racks? I have an outlet. Lulubelle."
"That's Lulubelle always selling! Now let us go up on deck and watch the band play us out.  Gayle, Mary come on bring your streamers and balloons the ship is about to sail."
à bientôt
Muriel and Jasper.
Muriel and Jasper will be away in America near the United States over the summer holidays. There will be the occasional postcard when there is a moment to let you know they are well. On their return there will be a full report about what they have been up to in the White House.  Muriel has also arranged that her secretary, Mrs Lee, will provide posts from the Musings and Jottings Archive.
Happy Summer Holidays everyone.