Our Muriel & Jasper Blog is set exactly 60 years ago from now, using historical material woven into the fabric of the story. This week the narrator introduces us to September 1960….
 The Narrator's Introduction
It is September 1960.
The Beatles, a five strong pop group, have performed for the first time under that name in Hamburg which is quite near Germany.
There is terrible fighting in Congo following independence from Belgium
Cassius Clay, (Later Mohamed Ali) has won a gold medal in the Olympic Lightweight Competition.
The lights in London's West End have been dimmed following the death of lyricist, Oscar Hammerstein II, who wrote, "If you don't have a dream how you going to make a dream come true?"
The Queen Mother "never puts a foot wrong" is 60
An Ayrshire pedigree ram is sold to a Biggar farmer for a record £440 Guineas.
A Pollokshield's woman, living in "that London" has had £11,000 of furs stolen.
Gayle Wylie Fox, ward of Muriel and Jasper Wylie, starts school. 
Mrs Travers is Back  from Blackpool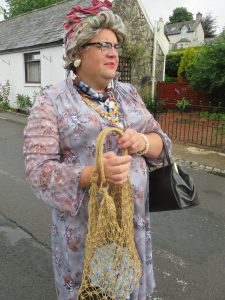 "It's nice to have you back Mrs Travers."
"Aye 'appen, heck as like an' no mistake, I'll warrant, Mrs Dangerfield."
"Wonderful how you managed to pick that Northern Mill town accent up after two weeks in Blackpool."
"Fit in where yous can Mrs D as they say in the back to backs, eating a drippin' sandwich. You should know that comin' frae Wigan."
"I like to think of it more as Cheshire."
"So, Mrs Wylie tells me, does most o' Lancashire."
"That's a bit cutting Mrs T."
"Speak as I find, an' I'll go to the foot of oor stairs. Anyway did you get ma post card, and here's some toffee frae Moffat – the bus stopped there on the way back up."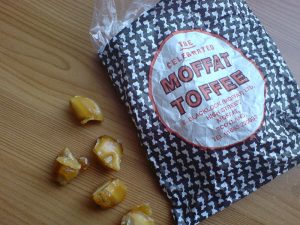 "Yes, a little racy I thought, but I am sure the thought counts. Thanks too for the toffee, not that it will suit my teeth; what with a private dentist and all."
"Aye I noticed that every time yous smile it's like bein' in the kirkyard in the moonlicht."
Attempting to Get Back to Normal 
"Good-morning ladies."
"Good morning Mrs Wylie."
"Morning Ma'am."
"Mrs Dangerfield, that's Mr Wylie just gone down to open up his Museum in a Shed of Interesting things. Mrs Travers lovely to have you back, thanks for the shell ornament, which I will treasure. I shall put it with the others, in my secure cupboard of most precious things underneath the stairs, with the blackout curtains. We got the post card, thank you – a bit racy. Jasper appreciated it, but then he has the humour of a 10 year old schoolboy, state school of course. Is there any tea?"
Bastadus et Rectus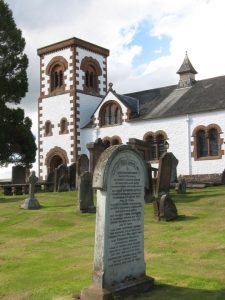 "Yes Mrs Wylie, I've just put a fresh pot on and I thought Mrs Dangerfield could traipse down with it, through the long grass to the shed. Hopefully she will not get attacked by ticks or clegs, seeing as she needs to be on her way."
"Oh no hurry Mrs Travers, Mr Wylie is very understanding if I am a little late. It's nice to catch up and we are quite advanced with our work on Memorial Inscriptions. Jasper says it is good to give the tourists something, and that the graveyard is not just the dead centre of the village."
"Strange notion, but tell me is it true that there is one of the inscriptions  says, "He was a right B, if you know what I mean?"
"Mrs T!"
"Sorry Mrs Wylie. Jist helpin' Mrs Dangerfield feel at home, seeing as she's new to the village. They say understanding local history is a way to feel connected."
"Mrs T, they say many things of course. However, I am not sure that perpetuating local myths is a good idea and what council would allow that?"
"One that doesnae fill holes in the road or speak Latin I imagine. Anywaae as they say this isnae getting' they stair rods brasso-ed. There you are Mrs Dangerfield, two teas –  yours is the wan wi' the sugar in the spoon just in case you need sweetenin'.  Please excuse me if I get on. I've raspberry jam to make or it'll be next year before we can say homing pigeons. Ta-ra pet."
"I wasn't aware you were studying Latin Mrs T?
"It's part o' the twilight course for the new term at college."
"Oh, dear I see trouble ahead."
"Yes, Mrs Wylie, praemisit tribulationis is exactly what I see when Mrs Dangerfield comes into my culina."
Burning Letters to Save Reputations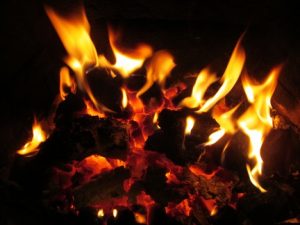 "Well Mrs Wylie, Mrs Travers, that was a lovely brew and as we say in Wigan, I must get on. Mr Wylie needs some help with an article on Daniel Defoe, something about plague so I can't stand here like a piffy on a rock bun.
"Who does she think she is, Gracie Fields?"
"You really are extremely hard on her Mrs T, she is such a help to Jasper, with all his precious things. Jasper says she is even going to stay on this afternoon and burn all those recently discovered letters written during the great snow by you remember who to you know who?"
"Who?"
"You know, him with the big bullocks to her with the open-door policy."
"You mean at New Year?"
"No, I mean everyday."
"Well I'll go once more to the foot of oor stair. I would've thought they were too valuable an historic document tae be burnt."
"Indeed, but they would also bring about ructions in The Rare Breeds Cattle Society, not to mention the likely cancellation of the Library Bus. It took them hours to stop that horn. So, Jasper has decided history must take second place to maintaining rural peace."
"For a while anyway, Mrs Wylie but there's aye somethin' in a small community. Perhaps I could have a wee sneak at the burning. I might be nice to her for the sake o' intelligence – take her a wee glass o' the cooking sherry. You never know when you might need incriminating evidence and I never seem to be first on the list for the latest hospital romance.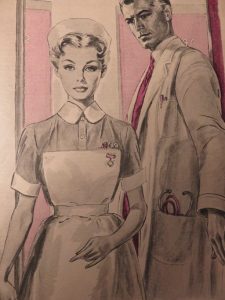 I waited three months for 'Nurse Wayne in the Tropics' and when I got 'Staff Nurse in the Tyrol' there was Weiner Schnitzel all over the juicy bits."
"Well good to keep channels of communication open Mrs T, but she won't need much help. Apparently she likes a fire."
"Oh, I'll bet she does, like a moth to a flame. More tea?"
"Yes, don't mind if I do. Then I need to check that Mary has everything that  Gayle will need for her first day at School. I am going to drive them both there in case Mary gets a bit tearful, you know what servants can be like emotionally."
"Oh, indeed I do Mrs Wylie. Indeed I do."
A German Stamp
"Has the post come?"
"Yes, there's a letter from yer cousin Miss Lulubelle Dubois wi' a German stamp on it."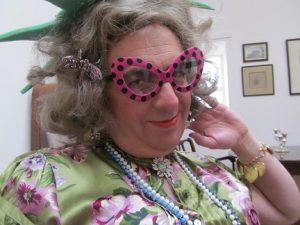 "Oh, dear I wonder what that means, trouble no doubt. She has gone with Lady Pentland-Firth to Hamburg. Do you remember me telling you about those boys we met at a village fête a couple of years back? I can't quite recall the names, but they were quite musical, and I suggested they get together. Not my sort of thing but nice lads and it will suit the youngsters. Well they have an engagement in Hamburg and Cousin Lulubelle must think they are worth listening to. She seems to have an ear for these pop stars. Remember Alvis?
"Elvis."
"Exactly, well she paid no small part in his early rise."
"I can imagine."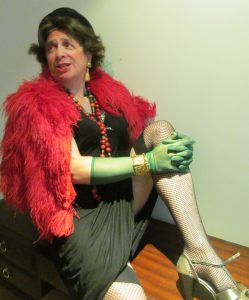 "Lady Pentland-Firth said she would go along for the ride and take a trip down memory lane as she was there in cabaret during the Weimar Republic. She says she always liked a gig in a port."
Mayhem and Majesty
"That indeed has been well documented. The Herald is also here if you are interested."
"Pressed?"
"Naturally."
"Anything interesting?"
"No' really, just the usual mayhem in Africa, no doubt caused by Imperialism and blamed on the locals."
"Mrs Travers I am sure that, overall, the British Empire was a force for good. Sometimes I fear that your sociology course is having an unsettling impact on you. Surely there must be something positive in the news?"
"Well the Queen Mother is 60."
"Are there photographs? I trust you didn't use the steam iron on Her Majesty."
"Of course, not – normal setting over silk handkerchief. I didn't come up the Clyde on a Weston's Wagon Wheel Mrs Wylie."
"I should hope not. Oh that's nice, celebrating at Clarence House, and in a blue and white lace dress showing 'a charming maturity'. You know Mrs T she is like me never puts a foot wrong, but then we both wear Rayne Shoes. Look she is swapping posies with a shy little boy saying if you give me your flowers, I will give you mine."
"Reminds me o' Mr Travers. That's how I ended up wi' oor Billy."
Exciting Times 
"As you know it's Gayle's first time at school on Thursday. After we have dropped her off at school, I will then take Mary to the Gaelic Church Coffee Morning  to take her mind off it all. Gayle will be finished at noon.
While I am thinking about it, I think we all should have nursery tea together to hear all about school from Gayle. I will be out to lunch and I know Jasper is keen to hear all about it. So we need something special."
"What about the Sunflower Flan that Stork Margarine is promoting?"
"Sounds perfect, but margarine?"
"They say yous can't tell Stork from butter."
"They sometimes tell fibs Mrs T, but let's give it a go and perhaps some jelly and blancmange."
"Gayle's nae awfu' keen on jelly and blancmange."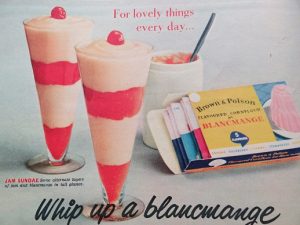 "No, that's for Jasper."
A Shrinking Violet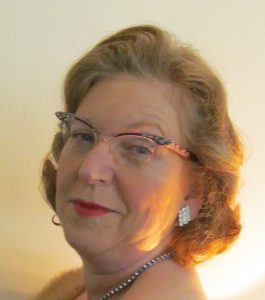 "You must be aff somewhere nice for yer lunch, Mrs Wylie to miss Gayle's first time back."
"I'm invited to The Grunwald Restaurant in Hope Street which reopens that day. I did a few things for the interior and have been invited along. It's very up to the minute. As The Herald says the décor has to be seen to be believed."
"To think that is all down to you Mrs Wylie!"
"Well one does not like to blow one's own trumpet Mrs T."
"I know, not like you at all Mrs Wylie, but don't hide your light under a bush."
"You are so right Mrs T, I shouldn't be such a shrinking violet."
"Are you out this evening?"
"Yes, I am taking Jasper to see Seaward, The Great Ships. It has just won an award at the Venice festival for documentary film."
Know Your Place
"Oh, Mary there you are and Gayle don't you look lovely in your school uniform. Have you got your handkerchief in your pocket? Now Mary don't take on so – we are just trying on her uniform; it's not the school day yet. And it's Westbourne School for Girls not the Highland Clearances. She will be home by lunchtime everyday. Now let's go outside. Uncle Jasper is going to take a photograph; yes and you too Mrs Travers. No Mrs Dangerfield, not you; you are not family."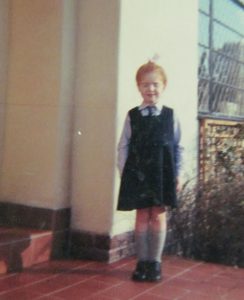 à bientôt
Muriel Wylie
September 1960