"Here is the News from the BBC Home Service, Scotland"
Good Morning, everyone.
In the United States, which is in America, John F. Kennedy has formerly been elected by Congress as the 35th President. The Inauguration Ceremony will take place on 20th January.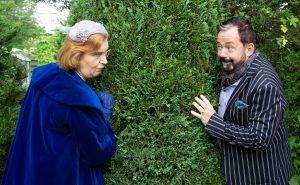 Members of the so called, Portland Spy Ring, have been arrested on the advice of a contact known as The Handsome Stranger and a Mrs Wylie from Glasgow.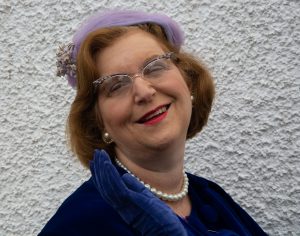 Mrs Wylie said in a statement to the police "Look in Ethel Gee's shopping bag. That is where any self-respecting lady spy would hide a spare pair of 10 denier stockings and her micro dot, containing naval things."  Mrs Wylie went on to say, "This is a truly shocking event". When asked if she was surprised that the spy ring had also involved a couple called the Krogers masquerading as Antiquarian booksellers in a Ruislip bungalow, she replied "Not at all. Bungalows are most suspicious, like deep dark woods, only with Crittall metal windows and pampas grass. One has only to look at my friend Lottie Macaulay's husband who is a bungalow builder on a large scale, and has interests in concrete and a blousy woman in Cardonald."
Sadly, we must report the death of the Farthing coin which is no longer legal tender for the first time since the 13th century, which is quite a long time ago. Many people call this the Middle Ages.
Finally, a new Betting and Gaming Act permits, for the first time, the opening of Bingo Halls, this being a game that has grown popular at Holiday Camps across Britain. According to a representative of the Church of Scotland, who declined to be named,  this will allow working class women to neglect their domestic duties and quite possibly lead to the breakdown of society.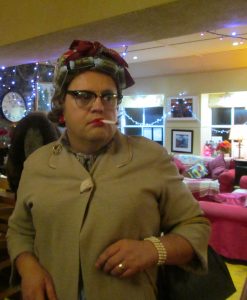 A Mrs Travers of Maryhill said she was looking forward to getting together with other "treasured wummin what do" and to wearing carpet slippers and a headscarf over her rollers in the afternoon, and shouting, "two fat ladies."
Today's weather will be wintery, so best not go out. Why not listen to our programme of seasonal music and readings as Baby it's cold outside."
Welcome 1961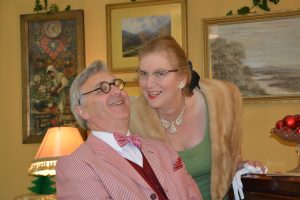 Good morning, nice to have your company on this chilly January morning. Happy New Year. I trust you had a good festive season. I do hope you followed some of my ides for an instant trouble-free Christmas. Of course, you did, you know it makes sense.
We had a simply marvellous time of course. My New Year's Eve running buffet reached new heights, even in the world of Gracious Living. I cannot take all the credit of course. Mrs Travers, unexpectedly, worked like a Trojan to produce fifty individual steak pies, several trifles and of course bridge rolls with ham and pineapple popped in the oven at regular intervals to fill in the gaps. Mrs T and I with the help of Hairy Mary from Inveraray also managed to produce a full cooked breakfast for those that stayed on. There is nothing quite like a crisp potato scone and a rasher of Ayrshire bacon to greet the new year.
Even Mrs Chatterjee, who has recently moved to Scotland, said she could see why New Year at the Wylies was legendary. She very kindly brought some Indian delicacies which was particularly good of her, and did not seem in the least "pit oot," when Mrs Travers examined them with her magnifying glass. She is rather suspicious of foreign food. She once had a bad experience in London with a poke of whelks, and a side order of jellied eels.
I am not sure I am all that keen on the song "Baby it's cold outside." Fond as I am of Dean Martin, the sort of man portrayed in the song is exactly the type my grandmother warned me about, and the reason I still carry a whistle and ground pepper in my handbag. Let us face it, a woman can be drawn into things by a cold front and a crackling log. Still it's nice to have some background music, for it is indeed cold outside.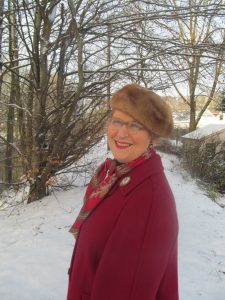 We have just had a second fall of snow. There have been some very pleasant walks under blue skies, but today it is very grey and icy. I shall not venture out, it is all too easy to slip, even in a pair of good sheepskin boots and stylish fur hat. I know people will miss me as I do seem to add something other worldly to a snowy landscape.
That said, one does not want to end up slipping outside unsuitable premises such as one of those new Bingo Halls and spending six weeks in a stookie covered in messages from Mrs Travers and her family. Their spelling is wanting although innovative. If that Billy Travers were to get his hands on me, my leg would soon resemble a cell wall in  Barlinnie Prison, a view with which he is very familiar.
A Martyr to Local History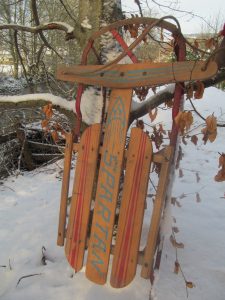 Jasper has taken our ward little Gayle out sledging. I am not sure she was that keen, but Jasper was and so they were last seen disappearing into the distance like the crew of Captain Scott's ship. Jasper trailing his beloved  "Spartan" sledge behind him with Gayle sitting on it, hanging on for grim death.  In his free hand, he had the paraffin can as he wants a gallon of Esso Blue to heat the shed, so that he can potter about trimming his wicks and sorting out his collections of precious things.
Our good friend Patty in Roanoke, Virginia, which is in America near the United States, has sent him something for his collection of "Interesting things from other cultures". He is keen to accession the item. Since the death of his honorary secretary Mrs Dangerfield, he has shouldered the whole burden of Museum in a Shed by himself. A martyr to local history, if ever there was one.
A Warming Scone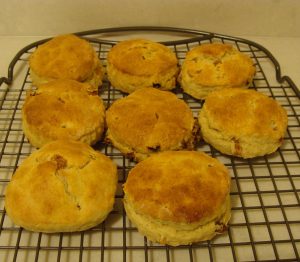 "Can I disturb you, Mrs Wylie?
"Mrs Travers, you never cease to disturb me."
"Always glad to do you an obligement Madam. I thought you might like some coffee and I jist skitted oot a few scones, while the oven was on."
"Oh that is rather welcome I must say. Is that all the milk there is?"
"Yes, unfortunately the milkman forgot to put the tops on the bottles, so the tits have had a field day. To make up for it there's some of ma winter warmer liquor to help heat the cockles."
"Ooh how decadent Mrs T, but it will help me with my wee piece for The Herald's  'Women's Matters'. Honestly, that editor is so demanding."
"I expect he is not used to having a writer of Nobel Prize winning standard at his fingertips."
"You exaggerate Mrs T, but it's appreciated."
"Good, can I leave an hour early this afternoon?"
"Yes, but what for?"
"Bingo."
"When Jack Frost Calls" from our Correspondent Muriel Wylie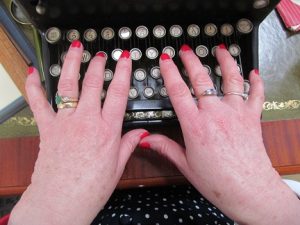 When it is cold outside it is all too frequently cold inside, especially in Scotland. Who has not woken up to icy windows and the realisation that Jack Frost has come into one's boudoir? This can be quite attractive provided of course he is not singing Baby, It's Cold Outside. If so, locate your whistle and pull the eiderdown over your head.
The charms of winter can quickly wear off as the cold takes hold, so here are a few recommendations to ease you into January.
The Scottish Answer to Central Heating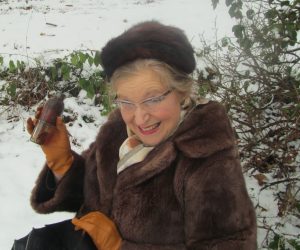 Central heating is the gold standard, but many of us cannot afford it and really it is only necessary if one is having Americans to stay. Of course, even then one does not necessarily have the pennies to have it on all day. I suggest a brisk walk will help you over that difficult period of early afternoon before one puts match to grate. You can always take a flask of tea or Bovril with you, to lend an air of excitement to your meanders.
For the more adventurous a full-scale winter picnic is not to be beaten. Hot soup and mashed corned beef with finely sliced onions in well fired rolls will help you enjoy any wintery landscape. Finish with a slice of fruit cake and a little nip of something in some strong tea.
If you must stay in, perhaps writing thank you letters for simply marvellous Christmas presents, a straw filled box with a hot water bottle and a rug will help prevent chilblains. If you are running short of coal, then a couple of fire bricks in the grate will reduce the amount of fuel you have to burn. I have seen this trick performed in the most gentrified homes. Indeed, the gentry seem to specialise in small fires.
Keeping Warm in Bed  
If, like us, you are lucky to have friends in America, you may well know about the latest in electric blankets which go over the bed on top of the sheet. It can even be left on all night. Although for many Scots the thought of the electricity metre whirring round all night is likely to be too much to contemplate and might induce a stroke. For those who may be disregarding the expense of this new invention, may I remind you we are not Americans. An ability to endure the cold is a sign of "the elect." You may of course have a hot bag at your feet or indeed an old – fashioned ceramic pig, which retains the heat. Some also come in aluminium, but there is a danger of scalding, so crochet skills can be useful to make a cosy cover.
Garments for sleeping are becoming more varied. Brushed nylon is very fashionable at the moment. However, when I tried out this new fabric and Jasper was wearing his new winceyette jim-jams (from 'Carswell's – The Modern Man's Shop'), the static between us nearly sent the bed up in flames.
Reading in bed can be chilly even with a racy detective novel and many are resorting to short, quilted, nylon bedjackets to cover shoulders and the small of the back. I say many, but in truth this is a look favoured by those in Corporation houses, along with slippers featuring pompom trimmings. I prefer something in a good quality wool or, dare I suggest, just a worn cashmere cardigan? Remember, make do and mend, ladies.
Winter Chic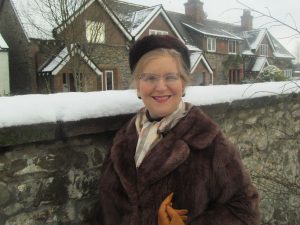 Most of you will find it hard to look chic in winter wear. The layers can make one look very bulky indeed. I am not a slacks' person myself, but they are undoubtedly a must for winter for the younger woman. Unfortunately, many an older lady, of a stoutish disposition, is choosing boldly patterned slacks with an elasticated waist for the winter wardrobe. I am sorry to say, these ladies end up looking like a target at a shooting range. So, if you must, then choose plain dark colours to be worn with a poncho-like top, perhaps in a muted tartan with fringes. This will bring the eye upwards and make sure one is not peppered in the derrière with lead shot.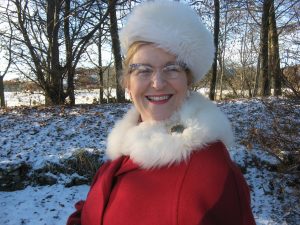 There is nothing quite like fur for keeping warm and I do recommend a Lucca lamb hat and matching detachable collar for a smart lunch. However, some ladies now choose not to wear fur and there are some lovely nylon substitutes. It is becoming quite fashionable, and cheaper, to be in fake fur.
The Gentleman in Winter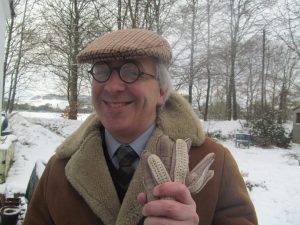 For the gentleman in your life, one cannot go wrong with thick corduroy trousers in a bright colour worn with a sheepskin jacket. The look is warm and ever so slightly raffish. Although please, do not take it to extremes – none of those pencil thin moustaches or it begins to suggest bookmaker or lounge lizard.
Indulge in Custard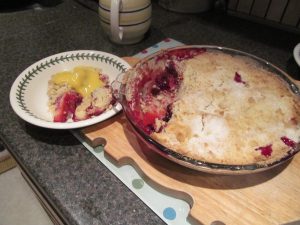 Food of course plays an important part in keeping warm. Now I know we have all been rather overdoing the rich food as pointed out by Professor Robin Orr in The Herald this week, but we are not all in a position to head to Brittany for shellfish or warmer climes to refresh the soul. Might I suggest for those of us confined to Bathgate, Thornhill or even Bearsden simple hearty soups and stews and puddings. Puddings bring a smile to any dowdy winter face. Well, they certainly do, to Jasper's. January is the time for custard because as the song says "Baby it's cold outside."
With these wise words, I bid you, my readers, a very Happy New Year.
Muriel Wylie
January 1961
Photographs courtesy of Artemis Scotland & KSB Design & Photography