"At Home"
We are delighted to be collaborating with Moniaive Initiative on a community heritage project, "At Home" centred upon the valley of Glencairn and Moniaive in particular. The aim of this project is to hold a community engagement weekend 1-2 May encouraging the village to tell stories by displaying things they regard important to their lives in Moniaive in their home windows. For those further out of the village, provision will be made for display through a virtual scrap book. The local primary school and playgroup are creating paintings, drawings, poems and stories of what Home means to them and these will be displayed on the Facebook page.
For those who wish to research the history of their home, sources have been provided by us and are downloadable from the Moniaive Initiative page here.
Window Displays in The Hive, the local hub of the Initiative, are being used to tell general stories about life in the past and are being created by Chris and Jackie Lee. The "At Home" display features the kind of objects that would be carried from home to home in a wooden chest, know as a kist. Women became experts in keeping their home to a minimum. Prized possessions often included best clothes kept for Sundays, a family Bible, a christening robe, personal items, a 'good' tea-set and the pots and pans.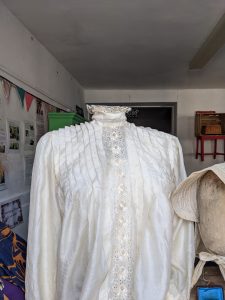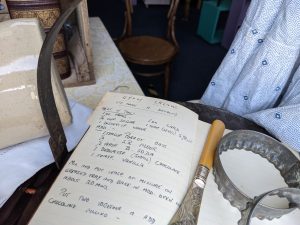 The second window display is entitled "Not At Home" and shows a vanity case of the 1960s containing a variety of things a young girl might take away with her for a few days holiday.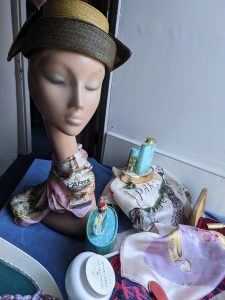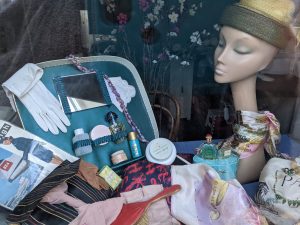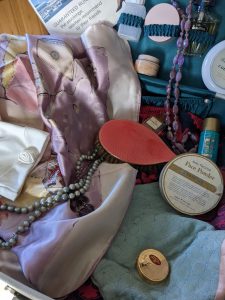 The 'vanity case' was a popular present for a girl's 21st birthday and here you see it's got her silk scarf, essential for polishing her hair, some spare stockings, sparkly jewellery for the evening and her make-up essentials as well as a nice hat.
We will be posting other ideas you can use in your home window so keep an eye on our website.