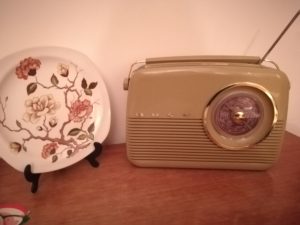 Good morning. This is the BBC Scottish Programme on 371 meters. Following our special "Farming Today" feature on Foot and Mouth Disease here is the news.
News from the Soviet Union
A Soviet cosmonaut Yuri Gagarin has become the first human in space successfully completing one orbit of the east. This will certainly put the Americans gas on a peep which presumably is why they have invaded Cuba. President Kennedy has asked V.P. Lyndon B. Johnson if "We have a chance of beating the Soviets in the race to be the first to go to the moon and back with a man."  Personally, I should have thought it might be an idea to have a little more faith in one's V.P..
News from America in the United States
Also, in the United States a cure for Morning Sickness during pregnancy has gone on sale. It is called Thalidomide and it is hoped it will bring relief to millions of women.
At the 33rd Academy Awards hosted by Bob Hope, the award for best picture has gone to Billy Wilder's The Apartment. Burt Lancaster gets Best Actor for Elmer Gantry and Elizabeth Taylor Best Actress for Butterfield 8.
In New York, which is quite near America Governor Rockefeller has authorised the construction of the world's tallest buildings to be called The World Trade Centre.
 Well Preserved in Scandinavia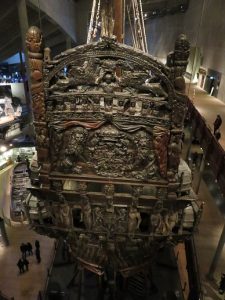 In Stockholm quite close to Sweden, the 17th century warship VASA has been raised from the Baltic where it has lain for 333 years. It capsized on its maiden voyage on 10th August 1628. It is reported to be well preserved.
Same Old
Closer to home, well at home actually, Scottish teachers are being troublesome, but as that is no change we shall ignore that one like the Secretary of State.
And Now The Weather
It will be May next week so clouts may be cast, but might I suggest with a cold north wind dinnae put the soup pot awa' yet, and if any weans are still sewn in tae their claiths, take ma advice just bide a few days.
Today On The Radio
Now today's programming mainly consists of Scottish Country Dance Music. Our Drama at 3.00 p.m. is Guy McCrone's Wax Fruit, a story of Victorian middle class Glaswegians and too many ornaments. This is followed by Scottish Fiddle Music. At 11.30 p.m. there will be 'Prayers before Bedtime' with one of our own 'Elmer Gantries' otherwise known as a retired and wandered Church of Scotland Minister.
Now it is time for "Wumen's Ooer" with Moira McClumff.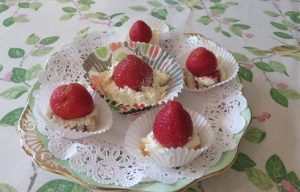 "Good morning, in a busy programme today we will be looking at delinquency, with Professor MacSporran. In our monthly special on woman's issues, we will be examining at the vexed subject of shortcrust pastry. Dr Euphemia Cadwallader will be here to talk about her new book on Scottish Folklore, appropriately titled, 'Till May be oot' – the month or the blossom?" Controversy indeed.
First, we have a guest who needs no introduction, the celebrated and simply marvellous Mrs Muriel Wylie, businesswoman, trend setter, decorator and rumour has it soon to be advisor to America's First Lady who is giving the White House a "wee dicht."
Introducing Muriel Wylie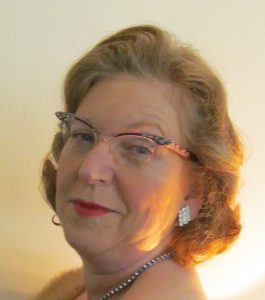 "Muriel, if I may."
"No, Miss McClumff, you may not. To quote the example of Lady Catherine de Burg in the novel Pride and Prejudice, I have not given you leave to call me Muriel. If we start from familiarity (which as you know breeds contempt), there is no going back.
"I understand, do forgive me. Perhaps it would be fair to say you would take the view that this sort of informality leads to delinquency, the subject of a later discussion with a sociologist?"
"Quite so, but I am not very keen on sociologists either, they undermine the home, well at least my home. They are enticing my woman what does (but not a lot) away with their promises of bursaries and meeting likeminded people in a convivial setting in left leaning institutions."
"Indeed Mrs Wylie, which in a way brings me to the subject of our conversation today, At Home. I believe you have been asked to give the opening address to the Conference of Scottish Women's Guilds, on this subject?"
Tricky Soup Question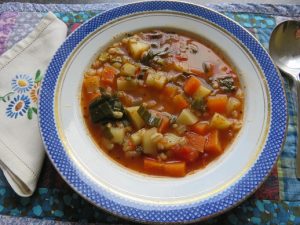 "Yes, indeed. They want to open with someone simply marvellous who has a record of promoting gracious living in the Scottish Home."
"Is it true that you were asked a couple of years ago but were forced to withdraw from the engagement because of the legendary foreign soup controversy? Some say this has begun the disintegration of traditional religious observation in Scotland."
"I chose to do that because it was men who were seeking to divide the women of Scotland on the question of Mulligatawny soup versus  pea and ham at a Soup and Pudding fundraiser."
"So selfless Mrs Wylie".
"Indeed Miss McClumff."
The Importance of a Good Card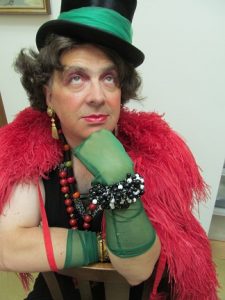 "Returning to the hub of our conversation, tell me when you think of the concept of At Home, what comes to mind."
"Nothing comes to mind. My mind is full of things waiting to be used, and I think one of the most important things is a good 'At Home' card."
"Printed or engraved?"
"Well if you are the sort of lady who entertains a great deal then it is worth investing in a beautifully engraved card. The feel of paper and the engraving are important to me. I am an extremely sensitive woman. One wants to feel the invitation, smell the invitation, experience the invitation before one even arrives."
"Perfumed?"
"Don't be ridiculous one is inviting people to one's home not a bordello. Although I believe Lady Pentland-Firth goes in for that sort of thing. She was in Munich and Paris before the last Unpleasantness, and you know what they are like."
"I see, so Home for you is about entertaining?"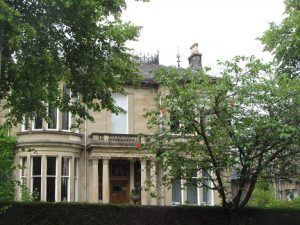 "Well yes, very much so. It is about sharing one's, often sought but rarely found well-appointed, West End town house or Rural Bolthole with one's friends who might benefit from one's taste. Sharing is everything."
Fly Me to the Moon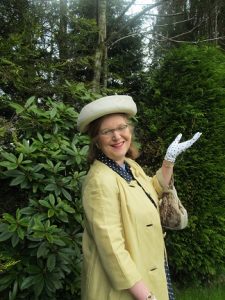 "Imagine Mrs Wylie you have been selected to be saved pending a collision with an asteroid. They put you on a moon-rocket and say Take 8 objects to remind you of home. Which would you take to begin a simply marvellous new life on the moon?"
"Oh, well that is so difficult when one has so many well chosen personal items and objects d'art. I suppose even on the moon one should try, after all one owes it any little green men who might be there, to look one's best. So, I would have to pick one of my duster coats.
Naturellement one would include a pair of my famous sling backs, a hat from my extensive millinery collection and earrings. That would be one item."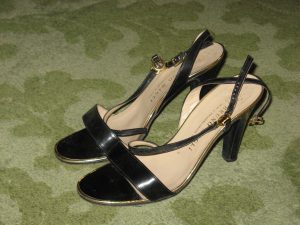 "For the purposes of this interview that is four items. What else? Perhaps some decorative items? After all you are the purveyor of fine decorative furnishings to the discerning Glaswegian."
"This is true and with branches of 'Chez Nous' in other major cities. Well although my cousin and business partner Lulubelle will say they are no longer stylish, I would rather like to have a pair of draped curtains with tassel tie backs, through which I could gaze back at earth and through my telescope make sure that Mrs Travers, my woman what does but not a  lot, has turned the stair carpet and dusted the rafters in the attic. I suppose, however, curtains and tie backs are two items."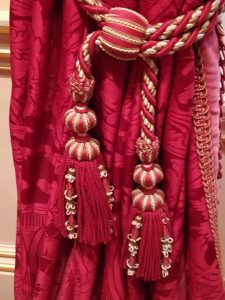 "Two actually, three including the telescope, but I will turn a blind eye."
"Yes, I noticed your brows could do with shaping. Might I suggest a good astringent? Your skin is looking a little tired dear."
"Do you know I have been feeling a little under the weather?"
"Elizabeth Arden, just mention my name in Daly's. It's an automatic road to good service and plenty of samples."
"Much obliged. And your 6th item?"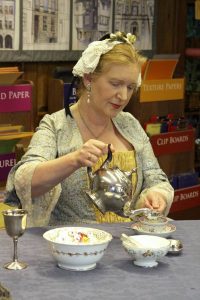 "Well, I think I could imagine myself taking tea on the Sea of Tranquillity although not with any Soviets that might have landed. They are worse than that Mr Wilson. So perhaps the family's 18th century silver teapot. I would need Afternoon Tea even if I were on the Dark Side of the Moon which I imagine is rather like Giffnock."
"And item number 7, Mrs Wylie?"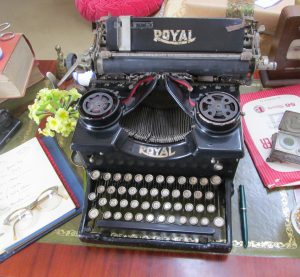 "My Royal typewriter, as I am quite sure I will have to busy myself with my memoirs and experiences. After all I do not want to appear to be at a lose end should any cosmonauts, who happen to have crash landed on the moon, see me in my house coat of an evening."
"Item number 8 I imagine will be a photograph of your dear husband Jasper?"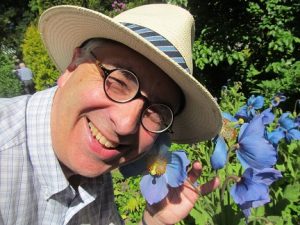 "Oh no, I keep a picture of Jasper in my heart despite all his annoying habits – the snoring, the demand for puddings and that collection of broken pottery. No, my last object would be my radiogram, and a few records. The music would make me think of my friends and family and my home on the Moon would be complete."
An Instant Feeling of Home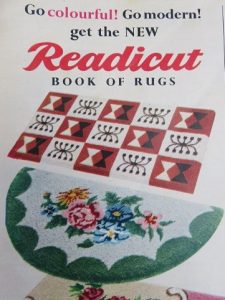 "Finally, Mrs Wylie as Scotland's number one purveyor of dream homes and advisor to the Glasgow Overspill, what would you advise the over-spilt ones to acquire to create an instant home wherever they might be going?"
"My goodness, let me think. Yes –  my top tips would be – a print of Paris, as it gives one something to dream about; a half-moon rug for your side of the bed, to put your fluffy mules on; a ruched velvet cushion for that luxurious feeling; a Macintosh square or two in case you invest in a new uncut moquette three – piece suite and some dreadful neighbours who have been decanted from Florence Street call and uninvited sit down. Yes, and a new coffee table and some tasteful cups and saucers in case the doctor must make a visit."
"What lovely items; it is home in an instant."
"One tries one's best."
"Is it easy to acquire such fashionable items in Glasgow?"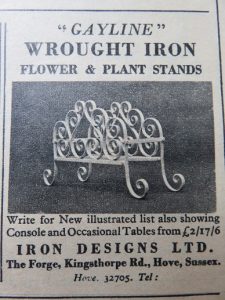 "Funny you should ask. Currently at 'Chez Nous' we have plenty of availability in all these stock lines. I should also have said that no modern Glasgow home is complete without a wrought iron magazine rack or planter."
"Do you have one Mrs Wylie?"
"No! I wouldn't be seen dead with them! I mean I would, but it would be sheer extravagance as we already have one by Robert Adam."
"Thank you so much Mrs Wylie. Now before Delinquency and short crust pastry let us have a musical interlude with that old favourite Home on the Range played on the harmonica."
"Must we?"
Muriel Wylie, On Air April 1961