Spring has sprung and 60 years ago housewives were faced with the task of Spring cleaning. Here is a peek into that world….
Spring Cleaning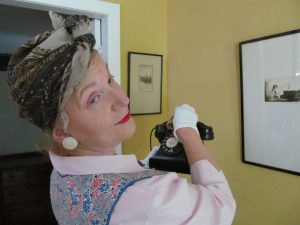 "That's me back wi' the messages Mrs Wylie. I managed to get well fired rolls for Mr Wylie's lunch. I thought they'd go nicely wi' the broth. The mix's been steepin' overnight."
"Thank you Mrs T. Any intelligence from the Baker's?"
"Well, there is much talk about yer Easter Tableau wi' a wumin's contemporary twist featuring Suffragettes."
"Oh good, always gratifying to know one's hard work has been recognized. I imagine they were lost for words."
"Something like that."
"Did you get the malt vinegar for the skirting boards?"
"Aye, and the rabbit bran tae clean yer everyday fur coat for unexpected public transport journeys in chilly weather."
"Splendid, I feel the spring cleaning is well underway."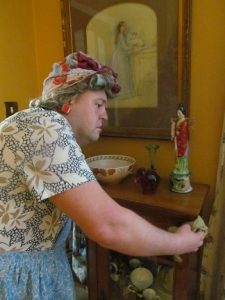 "Well, I certainly do! An' by the way before you ask, I've turned the stair carpet wi' they oriental pattern based on a Persian Garden. Do yous want coffee?"
"Only when you have a spare moment."
(Mumbles) "When I'm pushing up daisies then."
"What's that?"
"I was just saying, where's Mr Wylie, at the shop I imagine?"
"Yes, he is taking down the Easter window displays. I imagine he will be home nearer 2.00pm so it will be a late lunch. He is bound to be exhausted, so we can expect an afternoon of snoring from the shed. If there are any calls, I would appreciate not being disturbed I am writing a piece for The Glasgow herald.
Prickly!
"Anything interesting?"
"Always. A piece about how our mothers and grandmothers made the best of their homes on extraordinarily little."
"I see, investigative journalism rather than based on experience then?"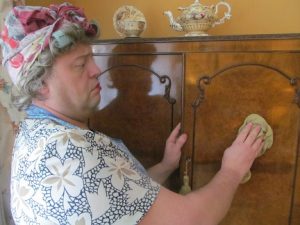 "If I didn't know you better Mrs T, I would say that comment was tinged with class envy and sarcasm. Really! I sometimes regret sending you on that twilight sociology course. I have the 1897 Sunlight Soap Year Book, which belonged to my dear mamma,  to hand as a guide."
"Well, I'm sure that makes up fur lack o' practical experience. Anyway standing here chatting isn't washin' no skirtings or restoring yer beaver tae its original lustre."
Tapping Away on the Old Royal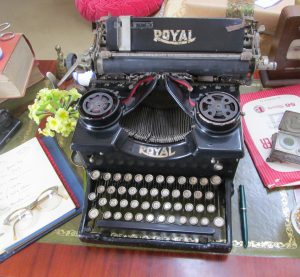 Spring is here at last and I am sure that many of you are busy bottoming out cupboards or cardinal polishing your front doorsteps. Some of you will even be looking forward to being decanted to the new 'overspill' houses on the edge of our great city of Glasgow. So much to look forward to in you new lives in Livingston or Johnstone.
This is the time to think about how we can make the best of our homes and this week for "Women's Matters", I take as my inspiration some advice from the Sunlight Yearbook for 1897. I passionately believe that good advice is never out of date so let us see what our forebears were up to in the domestic sphere at the end of the last century.
Windows Reflect the Soul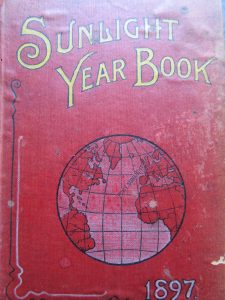 As Sunlight Soap knew, the soul of any home can be glimpsed through windows. One can tell a great deal by the state of windows, both from the perspective of cleanliness and decoration. Now I understand many of you are unable to afford a window cleaner. In truth, they can be quite disturbing splashing their sponges around a six pane Georgian sash when one has friends in for coffee, Lady Pentland-Firth being the exception. She is usually mesmerised by the activity. Her stately home has gone through several window cleaners, most ending up like damp rags themselves. Equally I understand that a window cleaner is an added expense for a tight budget. However, there is nothing wrong with vinegar (I am sure you have that with your pie and chips) applied with yesterday's newspaper, (but not pages with reports about the Royal Family, please.)
On the decorative front, remember blinds should be drawn up to a uniform height in all windows, or people will think you attend Bingo or vote Labour – or even do both! Curtains at the front windows should match and  nothing says cleanliness like white muslin. Nets (if you must) grow dingy and should be regularly washed, or you run the risk of being labelled "a woman who lives in a dressing gown".
The Impact of Your Entrance is Everything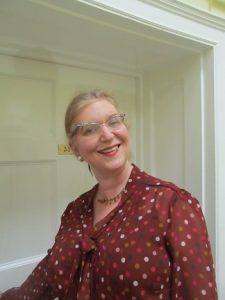 Making the best of a hall can be tricky but remember you will always be remembered by the impact your entrance makes. Of course, size matters, but today even modest semi-detached homes have good square halls.
As to the walls do not be tempted by hideous yellow marble effect papers. You are moving to Easterhouse, not Ancient Greece. Go for something plain but bright. Ideally get in a competent man to do the job quickly. However, having said that, men with competence are as rare as hens' teeth so you may be best time by doing it yourself.
Consider carefully what you put on these fresh walls. Nothing says more than a few well chosen black and white etchings. I have a reasonable selection at "Chez Nous", my emporium of household delights. Jasper will happily guide you if you have a few hours of your life to spare. If you get a handyman in to arrange your pictures, make sure he knows you like things to be well hung.
No Coconuts? Try Linoleum
If you have moved into an older house and your floor is of the tessellated type (try a dictionary) then there is much that can be brightened using sour milk. Those of you who have lived in "the far east", may be used to local staff willing to shine such floors with half coconuts tied to their feet, but this is hard to replicate in Paisley and the noise is inconsiderate.
While parquetry is highly desirable, a cheap clean imitation in the form of linoleum is desirable. It is of course usually made in Scotland. One or two rugs will add warmth and suggest you are rather arty. Furniture should be minimal, a few coat pegs and a table or chest will do.
In 1897 oak was recommended and for thrift an ornamental drainpipe for umbrellas. Might I suggest something in bent metal instead; wrought iron and glass perhaps? "Chez Nous" just happens to have a wide selection. While our 1897 guide recommends an aspidistra on the table, you might consider a more contemporary spider plant, a mother-in-law's tongue, or if you have socialist leanings one of those knotted string things hanging from the ceiling with trailing plants.
Dreams of Fitted Carpets
In 1897 the dining room was a separate area in the home, but increasingly we live in what is called open-plan. This is no bad thing as dining rooms can be very gloomy affairs. Different rooms or open plan – the question of flooring will arise regardless. In both cases might I suggest that while fitted carpet is the dream, a square surrounded by stained board might be the reality.
One advantage of this is that wear can be minimised by turning the carpet. I know one impoverished clergyman's family who use their square of carpet to good effect and spend winter evenings colouring in the worn bits with pencils. Such activities I am told bring a family closer together.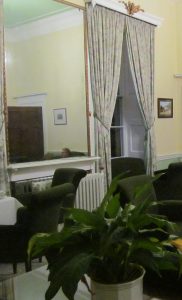 As to curtains our 1897 guide devotes many pages. Of course, you are at liberty to have inner and outer curtains, valances, pelmets and cheap but effective ball fringes, but modern tastes are simpler. Anyway, drapes mean dust. A wall to wall set of curtains in an abstract pattern, with pinch pleating is very à la mode.
Style is Never Out of Fashion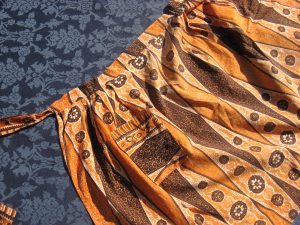 Breakfast is, I am told, going out of fashion and with it the breakfast room. A rushed bowl of cereal increasingly replaces traditional morning fare. Times change and, so it seems, do rooms and those of you moving out to the overspill areas may find yourselves with a new invention – the breakfast bar. Now I can see the advantages and what could be better than a wipe clean Formica surface? What, however, could be more soul-less? While the spotless white tablecloth might be a thing of the past, a vase of gay flowers on the new breakfast bar  and a fresh brightly coloured apron are just the things to greet the morning. A new husband being met by his neat and tidy new wife and an imaginative breakfast setting will say to himself, "What a clever manager she is, and how delightful it is to be married."
Giving the Living Quarters a Lift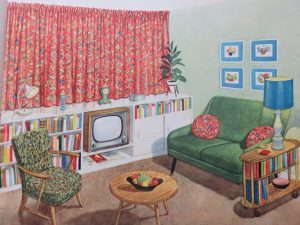 It is as true of today as it was in 1897 that the room which needs most attention in the spring is the drawing room. You probably call this the living room. That is the clue as this area gets most use and as Sunlight Soap points out is most in need of Sunlight Soap in the spring. Of course, in the past carpets, curtains and ornaments all grew tired because of the smoke from coal fires. Even without this in your all electric home in the New Gorbals or East Kilbride, you will want to freshen your living area. Loose covers now as then will be seen to have been a good choice as these can go to the launderette or to Puller's of Perth for dry cleaning. Some pots of paint will brighten mirror and picture frames and can be toned in with the lampshade.  The shabbiest of hand-me- down furniture can be transformed with a lick of white gloss or a loose cover run up on the old Singer Sewing Machine. Bright cushions are a good finishing touch.
At the Bottom of the Bed
As to making the best of our bedrooms, simplicity is the key. A busy wallpaper might be desired but there is nothing worse than looking at overblown bunches of pink floribundas, if one cannot sleep.
I do agree with my Victorian predecessor that one area where expense is worthwhile is on good bedding. Even in 1897 bed hangings were ill-advised for cleanliness. A good mattress is essential and so is the frequent remaking of mattresses. Traditionally this as done in Scotland at "the hairy mill", but Stoddarts now offer a reliable collect and return service; they will also remake quilts and eiderdowns. Waste not want not comes to mind.
Shelving is useful in a bedroom particularly that of a child or teenager who requires somewhere to display their collections of Dinky toys, Wade figurines, the latest Eagle annual or L.P.s
One item that continues to be useful is "the Ottoman" at the bottom of the bed. By that I do not mean a gentleman from the late Turkish Empire (although Lady Pentland-Firth might disagree) but a chest in which to store spare blankets and pillows. These days they are often made in the Lloyd Loom fashion and double as a seat. Spare bedding and a camp bed are useful too, should one of the young person's friends from Scripture Union stay overnight after a few hectic hours with the Scrabble board and Elvis on the Dansette.
"Honest Pride"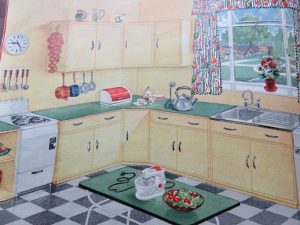 Finally, we must tun our attention to the inner sanctum of the house, the kitchen. This should be the temple of the angel of the home. Some, I believe, view it as a tiled cell, if of course one is lucky enough to have wipe clean tiles. It is all a matter of attitude and application. "Honest Pride" was the term used in 1897 and still should be. Cleanliness is the key then and now. Then it was scrubbing with silver sand to keep tables and boards clean and salt and lemon juice for the copper. Now Vim and Ajax come to our rescue. We no longer have ranges to clean or cinders to riddle, but we do have stainless steel sinks to be kept sparking and Pyrex to be stored in size order.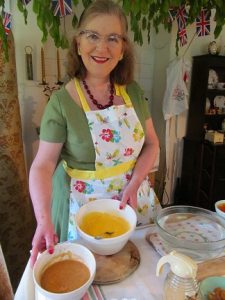 One simply marvellous tip from 1897 which I use in 1961 is that when cooking onions, I leave a pale of clean fresh cold water at the back door, it does much to prevent the unpleasant odour which otherwise fills the house during this operation.
I have a spring cleaning factsheet should you require more detail. Please send a S.A.E. to The Editor, Women's Matters. Next time – How to Turn out a Room.
Clatter! Bash! (Rude Words!)
"Mrs Travers, what is all that noise? I am trying to finish my piece for The Herald."
"It's Mr Wylie. He's just fallen over that bucket you made me put at the back door."
à bientôt
Muriel Wylie