It's that time of the week already when we step back 60 years to the world of Muriel & Jasper to discover what was happening in their Simply Marvellous world in Glasgow and beyond, thanks to the wonderful archive of "The Glasgow Herald".  
At Rogano's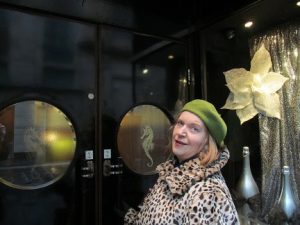 Honestly, I wish Jasper would learn that punctuality is the politeness of kings. Still it is nice to get a seat at the bar of Rogano's on a Saturday and the Noilly Prat is going down a treat. In all honesty I deserve it. I have been rushed off my feet this week, bashing about all over the place – culture here, there and everywhere.
An Impulse to see Picasso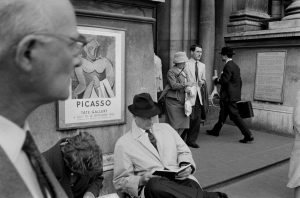 On impulse I went to London on the train with Mrs Travers so that she could see 'The Picasso Show' at The Tate, which for those of you cocooned in rustic simplicity is an art gallery. This show is the most expensive ever produced in Britain and has "broken all records". There have been "unprecedented scenes" and queues fifty yards long. At 3s 6d a time it is quite an expense for the general population, but despite this it has attracted "pondering pundits, bearded beatniks, workaday men and women, and even teenagers."
Of course, those who do not understand art have described it as "bluff, ballyhoo and baloney." To my surprise Mrs Travers, our daily woman what does, but not usually a lot, was entranced. I did not want to make a fuss and decided not to telephone ahead and so Mrs T and I joined the aforementioned  fifty yard queue.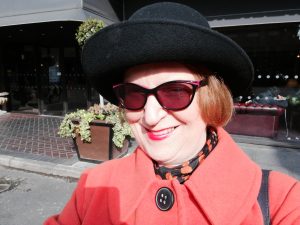 Perhaps, I should have thought to dress to blend into the melee, but in one of my Exhibition Visiting Ensembles I was something of a beacon of style and colour and attracted the attention of the guards marshalling the visitors. On the other hand, it might also have been something to do with the sober citizens of "that London" in the queue finding Mrs Travers' Glaswegian accent intimidating. Jasper and I are quite used to hearing Mrs T tick off a paper boy, dropping a length of string in the garden with, " If yous dae that again I will skelp yer bahookie, so yous willnae sit doon fur a week." To a lady and gentleman from Hampstead, who accidentally dropped a Liquorice Allsort (the one covered with the pink strands) on the embankment pavement it might well have seemed threatening.
Fortunately, the gallery director arriving late for work, spotted me and we were propelled into the building with many felicitations that come with being a personality and recognised expert in the field of gracious living. "Oh Mrs Wylie, you should have called, I loved your piece in The Studio about, wrought iron rescuing the semi-detached from the hum drum. I was lunching with John Benjamin and he said that he is considering writing a poem  about it for the nation. Kenneth Williams said it was sure to feature in a programme on the Home Service."
Educating Mrs Travers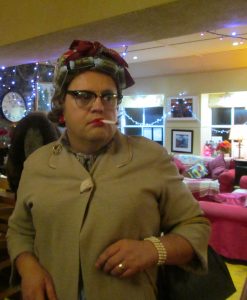 Mrs Travers has clearly benefitted from her Twilight College Course in terms of her ability to think about art beyond ceramic swallows and brass plates more suited to a public house. I just wish it were not sociology as this is the very thing that will lead to a Labour Government in a few years and we shall be ruined as free spectacles and false teeth are extended to free everything. Jasper of course thinks this is marvellous. He seems to be quite in favour of the current industrial unrest on the Clyde, where the Shop Stewards ban on overtime for the boilermakers is bringing Greenock and Port Glasgow's good name into disrepute. "Where" I said "would we be if I went on strike?" "We would" he replied "be in exactly the same place because Mrs Travers, despite her shortcomings, Hairy Mary, the Nursery Nurse from Inveraray, and a gardener in Glasgow and at the rural bolthole all underpin our business and social activities." Hmm. Reminded of my dear Grandmamma's first-hand account of the St Petersburg Massacre in 1905 I banned custard for the entire week.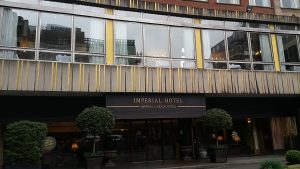 My sojourn with Mrs T was unexpectedly pleasant, apart from her snoring and the smell of wintergreen ointment, twin rooms being all that was left at the Imperial Hotel. She purchased a set of Picasso postcards which she is going to put up in her living room above the "feature radiogram" upon which sits her occasional lamp made from a stuffed lizard. This was a peace offering from her estranged husband, following his dalliance with Busty Betty and subsequent sail on a slow boat to China, which is a long way from the Forth and Clyde canal.
Men and Their Nuts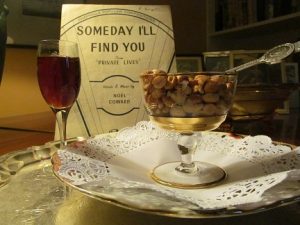 "Yes, waiter a top up would be lovely, with a suspicion of tonic and go easy on the suspicion. And can I just ask is my usual table ready? Mr Wylie is joining me."
"Of course, Madame and just to let you know lobster is the Chef's special ce soir."
"Perfect."
"Nuts?"
"Sorry to hear that…."
"Beg pardon madame?"
"Only joking – long day. Yes but fresh packet in a dish on a doily with a spoon, Too many men at bars fiddle with nuts, most unhygienic."
While I Was Away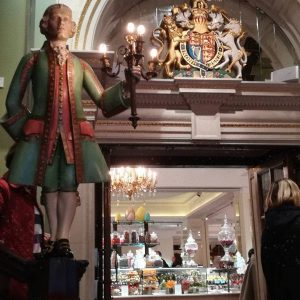 As I was saying all things considered London was a success and after a late lunch at Simpsons of Piccadilly and a potter around the shops, Fortnums being a must, we got the Sleeper home. Of course, one never sleeps, and I was quite glad to get home for forty winks, a bath in seaweed and a face mask while Mrs T turned the stair carpet and sent our nephew Sebastian's mattress to Stoddards for re-stuffing. He is a thespian currently in New York, but we are expecting him home soon and he is awfully hard on a mattress.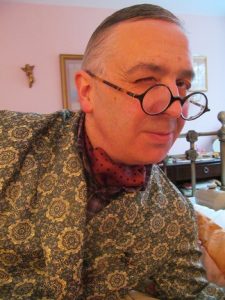 Jasper seemed to cope in our absence, the Macaulays had him in for suppa. He cannot stand Mr Macaulay who is a millionaire in concrete, but he has a soft spot for Lottie who he feels is rather put upon by her husband, a notorious womaniser. So much so it is said, and please do not quote me, that there is a direct bus from the typing pool to the Home for Fallen Women, with a "request stop" at the Orphan Homes. Ironically, Lottie is on my fundraising committee at The Home for Fallen Women and often says she feels as if she is subsidising her husband's hobbies.
Jasper Has a New Project
Talking of hobbies, while I was away Jasper was busy with a new idea which is always concerning. As you know he is life president (there being no other takers of The History Society or as I call it the "Hysterical", irony being one of my literary attributes). He has decided that in addition to the regular lectures there should be a magazine, for the housebound. As Mrs Travers says "Surely they have enough to put up with." Not to be deterred Jasper has composed a quiz on famous animals of Scottish history entitled 'There's A Moose lose aboot the Hoose'. He has also written a couple of articles for his magazine. The first "Come Up and See My Ruins Sometime" is about the 18th century fascination for building ruins at the bottom of one's garden. I avoided saying the obvious that clearly he must have been thinking of his shed.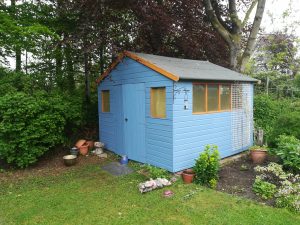 Mrs Dangerfield, who helps him catalogue the collection, encourages him to a degree which verges on indulgence. She has apparently offered to turn the coal bunker into a Shell Grotto with a considerable amount of Polyfilla and numerous trips to the shore for winkles. Just so long as we do not have to have a Hermit living in the garden and certainly not one who has not been through the top loader.
Everyone's a Critic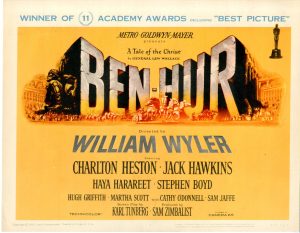 His other contribution is to be a regular piece about 'History in Film', this stemming from our evening out at The Regal where we went to see the latest Hollywood Epic Ben Hur, directed by William Wyler. This is a story about a Prince of Judea who annoys his Roman overlords and finds himself a galley slave. It was overlong in my book, possibly because the film had to be stopped when Jasper and the woman behind him got into a heated discussion about the wrong horse harness and a clear lack of research as to the number of times they would have gone around the Circus Maximus. According to Jasper they did two too many circuits. It should have been seven not nine or was it the other way around? I decided not to add to the conversation by suggesting that in my book, one would have been enough as my glutinous maximus had pins and needles. I think I an going to produce a feather filled Mackintosh Square for cinema going.
Jasper, Better Late Than Never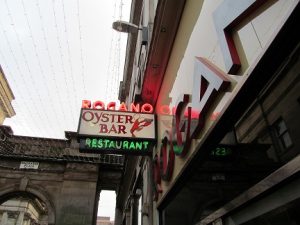 "Hello Muriel, sorry I am late. Stopped off at the printers with the copy for my first edition and got talking type faces."
"You do know some exhilarating people Jasper. Would you like a drink?"
"Umm well looks as if I have a bit of catching up to do. Yes gin and it please bartender, and the same again for the lady. Are we eating here?"
"Well I thought we could, they have lobster. Have you other ideas Dahling?"
"Well, The Gay Gordon's new bar is open and they have Geraldo's Orchestra."
"I have asked for a table here and the manger always appreciate my adding that je ne sais quois to his restaurant. We could pop round later to The Gay Gordons after for a drink and a tango."
"That's a good idea Muriel and that reminds me I am already thinking about issue number two of 'Past – Caring' and wonder if you might do a little something about Dance Crazes?"
"You mean the waltz, charleston, jitterbug, the Lambeth Walk, cha-cha-cha  etc?"
"I was thinking more about the 'Dance of Death' in Medieval Europe after the plague, when people threw their clothes off and put flowers in their hair."
"Jasper most of your members come from Bearsden. not 13th century Bohemia. Naked dancing is not a feature, at least not on the right side of Canniesburn Toll."
"I suppose so Muriel; your idea might have popular appeal."
"Of course, it would Jasper, and you need to give the past more appeal. I have a sense that Drove Roads may be overexposed."
"Coffin paths are on the agenda."
"Well take them off, I didn't get to be simply marvellous by dwelling on the negative and dreary aspects of life. Cows walking over hills are not exciting. People have enough to worry about what with the Congo, Berlin, Cuba and the introduction of traffic wardens in London. Next stop licence to breathe, I fear."
"Perhaps I do need to breathe some life into the Historical. I will think about it Dahling, thank you."
Lovely Shoes and a New Coat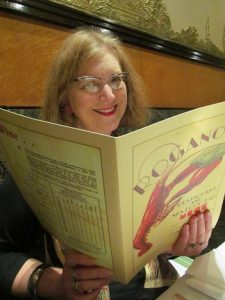 "Good – now before we order, can I just confess, and don't say anything, I have bought two pairs of shoes from Gavin Crawford at Charing Cross. Miss Byron said I was such a 'Pandini of Turin' sort of lady."
"I suppose it could have been worse."
"Well it was, I bought the handbags that match."
"What about me?"
"Oh Jasper I couldn't forget you. Here this is from McLaren's, 'The Garrick Over-coat' from Aquascutum in Harris Tweed, "ideal in fair weather or foul" and as the assistant says it stamps rugged on a man's life."
"Is that the look we are taying for Muriel?"
"One tries Jasper, one tries."
"Mr Wylie that's your table ready with a complimentary bottle of Puilly Fume from the manager to his favourite customers."
"Simply marvellous, lead on Jasper and then it's coffee and brandies at the Gay and I do hope Geraldo will play the Twist, it's all the rage, around and around and around we go again.. lets twist again….."
"Muriel, perhaps we should just have a half glass of the Fume."
"Oh Jasper I love it when you are rugged! Do you remember when……."
à bientôt
Muriel Wylie
September 1960
P.S. The Following Morning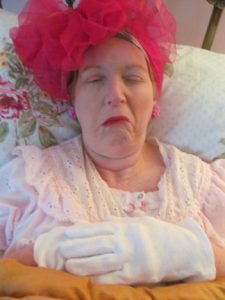 "Mrs Travers, do we have any Askit pooders?
"Aye, medieval dance of death wis it?"
" Chubby Checker's Twist – same thing, really."