A Back Door Entrance!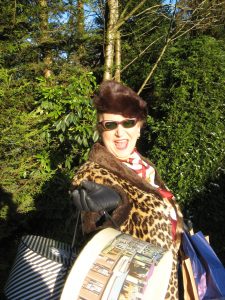 "That's me in at the backdoor Mrs Travers, our faithful woman what does (but not a lot)."
"Good afternoon Mrs Wylie, back door entrances are not normally your speciality."
"They are when I am hiding a new suit, a dress, handbag, hat and shoes from Jasper in the coal shed until I can bring them in under cover of darkness."
"I shouldn't worry if I were you Mrs Wylie. He is in the shed with the paraffin heater on making notes for his guided tour of Lady Pentland-Firth's dungeons at Hallowe'en. "
"That's music to my ears. Not the tour but the diversion in the shed. Yes, he has agreed to be part of the entertainment at the Ball next week. It's all in aid of my fallen women. A good cause and with so many fallen in Glasgow the funds will be useful."
Mrs Travers: a Victim of Social and Marital Injustice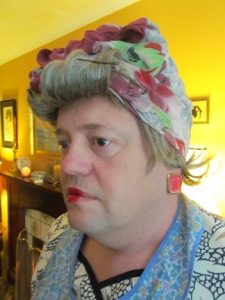 "Aye yous are a public-spirited lady an' nae mistake Mrs Wylie. I wish you'd been around when I fell. Oh the shame and the disgrace and the endless scrubbin' o' floors to take awa' the sin in they days. At least Mr Travers married me; mind you that was an even greater sin."
"Have you heard from him at all since you sent him packing to the Sailors' Home in Port Govan by the Sea, following our discovery of him with Busty Betty in the 'Unnecessary Lingerie Shop' down by the Forth and Clyde Canal and his subsequent flight to China on a slow boat, where he bought you a stuffed lizard that you had made into a decorative table lamp, which stands on your prized wireless gramophone?
"No, I just see him once a week when I take him a clean semmit and when we visit our eldest who is often detained at Her Majesty's pleasure on account of him having inherited deviant behaviour from his father's side."
"Yes; so sad about Billy he was such a happy little boy. I remember him sitting for hours happily dismembering Daddy Long Legs."
"He was always one for his hobbies, but what was a poor mother to do with an errant useless husband and nae money, caught up in a web of relative and indeed real poverty."
"Indeed Mrs Travers, you have come through a great deal. And do I take it your adult sociology classes have started again?"
"Yes, we are revising deviance and divorce and are shortly to embark on a detailed study of a tribe by way of comparison and ethnological study."
"Don't say your lecturer is taking you south of the river Clyde?"
"No, somewhere in Africa."
"Less of a culture shock then Mrs Travers. Now I am dying for a sit down a cup of tea and an opportunity to watch the gardener sweep up the leaves."
"Don't blame yous Mrs Wylie. I have had my eye on the new man mysel'; Mrs Macaulay's woman, what does but far more than I do, says he moves every bit of his body while he has his pronged rake in hand."
"I think that's enough Mrs T; have you been inhaling Jeyes Fluid again?"
A Victim of Heavy Hat Shopping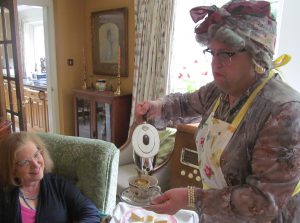 "There you are Mrs Wylie, a nice pot of Lapsang, a lemon slice and the Glasgow Herald and by the way the costume hire people telephoned this morning to say your outfits for the Hallowe'en ball are ready for collection when required."
"Thank you, Mrs T. Would you mind pouring? I think I have strained my wrists carrying my hats home."
"There you are an' slice o' lemon too. Now I will get back to ma tablet and honeycombe making while you rest your wrists. As soon as the coast is clear I'll bring they purchases in and hide `em in wardrobe 4 in the spare single bedroom with the tasteful patchwork quilt. If we are not careful Mr Wylie will be in getting coal and yous will be rumbled."
"I appreciate that Mrs T, but let's face it if Mr Wylie moves a muscle before suppa then we will have to summon a physiotherapist." 
Carpet Worries, Mixed Marriages and Strikes on the Mersey
Now what is going on in the world I ask myself. Indian and Chinese Troops have clashed on the border; which reminds me I wonder if I should have the Indian carpet in the dining room and the washed Chinese in the drawing room cleaned before or after Christmas? I suppose Mrs Travers could always give them a going over with used tea leaves and then I could send them to the cleaners' after my cocktail party. That makes sense.
More sense that is than 300 tug-men being on strike at the port of Liverpool and holding up 15 ships and therefore trade and business. I suppose it is all to annoy Mr Macmillan who has just won the General Election thankfully keeping out Mr Gaitskell and his 'come and get it brigade'. Of course Jasper, who is a socialist, does not agree.
It's just as well my dear late Grandmama is not alive. She never approved of mixed marriages. Had she seen Jasper on the CND march (at least the bit that passed the club where he was halfway through a gammon and pineapple special), it would have killed her had she not already died of the Liberal welfare reforms.
General Sloppiness Everywhere
That is an awfully good lemon slice, I might just have another. I didn't have much lunch, just a coffee and sandwich in the Kardomah as I managed to get a cancellation for a manicure. I do think nails are important, don't you? Like cleanliness, which is next to godliness as my dear mamma always said. What a pity our hospitals seem to be failing on this front. According to Dr Avey Jones the 'well known' physician of the Middlesex Central Hospital has said "hospitals today are not nearly as clean as they should be." Perhaps it is time to bring back Florence Nightingale? I do take issue with the idea that Dr Jones is well known as I have never heard of him.
Perhaps a general sloppiness is creeping in everywhere and may be the reason why in Esbjerg which is in Denmark quite near Scandinavia that "a cargo of matches has gone on fire." While I hope that no one has been hurt or injured there is something inherently funny about this incident, or perhaps it is just my sense of humour. Talking of matches it is getting chilly in here. I will just ring for Mrs T to put a match to the fire. Excuse me a moment. 
A Possible Shortage of Matches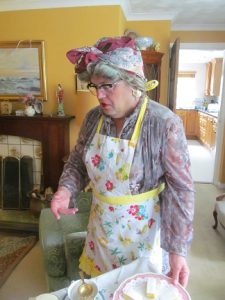 "There yous are Mrs Wylie a new pot o' tea and a fire. You should be warm in two ticks. By the way I jist used they one match as I hear that due to a fire in somewhere foreign which is abroad, there has been a fire in a cargo of matches so there may be a shortage.
"Is that what they are saying?"
"No, they are saying nothing, at least not yet. I read it in your Herald and am just thinking ahead. Just by way of an update. I took Mr Wylie a pot o' tea and he was fully absorbed in 18th Century French Prisoners of War in South West Scotland; something about making dominoes oot o' animal bones. Typical French trick, if you ask me."
"I didn't."
"Well anyway I took the opportunity to remove the new purchases from coal cellar to wardrobe. He says he will be in for drinky-poohs and nibbly bits about 6."
"Oh does he indeed!"
Invitations Galore 
"Only delivering the message Mrs Wylie. An' before I forget, a Mr Ronnie Scott telephoned to invite yous to his new Jazz Club in London. He says he'll call back but it would be "simply marvellous" if you could come. Miss Kerr, the Superintendent of Home Craft Aberdeen, telephoned to remind you that you are giving the closing speech at the Unity Conference in Perth. Apparently, Homecraft in Scotland is in peril so could youa possibly include the following sentence in your closing remarks? Here, I've written it down. "
"We must adopt a positive attitude because this is so necessary and so desirable that we cannot leave it to chance.
Good and even one word is spelt correctly Mrs T. My goodness, you are improving."
"It's the educational opportunities offered to the working class since the last unpleasantness Mrs Wylie. Oh yes and would yous like to attend the launch o' The Oriana since you had some input into the decoration. A man from P&O called, he will phone again tomorrow. Wants to know verbally or alternatively by word of mouth before sending an invitation. Princess Alexandra will do the honours and yous would be included in the Royal Party luncheon."
The Lure of the Office
So many demands on one's time. Sometimes I wish I could have a second me made to take on some of the work.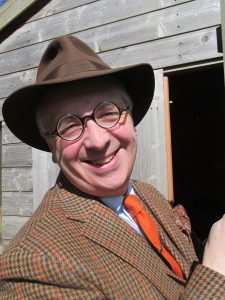 We wouldn't need any more Jaspers as even doing ten times nothing is still nothing. I had remembered about the Homecraft Conference in Perth. It strikes me as odd that one of our greatest skills should be in such danger. Why women's magazines are full of advice on matters relating to the home and there are numerous publications.
Perhaps too many girls are tempted by the lure of the typewriting pool and the possible dissipations attendant on visiting the Roneo duplicating machine or the fragrances to be inhaled while huddling around a Banda machine. Methylated spirts can turn many a young head and that call "Miss Smith, can you come in please and bring your notebook?" can be a temptation to those who would readily abandon the joys of the milk pudding or a spot of tatting.
The Joys of a Wool-Shade Card in Autumn
One has only to look at The Herald for a reminder of the joyous nature of Homecraft. Today Sheila Richardson has a very good piece about knitting shade cards which apparently are dropping into her basket "like autumn leaves". Some are textured and some are smooth. Miss Richardson believes the latter to be too bland in many cases although they have the promise and allure of being everlasting. Very popular this season, particularly with the French are mohair and shaggy wools. Very Chanel, I feel!
The match of manmade fibres continues a pace and you will not be surprised to hear  that a mixture of mohair and nylon is being marketed as Mohlon. Crimplene is proving popular, at least among the textile manufactures. It is they say self-insulating, absorbs moisture, won't sag, stretch, shrink, fluff or pilk. It washes easily and dries in no time and is mothproof. All this we are told comes from Mr Hankinson of Paton and Baldwins, as Shelia Richardson winsomely suggests "only time will tell." I personally will avoid it.
Cheese Dishes for Suppa?
On the cookery front in The Herald, Dorothy Affleck rightfully suggests that "colder days are on the way" and "the body requires more heat giving foods." Dorothy is a perceptive lady, as they say there are gales at sea and even I am aware of the snow on the top of Ben Lomond which you will find quite close to Loch Lomond whose banks are bonnie at all times.
Dorothy rightfully suggests that summer salads may need to be replaced with cheese dishes. I can only assume that Mrs Affleck is writing from the south of France, as it has not been salad weather here since mid-August. Anyway, in case you should want a light alternative to salad while sitting in front of your fire in a Mohlon twinset she offers recipes for Eggs Macaroni, Cheese and Carrot Flan and Cheese Country Omelette. Perhaps home craft is in danger, after all this is not a bill of fare likely to endear itself to the men of the house.
Negotiating Skills!
"Muriel is the fire on? I have run out of paraffin and would love a wee glass of something warming. I have had the most fascinating afternoon. Did you know that in south west Scotland the children collected frogs for the French Prisoners of War and I have located some marvellous treasures made out of bone from their left over suppas."
"Oh, indeed Jasper how simply marvellous as you say. Now what about some lovely Eggs Macaroni for your suppa? Or perhaps a cheese and carrot flan or a country omelette?"
"With chipped potatoes?"
"No; no chipped potatoes."
"Let's eat out and then perhaps you would like to see I'm all right Jack with Ian Carmichael, Peter Sellers ,Dennis Price, Margaret Rutherford and Irene Handle."
"What's it about?"
"A long un-sparing look at British industry from both sides, it's at the Odeon."
"Umm sounds perfectly ghastly."
"Alternatively there is a concert in aid of The Auchengeoch Pit Disaster at the Glasgow Empire with Duncan Macrae looking lovely in tight leopard skin pants, high heels and a pink sweater, according to the advertisement."
"What role is he playing?"
"The girl friend of the neds!"
"Jasper, greatly as I support the poor miners and their families, after that dreadful incident, I am not going to the Empire. We will send a donation. Who is Margaret Rutherford playing in the film?"
"A titled lady who disapproves of strikes."
"My kind of woman. And Irene Handle?"
"The wife of Shop Steward, Fred Kite."
"I can just imagine. Tell you what Jasper, you agree to Eggs Macaroni with no chipped potatoes and I will come and see I'm all write Jack. It might be useful. My young friend who has just been elected for East Finchley has been asking me about my experience with trade unions. This might help and anyway I do like Peter Sellers, he's a friend of Princess Margaret's you know."
"He's also very talented. By the way what have you been buying?"
à bientôt
Muriel Wylie
October 1959