Some more Bon Mots, this week from Jasper May 1959
 Breakfast at the Rural Bolthole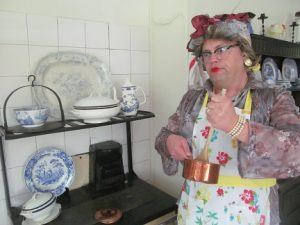 "Could you manage another piece of flat sausage Mr Wylie?"
"Indeed I could Mrs Travers, especially if it could be teamed and some more scramble egg and a potato scone."
"There you are, and let me just top up your tea, oh sorry about the tea leaves, that strainer is done."
"Like us all Mrs T."
"Och nonsense Mr Wylie, you need a new project now the first unpleasantness is over. All the same strangers in the tea, it's a sign."
"Granny Wylie used to say the same thing, but then she was very superstitious. You know the sort of thing, no new shoes on the table, throwing spilt salt into the devil's eyes, no whistling before breakfast, no broken pearls that would bring tears not that she had any pearls of course, except pearls of wisdom. She had a hard life, but I doubt any other woman could have simultaneously plaited paper sticks for the fire and tossed scotch pancakes over her shoulder so that they landed neatly on the clout spread on the recess bed.
Not to mention being a source of advice and help to all the local girls going out with Americans during the last unpleasantness. I expect she gave them make up and cooking tips. They were always so grateful you know Mrs T and often gave her 10 shillings from their hard earned cash. I never quite understood why the police got involved; perhaps she was using black market ingredients."
Brains Not Much Use in Men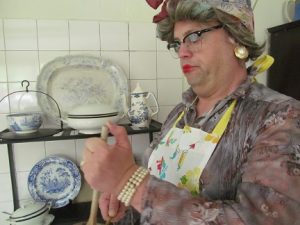 "Aye Mr Wylie there is much that you men fail to understand; perhaps it's just as weil. If God had gi'en yous brains things would only be worse. Just look at my husband and oor Billy. One is in a seaman's mission having fallen into Busty Betty's welcoming arms and the other in Barlinnie. If you have to steal a getaway car, then it's a good idea not to make it a police car. Goodness knows where they would be if they had a brain between them.   Just for combing as they say."
"You don't have your troubles to seek Mrs Travers."
"No indeed, although since I had it awe taken awa' if you ken ma' meaning and Mrs Wylie talked me into the support stockings, things have improved and the daily Askit pooder makes me feel like a new woman.  Talking of Mrs Wylie, do we know when she is coming home?"
When is She Back?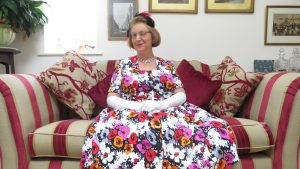 "Not sure really, she seems to be having a busy time with all her lecture-ettes going down a storm. Apparently the talk on the sticky oot leg went particularly well and Scottish furniture manufacturers are gearing themselves up to compete with High Wycombe. I gather she has also been talking to industry about colour in the work place. This can only be good news for 'Chez Nous' and I believe that even Cousin Lulubelle is pleased with the upturn in business.
So I think I can safely say Mrs Wylie is in good spirits. Let's hope no one points out that May 24th has been changed from British Empire Day to Commonwealth Day. Mrs Wylie likes to think the Empire was a benign institution spreading improvements and happiness across the globe."
"I suppose she has to Mr W, as so many of her ancestors were involved in it. She often tells me aboot this or that ancestor who brought back tobacco, cotton and sugar and of course the Pentland-Firth dynasty was built on trade with China, wasn't it?"
"Indeed Mrs Travers, it is quite clear that the Wylies and the Pentland-Firths have benefited from both the sweet bite and the puffing of one thing or another. What about you, any imperial connections?"
"Naw not really jist the odd ones who went to Australia under encouragement and those who threw tomatoes at the Glasgow Empire Theatre.  One last tattie scone? Oops on the floor, sorry Mr Wylie – still clean meat never fattened a pig, just put some brown sauce on it."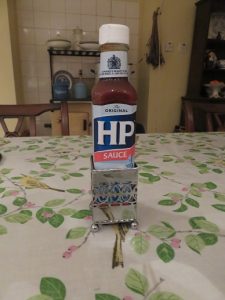 " Yes Indeed Mrs T, but remember to hide the brown sauce before she comes back. What are you doing today?"
Things To Do
"I am going to bottom out that pantry so that Young Old Jock can gie it a lick o' paint, then I am goin' tae wash the thicker woollies and get them dried and wrapped in newspaper as a precaution against moths. If I get through that, I have sheets to split and sew ends to middle which Mrs Wylie wants to take to the local branch of The Home for Fallen Women. She feels giving them poor lassies new sheets only sends out the wrong signal. If you ask me the wrong signal has already been sent out.
What about you Mr Wylie, what's your plan? I have a copy of Mrs Wylie's Things To Do list if you've lost yours.  I seem to recall polishing the car seats, bristle brushing the washed Chinese, and outside windows being among the priorities."
"Mrs Wyllie's priorities are lengthier than international peace treaties. I am sure for a few shillings Young Old Jock can be persuaded to tackle some of these exhausting activities. I am thinking of a new exhibition in the shed for the summer season. In case it had escaped your attention in September, it will be 20 years since the outbreak of the last unpleasantness."
Back to the Shed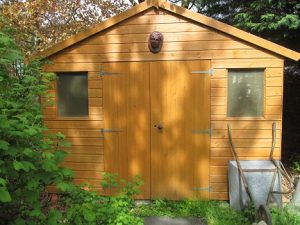 "Is Mrs Wylie happy about this?"
"No she thinks the Museum in a Shed needs a more feminine approach and has suggested we look at the interwar period and how the women coped in the wake of the loss of life in the first unpleasantness."
"I seem to recall Mr W that we just got on with it as usual, men or no men. What did you do? Fingt in Spain no doubt with your radical views?"
"I wanted to Mrs T, but my feet wouldn't let me, an in-growing toe nail is a terrible blight on a would be communist."
"Yes I imagine it is and of course there would have been all that foreign food."
"That's exactly the conclusion I came to reluctantly Mrs T, and you of all people know about my delicate stomach."
"Oh indeed I do Mr W, now before I clear do you want that last well fired roll and remember watch your language she will be back soon and there will be no use of terms like in-growing toe nails or stomach."
"Quite right Mrs T good you are here to keep me on the straight and narrow. No I don't think I will bother with the roll I will just butter this last piece of toast and if you could pass me the thick cut I will take it into the study and read the paper before I begin the arduous journey to the bolt hole shed."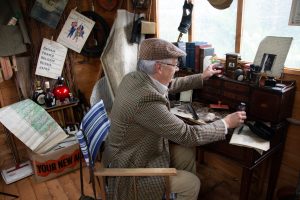 "Yes Mr W you need your wits about you to go to the bottom of the garden after all there may be dragons or work at the very least. Here's a refill and if you don't mind I am just going to put the Light programme on while I'm washing up and see if Russ Conway is playing Side Saddle or Lonnie Donegan with his Does your chewing gum lose its flavour on the bedpost overnight."
"Not a problem Mrs T; just give me a call if they play Shirley Bassey with her new recording Kiss Me Honey Honey, Kiss Me, but not if Lady Pentland-Firth arrives; we don't want her getting any ideas do we?"
Catching Up 
"Mrs Travers can you feed the cat?  I have just sat down.  I almost forgot,  would you like to into town tomorrow and see Gigi? Muriel said she was taking Grace while she is in Glasgow and you can chat about it we head back to the city. I wouldn't want you to feel left out."
Now what has been happening while I have been marooned here in Shangri  La?  Well  United Dairies have merged with Cow and Gate to form Unigate. All I can say is I hope United Dairies continue to do their Chocolate Milk. At the other end of the scale N.A.S.A. has announced its selection of the Mercury 7, being the 7 military pilots who will become the first American Astronauts. I wonder if there will ever be a Scottish astronaut. Doubt it really – going to London is the other side of the universe in these parts.
At least we can still make ships as both the new Cunarders will be built in John Browns. The 'Queen Mary' is now 23 years old and new liners don't need to be so big. The problem is waiting for a berth to become available at John Brown's. The new  P&O liner 'Canberra' is taking shape at Harland and Wolff in Belfast and according to The Herald is welded rather than riveted which reduces the weight and carries more passengers. I am sure Muriel will already have her heart set on a trip on this new ship named after the Australian capital. 
A Knock at the Door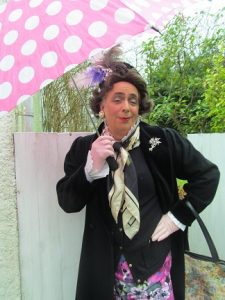 "Sorry to interrupt Mr Wylie, but the Lady Pentland-Firth, former cabaret star, widow of the Late Lord Pentland-Firth is without and wanting to be within."
"Oh no Mrs T! Couldn't you tell her I am dead?"
"Sorry Mr Wylie, she says she can tell you are here as the house exudes a strong masculine presence or at the very least too much Old Spice"
"Hello Jasper, you naughty boy. I know you are busy and Patience is a virtue but not that much. I was just passing and heard Shirley Bassey emanating from the kitchen along with the aroma of a full cooked Scottish breakfast and too much after shave and I thought , Patience old girl, Muriel is away and why not just check on dear Jasper to make sure he is not pining away for his Mu.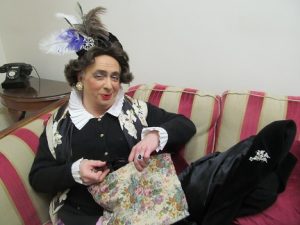 Now I cannot stop. I will just sit down for a minute. I am having a dress fitting in town for my next concert, but do come to suppa ce soir, it will be a one pot affair and something from the cellar to drink, just us, a deux. Do say yes, I want to discuss how we might collaborate with your exhibitions and my fabulous concerts that are fast turning the rural south west into a sort of tartan Glyndebourne. Together we can make beautiful art. Oh I love Shirley Bassy , she reminds me of myself when young,……..I'd like to play a little game for two…. closer closer now kiss me honey honey…….."
"Patience if you don't mind I was just reading about the  widow of a doctor who was stabbed to death on Saturday night in her baby linen shop in Cathcart Road, Mount Florida. I had just got to the bit where the police had found a butcher's knife, which is thought to be the weapon."
A Welcome Interruption
"Sorry to interrupt Mr Wylie and your serene highness, but I just wondered if you wanted your dress shirt pressed for tonight's talk to the Square Table about that local man who went as a missionary to the Pacific. It stars at 7.30 pm prompt."
"Oh Mrs T I had quite forgotten, I had better look at my notes and yes a quick iron would be spot on."
"Don't tell me a girl is going to be disappointed Jasper?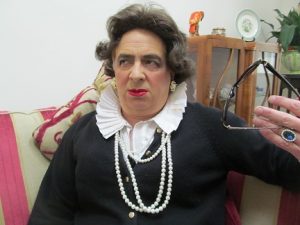 I was so hoping you might advise me on how to present my famous enfilarde to great effect what with you being such an experienced window dresser. Never mind a one pot stew will be better tomorrow, it's always best to leave things standing a while, don't you think? Au revoir."
"Thanks Mrs T, but we will also need an excuse for tomorrow."
"Yes I am working on that, perhaps I will have you abducted by the baby linen shop fiend. By the way I have seen Gigi , what about  Susan Heyward in I want to Live, I love a prison film and she got best actress."
Later 
Jasper and Mrs T are watching commercial television and having Shepherd's Pie on their knees . The telephone rings.
"Jasper, hello its Muriel, yes the lecture-ettes are proving to be simply marvellous.  The Secretary of State says he is so grateful to me for my views on industry and colour . Yes little Gayle is fine. Hairy Mary does a good job, I must say. And Grace, well funny you should ask, now thereby hangs a tale. I think it can wait until I get home. The reason I am telephoning is to say I had to speak to Patience last night about the concert suppa, so regrettably she knows you are on your own. Sorry I couldn't help it. Just keep the door locked and don't go out."
A Television Suppa?
"By the way Jasper are you eating and speaking to me at the same time? Is that the television I can hear in the background?  Well I don't think it sounds like the B.B.C. to me Jasper. They don't have adverts for the "Colgate Ring of Confidence". You had better not be eating in front of that  television for one thing – you know how delicate your digestion is. Just think about how it let you down in the Spanish Civil War and for another it's so common.
No I am nowhere near Cathcart Road, Mount Florida; that is on the south side, why do you ask? No, I haven't seen I Want to Live and don't bother with that Room at The Top, it is nothing but dilapidated kitchenettes and the vulgar ornamentation which results from a material society with no taste or manners. Good Night Jasper."
"Good night Muriel, sleep well".
"Well Mr W sounds as if someone hasn't been taking her own advice about mood and colour.
"Indeed Mrs T I wonder what has happened?"
"No use pondering Mr W now; another spoonful of shepherd's pie? And we can watch The Army Game."
"Good show Mrs T. Little fill up?"
"Don't mind if I do Mr W, don't mind if I do."
Toodle pip
Jasper Wylie
May 1959