Travel back 60 years with Muriel & Jasper in our weekly blog that combines humour and history…. 
All About The Birds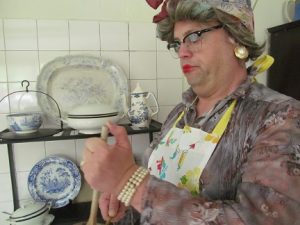 "Do you want another tattie scone with yer breakfast Mr Wylie?"
"Well, if it is going to waste Mrs Travers, (our devoted woman what does, but not a lot), I dare say I could squeeze it in."
"It can always go to the birds."
"I think they have quite enough. Since Gayle started that British Birds project our garden has become a naturalist's paradise. It's hard not to move without banging one's head on a halved coconut shell. As ever Mrs T, where Muriel is involved there is no show without punch, as they say, and they say many things."
"Aye, they dae indeed Mr Wylie, but it's only Mrs Wylie wantin' to make sure wee Gayle has the best project in the class. There's a prize fur the best contribution to the nature table."
"I can appreciate that Mrs T, but Mrs Wylie's grasp of natural history is hazy at best."
"Well, I thought it wis very good o' her to lend the school that glass display case o' they twa birds that belonged to her grandfather, even if yous an' I did have to carry it up three flights o' stairs."
"The only problem is Mrs T that those birds are, or rather were, Passenger Pigeons which came from America, not Anniesland. They have been extinct since the beginning of the century. Added to which her grandfather shot most of them. The last one called Martha died in 1914 at Cincinnati Zoo."
"I'm no' keen on pigeons mysel', Mr W. Flying rats as far as I'm concerned, but they're good eating. Now if yous fancy it I could do yous a nice pigeon pie, at the weekend – tasty with some mushrooms and streaky bacon."
Mrs Travers Knows A Cinema Stereotype When She Sees One
"Sounds, good to me. Is there any more tea in that pot? I take it Gayle got off to school all right?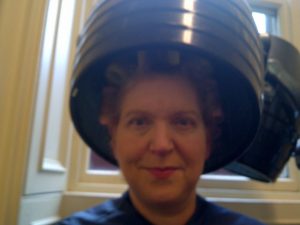 "Yes, Mrs Wylie took her in the car as she has an early appointment at the hairdresser's before she checks up on her shop."
"What about Hairy Mary, the nursery nurse from Inveraray?
"Well, it's her day aff, but she's coming back fur tea as we're having pancakes. By the way, how was the film last night?"
"Excellent, Muriel certainly enjoyed it."
"One o' they foreign films was it? I know how you an' Mrs W, love they pret…. I mean potentially ground-breaking, cinematographic experiences."
"No, actually it was about the exotic east."
"Not Shettleston?"
"No, not that exotic, Hong Kong actually– The World of Suzie Wong with William Holden and Nancy Kwan. He is a painter and shall we say works in a rundown hotel.
"Don't tell me, all slinky red cheongsam, idealised exoticism, eastern clichés in the tradition of Madame Butterfly and a subservient working class woman somewhat like myself."
"Yes, I suppose so if you put it like that."
"Did you eat out afterwards?"
"Yes, Chong's in Sauchiehall Street, we had sweet and sour pork and Chow Mein and little plate warmers with candles; and we used chop sticks."
The Lure of the East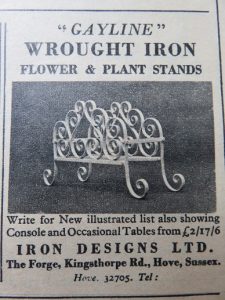 "Did Mrs Wylie enjoy it?"
"Yes, she did as a matter of fact. Indeed she is so taken with it all she is thinking we might pick up on the oriental theme for Spring at 'Chez Nous'."
"Well, I suppose you need to move on from wrought iron magazine racks and plant stands with spider plants or 'Chez Nous' might become a bit of a 1960's cliché."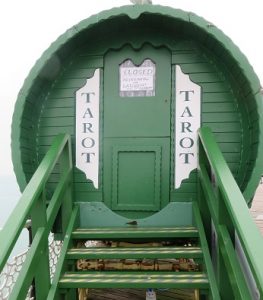 "Have you been going to that fortune teller again?"
"Who needs to with Hairy Mary from Inveraray! She has the second sight you know. Amazing what she can jaloose from the Darjeeling at the bottom of a Royal Doulton teacup."
"Well just so long as Muriel does not find out, what with the Church of Scotland being against such things."
"What things Mr Wylie?"
"Oh, everything really."
"Anyway, Mrs Wylie has fallen out wi' the Church again. Somethin' to do with why it's women who always clean the Church brasses."
"But I have never seen Mrs Wylie clean any brass Mrs T."
"Apparently that is not the point. More tea?"
"Thank you; is there any toast?"
A Day of Fiddling About?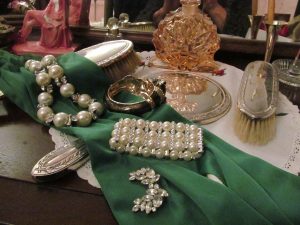 "Did Mrs Wylie say what time she is coming home Mrs T? I know she told me, but I wasn't listening."
"She said you'd say that, and she'll be home for tea with Gayle, but after checking up on sales at 'Chez Nous' she'll be having coffee with the editor of 'The Glasgow Lady' to discuss a piece on ladies and their jewels."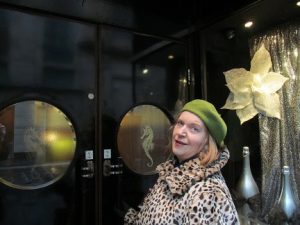 This is to be followed by lunch at The Rogano with Lady Pentland-Firth and a guitar player called Bream who is appearing at the Empress Theatre and she wants him for her revamped Arts Society."
"In that case sounds as if I have a free day, all to myself. I might go to the Library, there's a J.G. Ballard reserved for me and Hadley Chase's A Lotus for Miss Quan for Muriel. Then I could go to the R.S.A.C. for a spot of lunch, before an afternoon in my study looking at mile stones."
"Before, you get too excited Mr Wylie and smell freedom or glimpse 'the little patch of blue the prisoner calls the sky,' here's a note from Mrs Wylie."
Jasper Dahing
Presuming you are up and breakfasted before lunchtime, I want you to go to the library and do some research on Glasgow and the far East. 'Chez Nous' will be having an Oriental Spring.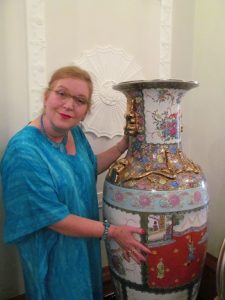 We can have a special promotional evening – you know, all cherry blossom and chop sticks to launch our 'Eastern Promise' range of household goods and designs for the discerning Glasgow homemaker. I am thinking lecturettes, quiz, music, nibbles, fashion show and fireworks. I expect you are thinking too, but do not bother I will tell you what you are thinking when I get home.
Oh, yes and do not spend all afternoon in the Club as you have to pick up Gayle from school. No car, please; I want her to get used to public transport, but make sure you take two mackintosh squares for the seats and a flannel drenched in Dettol for the request stop button. That bus starts east of the City Chambers.
Muriel
P.S. No Fry's Chocolate cream bars on the bus; we have having pancakes for tea as it's Shove Tuesday.
Whatever Will They Think Of Next In 1960s Britain?
"Umm, no peace for the wicked! Well I suppose if I have an early lunch I can go to the school by taxi. And what's you week like Mrs T.?"
"I have a few wee messages for Mrs Wylie. She wants some things from the chemist's; I'll do that later. Mrs Jeffries an' I're goin' tae hae a go at that Bingo tomorrow night. She's coming to me for her tea first so I thought I'd get some o' those Kippers Sans Smell from MacFisheries. They come in a sealed pack. Can you believe it?"
"Honestly, Mrs T what will they think of next?"
"Well, Birdseye have thought of a dinner for one, for 3shillngs and 11pence in a three compartment aluminium dish which you just pop in the oven. I'll get two. What do you fancy roast beef, chicken or hamburger? I'll get it the next time Mrs W is out in the evening – we treat fur us."
"Roast beef for me please."
"Tin o' Winnie Wilts creamed rice for afters, with tinned peaches?"
"Splendid Mrs T we can have it in front of the television and if we keep the windows open, she will never find out."
"Good, now do you want to take The Herald with you, to read on the bus?"
"Good idea, any interesting headlines?" 
The Power of Books
"No just the usual – comrades up to no good, South Africa has left the Commonwealth and Miss Agnes Coop aged 62, of 22 Charles Street Edinburgh, a former missionary in the Belgian Congo, has publicly burned Lady Chatterley's Lover in Edinburgh."
"How?"
"Well, she bought a new copy of the novel, took it outside, lifted it from its paper bag with tongs and poured paraffin all over it and applied a match."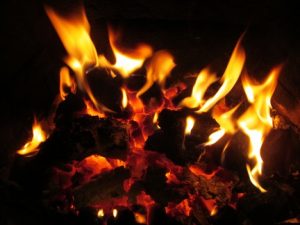 "I find it hard to believe Mrs T that anyone from Edinburgh would waste a match, let alone a few drops of paraffin and a new book."
"Yes, I thought it was a waste Mr Wylie. At least in Glasgow we'd have set it in the grate for warmth."
"A moral issue indeed,  and if anyone knows about moral superiority it is those who have worked in the Belgian Congo. Well speaking of The Heart of Darkness I had better make tracks for the library and the Club. See you later for pancakes. Will there be lemon curd?
"Of course.".
Toodle pip
Jasper Wylie
February 1961