For the uninitiated, "polly" was the term used for Apollinaris mineral water, popular in whisky in the 1950s – even if it did come from the country that began the Last Unpleasantness. This week we join Muriel and Lady Pentland-Firth in Glasgow…..
 Another Ice Age?
It is February 1961 in Glasgow and indeed in most other places.
The Comrades have launched a new Sputnik.
Rangers are top of the Scottish league Division 1.
It is very wintery. They say that in New York it is back to the Ice Age, six people have been killed in avalanches in the Alps. Fishermen are missing in Oban and there has been a landslide in the Lake District, which is quite near Scotland.
Her Majesty has celebrated the 9th anniversary of her accession, probably with a wee tray bake and coffee.
Glasgow's middle classes (yes there are some) are talking about nothing but the Bartok concert conducted by Alexander Gibson.
We find two of their number at the Denniston Palais de Danse.
The Things You Find Under a Tarpaulin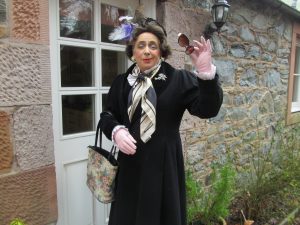 "Oh Patience, good morning I knew you were here. I had a bother parking the car, someone has taken up all the space at the front with a Rolls Royce."
"That's mine Muriel, sorry it's a bit of a beast."
"I didn't know you had a Rolls."
"Neither did I, but Duffy found it on blocks under a tarpaulin at the back of the Coach house, behind a barouche, a shooting brake and a rusting Alvis."
"Duffy?"
"Yes Mr MacDuff, my new driver come handyman."
All Is Well Under the Bonnet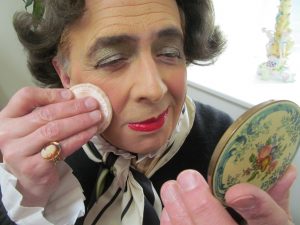 "Is that him in the car that looks like Victor Mature?"
"Indeed, it is. He is marvellous under the bonnet, got it going in jig time."
"I can imagine. How long has the car been there?"
"Since 1934. Apparently, my late husband, the Rear Admiral Lord Pentland Firth's mother bought for the launch of the Queen Mary. She was a Minch you know."
"So, I have heard."
"Then the war came and there was all that petrol rationing. Then Atlee and his come and get it socialists arrived so it was just moth balled and forgotten. I must say runs like a dream Muriel."
"What about the car?"
"Muriel you are not suggesting …are you?"
"As if I would Patience."
"Well, it has been a long winter Muriel and that is a big cold house."
Coffee From a Flask or Something  Else?
"Talking of cold, Patience I brought a thermos flask of coffee and a couple of scones as I thought the chances of getting a refreshment here might be slim."
"Quite right dear, there is some sort of café, but its full of the judges. It is always good to be prepared and you will notice the dancers have all brought their own. Anyway, we can have your coffee later. Blue Mountain I hope, but I have a little winter warmer first – a Scotch and Polly."
"You are not supposed to drink."
"I know dear, I am not supposed to do lots of things, but it is very cold. A wee splash?"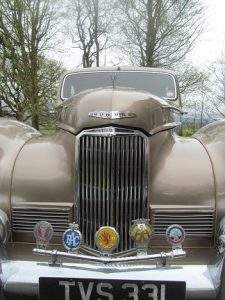 "Well, all right, but just one, I have the Super Snipe. Remember Patience, what happened last time. Cheers, now what did you think of the Bartok last night?
"Marvellous, and you?"
"Yes, simply marvellous, Mr Gibson was in fine form after his trip to Canada. Wolfgang Marschner was an excellent soloist, although I prefer a more telling attack. I enjoyed Les Francs-Juges overture. Did you have time to look at the Ferrand libretto?"
"No, I forgot my glasses and that trombone player was in the way."
"Now why did you want to meet here of all places?"
Something Different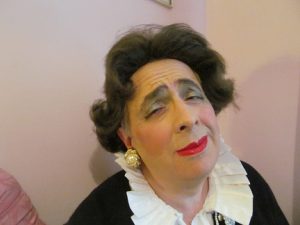 "Well Muriel, I thought we might get a move on with plans for the forthcoming season of Country House Concerts and I was wondering if we might do something different – think about ball room dancing?"
"Really; at the Pentland Firth Estate?"
"Why not? It is hugely popular, what you are seeing here is the quarter finals of the Scottish Dancing Clubs. Come Dancing is also very popular on the B.B.C.. They even held the competition here last November in your beloved Locarno Ballroom."
"It looks like a cross between a picnic and a gala ball. It's for Bungalow people."
"Exactly, Muriel. They are having their break, but they spend a lot of money on this. Instead of having Bartok we could have something people really enjoy like ball room dancing."
"It would not be quite so upmarket, we wouldn't get the County Set. I mean could you see Princess Margaret with the Penge Formation Dance Team?"
"Actually yes, I could. Anyway Muriel the County Set are, to quote Mr Macaulay the Millionaire Bungalow builder who is in concrete, "skint." What with the death duties and Harold Wilson waiting in the wings, not to mention their congenital meanness. Really, Muriel they spend nothing at the bar; they can peel oranges in their pockets. If we had Le Weekend de Dance, we would attract bungalow people and could charge them all sorts of extras once we have them off the coaches and marooned in the countryside. Let us go and meet some of them and you can judge for yourself. Bottoms up."
Patience on The Prowl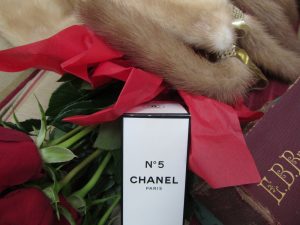 Lady Patience Charity Pentland-Firth and Muriel pick their way carefully around one of the largest ballrooms in Scotland, trying carefully not to tread on the hems of flimsy dresses. The air is full of nylon static and the smell of hairspray, Brylcreem and Coty L'Aimant, which smells a bit like Chanel No.5 apparently (you only say this if you have never enjoyed the pleasure of No.5). Sandwiches are carefully being nibbled by heavily made-up girls like little mice with lipstick. Men in tails and stiff shirts are pouring coffee produced from battered leather brief cases. Muriel and Patience decide to interview Mr Tower of the Douglas Tower Formation Dance Team.
Battleships and Flock Embroidered Nylon
"Well Mr Tower, your dancers seem to be enjoying their break?"
"Yes, but not for long. I'm a hard task master. I shout at them quite a lot but one has to you know. These dances are like battle ship manoeuvres; and I am THE Captain."
"Oh, we can see that Mr Tower. One has to be cruel to be kind. Now tell me do these magnificent dresses cost a great deal?"
"Indeed, ladies they do. To dress eight couples comes in at around £500 and that's not including flowers and hair. We need new wardrobes every 6 months."
"Really and what a charming use of nylon don't you agree Mrs Wylie?"
"Indeed Lady Pentland-Firth. And how Mr Tower would you describe these gowns?"
"Flock embroidered nylon in shades of apricot, using approximately 40 yards of nylon in each dress."
"Amazing, might we speak to one or two of the dancers?"
"Of course, now let's see whose nearly finished their cheese and egg. Isobel, coo-eee, darling, can you spare a moment? She's Giffnock Old Tyme. Husband is in boilers and chairman of the Giffnock Liberal Party."
"Well, we cannot be good at everything."
The Problem with Zips and Sequins
"Thank you, Isobel, and might your husband be joining us. We would like to get the man's wallet, I mean perspective."
"I am afraid not; he has something stiff caught in his zip."
"Oh, that can be traumatic. The Rear Admiral was just the same."
"Yes, it's the dress shirts, the starch makes them so stiff they get a bit unmanageable and the tails get ripped. They are awfully expensive; we spend a fortune on dress shirts."
"You don't say; and what about your splendid outfit? That's a lot of nylon and a lot of sparkle."
"Yes; 65 yards and 5,000 sequins, I sew them on with the help of my husband. He finds it such a release after the boilers and the Liberals. It cost me £13 and if I had to have it made it would come in at twice the price, but sometimes I would love to have one made."
"Would you indeed?"
"Oh yes, your Ladyship. If the prices could only come down a little. sometimes my fingers are worn to the bone with the sequins and oh the static! Someone needs to undercut the professionals, they pile it on. Well here comes Donald, with a different pair of troosers! Must dash, Mr Tower is looking daggers and we are facing Falkirk in the quarter finals. Cheery-bye."
A Square Dancer on the Edge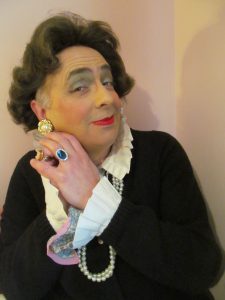 "Now, Muriel let's see who we have over here. If we might have a word? Yes you, the one who looks like an extra from Oklahoma. My name is Lady Pentland-Firth. I am a talent scout for a dynamic rural arts centre and this is my friend Mrs Wylie. You are looking wonderful in that gingham, do tell me about yourself and who sells such fabric."
"Thank you, nice to meet you. I am Pam from Penicuik, I am with the Midlothian Square dancers, y'all. That's my husband Vincent over there in the corner, chatting animatedly with the well endowed blonde from Barrhead. He's in Venetian blinds, but they are closing. Still I mustn't give you my problems, but he's hoping for an opening in louvre doors. The doctor says I'll be fine if I just keep doing the exercises.
What was that again? Oh yes, well we square dancers are far more friendly thn the formation teams. They are stuck up lot really and as for the solo dancers, well they are the worst. See her over there – Bernice from Barmulloch – well someone must be. Once opened a door for Margot Fontaine. And now she and her husband think they are Act Two in Swan Lake instead of the warm up act the open air dancing in Kelvingrove Park. He travels in Baby Linen and she's on Doughnuts at the City Bakeries'. Sorry I have had a difficult morning.
To answer your question, we get the gingham from a little man up three flights in a warehouse in Argyle Street. It's quite expensive, they have the monopoly . Must dash we are doing something with a harvest home theme, and I must watch Vincent with his pitchfork. Sorry to have moaned, but his is very tiring and I make all the dresses, no peace for the wicked."
The Number 6 Bus
"Muriel, look at those two over there with the fake jewellery, false eyelashes and faces that are fresh from the embalmers."
"Ladies you look as if you are newly off the flying boat from Brazil or Argentina."
"Ach you're a scream! Number 6 bus from Union Street actually. This is Brenda  – she's from Bridgeton and I am Annie from Anniesland."
"Pleased to meet you, I am Mrs Wylie, and this is Lady Pentland-Firth who is looking for dancers for her famous Country House Arts programme. Tell us about yourselves, surely looking so com….. I mean so completely tropical, you cannot be square dancers?"
"No, we're Latin dancers. Those are our dance partners over there chatting to one another. That's my partner, Harry, the one with the cup in his hand; he's in haberdashery at Daly's, and the other one is Bren's Alan. He has what he calls an antiques' shop on Alexander Parade – load of old junk if you ask me. However, hips like a roller coaster."
"Marvellous and I imagine you make all your own clothes, those skirts and the diamante must cost a fortune?"
"Oh, they do. Unfortunately we, that is Brenda and me, are not good with our hands, although that's not what Rodrigo, our Latin Teacher, says, is it Bren? If only we could get 'em cheaper somewhere. Must go Rodrigo is getting the maracas out."
Supply and Demand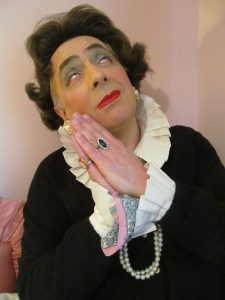 "What are you up to Patience?"
"Supply and demand darling, supply and demand, not to mention opportunity; elasticity and in elasticity and what the market will bear."
"I have no idea what you are talking about Patience, but I sense you are up to something."
"I am not up to anything Muriel, it's just that the estate needs income and a gimmick as your Cousin Lulubelle would say. I am trying to be entrepreneurial like you.  Let us have Come Dancing in the Countryside. We can provide lecture-ettes – well you can – cut price fabric, shoes, tacky jewellery the lot, all at cut price.  And it'll show I care about all the arts, particularly the popular arts!"
"This needs more thought. Do you fancy a spot of lunch? I am meeting Jasper at The Gay Gordon at 1ish."
"Would Jasper run me home? I'll give Duffy the afternoon off once he's taken the Rolls back and buffed his bumper."
"Of course."
"Splendid, then I might just have another Scotch and Polly to celebrate. By the way Muriel did I tell you I have bought a nylon factory?"
February 1961