It is June 1961 and Muriel is in conversation with a V.I.P!
All That Is Going On
The results of the census have been delivered. There are 51,294,604 people living in Great Britain, 5,223,000 of those are in Scotland. Stirling Moss has won the 1961 Silver City Trophy at Brands Hatch. The temperature in St Andrews has reached 80 degrees. The Glasgow Herald reports that women with narrow feet are the Cinderellas of the shoe world, condemned to elderly styles. The cold war is about to get chillier, and Vogue asks the question Can I learn to be chic? The President of the United States is in London with his wife Jackie. While he is busy, she telephones Scotland's 'first lady'.
Putting a Brave Face on Vienna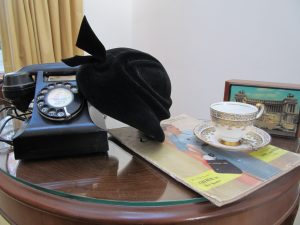 "So, Jackie how was Vienna? I hope they didn't get you on that wretched wheel. I felt like a hamster?"
"Between you and me Muriel, it was two days of my life that seemed like two weeks."
"Really?"
"Yes; ghastly."
"The papers are full of how useful the talks have been. They say that there is support for a neutral and independent Laos, wherever that is, and that Germany was hardly discussed at all; except that is for the discussion of a nuclear test ban which has pleased Jasper very much."
"Well, tell your dear Jasper not to get his hopes up and I am afraid the joint communique was a bit of a smoke screen to save face. That Mr Khrushchev is not a nice man; he gave poor Jack an awfully hard time. All he talked about was the Berlin question and that the Americans should leave as it all belongs to East Germany."
"Well, it is hard to argue with the geography. It wouldn't surprise me if they built a wall around it."
"Mark my words there will be trouble."
"I am aware of that Jackie; I still hear from one or two chums in the shadows."
"The pop group?"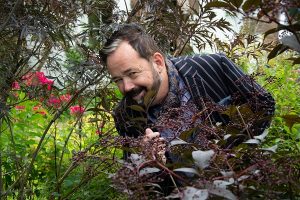 "No, the security services. I was in S.O.E. during the last Unpleasantness. You probably would never guess as I just come across as an ordinary, unassuming housewife who hides her light under a bushel."
"Quite, but now you come to mention it Jack did say something about that when we had your security status checked for your forthcoming trip."
"How intriguing! Are you able to reveal anything to moi?"
"Well Jack says Hollywood should make a film about you and Dynamite Di and that woman with the bicycle and the wool shop in Auchterarder. Now that reminds me Muriel, dear, would you have a little room in your suitcase for a couple of lengths of tweed?"
"Of course. Do you have anything in mind?"
"No, you pick something; your taste is impeccable. Now what is going on in your world? Are people talking about the Vienna summit?"
Ice cream is More Important in Glasgow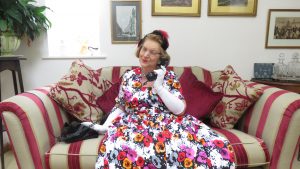 "Well not really, there is more concern in Glasgow over the possible sale of the ice cream business of Mr Cappoci. It was established here in 1925 and now Tonibell and Co Ltd of that London are trying to buy Mr Cappoci's business. Italian ice cream is immensely popular in Glasgow and people or rather The Glasgow Herald (which is most people except for Edinburgh which does not count) are cross."
"Oh dear. Anything else upsetting you Brits?"
"Scots."
"Oops! Sorry, dear."
"Well, there is quite a lot of sadness about the death of G.I. Joe, the pigeon,who saved 1,000 lives in 1943."
"You Scots have smart birds.  How did this one help?"
"Actually, Jackie in this case it was a British bird, but you will get used to our preoccupation with nationality.  Well, the 56th division had just taken control of Calvi Vecchia which is in Italy.  The RAF was about to bomb the place and would have killed its own men, but someone had the idea of sending a message tied to G.I. Joe. The pigeon flew 20 miles to warn the boys. Joe arrived more or less as they were about to leave, having brushed their moustaches and Brylcreemed their hair."
"So, Brit…. So marvellous. Now tell me how is your cousin, Lulubelle? She was such a help to Jack."
The Confusion of Minsters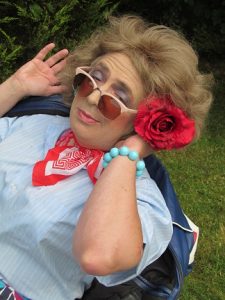 "Well, Lulubelle has just left on the new passenger liner, the S.S. Canberra. It is her first voyage to Australia. 'Chez Nous' has been involved in some of the interior decorating work."
"I am surprised that you have not gone, knowing your desire to see design detail, in action."
"Well, I was naturally invited by the Peninsular and Oriental Steam Navigation Company, and I quote,  'Muriel a maiden voyage without you is like apple pie sans crème anglaise.'  I just had to say no, otherwise I would not have been able to come and help you my dear. Anyway they were delighted with my suggestion of a portrait of Princess Alexandra."
"Is that the one whose wedding you are going to?"
"No, that is The Duke of Kent to Katherine Worsley, which is why I was in York advising on the décor at the Minster."
"I thought that was in London?"
"No, that is Westminster Abbey."
"It's all so confusing Muriel. I was in Westminster for the christening of Princess Radziwill's child yesterday."
"No, that was Westminster Cathedral."
"And the difference?"
"A Reformation and several hundred years. Now tell me how dinner at the Palace went?"
We All Come From Somewhere Else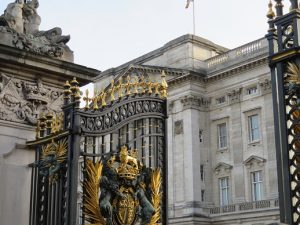 "Well, I cannot say it was relaxing, they are all so stiff and British."
"Actually, they are German."
"Well, I wouldn't tell Mr Khrushchev; he will want them for the East. I thought from the little history I know they were descended from William the Conqueror and his invaders."
"Yes true, but then so are about a quarter of us and therefore they are partly French having come over with William from the other side of the Channel in 1066."
"So, a quarter of you are French including the Royal family?"
"Not entirely, as the Normans while passing as French were originally from Scandinavia so are Norse men."
Buckingham Place needs a wee coat of emulsion.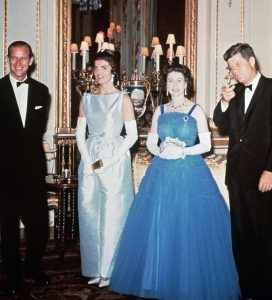 "I give up Muriel, but anyway thank you for the tip about the evening dress. The pale blue silk-ninon was ideal and vastly different from the Queen in a fussy dress in a darker shade of blue and somewhat dated I thought."
"You have to understand Jackie, it is not Camelot or about fashion. And extravagance is something frowned upon amongst the upper classes, and just about everyone else too, especially in Scotland. Austerity has become a way of life here."
"If you ask me Muriel, Buckingham Place could do with a visit from you with swatches and you should be given a free hand for a complete make-over. It is Dullsville! Who wants furniture owned by their parents and grandparents?"
"Well, you would be surprised Jackie. However, I think change will happen and I did make some suggestions last year for the new little prince's nursery. I do feel  Prince Phillip is determined to modernise things. He has a love of design so I remain hopeful. "
"I suppose it has only been almost 1,000 years since the Conquest."
"Exactly, and there will be plenty of wear left in those drapes and cushions yet."
Jasper in Washington D.C.
"How is Jasper feeling about the trip to D.C.?"
"He is overly excited. There are maps and books everywhere. He's reading up on your Founding Fathers and discovered a Paisley connection, John Witherspoon who also seems rather important to Princeton as well. We Scots are everywhere! He's very excited too at the thought of seeing The Capitol and all of the Mall and its monuments. However, at the moment, he is busy today putting the finishing touches to a lecture on 'The Ups and Downs of Brass Door Knockers' for the Hysterical, I mean Historical, Society."
"That sounds so funny Muriel!"
"It's not in the least bit funny. Well, it is, but for all the wrong reasons."
"Is there much to know about door knockers?"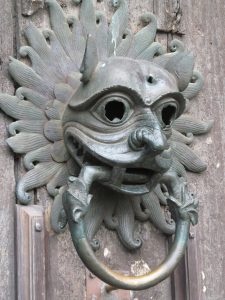 "Well to start with there is the difference between ring or lyre and hammer knockers and then there is the historical development from the Sanctuary Knockers of our medieval cathedrals to the Adam knockers of the 18th century. Then of course the French have their own knockers with women's hands and pomegranates. I could go on, but you would be best speaking to Jasper. He has a far better grasp of knockers than I do."
"It sounds surprisingly fascinating. Suppose I was to get up a programme of lectures for Jasper to deliver at some of our noted heritage groups and associations, with hospitality of course. Do you think he would be agreeable?"
"I am sure he would jump at the chance. There is nothing Jasper likes better than the sound of his own voice, a podium and suppa with some adoring ladies."
"Very well, I will get the Secretary to The First Lady to liaise. Does he have any dietary issues?
"Only quantity."
Could Muriel Help with the First Lady's Fundraising?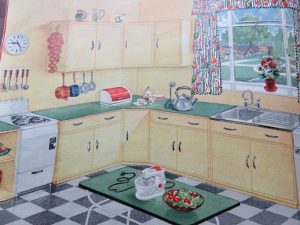 "Muriel I was wondering if you might also deliver one or two of your lecture-ettes related to culinary matters?"
"Certainly! Most happy to oblige. If I can possibly bring some old world charm to whatever it is you do there with all those tins and packet mixes, I am happy to help."
"Splendid. I am President of a charitable foundation that links housewives who might feel isolated. One of our fundraisers is called "Kitchen Tours." For $1, ladies can view 5 kitchens from 11am – 4 pm.  And you get to go through all the drawers. To get the ladies talking the hostess invites a friend to be the guide around her kitchen and then reciprocates for her friend. "
"I am very surprised that they are still friends at the end of it! However, I won't have a kitchen at least not one of my own."
"Well, I know that Muriel, but what I was thinking is perhaps, with cake and coffee, at the end of the day you might talk about the Scottish Kitchen and customs."
"I could indeed and I could bring a few items and my traybake recipes. Good job Jasper and I are coming by Cunard, no luggage limit!"
"I am so pleased. And I am looking forward to seeing your sketches and ideas for the White House refurb. How are they coming on?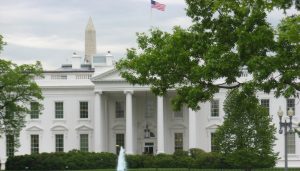 "Taking shape as we speak."
"Gosh, is that the time. I must dash, now. Jack is due back any minute from giving a pep talk to the Staff at the American Embassy. You know the sort of thing "Nice work boys, keep helping the poor Brits. Lost an empire, found a Commonwealth and I Love Lucy, still friends blah, blah, blah." Then it's off to London Airport and back to D.C.. See you soon Muriel. Have a nice day."
New Skills
"Have you finished your call, Muriel?"
"Yes Jasper, she is a lovely woman,"
"Who?"
"Jacqueline Kennedy, the First Lady of the United States near America. She wants you to do some hysterical talks for her and the President when we are there."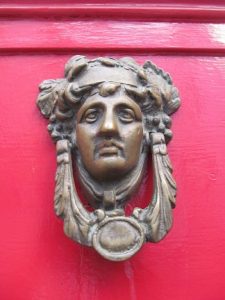 "Of course, delighted, I may have to polish things up a bit but yes, do you think the President would like knockers?"
"I feel sure of it, Jasper."
"Good I will give it all some thought this afternoon after a spot of lunch. I was wondering if Rogano might suit? It is 'duckling à l'orange' week. By the way, what was that about you and drawings , you haven't done technical drawings in your life."
"I worked with Matisse."
"That was paper cut-outs with big scissors, not designer's drawings for the most powerful couple on earth."
"Stop fussing Jasper. It cannot be that difficult anyway. I have been to see Basil Spence for advice. We worked together on the Empire Exhibition in Glasgow in 1938.  He said he would give me some ideas about drawings, if I used my influence to get his new ideas for Glasgow Airport through planning."
"You would have been better telling him his designs for the Gorbals flats are awful."
"Surely they are not that bad Jasper? Anyway high-rise living is the thing."
"Not for Basil I suspect. I bet you £5 Muriel that in 60 years' time they will have been raised to the ground."
"I don't think so Jasper."
"Well, I do. Anyway what did you learn about drawing?"
"It requires a sheet of paper and a pencil."
"Well, that is a start I suppose."
"It cannot be that difficult Jasper. Any way I am famished what comes with the duckling?"
"According to The Glasgow Herald and therefore, it must be correct, it is sweet garden peas and Olivetti potatoes and is "a meal to remember."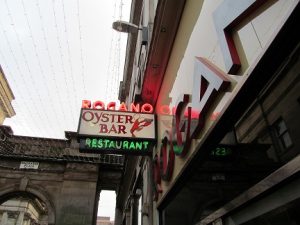 "You book a table and phone for a taxi, Jasper and I will change and freshen the maquillage. Perhaps on the way back we can stop at Glasgow School of Art. They are bound to have good paper and pencils I can borrow."
"Better ask for a rubber as well."
à bientôt
Muriel Wylie
June 1961