A List of Goings On!
President John F Kennedy is sending 18,000, military advisers to South Vietnam.
The United Nations has set up a World Food Programme, it will be temporary.
Cuban leader, Fidel Castro, announces he is a Marxist Leninist.
Tanganyika becomes independent from Great Britain, which is increasingly less great.
In Glasgow, the Bridgeton By-election has been won by Labour, but the Scottish National Party have increased their vote, narrowly missing being the second party.
A bow-fronted corner cabinet is available at Glasgow's interior design shop of distinction – 'Chez Nous' – for   £27. 17. 9d.
St Andrew's Night has been celebrated in a simply marvellous fashion at the Rural Bolthole and has raised a considerable sum for the provision of new choppers for distressed forestry workers.
 Shortlisting for the New Woman What Does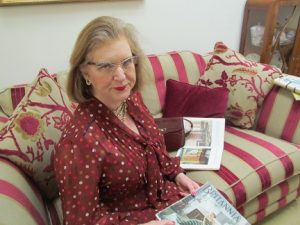 "Entrée."
"Mrs Wylie, it's Mrs Macaulay, the bungalow builder's wife who's in concrete, to help yous wi' the short listing, fur the new post of Senior Daily Woman what does and will not be me."
"Thank you, Sharon, will you show her in please, and no, that's thoughtful, but she doesn't need to sit on a Mackintosh Square. She has a telephone number with a two in it."
"Very well your grace. By the way the mother-in-law, who used to be the woman what does, telephoned last night and sends her best wishes."
"Does she indeed? How is she?"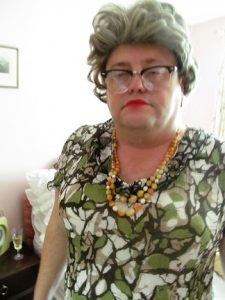 "Having a ball at yon adult education college by all accounts, they're having a Cuban evening."
"I'll bet they are."
"I am giving her a wee tinkle back on Sunday. Ma neighbour's been approved by the G.P.O. and jist had a party-line phone put in. Will I send your best wishes?"
"No thank you Sharon. I have a policy not to deal with deserters. Now don't keep Mrs Macaulay waiting.
Lottie's New Glasses
"Lottie, dahling!"
"Muriel, lovely to see you. Wasn't the St Andrew's weekend wonderful. The concert was perfect, and the children's activities spot on. Those stained-glass windows made out of cellophane sweetie wrappers were enchanting. The McGregor children's window was almost full size. How did they do it?"
"They have very bad teeth Lottie. Now do sit down I have the applications here. I must say it is very good of you to give me a hand. Another pair of eyes is always good even those in such unfashionable spectacles. I assume it has been some time since you were at Lizars, the optician?"
"No just last month, he said this colour suited my complexion."
"I don't think a permanently pellie wally complexion is something one, really wants to draw attention to do you. Next time I will come too, my family and Lizars go back a long way."
Sharon is Trying to Impress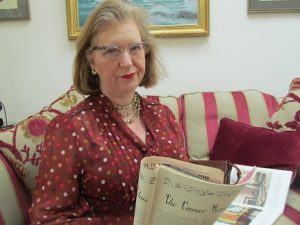 "Let's get started shall we? Time and tide wait for no man as Chaucer said."
"Chaucer? I think my husband built a porch for him."
"Oh Lottie! For goodness sake!" [Note to self – deep breaths, pause and begin again] "Now –  have you got pen and paper? I think we should make a short list."
"Yes, all prepared Muriel, I even purchased a new notebook, into which I have drawn columns and listed the necessary qualities we are looking for."
"Splendid, good start. Oh good here comes coffee. Now Sharon, eyes straight ahead; focus on the ormolu clock, which once belonged to Marie Antionette, and glide. Good. Now bend the knees and lower the tray. Well done that girl."
"Thank yous, ma'am, I've been practising an' jist in case yous might consider me fur the senior position here's ma application. Oh, an' might I go an hour early. It's visitin' day at Barlinnie an' I told oor Billy that I'd try an' see him."
"Yes Sharon, you deserve a reward for a tray manoeuvred without spillage or mishaps. Mrs Macaulay and I will be busy sifting through these applications."
"Thank yous. I made soup and there's ham sandwiches in the fridge. By the way Mr Wylie's gone oot. He said he could nae take the stress o' the shortlisting. No; that's wrong he said 'don't say that, Sharon'. He said he has gone to the library to hand in his Christmas book requests and then he's going to the grocer's to hand in his list of drinks required for Christmas."
How Thoughtful?
"That's very thoughtful of her Muriel. I thought she couldn't cook."
"She cannot. She picked up the sandwiches from the City Bakeries on her way to work and by making soup she means she has managed one complete turn of the tin opener and emptied it into a saucepan and believe you me that has required some tuition."
"At least we have lunch to hand Muriel."
"No; it would be too depressing. We can leave that for Jasper. Let's get through this and then Fuller's for lunch and we can see about that foundation of yours as well."
"There's nothing wrong with my foundation."
"Not from the point of view of a mortician perhaps. Now let's make the list.  Firstly Sharon Travers, reject. I do not accept applications written on the back of  brown envelopes from Littlewoods Pools.  Number two. A Mrs Roberts from Paisley – reject, next.
On the Run to the Library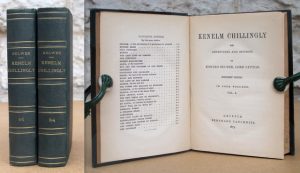 "Good morning, Mr Wylie, how are we this morning."
"We are on the run, Miss Cummings. I am a fugitive from domestic staff recruitment procedures."
"I quite understand Mr Wylie; and presumably you are in search of literary diversions."
"Most definitely Miss Cummings. Here are my returns including the Muriel Spark, I know there is a waiting list."
"There is, most popular is our Miss Brodie and indeed Miss Spark. Did Mrs Wylie enjoy it?"
"She didn't say much beyond a comment that it was a clear indication of the superiority of Glasgow schools."
"Quite so, now if you will just let me rifle through the Brown Issue system, I will get your tickets, although I do have one or two things below my counter for special readers."
"Lovely as it is to see you Miss Cummings, I have not seen the Senior Deputy Chief Librarian for weeks; you know her that organises the reading parties to examine The Well of Loneliness and gives lectures on The Ladies of Llangollen, at her apartment in Novar Drive."
"I am sorry to say Mr Wylie that she has left us for new horizons. There was a bit of an incident with the provost's secretary in one of our mobile library vans. It was on the in Ruchazie run. I can't go into details, but they say that one of our regulars, old Mr Kelly who was returning Brian Aldiss's The Primal Urge, may never be able to live on his own again. We were  very short of mobile staff and the Senior Depute and The Provost's Secretary offered to do their bit. Mr Kelly said he never knew a date stamp could offer such possibilities."
"That's a shame."
New Publications
"Indeed, but it's an ill wind. I have been promoted and by all accounts the former chief librarian and the provost's former secretary are enjoying life in a tent on the Holy Loch. Now what would you like? Patricia Highsmith The Sweet Sickness, or Sid Chaplin The Day of the Sardine, or Howard Spring I met a Lady, all newly published."
"Any possibility I can have all three?"
"I shouldn't, they all have a waiting list, however, seeing as it's you. And would you like Rumer Godden's Miss Happiness and Miss Flower for your charming ward?"
"That will go down very well, Miss Cummings. Gayle loves to have something read to her by me at night. It has been quite a week for her already. She won First Prize at the St Andrew's Pageant last week for her portrayal of Queen Margaret of Scotland.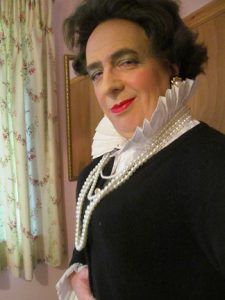 Lady Pentland-Firth, the head judge said she provided by far the best historical interpretation of a mediaeval queen This even with the tantrum that was the result of getting mud thrown on her pale blue cloak by Young Auld Jock's grandson. He was a rather badly behaved Robert, the Bruce."
Honestly Mr Wylie, weans, who'd have them?"
Meanwhile Back at the Shortlisting Process
"Well, what about this one Muriel, well typed, educated, Glasgow High School for Girls."
"I don't think so Lottie, one would have to ask why a former senior depute chief librarian wanted to do housework. And look – the envelope is all muddy. Anyone would think she was living in a tent. Next."
  A Shopping List for Life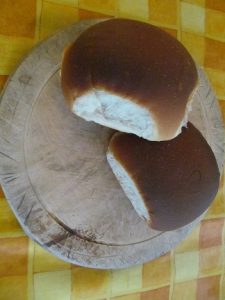 "Good day to you Mr Wylie, saw you in the library when I was mopping Reference. Bit of a queue this morning."
"There is indeed Mrs Arthur, I am only here for well fired rolls and some bacon for lunch, in case there is only tinned soup. And I need to put my Christmas drinks order in. Don't want to be running low on the old Madeira, now do we?"
"I'm a ginger wine woman mysel', but only New Year, ken. I would nae want yous tae think I wis wan o' they alcholomics."
"So is that what you are here for?"
"Och no! I've some left over frae the war."
"Second?"
"No, Boer War. Ma dad got it for the Relief of Mafeking, it'll see me oot. I'm just here for ma usual. I use the same shopping list as my mither and her mither afore that. Stick to your list and yous cannae go wrong or overspend. I cannae dae wi; spendthrifts."
"What is on your list, if you don't mind me asking?"
"Lard, margarine, lard, large plain loaf, ¼ pound mince, 3lb o' tatties, beef dripping, 3 carrots, an onion (medium), 2lb plain flour, 4 beef links, ham bone for soup, tripe an' a packet o' broken biscuits. Oh yes, and in case o' shortages, more lard."
"What about fruit?"
"Why would I want fruit? Dae I look ill?"
"No of course not, I just thought it might be rather nice."
"Rather nice Mr Wylie, usually ends up in the Workhouse."
"Next, yes Mrs Arthur. Usual list, is it? With you in a moment Mr Wylie."
A Shortlist At Last
"Here's one more Muriel. It's a Mrs Arthur. Says she is a very economical cook. You will need the magnifying glass; it's written on the tiniest piece of paper."
"Neat handwriting, but it appears to be written on the reverse side of waxed packaging paper which. if you give me the magnifying glass. says something or other… manufacturers of best lard. Actually, Lottie I know who this is! It's a woman that Jasper often runs into. She cleans at the library. She has to be in her late seventies and is said to be one of the richest women in Glasgow.  So I think that's the lot. We should be able to get someone out of these six. I will write to them and if you are happy to help me again next week with the actual interviews, I should be most grateful. Now just give a moment. I will get my coat and we can taxi to Buchanan Street for lunch. I am just going to put that tinned soup into a Pyrex in the fridge so that Jasper thinks it's homemade."
"Muriel, I hate to say this, but it looks out of a tin."
"Not if you mash a tomato up and stir it in with some orange rind, leaving a cookery book open at an appropriate page, sprinkled with some accidentally spilt dried basil."
"That's a waste of an orange."
"Not if you kept the skin from breakfast."
"And the sandwiches."
"They will do for lunch tomorrow for Gayle and Hairy Mary, I shall put a slice of cheese in with the ham, dip in beaten egg and fry, a sort of Croc Muriel!"
Later, Jasper is Back From Exile
"Muriel must have made soup after all."
Glasgow
December 1961